The best days start with donuts, especially when they're jelly donuts bursting with flavor. Learn how to make the best jam doughnuts ever!
Why you'll love them
These donuts are soft and fluffy with a delicately crisp exterior. They burst with the sweet fruity jam. You will forget about the donuts at the shop after a bite of these.
The best part? Jelly donuts are easier than you might think to make, especially after I show you exactly how to make them.
While making homemade jelly donuts can seem intimidating, the hardest part is waiting for the dough to rise. Luckily, you can start the dough the night before and continue making them in the morning so you can start your day deliciously.
Key ingredients
Donuts use mostly pantry staples to make, so you likely have almost all the ingredients in your kitchen already. Let's review some of the key ingredients you'll need.
Flour - This recipe works best with all-purpose flour, but you can get decent results with bread flour or white whole wheat flour.
Yeast - You should use active dry yeast for this recipe. If you've never used yeast before, it is easier than you'd think because it is very forgiving to new bakers. You can check out my guide on using yeast if you are nervous!
Butter - Butter helps give the donut dough it's delicious flavor and texture. You want to use unsalted and make sure you have softened butter that can easily incorporate into the dough.
Milk - Warm whole milk helps to tenderize the donuts. You can a milk alternative like cashew milk or almond milk, if needed.
Sugar - A little bit of granulated sugar in the dough sweetens it lightly and enhances the overall flavor.
How to make
Making jelly donuts is pretty simple, it just takes some patience as you wait for the dough to rise. Once you start frying, everything goes fairly quickly though!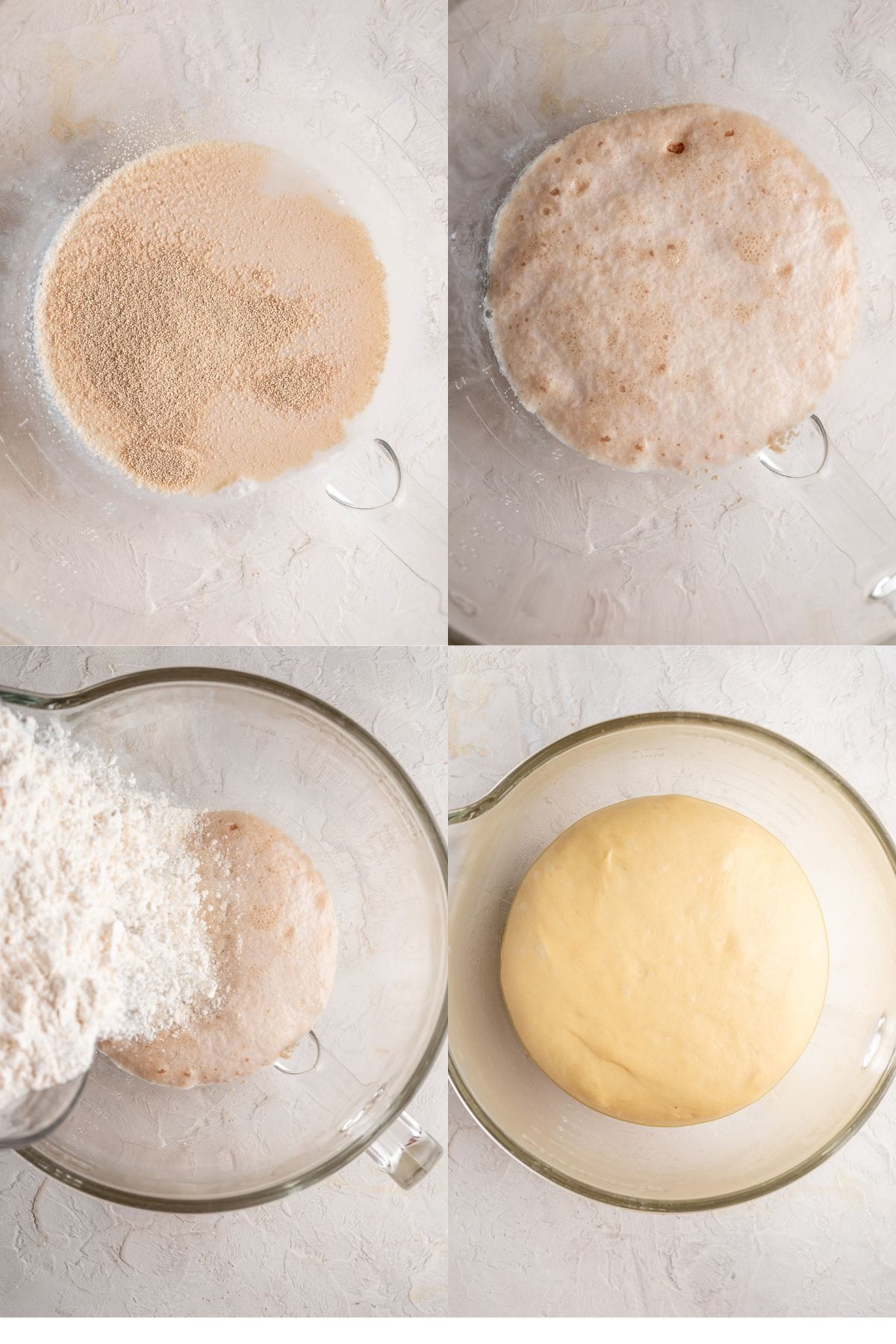 Add the yeast, milk, and a pinch of the sugar together in a bowl and leave it to proof for 5 - 10 minutes, or until there is a thick layer of foam on top.
Mix together the flour, sugar, and salt together and mix it with the milk and yeast, Mix until a dough starts to come together.
Add in the eggs one at a time, then the butter one tablespoon at a time.
Continue to knead for about 10 - 15 minutes until it becomes a silky, soft ball.
Grease a large bowl and place the dough in it and cover with plastic wrap. Leave it in a warm, dry place for an hour, until its doubled in size.
Roll out the dough until it is ½-inch thick and cut out rounds that are about 3-inches wide. Set the rounds on a parchment-lined baking sheet and cover with plastic wrap. Leave in a warm area for another 30 minutes.
Preheat your oil to 350F and then add in the doughnuts 1 - 2 at a time, frying for 2 -3 minutes on each side.
Quickly drain the doughnuts on a paper towel-lined wire rack before tossing in granulated sugar.
Fill your piping bag with jam and poke a hole in the side of your doughnuts and fill.
Filling your donuts
Filling your donuts are easier than you think! Fit a piping bag with a small, round piping tip and fill the bag with your favorite jelly. Make a little hole on the side of your donut and stick the piping bag tip in to fill! You want the donut to start to feel heavier, but not like it is about to burst from all the jelly.
Best jelly to use
Classic jelly donuts use raspberry or strawberry jelly, but you can use any flavor you like! You can even use jams or preserves as long as they aren't too chunky because otherwise it can clog your piping tip.
Homemade rhubarb jam or peach jam would work here, or you can even step outside the norm and use vanilla pastry cream or lemon curd.
Expert tips
To get the absolute best jelly donuts, I tested my basic donut recipe until it was absolutely perfect. They're better than what you could get at any doughnut shop. These are my tips for the absolute best donuts ever.
Use something that conducts heat evenly and well. I like using my cast iron Dutch oven or a deep fryer. You want to use something that will keep the heat of the oil at a steady temperature without large jumps or falls as you are frying.
Utilize a kitchen thermometer. Even if you are using a deep fryer that you set the temperature on. This ensures that you know your oil is always at the perfect temperature. If it's too cold, the dough will soak up too much of the oil and won't get a crisp exterior, but if it is too hot, the outside will cook before the inside does which can leave you with a raw, doughy interior.
Make sure everything is prepped before you start frying. The doughnuts are best when you can move from one step to the next as soon as they're done frying. The outside will hold onto the sugar better, and they taste better while they're still nice and warm.
Use high quality jelly. It is the star of the treat, so make sure you use something that you really love!
Pair your jelly donuts with something delicious like a jelly donut shot or even a creamy homemade hot chocolate.
Recipe FAQs
Can I make jelly donuts ahead of time?
Jelly donuts are best when they're fresh. You can make the dough the night before and let the dough have its first rise in the refrigerator. when you are ready to fry, take the dough out from the refrigerator and continue on with the remaining instructions.
Recipe Card
Jelly Donuts
Soft and fluffy homemade jelly donuts filled with the best sweet jelly. The best way to start your mornings
Ingredients
2 ¼

teaspoons

active dry yeast

⅔

cup

milk

room temperature

3 ½

cups

all-purpose flour

⅓

cup

granulated sugar

plus more for rolling

2

teaspoons

sea salt

3

large

eggs

room temperature

7

tablespoons

unsalted butter

room temperature

½

cup

jelly
Instructions
Proof the yeast by adding it to the milk and a pinch or two of sugar in your stand mixer. Let it rest for 10 minutes. It should form a frothy foam on the milk. If this does not happen, you must start over with new yeast.

Mix together the flour, sugar, and salt together, then add it to the stand mixer and beat on low until a dough forms. Add the eggs one at a time waiting until each is completely incorporated before adding the next. Add in the butter a tablespoon at a time waiting until the butter is incorporated before adding more.

Use a dough hook to knead the dough for about 10 minutes until the dough forms a soft, silky ball.

Grease a bowl lightly and place the dough in. Cover with plastic wrap. Allow to rise for 1 hour.

Punch down the dough and roll out until about ½ inch thick. Use a doughnut cutter or mouth of a cup to cut out doughnuts that are about 3 ½ inches in diameter. Re-roll any excess dough and cut.

Place the doughnuts on a greased sheet of parchment paper. Cover with plastic wrap and allow it to rise for another hour.

Heat at least 3 inches of oil to 350F. Fry each doughnut until a golden brown - about 2 - 3 minutes on each side. You should be able to fit roughly 2 - 3ndoughnuts in a pan or deep fryer depending on the size. Just make sure the doughnuts do not touch while frying.

Allow the doughnuts to drain briefly on a paper towel-lined wire rack. Toss in granulated sugar

Fit a piping bag with a small round piping tip and then will with the jelly. Insert the piping tip into the donut and fill with a few tablespoons of the jelly.
Nutrition
Calories:
332
kcal
Carbohydrates:
53
g
Protein:
7
g
Fat:
10
g
Saturated Fat:
6
g
Polyunsaturated Fat:
1
g
Monounsaturated Fat:
3
g
Trans Fat:
0.3
g
Cholesterol:
77
mg
Sodium:
501
mg
Potassium:
117
mg
Fiber:
2
g
Sugar:
16
g
Vitamin A:
359
IU
Vitamin C:
1
mg
Calcium:
43
mg
Iron:
2
mg
Tried this recipe?
Tag me on Instagram! @acookienameddesire #acookienameddesire