You can enjoy those juicy summer peaches all year long with this simple homemade peach jam recipe made with no pectin! Bonus: free jam labels!
Why you'll love it
I love celebrating the delicious fruits of the summer and making it last as long as possible. One of my favorite ways is to make homemade jam like my favorite rhubarb jam recipe. I never remember to buy pectin, so I make all my jams without it, this peach jam is no exception. 
It takes only a few ingredients to make this jam and there is no need for any special equipment or skills. If you have any excess peaches around, this is the best way to make them last. The recipe even makes enough to share a jar with someone or keep it for the colder months when you want a taste of summer.
Key ingredients
There are only a handful of ingredients, so it is important to make sure you are using the best quality you have.
Peaches - Use fresh peaches. Some that are nearly ripe, but not too soft work best.
Lemon - Lemon has natural pectin so it is important to help the jam come together. It also helps to brighten and enhance the flavor of the lemons, so don't skip it!
Sugar - I like to use as little sugar as possible in my jam, but you can add more as needed. Remember, you can always add more sugar, you can't take it away. You should use granulated sugar for the best flavor, but if you want something that has caramel undertones, you can substitute some of it with brown sugar.
Salt - Most jam recipes don't use salt, but I like adding a tiny bit to further enhance the flavors.
Vanilla - You don't have to use vanilla in your jam, but I like the warmth it adds. You can also add or substitute it with ground cinnamon to add a different kind of warmth and depth to the flavor.
How to make
There aren't too many steps to making homemade peach jam, but it is important to set aside at least a few hours to make it.
First is to blanch the peaches. This makes it easier to remove the skins. Simply boil water and add in the peaches for about a minute. Immediately after the minute is up, add the peaches to a pot of ice cold water. You should then be able to easily peel off the skin. If your peaches aren't fully ripe, you might still have issues removing the skin. It is okay to use a peeler
Cut the peaches. You may leave them in slices, or dice them, it makes no real difference in the end product. I usually just leave them in medium to thick-sized slices. 
Add the peaches to a thick-bottomed pot, and stir in the lemon juice, sugar, and salt. At this point, you can technically start cooking, but I prefer to leave the peaches to sit in the sugar to release some of the juices from the peaches. 
Bring the juices to a boil, then we turn it down to a low simmer until the mixture becomes thick. While it cooks, mash the peaches to your desired consistency. You can use an immersion blender if you prefer something more smooth, but if you are like me and prefer your peach jam to have larger pieces of peach in it, a potato masher works wonderfully. 
Cook down to the right consistency. 
Remove from heat and add the vanilla extract to the peach jam. Simply stir it in just before ladling the mixture into your jars.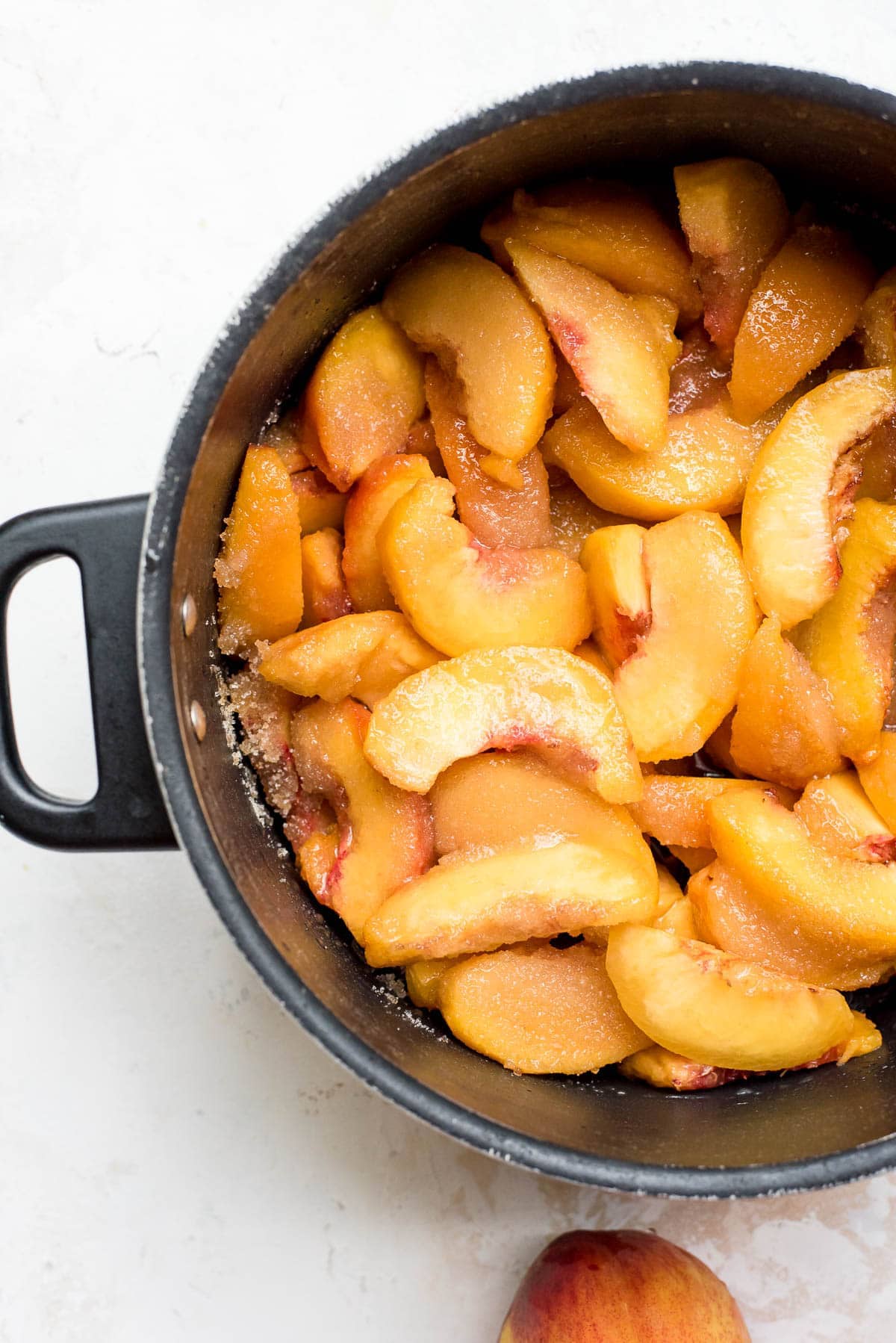 Expert tips
How ripe your peaches are will determine exactly how much sugar you need to add. Start with the amount listed in the recipe and add more after sampling the mixture while it is cooking. You may need up to a cup more if your peaches are underripe.
To ensure the jam thickens enough, you need to make sure the jam reaches the thickening stage, this means that you should boil the mixture until it reaches between 215ºF (102ºC) and 220°F (104°C).
Test the jam for doneness on a plate - scoop out a tablespoonful of jam onto a plate. Allow it to cool for a minute and then run the back of a spoon through jam. If the line doesn't close back up, it is done.
Variations
There are so many ways you can change up your jam.
Add cinnamon, ginger, nutmeg, or other spices.
Add habanero or jalapeno for a sweet and spicy combination.
Add other fruits to create a delicious combination like strawberries or blueberries.
Add lemon zest to emphasize the lemony notes in the jam.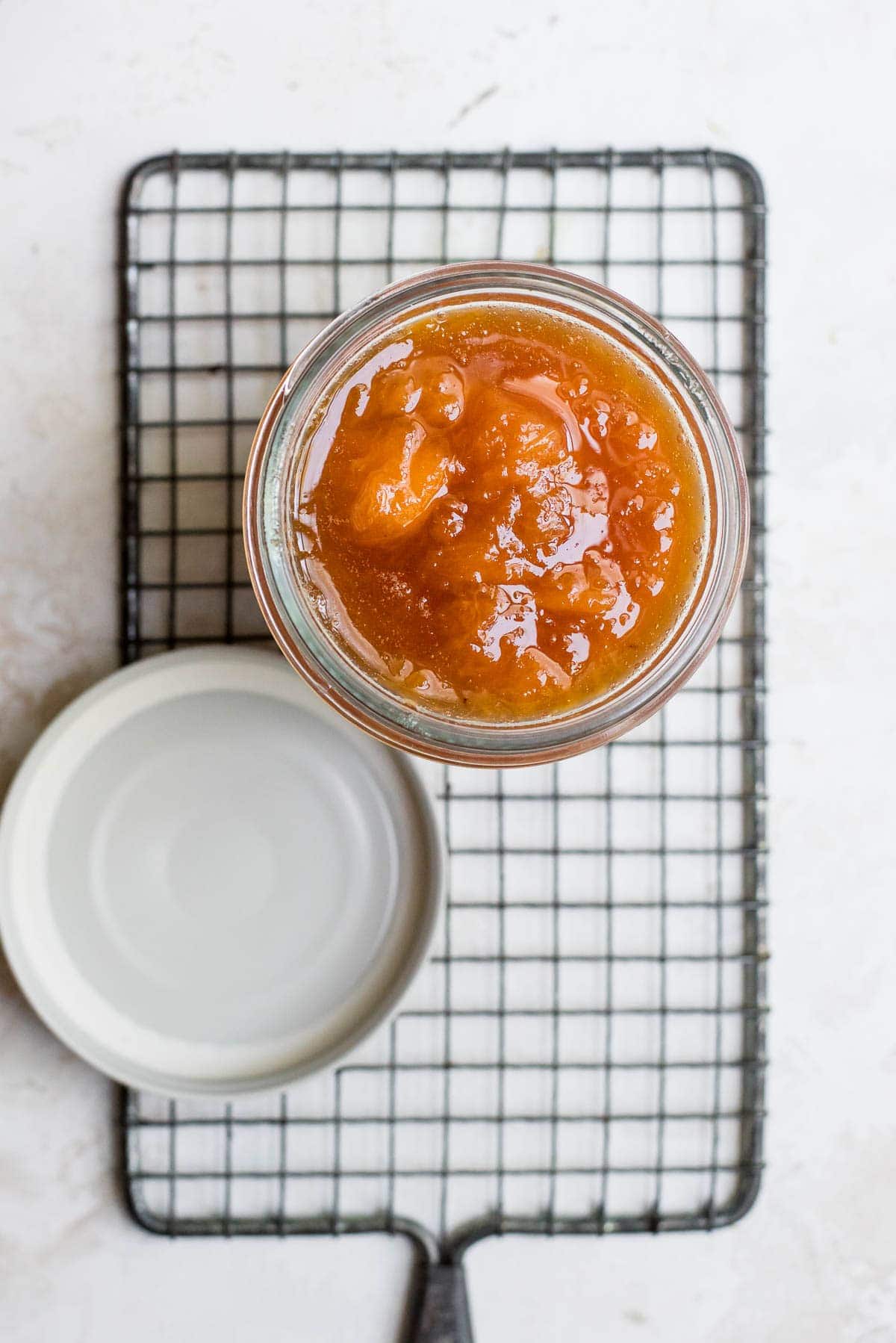 Storage tips
If you are canning your jars properly, your jam should last months. Once opened, the jam should last about two weeks in the refrigerator. 
You can freeze your jam, but I don't recommend freezing them in jars. Instead, I would freeze them in a non-glass airtight container. The jam will last several months in the freezer. Thaw in the refrigerator overnight before using it. 
Recipe FAQs
How do I know the jam is ready?
The jam thickens over time and it can take up to 2 days for the jam to fully thicken, so to tell when it is ready while you are cooking is to check the temperature of the jam. It should be between 215ºF (102ºC) and 220°F (104°C). Alternatively, you can leave a bit of the jam to cool on a plate and run the back of a spoon through it to see if the line stays.
Can I freeze jam?
Absolutely! If you are canning the jam, make sure there is enough space at the top for the jam to expand in the freezer. Leave it in the refrigerator overnight to thaw. Otherwise, I recommend using a non-glass airtight container to store your peach jam in the freezer.
Can I use frozen peaches?
Yes! It is possible to use frozen peaches. Use the same methods to cook the jam and keep in mind it might take longer. Use the thermometer or plate method to check for doneness.
For your convenience, I made you FREE jar labels for your peach jam jars that you can use! Just print them out on blank sticker paper sheets and cut them out!.
If you are looking for another way to use up your peaches, you can try this peach moonshine, or peach fritters.
Recipe Card
Peach Jam
You can enjoy those juicy summer peaches all year long with this simple homemade peach jam recipe made with no pectin!
Ingredients
5

lbs

peaches

1 ½ - 2

cups

granulated sugar*

1

lemon

1

teaspoon

salt

2

teaspoons

vanilla extract
Instructions
Boil a large pot of water. Add your whole peaches and boil for one minute. Remove the peaches and immediately submerge them in ice cold water.

Peel the skin off the peaches. If your peaches are ripe, you can do this now with your hands very easily. If your peaches are under ripe, you might need to use a peeler.

Slice the peaches and add them to a large pot along with the juice of one lemon, sugar, and the salt. Allow it to sit for about 20 minutes for the juices to release from the peaches.

Heat the mixture until it comes to a light boil. Immediately turn it down so that it simmers. Any foam that forms on top can either be scooped out or mixed back in.

Cook, stirring frequently until the mixture is thickened. Mash the peaches to your desired consistency.

While your peaches cook, boil your canning jars for 10 minutes, and leave them empty in the hot water

Once the mixture is nice and thick, turn off the heat and stir in the vanilla.

Carefully ladle the jam into the jars and secure with your lids. Boil for 10 minutes.

Allow the jam to cool to room temperature before putting in your fridge,
Notes
*The exact amount of sugar you will need depends on how ripe/sweet your peaches already are! Once the peaches begin to soften, do a quick taste test to see if you need additional sugar. Remember, you can always add more sugar, but you cannot take it away!
Nutrition
Serving:
1
/4 cup
Calories:
163
kcal
Carbohydrates:
41
g
Protein:
1
g
Sodium:
106
mg
Fiber:
2
g
Sugar:
40
g
Tried this recipe?
Tag me on Instagram! @acookienameddesire #acookienameddesire