This peach moonshine is a delicious way to cool down and relax. It's great to give as a gift or to keep on-hand at home!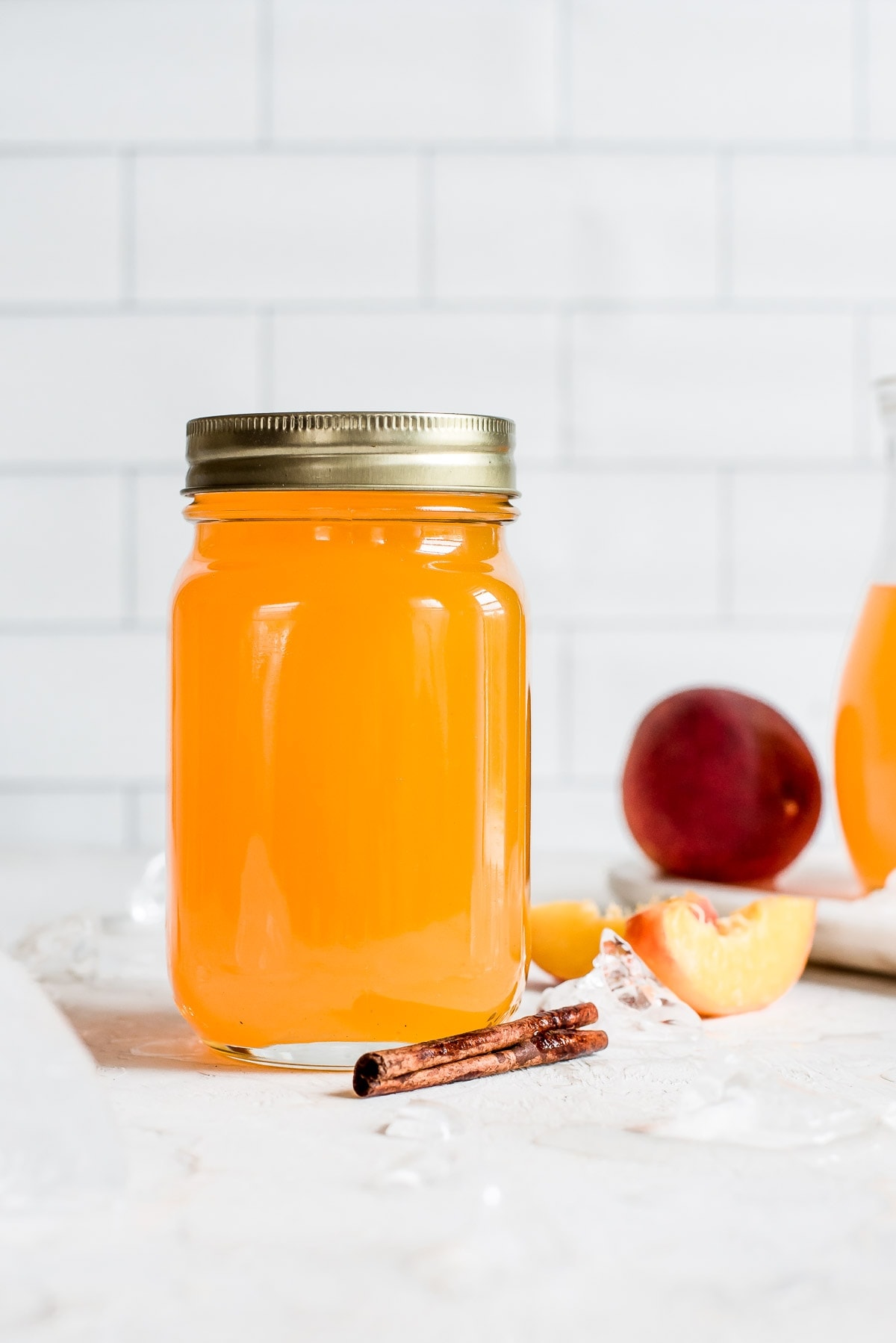 Why you'll love it
It is a smooth, sweet taste that is the epitome of summer. You can do a lot with the moonshine without ever getting bored of it. It also has the benefit of being super customizable to how you want it to taste exactly.
It is also so easy to make and you can easily double or triple it to make it as a gift.
Ingredients you'll need
Fresh peaches - You can use canned peaches in moonshine, but I love using fresh peaches because they infuse more flavor into the moonshine, and also absorb everything making them delicious to eat with your drink!
Cinnamon sticks - Cinnamon is perfect with peaches, and it gives it much needed depth
Peach juice - I love fresh peach juice - we are lucky that we can find something called peach cider which is delicious and works great in this recipe, but it isn't easy to find pure peach juice. White grape juice with peach will also work, or even peach with another fruit, as long as the secondary fruit isn't too overpowering.
White grape juice - We just white grape juice because it has a fairly neutral sweetness that easily takes on the flavors of what you pair it with.
Everclear - We can't make our own authentic moonshine, so to make things easier, we use Everclear. You can find it in many liquor stores. I usually order mine off Drizly.
Peach schnapps - To bump up the peach flavor, peach schnapps is essential. You can also use any peach-flavored liqueur you like!
Vanilla extract (optional) - If you want this to have a peach cobbler sort of flavor, vanilla really helps give that vibe.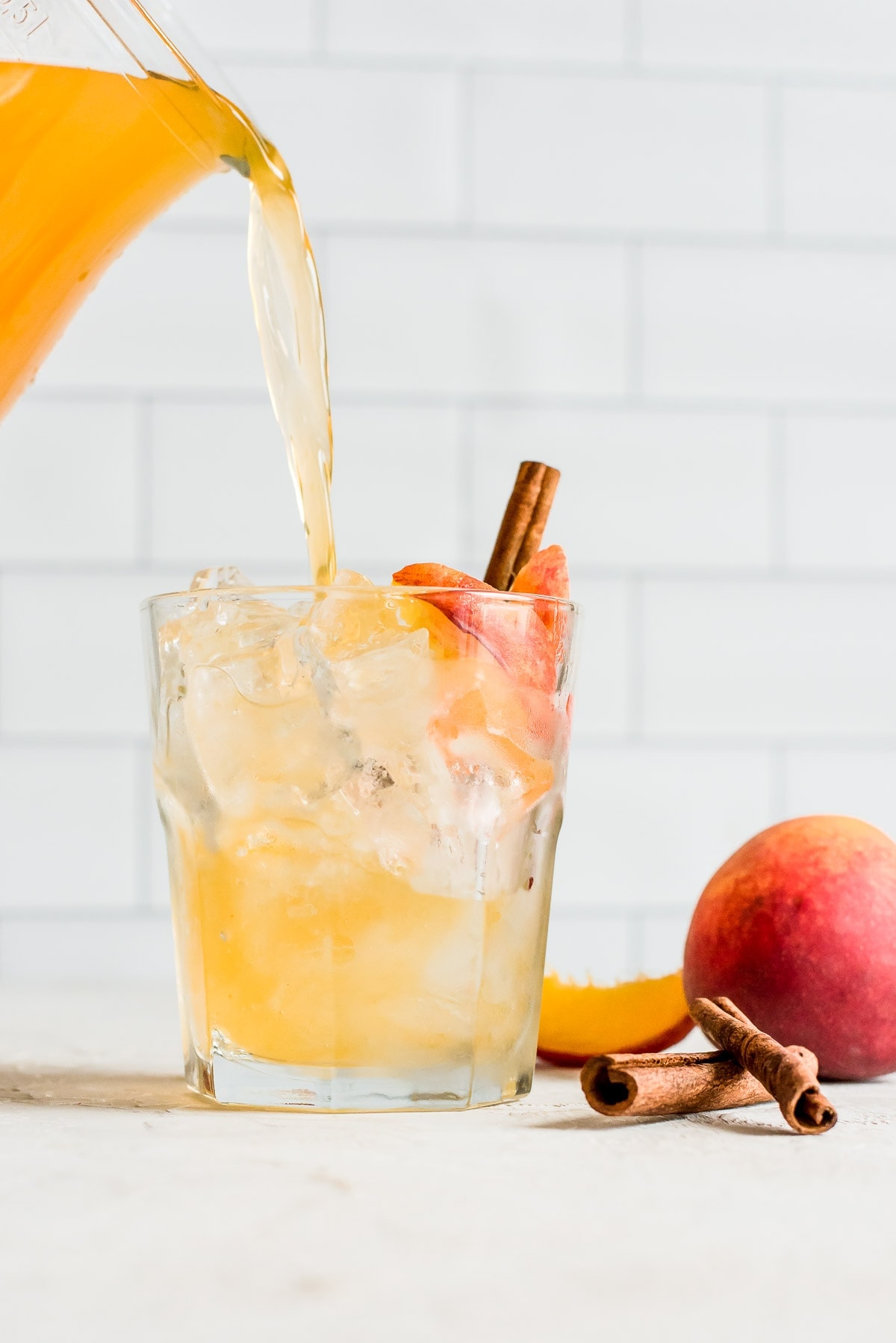 How to make peach moonshine
The process is fairly easy. It doesn't take any special equipment or even know-how. The only thing you need to know now is that it is super strong and it makes a lot. It also tastes better the longer it sits. That's what makes this recipe so great. You can make a big batch to share with everyone.
Peel and slice your peaches.
Heat up your juices with the peaches and cinnamon sticks.
Cool the juice completely.
Add the Everclear and peach schnapps.
Store in jars.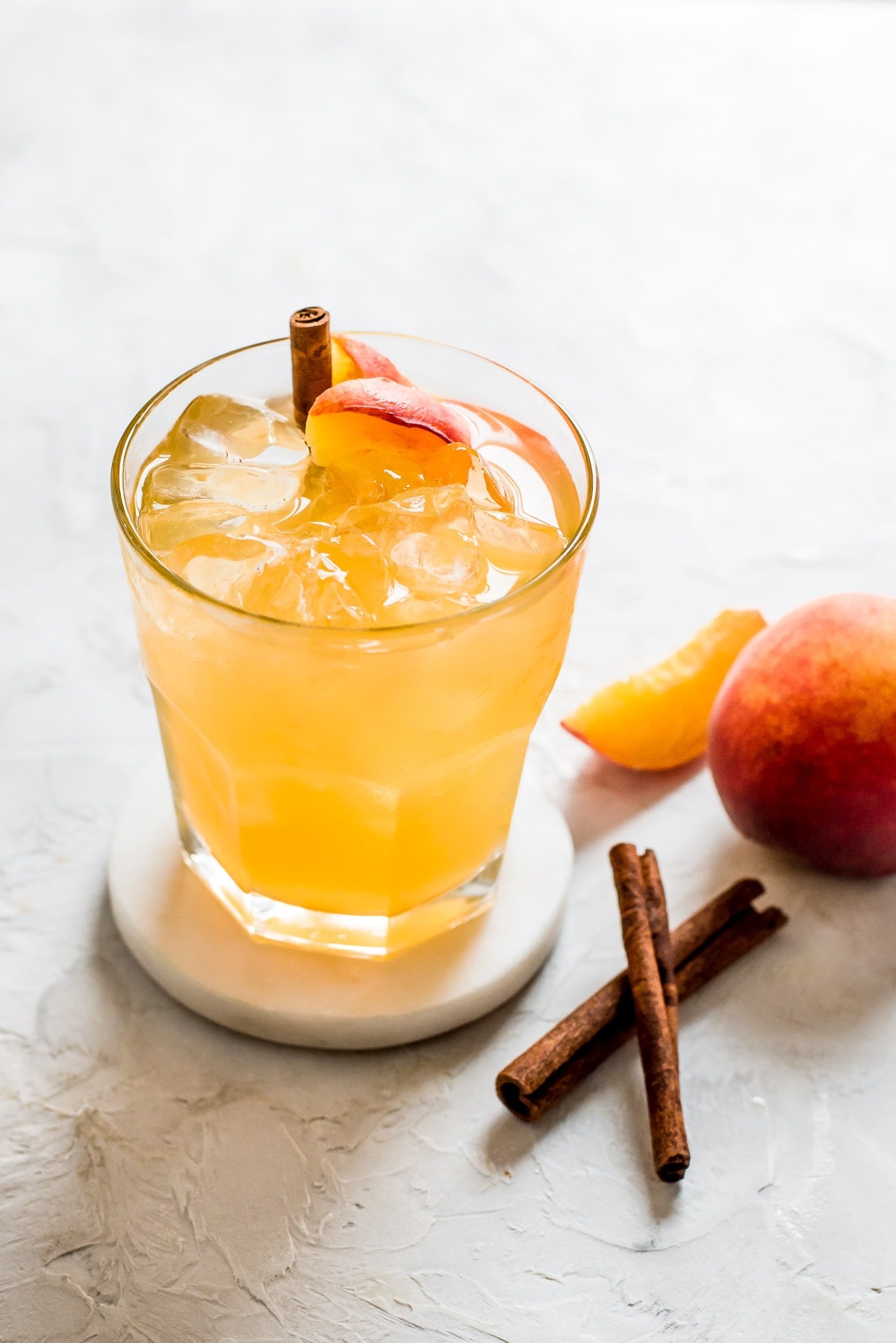 What to mix your peach moonshine with
Peach moonshine is amazing on its own, but since it is strong, you might want to use it in your cocktails.
I think it is great in a nice summer punch filled with lots of fresh fruits.
It would be delicious in a white wine sangria.
Adding more fresh fruits and sparkling water is a delicious and simple addition.
Add it to some iced tea for a delicious spiked peach iced tea!
Storage tips
Keep your moonshine in a well-sealed jar or bottle. I recommend keeping it out of direct sunlight. If your moonshine is tightly sealed and you remove the peaches and cinnamon, you can leave it at room temperature.
I do recommend keeping it stored in the refrigerator or freezer, personally. If you do put the moonshine in the freezer, do not store it in a glass jar or bottle, and leave room for the juice to expand. Please note the moonshine will not freeze due to the high alcohol content. It'll just be super chilled and refreshing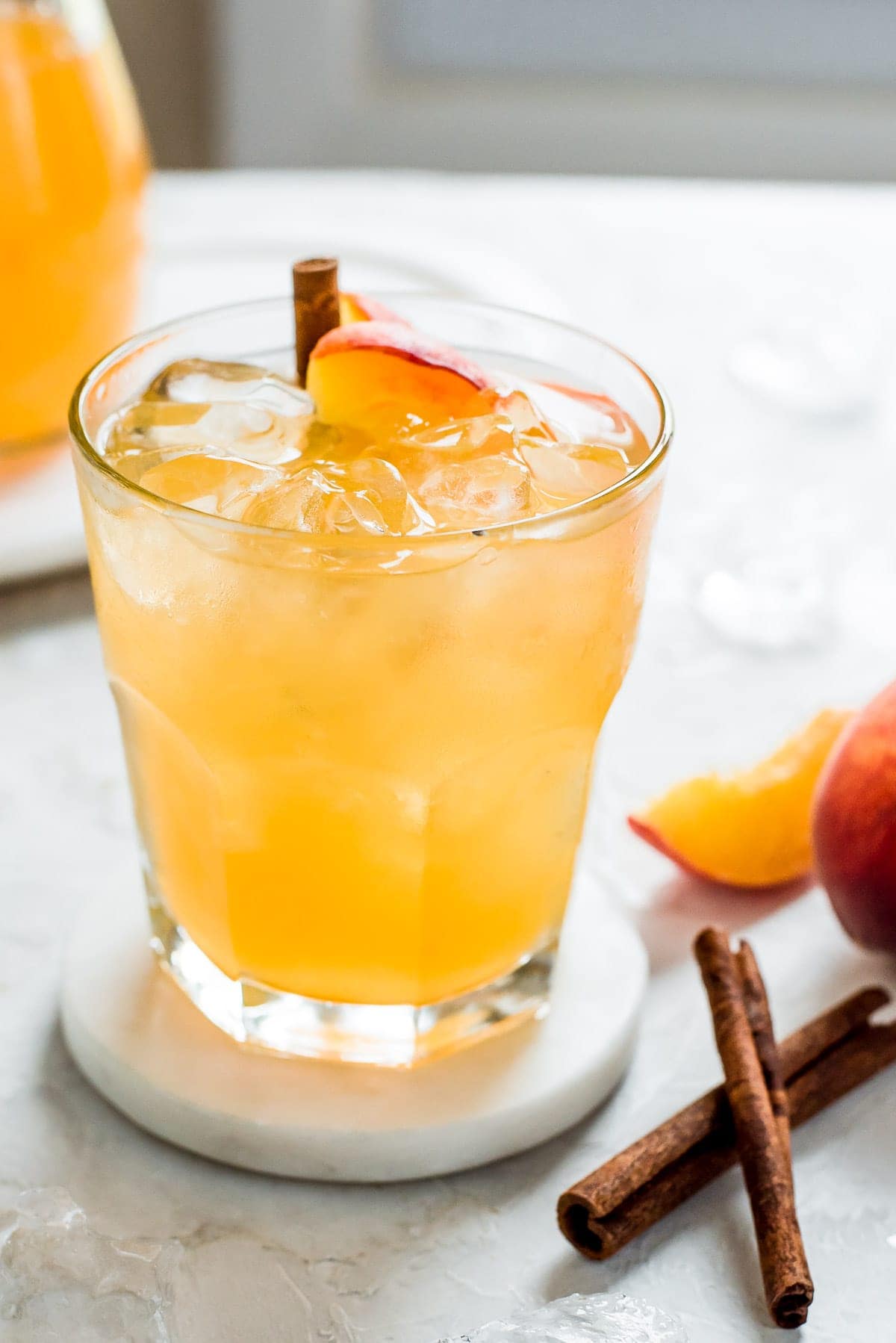 Recipe FAQs
Can I use something other than Everclear?
Yes, you can use vodka, I recommend 100 proof if you can find it. Or if you happen to have access to real moonshine, you can use that instead.
Can I omit the cinnamon?
Absolutely! I like the cinnamon because it adds depth to the flavor of the peach moonshine, but you don't need to include it if you aren't a fan of it.
Can I use canned peaches?
It is possible to use canned peaches as long as you rinse them if they were in syrup as it will make the moonshine too sweet.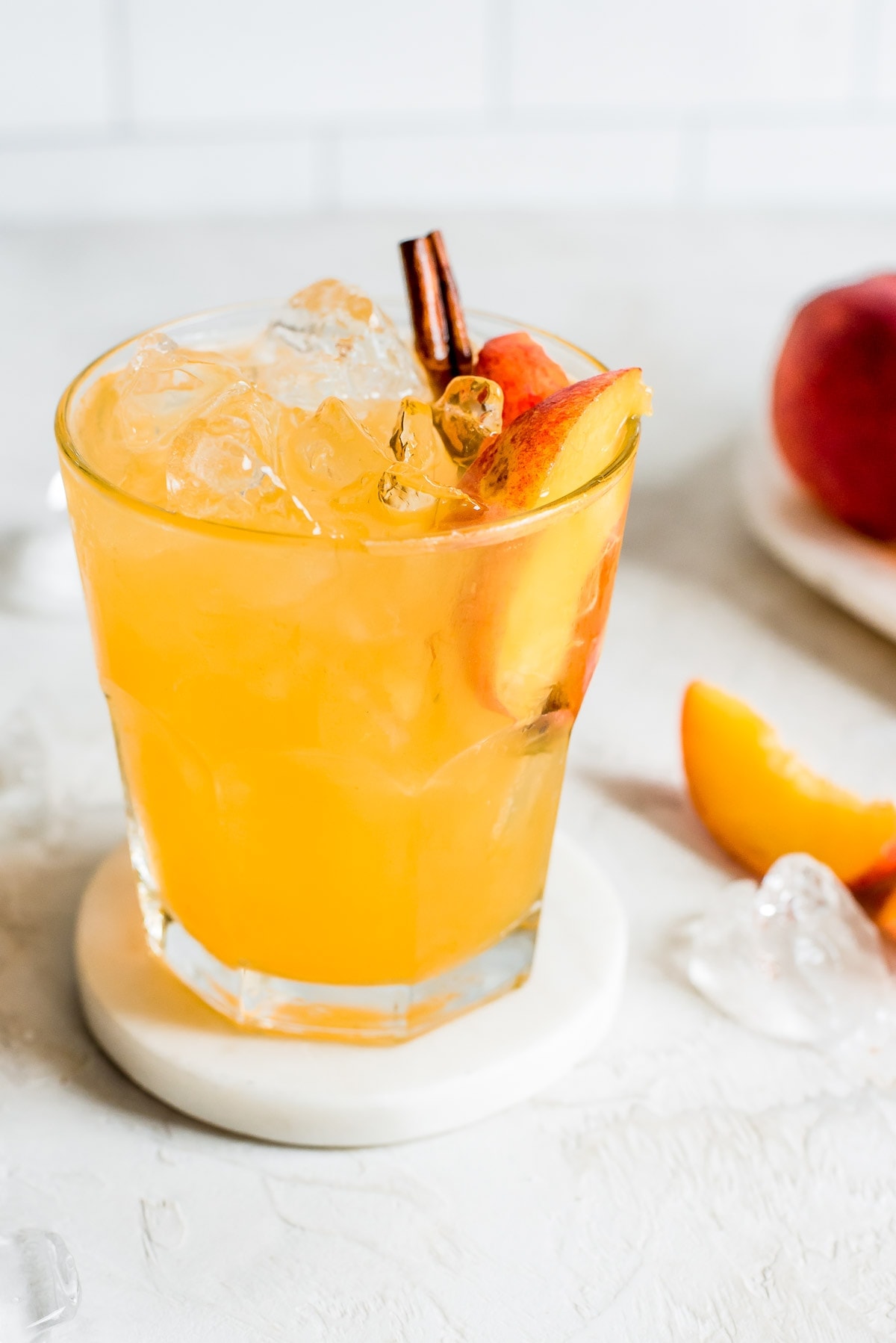 Recipe Card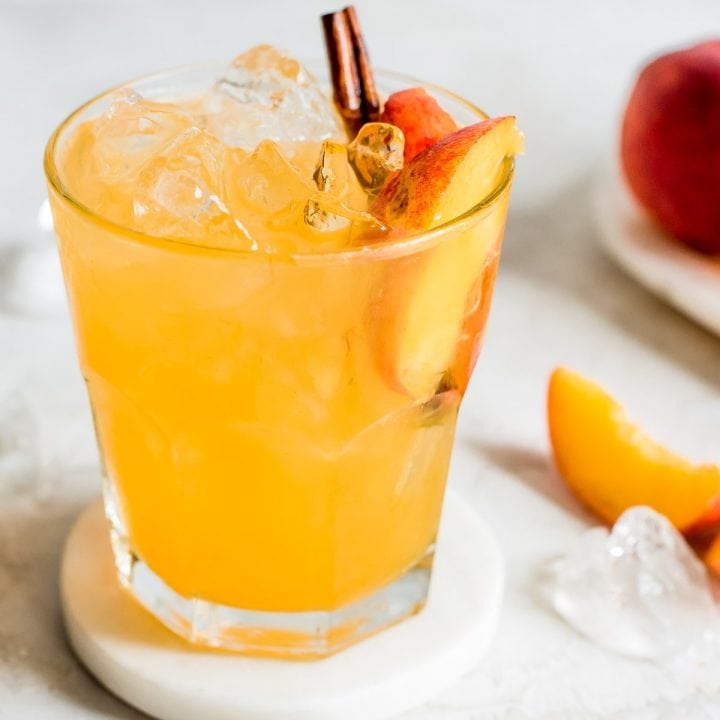 Peach Moonshine
Light and refreshing homemade fresh peach moonshine
Ingredients
6

peaches

divided

5 - 8

cinnamon sticks

divided

64

ounces

peach juice

32

ounces

white grape juice

750

mL

190 proof Everclear

2

cups

peach schnapps

2

tablespoons

vanilla extract
Instructions
Peel and slice four of the peaches.

Add the peaches, about 4 of the cinnamon sticks, and the juice to a pot.

Bring the mixture to a boil and allow it to simmer for about 10 - 20 minutes.

Allow the juice to cool completely to room temperature.

Strain out the peaches and cinnamon sticks.

Add the Everclear, schnapps, and vanilla, if using. Evenly divide the mixture in mason jars or bottles.

Slice and peel the remaining peaches, Evenly divide them in the jars, as Add cinnamon to the jars.

Tightly close. and store in a cool, dry, area.
Notes
Please check the blog post on notes about substitutions for the peach juice and storage tups
Nutrition
Serving:
1
g
Calories:
32
kcal
Carbohydrates:
7
g
Sodium:
3
mg
Sugar:
6
g
Tried this recipe?
Tag me on Instagram! @acookienameddesire #acookienameddesire