This apple pie moonshine is the perfect thing to make for your holiday parties as a beverage, or as a gift to your favorite person! It tastes just like apple pie, and doesn't hold back on anything. The best part is this moonshine recipe only gets better over time! 
Is this real moonshine?
This isn't the illegal moonshine made in bathtubs you typically think of. Moonshine is slang for high-proof distilled alcohol produced "under the radar." The name came from the fact that it was typically made late at night to avoid detection. It's actually been legal in the US since 2010 and it's definition is clear, un-aged whiskey. This recipe uses no real moonshine, but instead we use Everclear which is easier to find and has the same range of proof.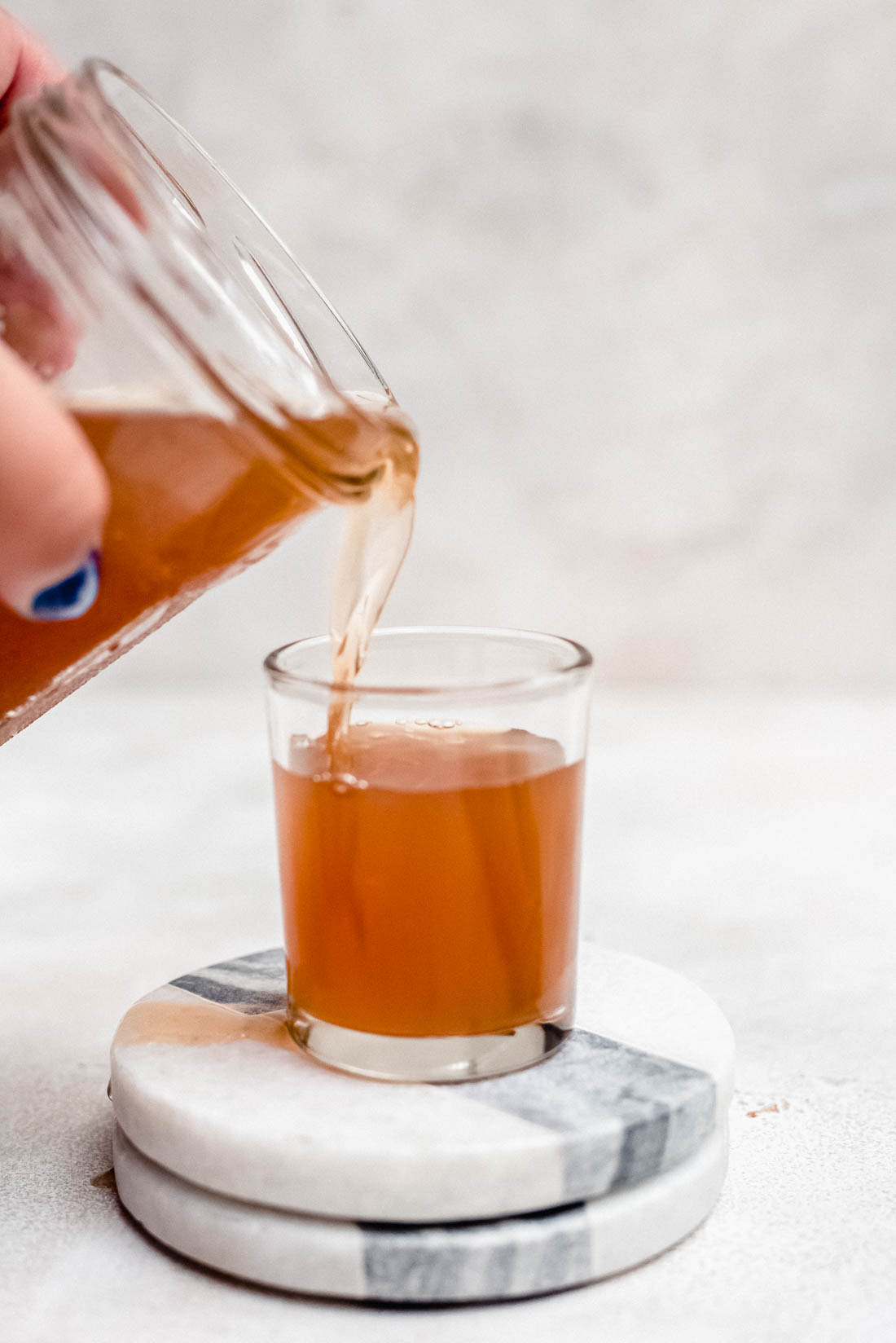 How to make
Making apple pie moonshine is incredibly easy. And since it makes so much, it'll last you a while, too.
Start by bringing our cider, juice, sugar, and spices to a rumbling near-boil.
Bring the temperature down to a simmer, then leave at a simmer for an hour.
Allow the mixture to cool completely.
Stir in the alcohol and store in airtight containers - I prefer large mason jars.
You can strain out the spices, but I recommend leaving at least one stick of cinnamon inside each mason jar. If you want, you can skip the cinnamon and add in about ½ cup of Fireball instead for a nice cinnamon kick.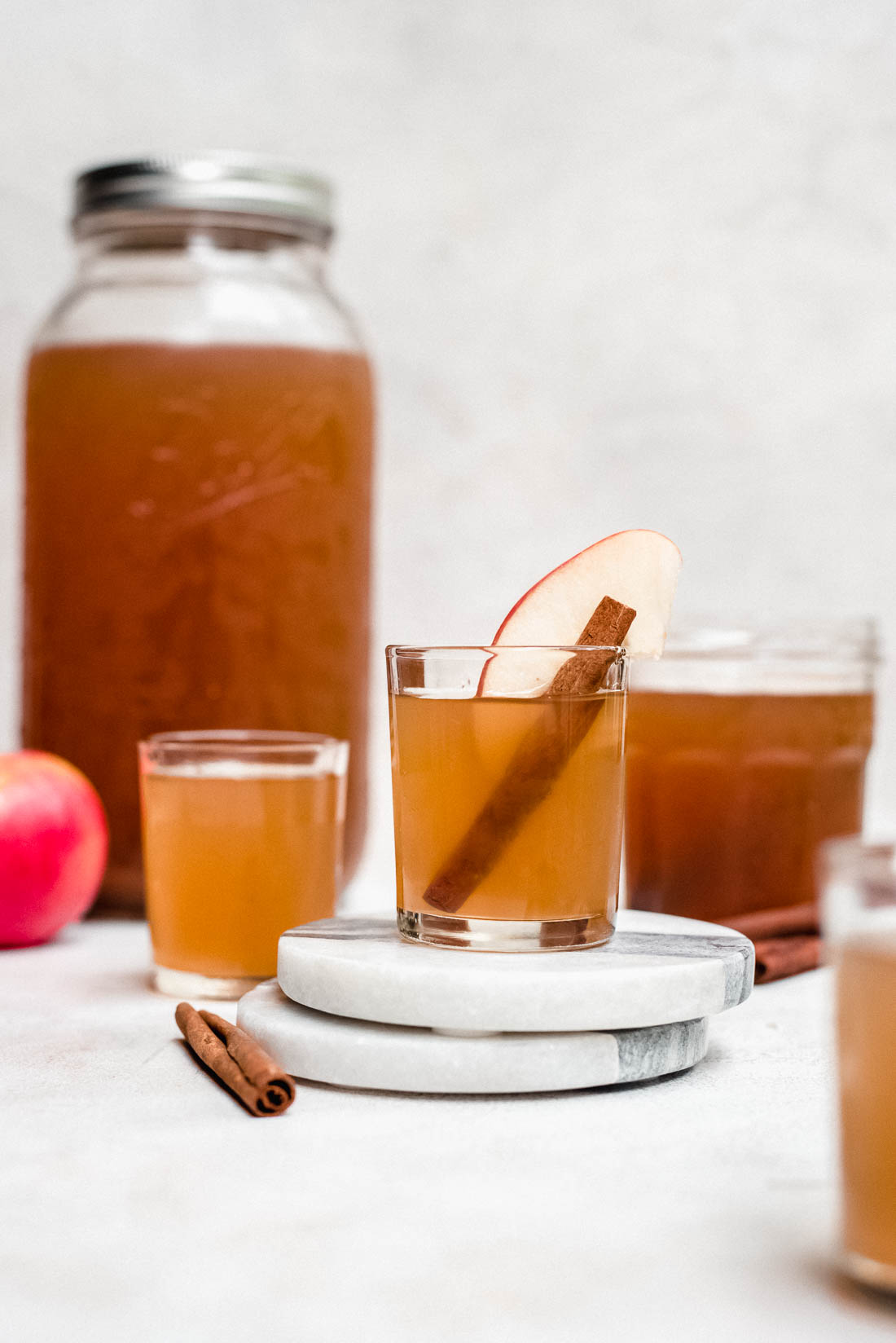 What can I used instead of everclear?
If you don't have access to Everclear or other 190 proof grain alcohol, you can use the highest proof alcohol you can find. There are higher proof vodkas available you can try, too. I've seen brands such as Smirnoff even sell higher proof versions of their vodka.
What does it taste like?
My recipe for apple pie moonshine makes a smaller batch than most, and we use mostly apple cider instead of an equal mix of cider and apple juice. As a result, it packs a heavier apple flavor, and has more viscosity. Because of all the spices we add it, it tastes a lot like apple pie in a glass.
Since we use Everclear, a bit of vodka, and some spiced rum, it also packs a big punch in terms of alcohol. Luckily, as the apple pie moonshine sits, the less alcohol you can taste. But there is still a lot of liquor, so sip lowly and drink responsibly.
This moonshine is great right after it's made, but it gets better the longer it sits. I recommend making this apple moonshine and leaving it to sit in the back of your fridge for at least 2 - 3 weeks before giving it a taste. You will see why it is a holiday favorite! Speaking of....
How long does flavored moonshine last
It all depends on how you store your apple pie moonshine. In an airtight container, it should last 3 - 4 months in the back of your refrigerator.
If you seal your jars properly in your mason jars, they can last up to three years. Properly sealed jars of moonshine do not need to be stored in the refrigerator until they are opened.
Some people even store their moonshine in the freezer. There, it can last 2 - 3 years.
Since this recipe makes a pretty decent amount of moonshine, I prefer to give away a few small mason jars to neighbors and friends, so moonshine never lasts more than several months in my home!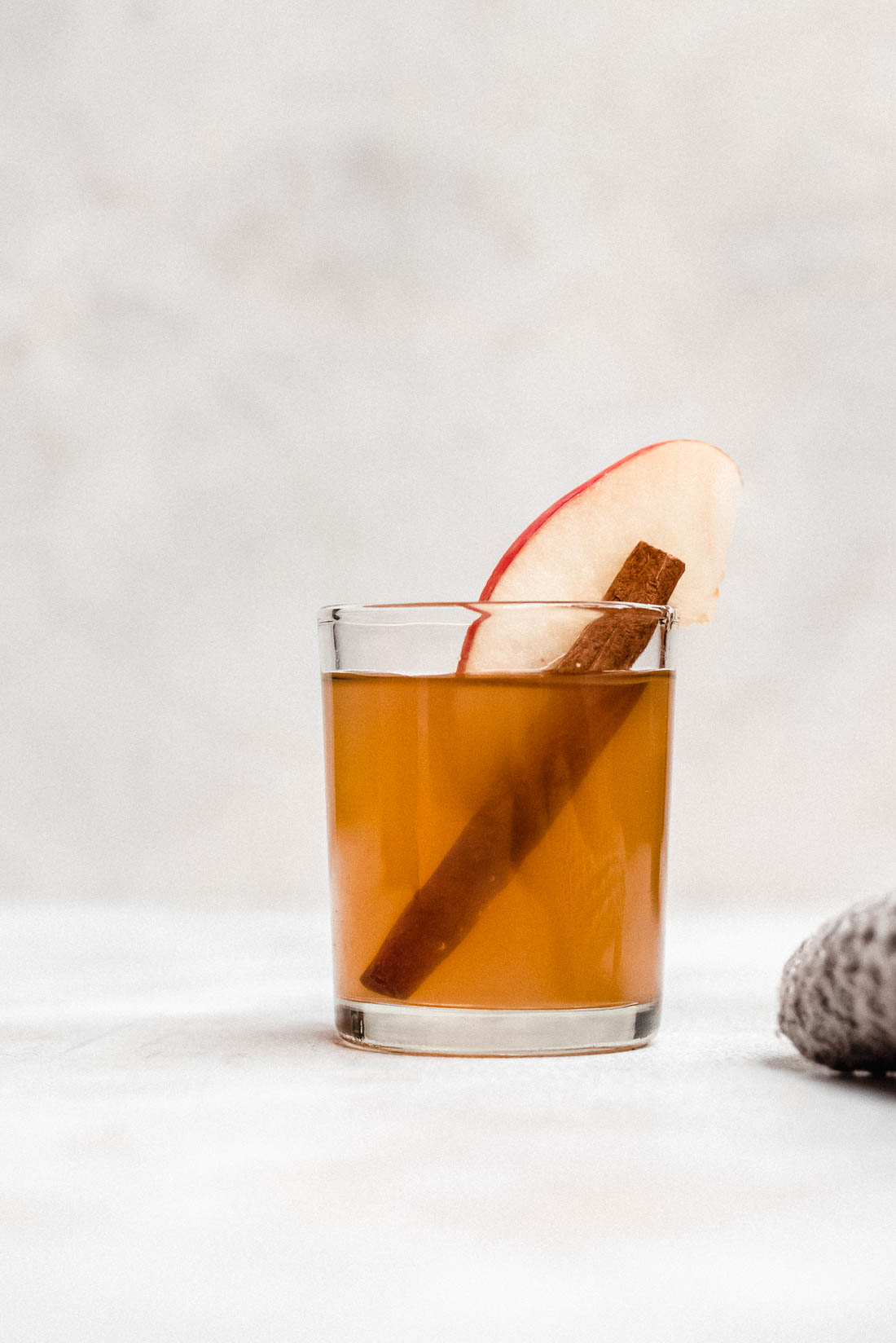 If You Loved This Moonshine, Try These Drinks:
Recipe Card
Apple Pie Moonshine
A delicious and festive apple pie moonshine
Ingredients
1

gallon

apple cider

½

gallon

apple juice

2

cups

brown sugar

5

cinnamon sticks

2

tablespoons

apple pie spice

2

tablespoons

vanilla extract

optional

750

mL

190-proof Everclear or high-proof vodka

1 ½

pints

vodka

high-proof or more everclear

1

pint

spiced rum
Instructions
Add the cider, juice, sugar, cinnamon, and apple pie spice to a large pot and bring to a rumbling boil.

Turn down the heat and bring to a simmer. Simmer for an hour, stirring occasionally.

Take off heat and allow to cool completely. Strain out the cinnamon, if desired.

Pour in the vanilla, everclear, vodka, and rum. Stir to combine.

Pour your apple pie moonshine in jars. Store in the back of your refrigerator if not sealing.

Can be enjoyed immediately, or preferably after a few weeks in the fridge.
Notes
Due to the strength of this apple pie moonshine, it is best in small quantities, or as shots.
Nutrition
Serving:
1
g
Calories:
54
kcal
Carbohydrates:
8
g
Sodium:
3
mg
Sugar:
7
g
Tried this recipe?
Tag me on Instagram! @acookienameddesire #acookienameddesire