Warm apple cider doughnuts are the autumn treat we all crave. These delicious fried doughnuts are perfect with a hot apple cider or hot chocolate.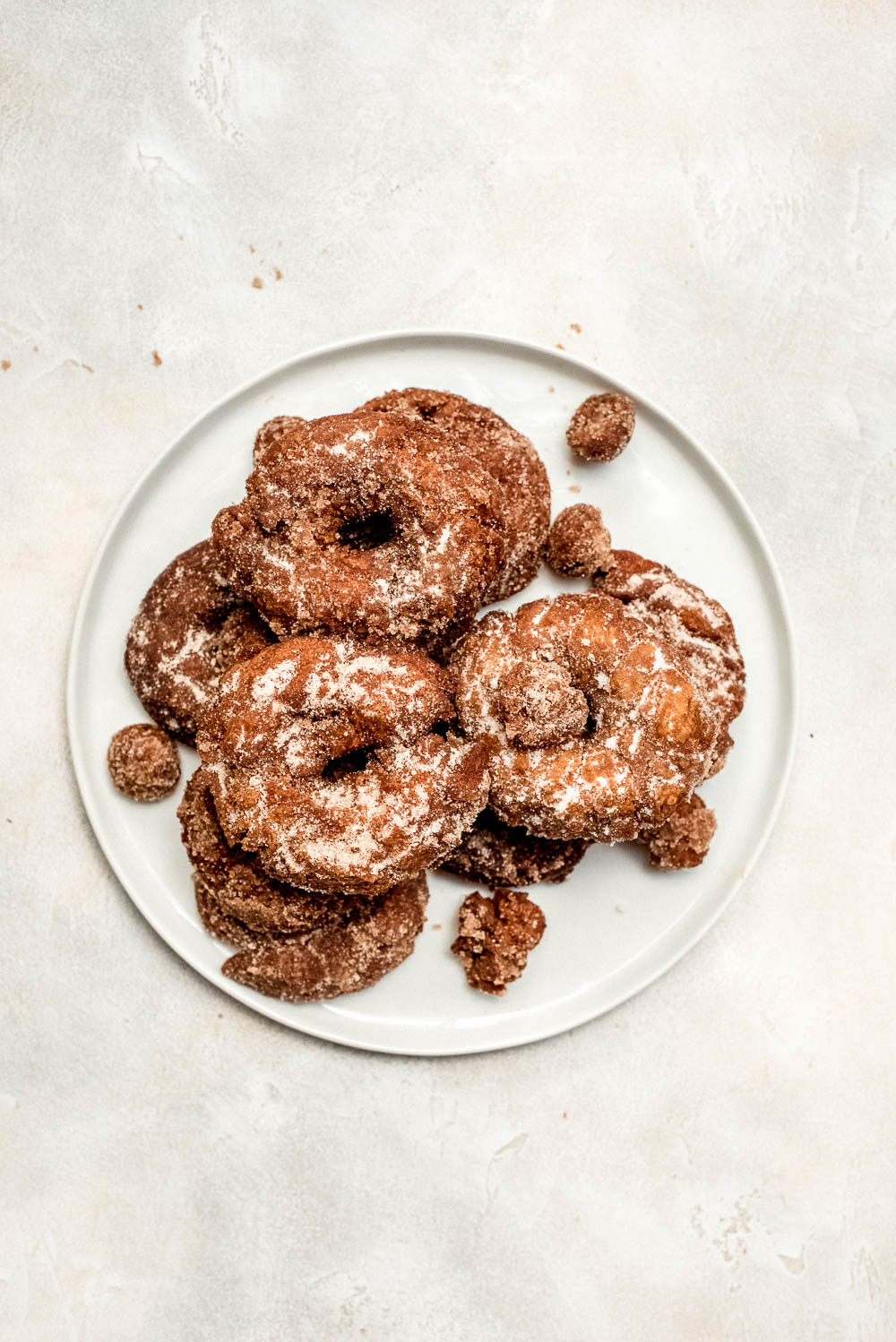 There is nothing better than warm apple cider doughnuts during the fall season. Apple and pumpkin picking, hayrides, and bags of freshly made apple cider doughnuts with a side of apple cider. It's all a big part of why I adore the season. That, and sweater weather with all the leggings.
I made an apple cider doughnut cake before, but It was long overdue before I made my own regular apple cider donuts.
These doughnuts are the fried kind, but you do not need any yeast to make them. These are a cake-based doughnut. The recipe comes from Glazed, Filled, Sugared, and Dipped and it is one of my favorites for easy, fluffy doughnuts that have crunchy little nooks.
Why Are They Called Apple Cider Donuts?
The reason they are called apple cider donuts is because they are made with apple cider. The doughnuts are infused with a touch of apple cider to give them a subtle apple flavor. The good doughnut recipes will cook down the apple cider to turn it into a syrup of concentrated apple flavor to give the doughnuts more flavor.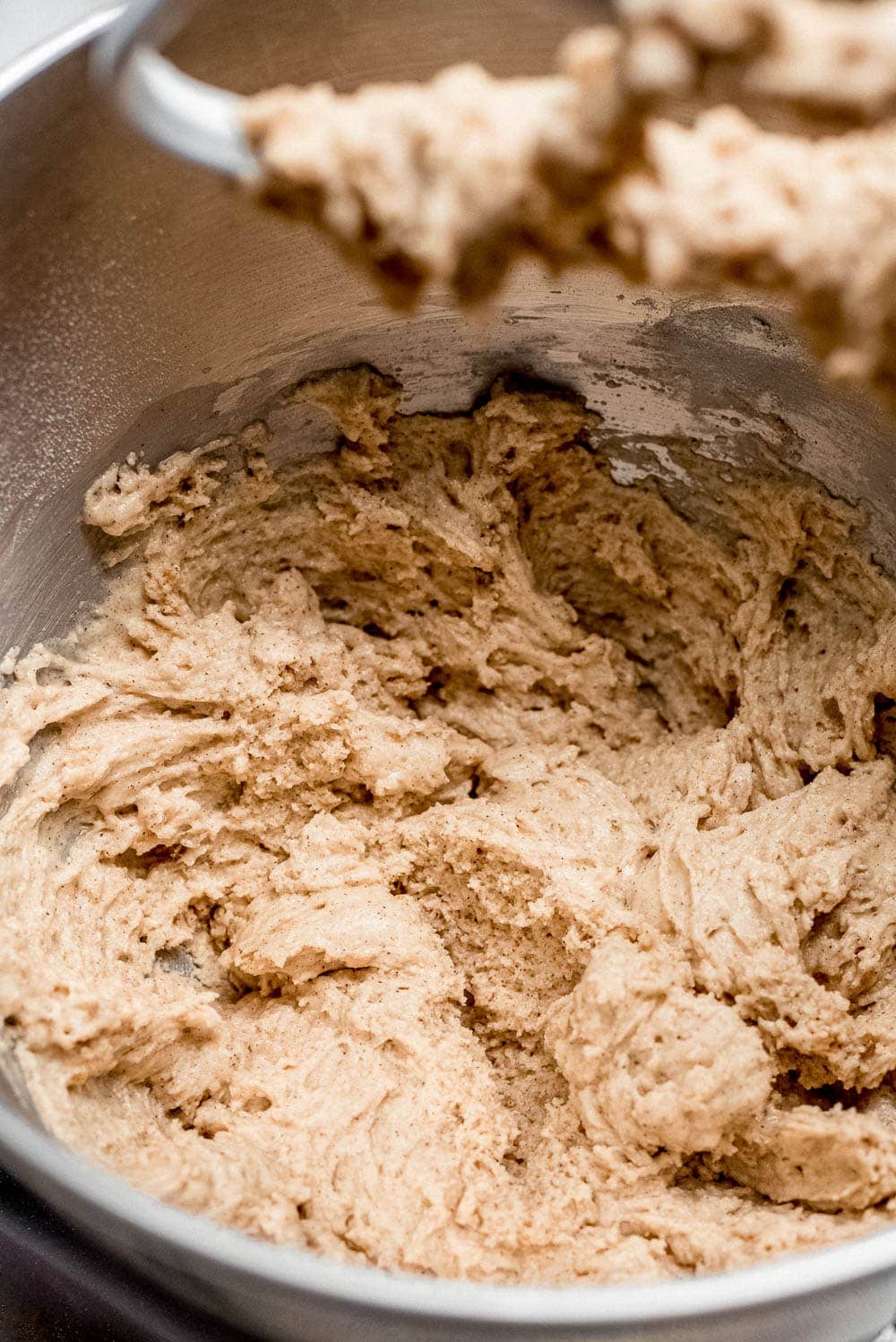 How to Make Apple Cider Doughnuts at Home?
Apple cider donuts are easy to make at home, but they do require a little patience. They make a great weekend baking project! The full recipe is in the card, but the steps are so simple.
Cook down the apple cider until it becomes a thick syrup.
Beat together the butter, sugar, syrup, and eggs until fluffy.
Stir in the flour, baking powder, baking soda, cinnamon, nutmeg, and salt.
Stir in the buttermilk.
Place the dough on a parchment-lined baking sheet, then top with another piece of parchment paper. Roll out until ¼-inch thick. Chill for an hour.
Peel off the parchment and place on a floured surface and cut out the doughnuts.
Fry for a few minutes on each side, then coat with cinnamon sugar.
How Long are Apple Cider Donuts Good for?
These doughnuts are the best the day they are made, but are good the next day, too. I would not recommend eating them after that. You can use them afterward to make french toast donuts, or even waffle them!
Can You Freeze Apple Cider Donuts?
If you are looking to extend the life of your apple cider doughnuts, I would not recommend freezing the fried doughnuts. You can freeze the dough before it is fried though. Simply place the dough in an airtight container. For the best results, roll out the dough in the parchment paper, then wrap the sheet of dough and lay flat in your freezer.
Are Apple Cider Doughnuts Vegan?
This particular recipe is not vegan, but you can adapt the recipe to make it vegan. You can substitute the butter with a vegan alternative. There are also egg replacements like a flax egg you can use. The buttermilk can be replaced with a milk alternative, my recommendation is cashew milk.
How to Reheat Apple Cider Donuts?
Apple cider doughnuts never really reheat well. You can put them in the microwave for about 15 seconds to soften them up, but you may need to coat them with cinnamon sugar again. Do not try to re-fry these doughnuts as they will simply get very greasy inside.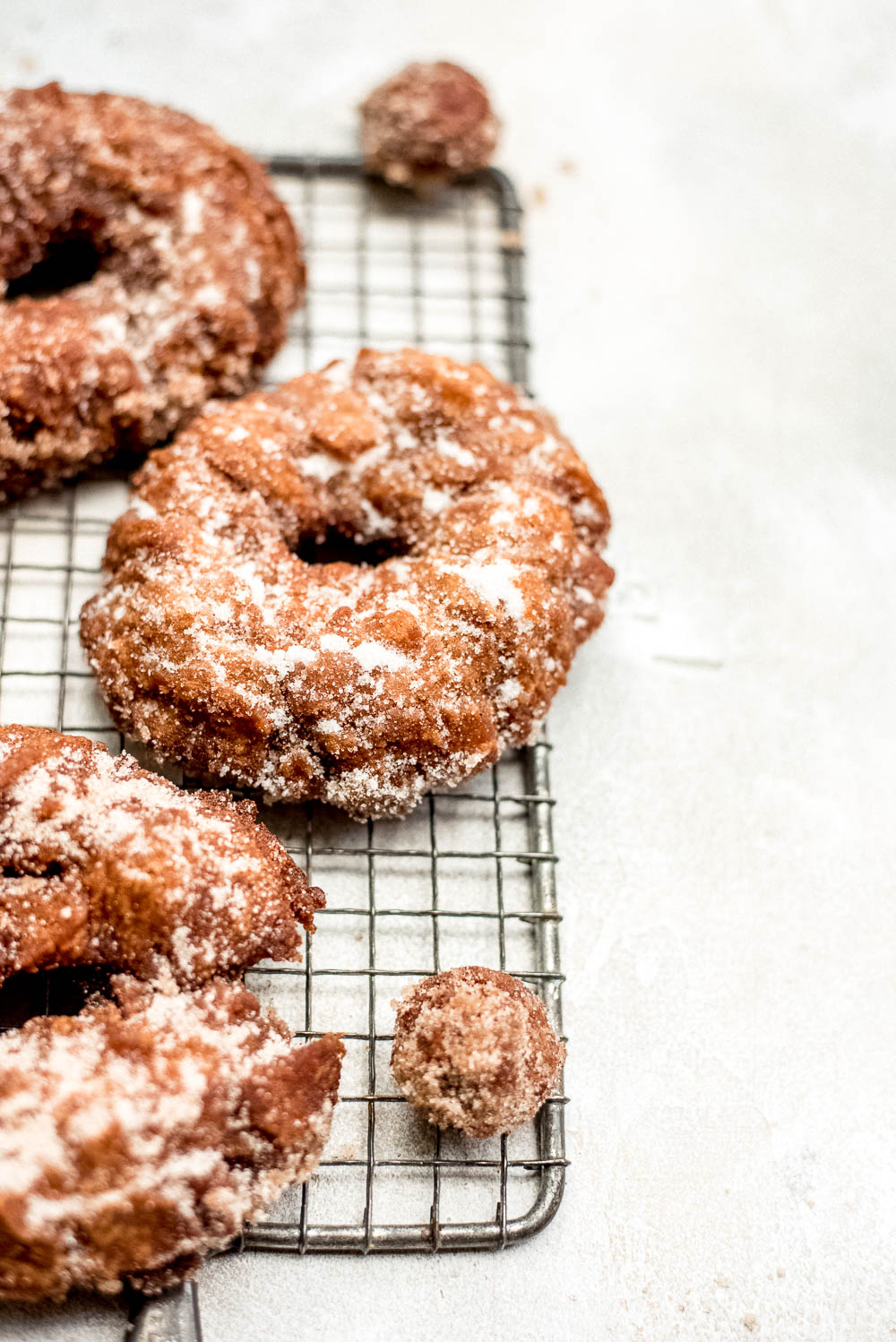 What do They Taste Like?
They taste like apple, spice, and everything nice!! Sorry, I couldn't help myself, but these doughnuts are just so perfectly autumn-y. Delicious infusion of apple and warm cinnamon with just a hint of nutmeg. Absolutely perfect. They're a little dense, like a cake, and the nooks and crannies get a little crunchy. Those little crunchy bits are my favorite.
Recipe Card
Apple Cider Doughnuts
Warm and comforting apple cider doughnuts
Ingredients
⅔

cup

apple cider

2

tablespoons

unsalted butter

room temperature

½

cup

granulated sugar

1

large egg

room temperature

1 ¾

cup

all-purpose flour

1

teaspoon

baking powder

½

teaspoon

baking soda

½

teaspoon

salt

½

teaspoon

ground cinnamon

⅛

teaspoon

ground nutmeg

¼

cup

buttermilk

room temperature
Cinnamon Sugar
½

cup

granulated sugar

2

tablespoons

ground cinnamon
Instructions
Add the apple cider to a saucepan and heat on medium-high and cook, stirring frequently, until the mixture is only about 2 tablespoons and a thick syrup.

In a mixing bowl, beat together the butter and sugar until the mixture becomes light and fluffy - about 2 minutes.

Beat in an egg for about a minute.

Add in the cider and beat until fully incorporated.

Stir in the flour, baking powder, baking soda, salt, cinnamon, and nutmeg. Mix until just combined.

Drizzle in the buttermilk and stir until just combined.

Line a baking sheet with parchment paper and put the dough onto the sheet. Top with another sheet of parchment paper. Roll out until about ¼-inch to ½-inch thick.

Place in the refrigerator for about an hour, or until the dough doesn't stick to the parchment so much.

Quickly take off the top parchment - it works best when you take it off like a band-aid.

Flour a flat surface, then place the exposed half of dough onto the flour then remove the other parchment paper.

Flour a doughnut cutter and cut out your dough.

Heat at least three inches of oil to 375 degrees F.

Fry your dough for a few minutes on each side.

Toss the doughnuts with cinnamon sugar.
Nutrition
Serving:
1
g
Calories:
166
kcal
Carbohydrates:
34
g
Protein:
3
g
Fat:
3
g
Saturated Fat:
1
g
Polyunsaturated Fat:
1
g
Cholesterol:
21
mg
Sodium:
198
mg
Fiber:
1
g
Sugar:
18
g
Tried this recipe?
Tag me on Instagram! @acookienameddesire #acookienameddesire