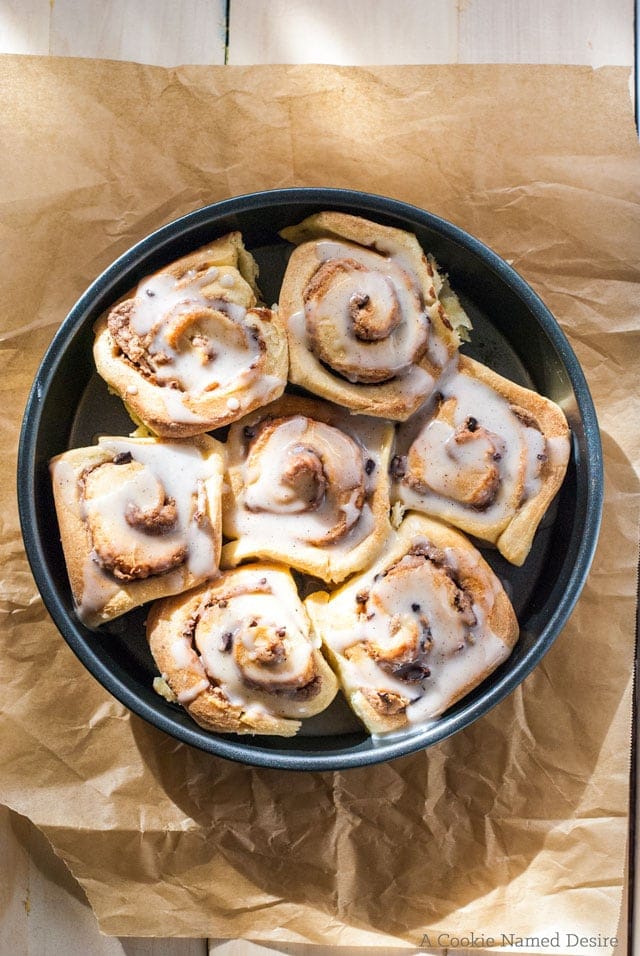 If you are one of the few people who actually read through my ramblings, you know that I am always questioning "my style" when it comes to photography and styling. Lately, I've been really digging my natural wood board (that I actually broke by sitting on it and now just lay the pieces together and do my best to keep them lined up because I can't find my wood glue) and as of this post, I've been really liking the harder shadows and streaks of light that come through in the late afternoons. I think it gives the photos a bit more personality.
I see a morning scene with the strong sun beaming through the windows and resting upon these sweet breakfast rolls. It becomes an part of the story.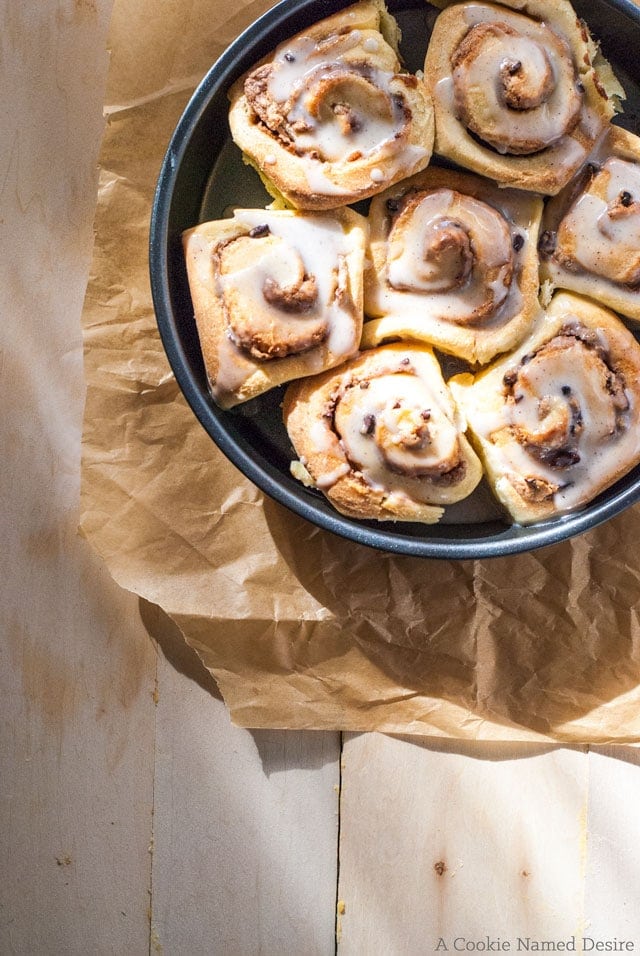 Okay, that's enough of that. I am sure you are bored with all that photography talk by now. Let's get to these rolls.
I originally wanted these to be a babka. I never made a babka before and decided to do some research until I found a recipe that made just one loaf. Perfect! That way I can get some practice in and see how all these flavors work, plus I made this almond streusel that was freaking amazing. But..... the bread would not bake through. So I tried again, and again. And no matter how much I worked this recipe, it either would not bake through, or it would, but take over double the amount of time listed on the recipe. Defeated and low on ingredients, I decided to put the babka on hold until I can research it more and make up my own recipe.
Instead, I decided to go back to my favorite brioche recipe and turn these into marzipan cinnamon brioche rolls. I couldn't think of a way to use the streusel in the rolls, so I have something else in mind for that. As it turns out, this was the best decision ever.
Seriously, I think the babka was never meant to happen (seriously, how can a loaf of bread fail three times) because I was really meant to make these rolls. The bread is so soft and pillowy and the cinnamon marzipan filling is to die for. It's sweet, sticky and when it gets on your fingers and you lick it off, a huge smile just creeps onto your face. Really, I don't know why I don't use marzipan more in my baking.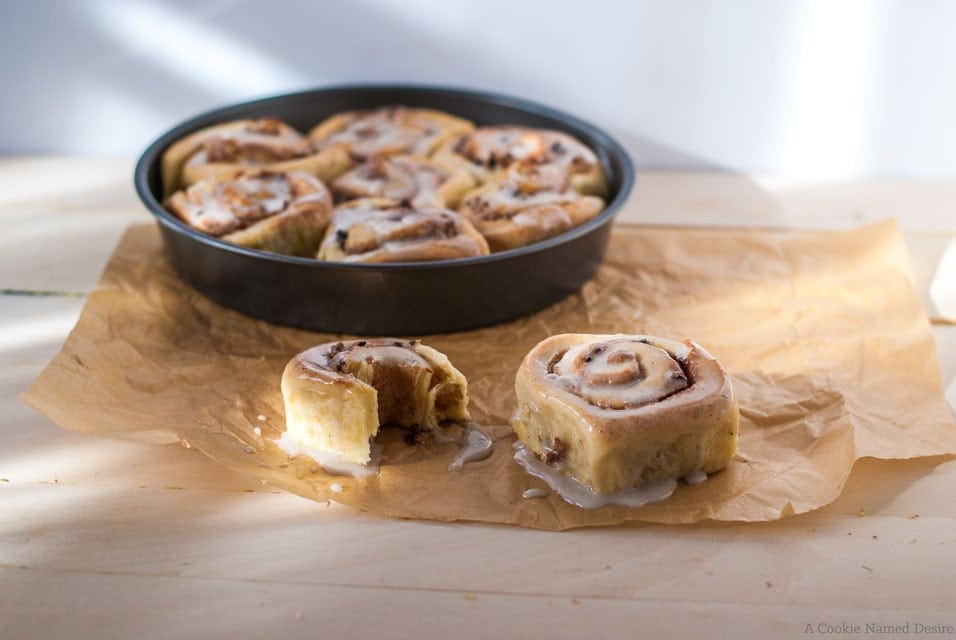 You can make the rolls all in one day, but I really recommend starting the dough the night before and letting it do the second rise in the refrigerator. This way, the flavor of the bread really develops, and you have less to do in the morning before breakfast.

Recipe Card
Marizpan Cinnamon Brioche Rolls with Almond Vanilla Glaze
Ingredients
6

tablespoons

unsalted butter

room temperature

7

oz

marzipan

2

teaspoons

cinnamon
For the Glaze
1

cup

powdered sugar

1

teaspoon

vanilla paste or extract

1

teaspoon

almond extract

2

tablespoons

cream or milk
Instructions
Use the recipe for the brioche and follow all the steps up to and including step 5. If you let the dough rise overnight, you will need to let it warm on the counter for about 30 - 45 minutes.

Preheat the oven to 325 degrees F.

In a food processor, add the butter, marzipan, and cinnamon together. Process until it comes together in a thick paste.

Lightly flour your work space and roll our the dough until it is about 16 inches by 18 inches.

Dot the dough with the marzipan mixture and use a rubber spatula or knife to spread it out to the edges of the dough.

Roll the dough lengthwise so you have an 18 inch log. Cut out 18 rolls. (I highly recommend using the

floss method

for even pieces)

Place the rolls cut side down on a 9 x 13 baking baking and bake for about 20 - 25 minutes. Allow them to cool for about 5 - 10 minutes.

While the rolls are cooking, make the glaze by adding all the ingredients together and mixing well.

Pour the glaze over the finished rolls and serve. The rolls are best the same day, but you may keep unbaked rolls in the fridge for up to three days, or in the freezer for up to a month. Finished rolls can keep in an airtight container up to three days. I recommend reheating them before serving.
Tried this recipe?
Tag me on Instagram! @acookienameddesire #acookienameddesire