Large, fluffy homemade marshmallows are completely different than any store-bought marshmallow you've ever had. They're sweet, flavorful, and absolutely incredible on their own, in s'mores or in your hot chocolate.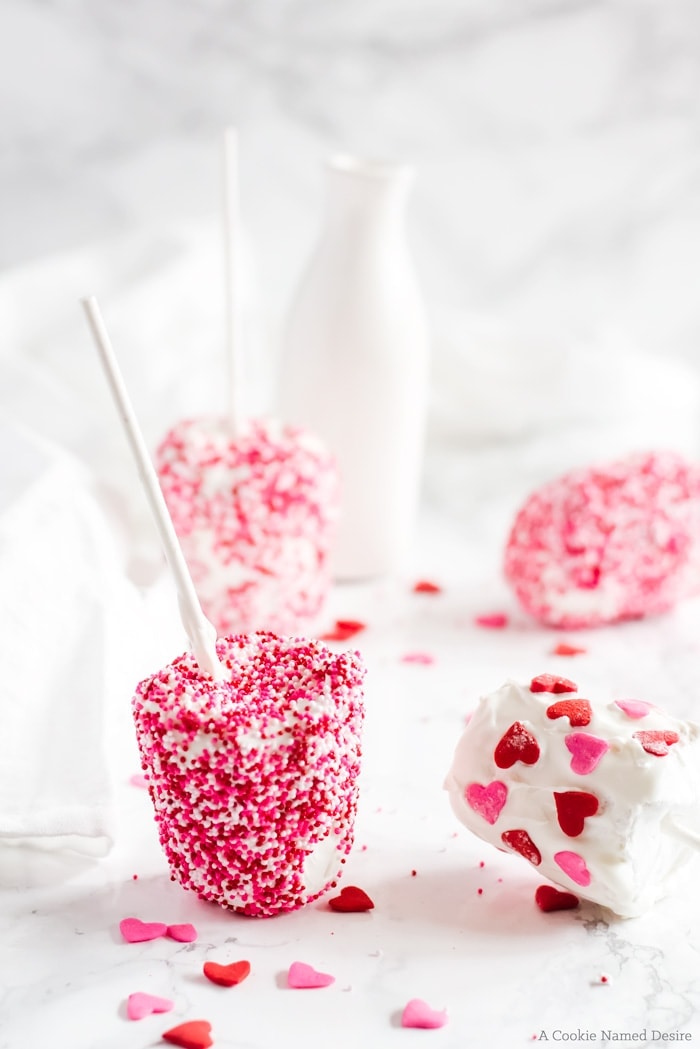 Why you'll love it
If you've never tried homemade marshmallows, you are in for a treat, especially if you aren't a fan of the store-bought kind. These are soft and pillowy-soft. They're very flavorful, and so much nicer than anything you can get in stores. I am not a fan of store-bought marshmallows, but these are amazing.
They are easy to customize like making chocolate marshmallows or strawberry marshmallows. You can also customize the size and shape of them so if you want mini marshmallows, or giant ones that fit your s'mores perfectly, you are all set. You can also pipe them, add in sprinkles or change their colors.
The best part? Making them is SO much easier than you'd think! Your stand mixer does most of the work. The hardest part is being patient... and being okay with a little bit of a sticky mess your first time making it.
Can I make the recipe without corn syrup?
Yes, you can make make marshmallows without using corn syrup, there are a few suitable substitutions, but you will need to understand how they change the final flavor and texture.
Agave - This is perhaps the best substitution as it will not impart a different flavor to the marshmallows.
Honey - While this works as a wonderful substitution, it will give you a distinct honey flavor. You can use a very mild honey, but the flavor will still be there.
Golden syrup - Like honey, it will work well, but leave a flavor behind.
Maple syrup -Some people have used maple syrup as a substitution, and the flavor it leaves behind can be more subtle than honey, but it is not one that I have used personally.
Molasses - Surprisingly, molasses actually makes a good substitution, but it will impart a deep flavor to the marshmallows and I do not recommend it unless you are planning on making a gingerbread-flavored marshmallow.
The importance of corn syrup and its substitutions is to prevent crystallization or caramelization when cooking the sugar. Corn syrup is an invert sugar derived from corn. It is not high fructose corn syrup.
Can I replace the gelatin to make them vegan?
Vegan marshmallows are wonderful and one of my favorites to use in baking. There are gelatin substitutes to make your marshmallows vegan. Agar agar is a common substitute that works well in marshmallows. Carrageen, specifically Vegan Jel works especially well. However, there is more to making marshmallows vegan because most brands of sugar are not vegan.
For the best results, I recommend using a recipe that is specifically made with vegans in mind. I recommend this vegan version from Make it Dairy Free.
How to flavor marshmallows
There are so many ways to flavor marshmallows. This is a base recipe for vanilla marshmallows, but you can do so much to get creative here.
When you are using most types of flavorings, you need to add them toward the end because the high temperatures we cook the sugar in can degrade the flavors. This is especially true when using extracts.
I like using freeze-dried fruits in my marshmallows a lot because they're concentrated fresh fruit flavor without the moisture. You can grind it up to a powder form and mix it in during the whipping stage and add more to the marshmallow mix.
You can also use citrus zest, and it actually works well adding to the cooking sugar because it can withstand the high temperatures better.
One creative way to add flavor is by replacing the water with something that is flavored. Leftover coffee or strong tea would do wonderfully as long as there is no sugar, dairy, or dairy alternative in them.
Just before setting your marshmallows you can swirl in a bit of jam or caramel to flavor and something that looks a lot of fun, too!
If you've ever wanted to make a huge batch of the best rice krispies you've ever had, use your own homemade marshmallows.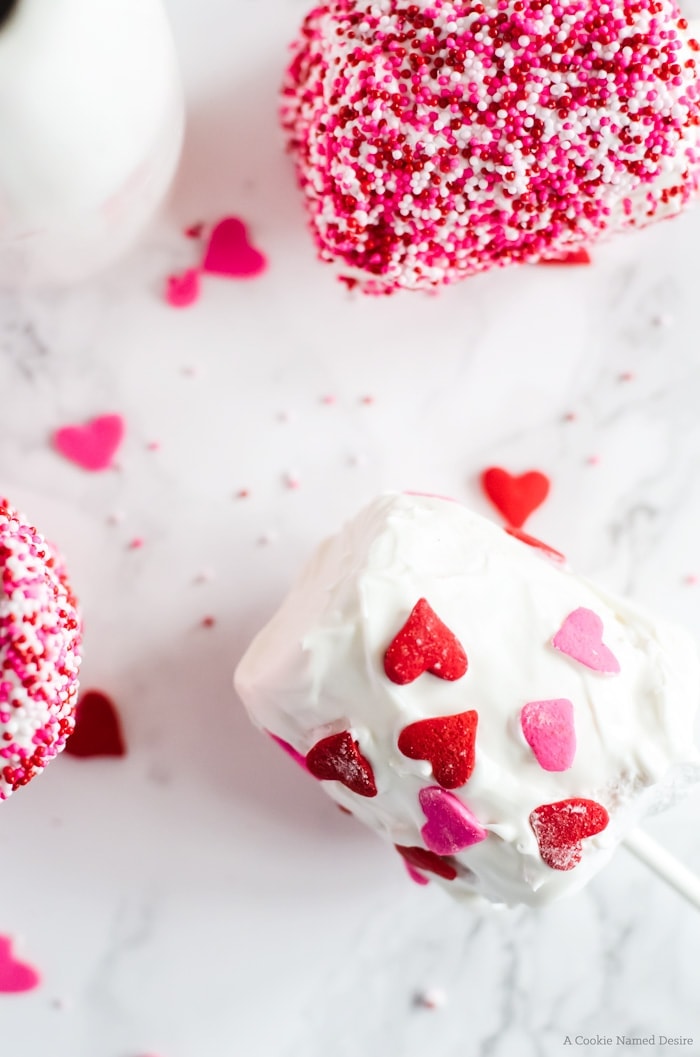 Recipe FAQs
How long do marshmallows keep?
Marshmallows will last up to 6 months at room temperature if stored in an airtight container. You cannot store the marshmallows in the refrigerator or the freezer.
Are marshmallows just meringue?
When whipping up the marshmallows, it will look very similar to meringue, but it is entirely different from meringue. Meringue is made of egg whites that are whipped with sugar until they become stiff and glossy. Marshmallows, on the other hand, are made of whipped sugar and gelatin.
Why are my marshmallows not fluffy?
The biggest culprit for marshmallows that are not fluffy is sugar that is cooked beyond 240F (also known as the soft ball stage of sugar cooking). Anything higher will make the sugar too stiff to create a light and fluffy marshmallow
Recipe Card
Homemade Marshmallows
Fluffy and light as air, these homemade marshmallows are a cinch to make.
Ingredients
Marshmallow Mix
¼

cup

cornstarch

¼

cup

powdered sugar
Marshmallows
3

packages gelatin

unflavored

1

cup

ice water

divided

1 ½

cups

granulated sugar

1

cup

corn syrup

½

teaspoon

sea salt

2

teaspoons

vanilla extract
To Make Pops
10

oz

white chocolate

½

cup

sprinkles
Instructions
Make the marshmallow mix by mixing the ingredients together in a bowl and set aside.

Add the gelatin and half the water together in a stand mixer and set aside. Attach the whisk attachment to the mixer in the meantime.

Mix together the remaining water, sugar, corn syrup, and salt in a saucepan and heat on medium-high. Allow to boil for about 10 minutes, or until the mixture reaches 240F.

Turn on the stand mixer on low and drizzle in the sugar and corn syrup mixture into the bowl. Be careful not to let the mixture splash on the sides or out of the bowl.

Beat the mixture on medium speed for about 15 minutes, or until the outside of the bowl feels about room temperature. Add in the vanilla and beat for another minute.

Prepare your containers while the mixer is still beating. Grease 20 small Dixie cups if you are making pops, or grease a 9x9 baking ban and generously coat with the marshmallow mix. If you are using Dixie cups, please make sure the rims of the cups are also greased and coated in the marshmallow mix.

Once the marshmallows are ready (the mixer is at room temperature and you've added your vanilla), either pour the marshmallows into the pan, or grease an ice cream scoop then coat in the marshmallow mix (or you can attempt to use a greased pipping bag). Use your ice cream scoop to fill the Dixie cups with the marshmallow. Place a lollipop stick in the middle of each Dixie cup. Top with more marshmallow mix (do this for both the pan and Dixie cup method).

Place on the counter for at least 3 hours, or preferably overnight.

Remove the marshmallows from the Dixie cups. Or remove the marshmallows from the baking pan and cut into large cubes using a greased knife.

Place the sprinkles in a bowl. Place a sheet of parchment paper on a flat surface. if you are coating the marshmallow pops.

Melt the white chocolate by placing in a microwave-safe bowl and heating for 30 seconds at a time and mixing the chocolate between each 30 second interval.

Working quickly, dip the marshmallows into the white chocolate. Allow it to drip off any excess white chocolate, then dip into the sprinkles. Place on the parchment paper. I found the marshmallow mix dries out the white chocolate quickly, so you don't have a ton of time before you can dip the marshmallows in sprinkles before the chocolate is too hard to stick. You can reheat the white chocolate as needed.
Notes
Use a candy thermometer for an accurate reading of the sugar because it is important not to go over 240F 
I highly recommend leaving the marshmallows overnight for the best results. 
Store marshmallows in an airtight container for up to 6 months at room temperature. Do not store in the refrigerator or freezer. 
Make sure your knife is greased before cutting the marshmallows otherwise the marshmallows will stick to the knife too much to cut. 
Nutrition
Serving:
24
g
Calories:
93
kcal
Carbohydrates:
15
g
Protein:
4
g
Fat:
5
g
Saturated Fat:
2
g
Polyunsaturated Fat:
2
g
Cholesterol:
2
mg
Sodium:
49
mg
Sugar:
23
g
Tried this recipe?
Tag me on Instagram! @acookienameddesire #acookienameddesire