Large, fluffy homemade marshmallows dipped in white chocolate and covered in sprinkles. A Valentine's Day treat your kids will love!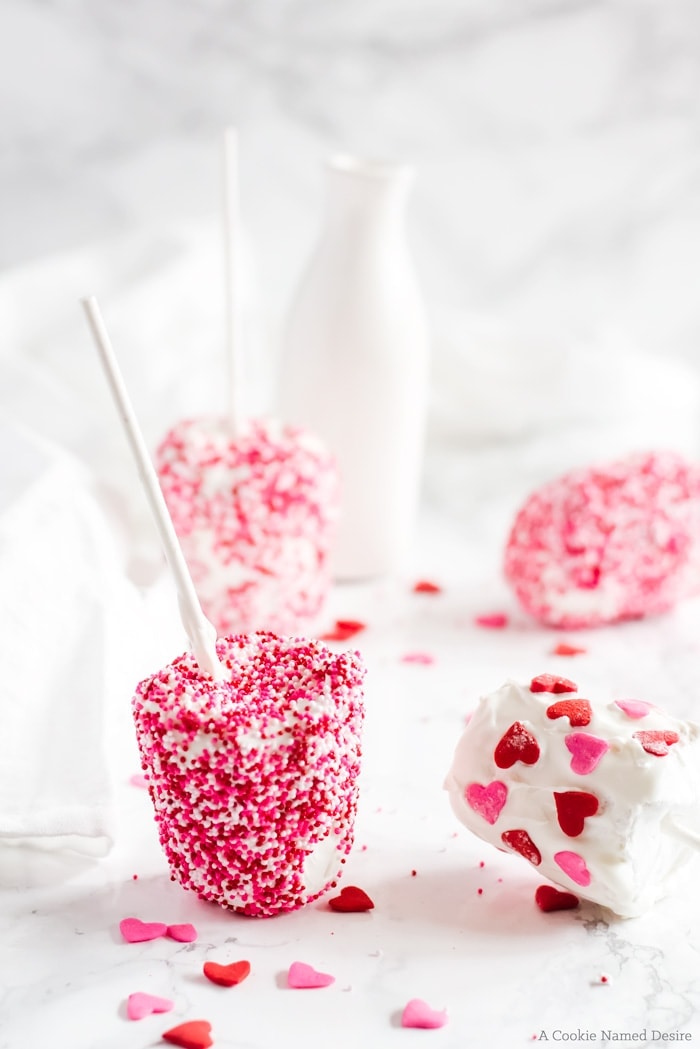 Some people believe that Valentine's Day is a day to celebrate romantic love between two people. That's always seemed so foreign to me because in my family, Valentine's Day has always been about celebrating all the people in your life that you love. Family and friends. It's a day of love for everyone.
So I always do something extra special for my daughter on Valentine's Day. I get her a little basket and fill it with goodies and we spend the day together. The other day, she saw these jumbo sprinkle-covered marshmallow pops at the store and asked if she could have them. I decided it would be better to just make them.
Because somehow I thought it would be easier.
Hint: Buying them is definitely easier.
But homemade marshmallows are more fun.
.....And more delicious.

The last time I made homemade marshmallows was back in 2013 when I was blogging at my other website and made these cinnamon peppermint marshmallows that were amazing. I don't know why I took so long to make marshmallows again.
Here's one thing I forgot about homemade marshmallows: they are STICKY. They will stick to everything that it comes in contact with. The only way to stop it is with the marshmallow mix. So this presents a bit of a challenge when turning these into marshmallow pops.
I decide to go the hard route and put them in little Dixie cups to make the pop shape. I coated an ice cream scoop in grease, then in the marshmallow mix and scooped the marshmallow into the cups which takes a bit of practice. At first, you might not be able to pack it in enough and have litle holes in your pops. Not a big deal, flaws are easily covered with white chocolate and sprinkles. You can try putting the mix into a piping bag and pipping it into the cups, but I didn't try this, so I don't know how well it would work. Perhaps if you lightly grease the inside of the bag and tip.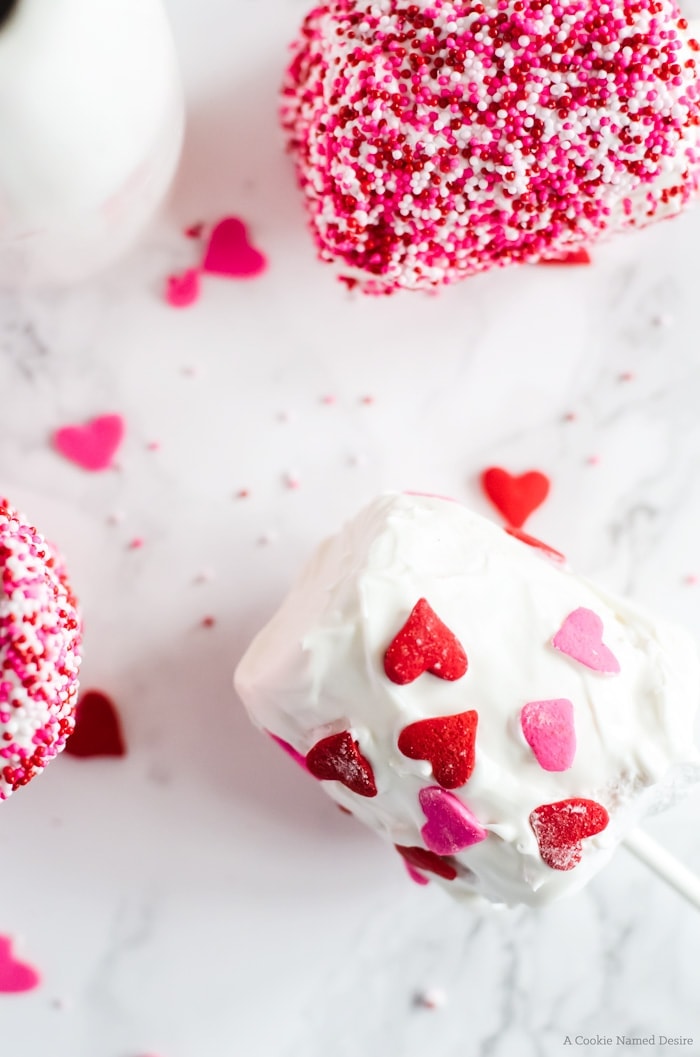 OR, if you aren't all about that, you can simply put the homeamde marshmallows into a smaller pan to make them thicker and cut them into cubes. Either way, make sure the Dixie cups or baking pan are greased, then completely covered in marshmallow mix.
If you want to try something a little more fun, be sure to check out these delicious and beautiful strawberry marshmallows!
White Chocolate Homemade Marshmallow Pops
Fluffy and light as air, these homemade marshmallows are a cinch to make.
Ingredients
Marshmallow Mix
¼

cup

cornstarch

¼

cup

powdered sugar
Marshmallows
3

packages gelatin

unflavored

1

cup

ice water

divided

1 ½

cups

granulated sugar

1

cup

corn syrup

¼

teaspoon

salt

1

teaspoon

vanilla extract

10

oz

white chocolate

½

cup

sprinkles
Instructions
Make the marshmallow mix by mixing the ingredients together in a bowl and set aside.

In a stand mixer, add the gelatin and half the water together and set aside. Attach the whisk attachment to the mixer in the meantime.

In a saucepan, mix together the remaining water, sugar, corn syrup, and salt and heat on medium-high. Allow to boil for about 10 minutes, or until the mixture reaches 240 degrees F.

Slowly turn on the stand mixer and drizzle in the sugar and corn syrup mixture into the bowl. Be careful not to let the mixture splash on the sides or out of the bowl. I recommend leaving the mixer on the lowest speed as you pour it in.

Beat the mixture on medium speed for about 15 minutes, or until the outside of the bowl feels about room temperature again. Add in the vanilla and beat for another minute.

While the mixer is beating, prepare your containers. Grease either 20 small Dixie cups, or a 9x9 baking ban and generously coat with the marshmallow mix. If you are using Dixie cups, please make sure the rims of the cups are also greased and coated in the marshmallow mix.

Once the marshmallows are ready, either pour the marshmallows into the pan, or grease an ice cream scoop then coat in the marshmallow mix (or you can attempt to use a greased pipping bag). Use your ice cream scoop to fill the Dixie cups with the marshmallow. Place a lollipop stick in the middle of each Dixie cup. Top with more marshmallow mix (do this for both the pan and Dixie cup method).

Place in the refrigerator for at least 3 hours, or preferably overnight.

Remove the marshmallows from the Dixie cups. Or remove the marshmallows from the baking pan and cut into large cubes. Stick a lollipop stick into each cube.

Place the sprinkles in a bowl. Place a sheet of parchment paper on a flat surface.

Melt the white chocolate by placing in a microwave-safe bowl and heating for 30 seconds at a time and mixing the chocolate between each 30 second interval.

Working quickly, dip the marshmallows into the white chocolate. Allow it to drip off any excess white chocolate, then dip into the sprinkles. Place on the parchment paper. I found the marshmallow mix dries out the white chocolate quickly, so you don't have a ton of time before you can dip the marshmallows in sprinkles before the chocolate is too hard to stick.
Nutrition
Serving:
24
g
Calories:
93
kcal
Carbohydrates:
15
g
Protein:
4
g
Fat:
5
g
Saturated Fat:
2
g
Polyunsaturated Fat:
2
g
Cholesterol:
2
mg
Sodium:
49
mg
Sugar:
23
g
Tried this recipe?
Tag me on Instagram! @acookienameddesire #acookienameddesire