Pillowy strawberry marshmallows are such an easy no-bake treat that everyone loves. They're great in s'mores, stuffed inside cookies, or as a topping to your hot chocolate.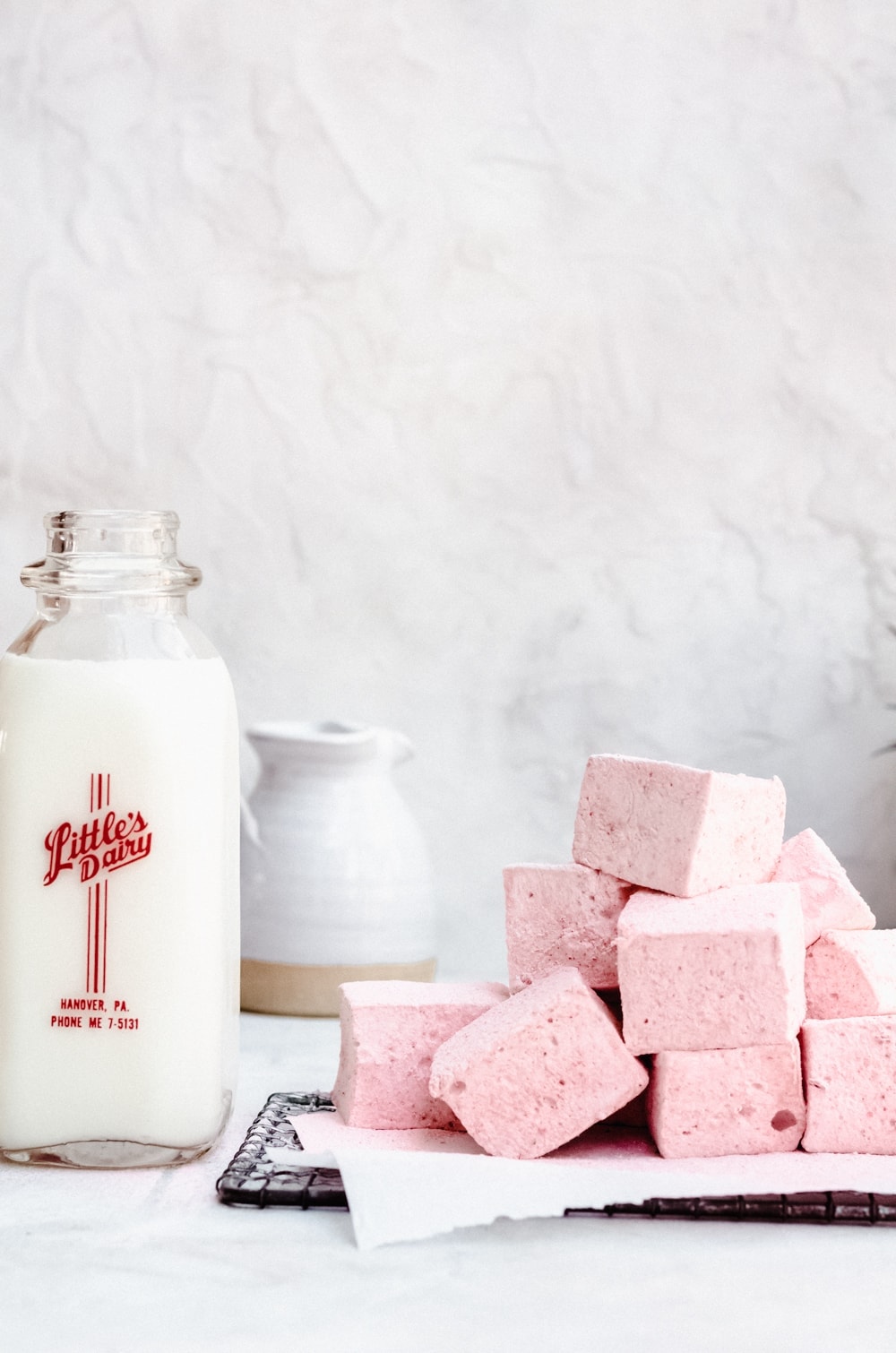 If I am completely honest with you, I have not always been a huge fan of marshmallows. I wouldn't say no to them, but I would never go out of my way for them. Roasted marshmallows are amazing, but I don't understand how people eat plain marshmallows out the bag.
Last year, I started playing around with different flavors of marshmallows using my recipe for homemade marshmallows, and I am really in love with the process. Biting into something so irresistibly, cloud-like soft, and infused with flavor, is so incredible. These strawberry marshmallows are one of my favorites.
Instruction overview
There are a few ways to make strawberry marshmallows. My favorite way is to use freeze-dried strawberries.
Freeze died strawberries have concentrated strawberry flavor without adding extra liquid. They can be blended into a powder which makes it easy to mix into just about everything. Plus, when mixed with the marshmallow mix, it adds even more flavor in every bite.
To make the marshmallows you...
Bloom the gelatin.
Make a candy syrup.
Beat the gelatin, then drizzle in the syrup.
Continue beating until the bowl is cool and the mixture is light and fluffy.
Add in salt, vanilla, and powdered strawberry.
Coat a pan in marshmallow mix, then pour in the marshmallows. Top with more mix.
Cut the marshmallows and toss with more mix.
What is marshmallow mix
Have you ever noticed all marshmallows have a coating around them? Marshmallows in general are pretty sticky. The marshmallow mix coats the cut marshmallows to stop the sticking and helping to keep them fresh. The marshmallow mix for the strawberry marshmallows contains:
powdered sugar
cornstarch
powdered freeze-dried strawberries
It's as simple as that. You can save your mix in an airtight container to make more marshmallows in the future.
How to store
Keep your strawberry marshmallows in an airtight container, with a light sprinkle of extra mix. I like to keep mine in gallon ziplock bags. You can freeze your marshmallows fine, I recommend keeping them in airtight containers, but I know some people leave them in open bags in the freezer.
Want more marshmallows?
You can get my recipe for basic homemade marshmallows here. You might also love my chocolate marshmallows filled with chocolate chips. While you're at it, dunk your marshmallows in homemade hot chocolate! Or use some homemade graham crackers for some super fancy s'mores.
Recipe Card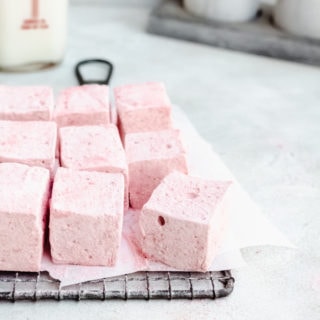 Strawberry Marshmallows
Pillowy soft strawberry marshmallows
Ingredients
Marshmallow Mix
¼

cup

cornstarch

¼

cup

powdered sugar

¼

cup

powdered freeze dried strawberries
Strawberry Marshmallows
3

packages gelatin

unflavored

1

cup

ice water

divided

1 ½

cups

granulated sugar

1

cup

corn syrup

¼

teaspoon

salt

1

teaspoon

vanilla extract

¾

cup

powdered freeze dried strawberries
Instructions
Take 1 ½ packages of freeze dried strawberries and put them in a food processor and pulse until it becomes a fine powder. Set aside for your marshmallow mix and marshmallows

Mix together the ingredients for the marshmallow mix and set aside.

In the bowl of a stand mixer, add the gelatin and half the water. Set aside to bloom while you continue working.

Add the remaining water, sugar, and corn syrup to a medium, thick-bottomed sauce pan. Cook without stirring until the mixture reaches 240 degrees F. This should take about 10 minutes.

Use the wire attachment and slowly mix the bloomed gelatin.

Slowly pick up speed to medium and drizzle in the hot syrup between the whisk and the bowl.

Once the syrup is all poured in, beat the mixture on high until the sides of the bowl is cool - this should take another 10 - 15 minutes.

Slow down the mixer to medium, then add in the salt, vanilla and strawberries. Mix until the mixture is completely mixed together.

Grease an 8 x 8 baking pan, then coat in a thin layer of marshmallow mix.

Pour the mix into the pan then sprinkle the top with more mix.

Allow to set a few hours, preferably overnight.

Dust a knife or pizza cutter with some of the mix, then cut the marshmallows into squares. Toss them with the marshmallow mix.
Nutrition
Serving:
1
marshmallow
Calories:
60
kcal
Carbohydrates:
17
g
Protein:
3
g
Sodium:
39
mg
Sugar:
15
g
Tried this recipe?
Tag me on Instagram! @acookienameddesire #acookienameddesire