If you love cookies and cream, you will absolutely fall in love with this Oreo fudge. Creamy white chocolate fudge is overloaded with Oreo cookies for an explosion of flavor.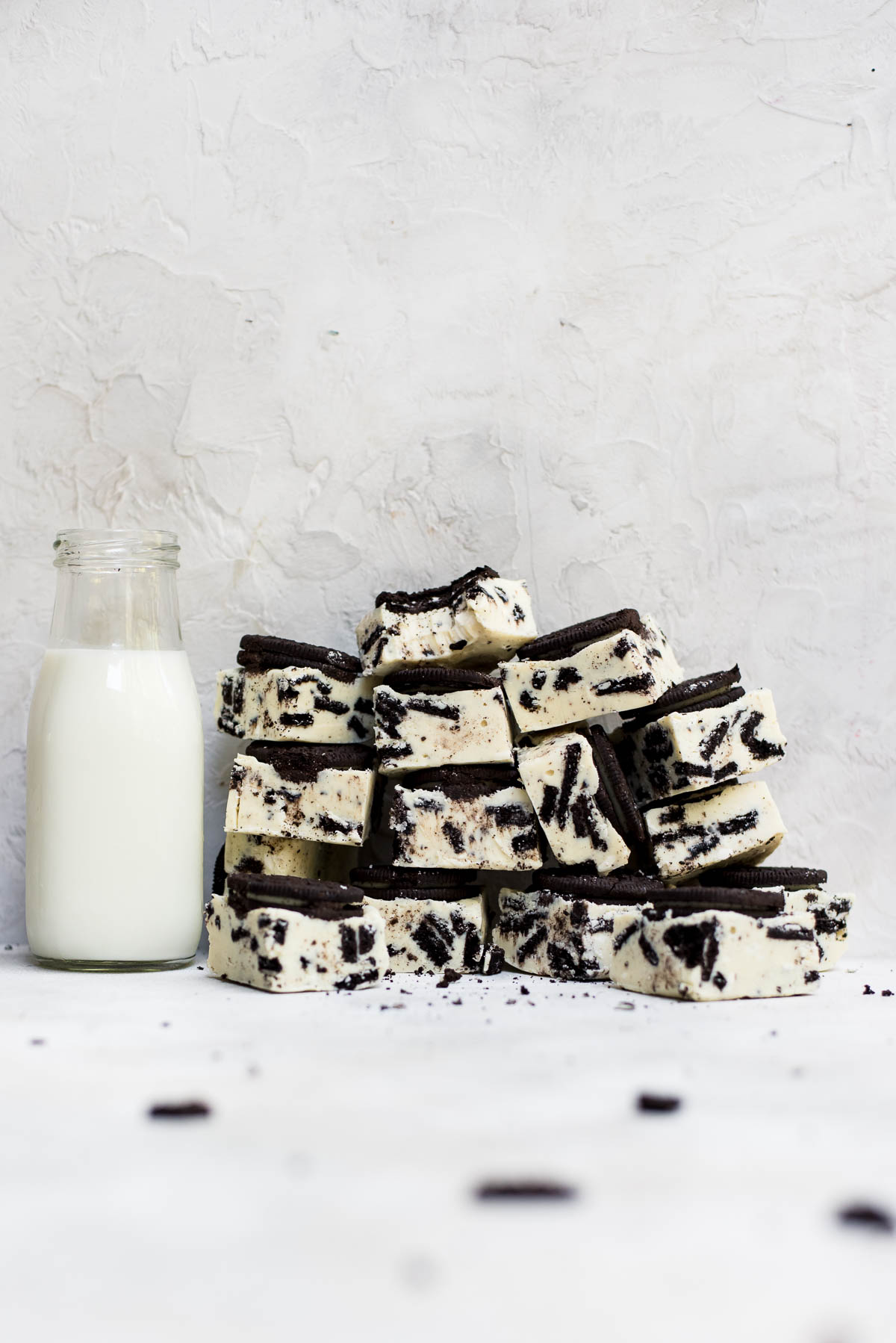 Oreo fudge is one of those delicious treats you don't get to have too often because you know if it's around all the time, you will end up eating it constantly. There is something about that creamy white chocolate fudge stuffed with almost an entire pack of Oreos that is just completely irresistible.
Can I Use Any Type of Oreo In My Fudge?
Absolutely, yes! I love the contrast of the white chocolate and the deep chocolate flavor of original Oreos, but you don't have to stop there. You can make so many variations and they are all delicious! Try any and all the types of Oreos there are. Yes, even the fudge-covered Oreos.
If you want to get really inventive, you can change up the flavor in the fudge itself. Add a drop of mint extract with your mint Oreos. Or maybe add in a swirl of peanut butter.
I am all about trying new things and seeing how they turn out.
Ingredient List
You only need a handful of ingredients to make this cookies and cream fudge.
White Chocolate - This adds flavor and creaminess. I recommend a bar white chocolate over white chocolate chips.
Sweetened Condensed Milk - You need this to amplify the other flavors, and give the fudge its signature texture.
Salt - I recommend adding a touch of salt to help enhance the other flavors and also to keep the fudge from being overly cloying.
Oreos - It's just plain white chocolate fudge without the Oreos. You're going to need almost an entire pack for this.
Vanilla - to really drive home the balance of flavors, vanilla really helps to round things out.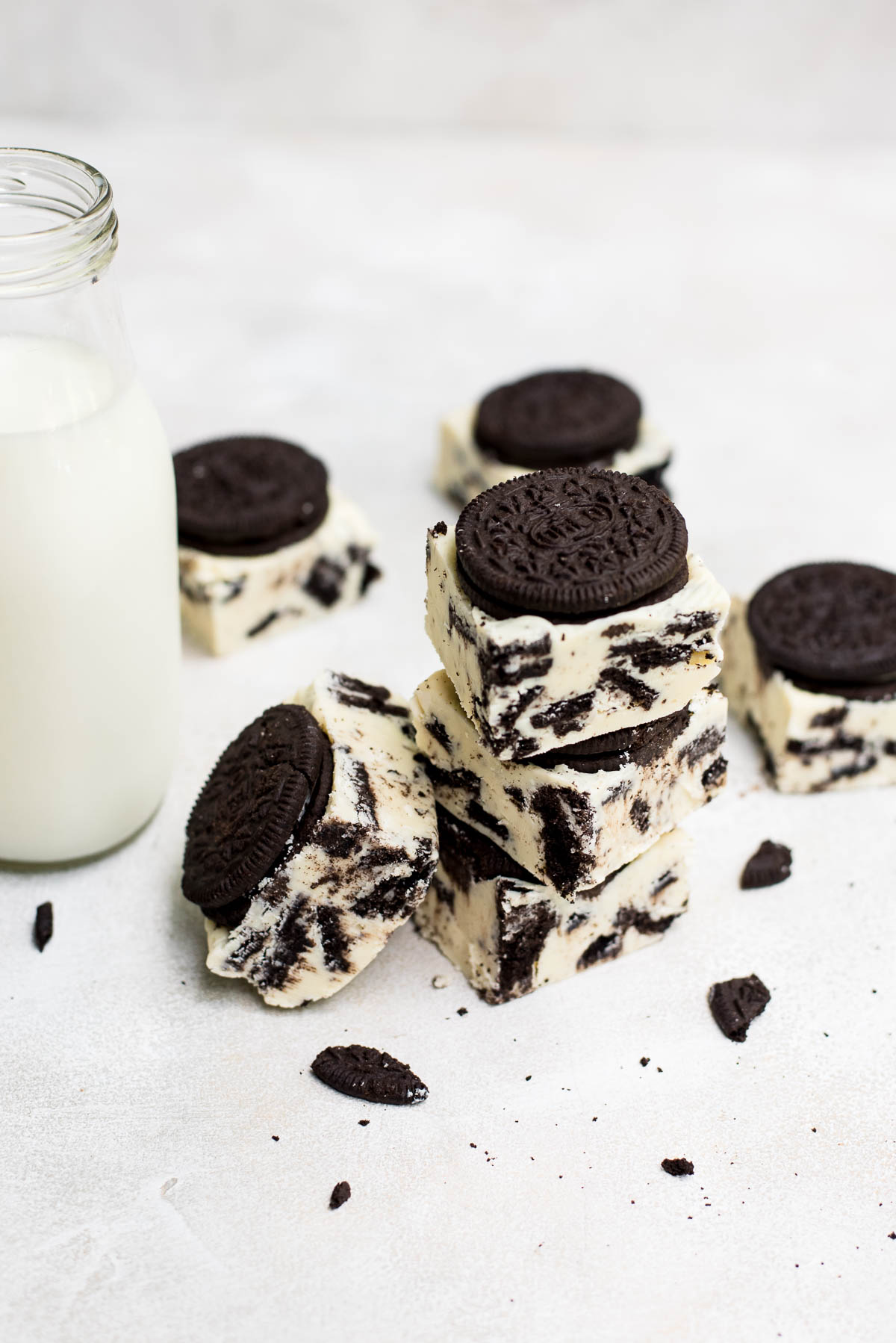 How to Make
There are so many methods of making cookies and cream fudge that I decided to just go with the simplest one. Who wants to spend ages making the fudge when we could be spending more time eating the fudge, right?
Mix together the white chocolate and condensed milk.
Heat until the chocolate is melted.
Add vanilla and then crushed Oreos.
Pour into a prepared pan.
Top with more Oreos.
Set, cut, then eat.
Easy peasy, right? The best part is that it only requires a few ingredients, and you probably have most of it at home, if your pantry is well-stocked. I usually only need to run out to get the sweetened condensed milk unless it's baking season.
How to Store
You should always store your fudge in an airtight container and keep it in a dark, cool, dry place. It will last a couple of weeks like this. To extend its life, you can put your container in the refrigerator.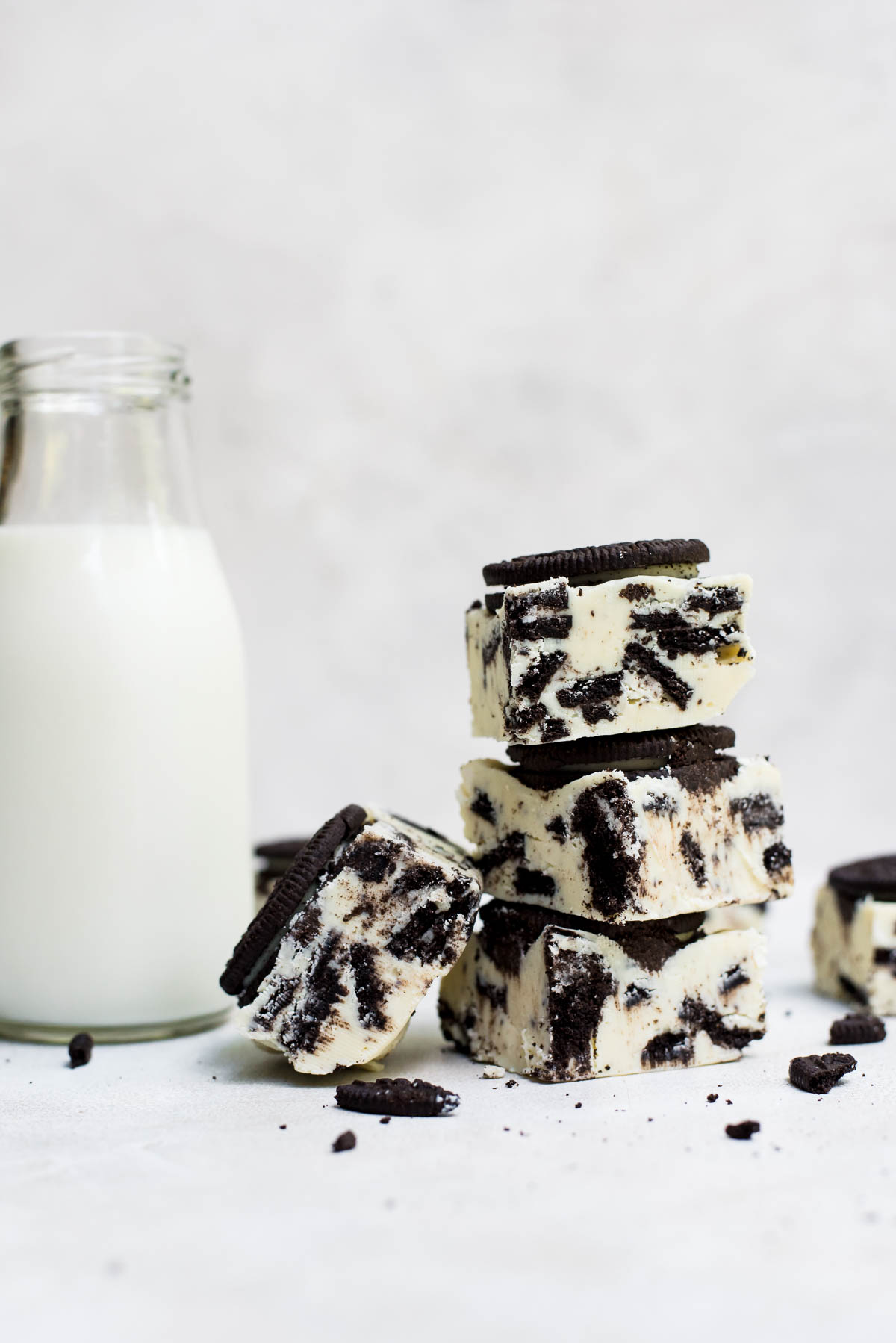 Can You Freeze Oreo Fudge
Yes. The only issue is if you top your fudge with more Oreos, those exposed Oreos will get really soft. That might not be an issue for some because they tend to get soft over time anyway, but it might be an issue for others.
This fudge lasts fairly well at room temperature for a while, so I wouldn't stress out about freezing them unless you plan on not eating them for another month.
If you are looking to set your fudge quickly (because we need to get to the eating part asap), then you can pop your freshly made fudge in the freezer for about an hour to speed things along.
Craving More?
I have a few you might enjoy. First, you need to check out my creamy Nutella fudge. After making a few batches of those, try my Cracker Jack Fudge. It's so good and so much fun to eat! If you want more Oreos, try this no-bake Oreo cheesecake, and these Oreo donuts.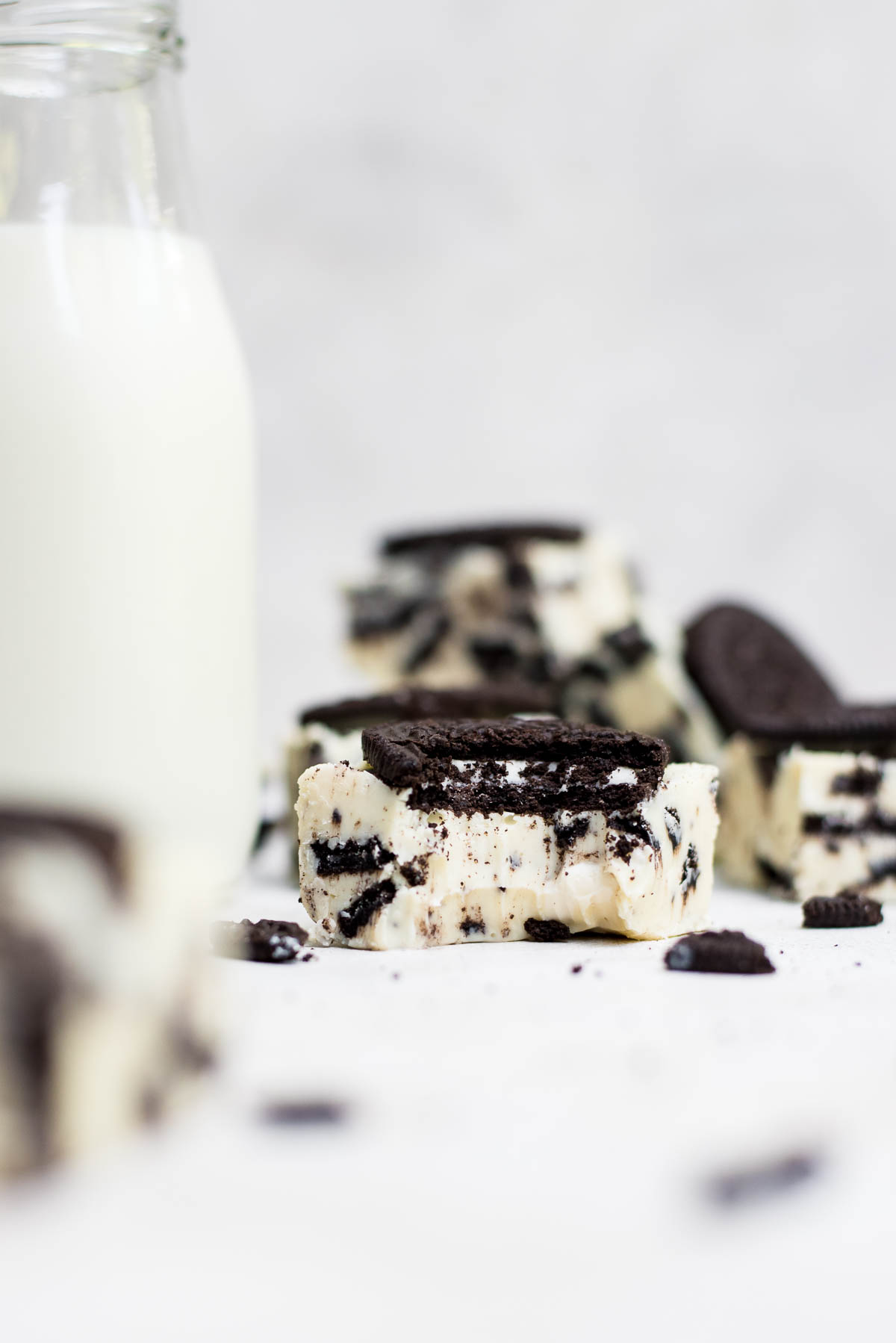 Recipe Card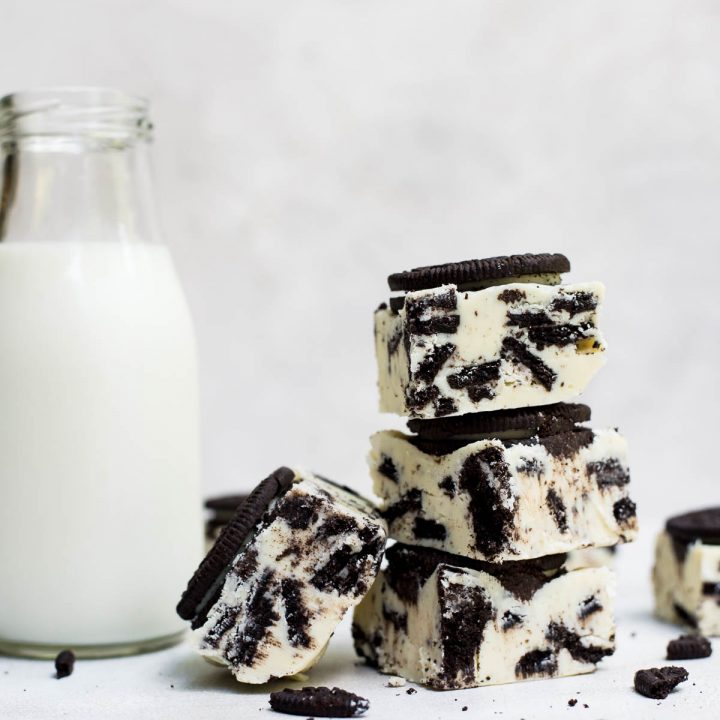 Oreo Fudge
This cookies and cream inspired fudge is an easy and fun treat for anyone
Ingredients
14

oz

sweetened condensed milk

3

cups

white chocolate

¼

teaspoon

sea salt

1

teaspoon

vanilla extract

25

Oreos
Instructions
Line an 8x8 square baking pan with aluminum foil

Mix together the sweetened condensed milk, white chocolate, and salt together in a medium saucepan and heat over medium-low heat until the chocolate melts. Remove from heat.

Add in the vanilla and stir in. Crush half the Oreos and stir it into the saucepan.

Pour everything into the prepared baking pan and smooth out.

Top with the remaining whole Oreos. (Optionally, you may roughly chop the Oreos before topping)

Chill the fudge for at least three hours, or until set. Cut into little squares.
Nutrition
Serving:
1
g
Calories:
241
kcal
Carbohydrates:
33
g
Protein:
4
g
Fat:
11
g
Saturated Fat:
6
g
Polyunsaturated Fat:
1
g
Monounsaturated Fat:
4
g
Trans Fat:
0.01
g
Cholesterol:
11
mg
Sodium:
130
mg
Potassium:
166
mg
Fiber:
0.5
g
Sugar:
29
g
Vitamin A:
59
IU
Vitamin C:
1
mg
Calcium:
99
mg
Iron:
2
mg
Tried this recipe?
Tag me on Instagram! @acookienameddesire #acookienameddesire