You've never had a cheesecake quite like this No-Bake Oreo Cheesecake! This incredible treat is ready to eat in just hours without an overnight set in the refrigerator. Unlike other no-bake cheesecakes, this one also does well sitting at room temperature!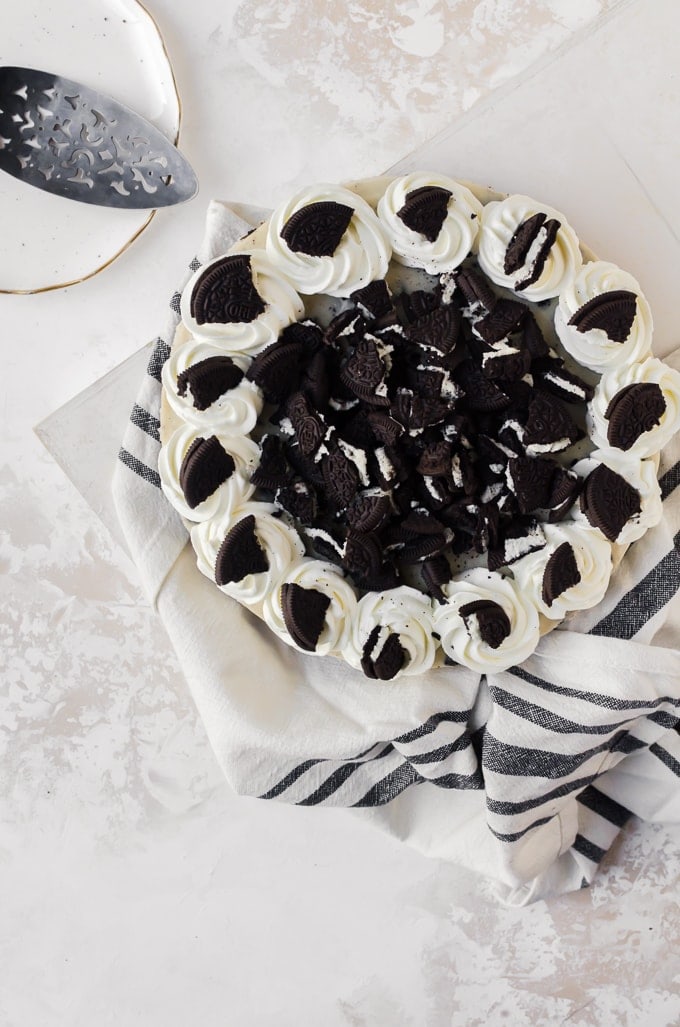 A few days ago I had an almost insatiable craving for cheesecake, but I didn't know if I wanted to make an Oreo cheesecake or a salted caramel cheesecake. I decided to take to Instagram and ask... the results were almost split 50/50 so I decided I'd live life fully and make both, starting with this no-bake Oreo cheesecake.
I didn't originally plan on this being a no-bake cheesecake recipe, but I really wanted something fast and easy and that wouldn't require me to wait ages to eat. Then I also realized that I hadn't made a no-bake cheesecake since the vegan cheesecake parfaits I made one winter. I could make the same thing again.... but I asked Instagram again if cheesecake was better by the slice or in a parfait and almost everyone said a slice of cheesecake was better, so I went for it! Thank you insta for all your help, you basically did 60% of the work in making this no-bake Oreo cheesecake!
What I love about this particular no-bake cheesecake is that it sets fairly quickly and does well at room temperature, too. Most no-bake cheesecakes get too soft at room temperature to slice and eat, but this one still holds up thanks to the use of gelatin. Here we use a packet of unflavored gelatin mixed with hot water folded into our cheesecake batter. This speeds up the setting time a bit and keeps it set. I also like that it guarantees your cheesecake sets completely every time.
When using the gelatin, you have to be sure all your ingredients at at room temperature, and you use hot water. The water is what blooms the gelatin. But since we aren't heating the cheesecake batter, the gelatin is added after a shorter blooming time while it is still mostly liquidy. This ensures that it mixes completely into the batter and you don't get bits of chewy unflavored gelatin in your finished cheesecake. No one has time for that mess when they're trying to get down with some dessert. Unless you're making a cheesecake jello... in that case, more power to you!
If you do find you let your gelatin bloom too much and it turns into a set jello, add a tablespoon or two of hot water and mix until it thins out again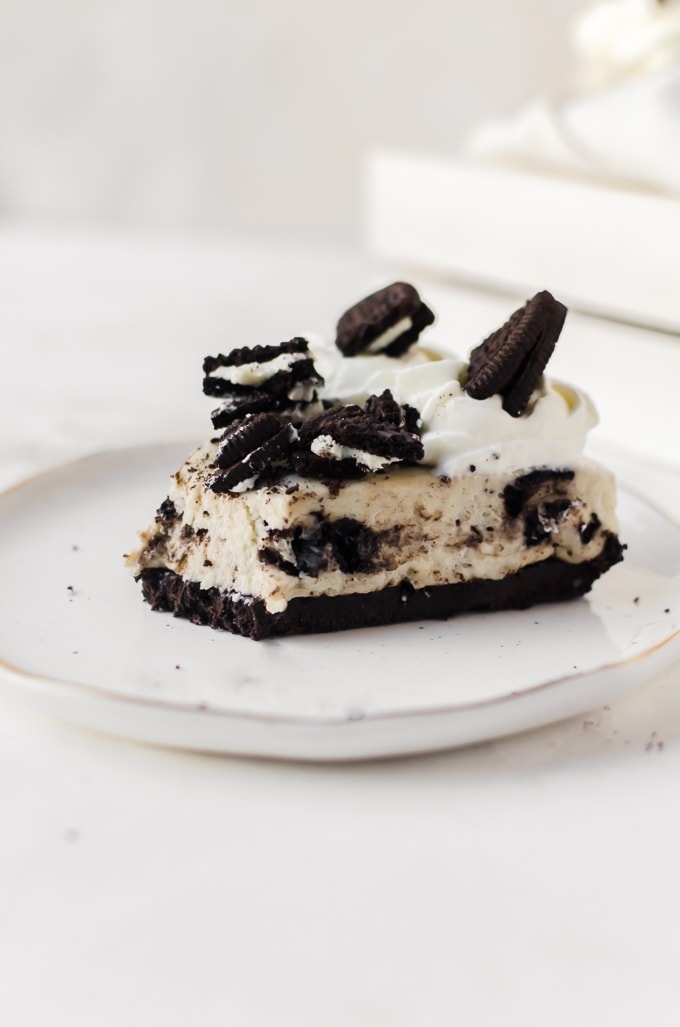 I wanted to be sure we got as much Oreo in this cheesecake as humanly possible. So this means we used an Oreo crust, folded a ton of Oreos in the cheesecake batter, then topped it with even more Oreos. It's definitely one of those "you want some cheesecake with your Oreos?" kind of moment. And there are no apologies for that.
No-Bake Oreo Cheesecake
This mouthwatering no-bake Oreo cheesecake is light as air and easy as anything to make, proving you can have your cheesecake and eat it too! 
Ingredients
Crust
18

Oreos

6

tablespoons

unsalted butter

melted

pinch

of salt
Filling
1

package

2 ½ teaspoons unflavored gelatin

3

tablespoons

hot water

2 8

oz

packages full fat cream cheese

1 14

oz

can sweetened condensed milk

¼

teaspoon

salt

1

tablespoon

vanilla extract

10 - 12

Oreos lightly crushed
Topping
⅔

cup

whipped cream

broken Oreos
Instructions
Prep an 8-inch (or 6-inch for a deeper cheesecake) springform pan. Grease the bottom very lightly and measure out parchment paper that can fit along the walls of the pan. You do not need to stick the parchment paper to the sides yet. Set aside.

In a food processor, pulse the Oreos until they form a fine powder. Drizzle in the butter and add the salt. Pulse to combine until the mixture looks like wet sand.

Pour the crust into the bottom of your springform pan and pres down until it is packed into an even layer along the bottom of the pan. Set aside in the freezer until needed.

Make the filling. Stir together the gelatin and the water. Set aside.

Beat the cream cheese until it is smooth. Slowly pour in the condensed milk as the cream cheese is beat on low. Continue to beat until the mixture is completely combined. Add the salt and vanilla and mix until just combined. Beat in the gelatin until is it completely combined - roughtly 2 - 3 minutes.

Fold in the Oreos.

Take out the springform pan and stick the parchment along the walls of the springform pan and immediately pour in the cheesecake filling.

Chill in the refrigerator for about 2 hours before covering without the cover touching the top of the cheesecake. Chill for another two hours.

Add the whipped cream to a piping bag with your favorite piping tip and pipe whipped cream onto your cheesecake and finish with more Oreos.

Serve chilled. The cheesecake will last if you leave it out for an hour or two.
Nutrition
Tried this recipe?
Tag me on Instagram! @acookienameddesire #acookienameddesire