You've never had a cheesecake quite like this No-Bake Oreo Cheesecake! This incredible treat is ready to eat in just hours without an overnight set in the refrigerator. Unlike other no-bake cheesecakes, this one also does well sitting at room temperature!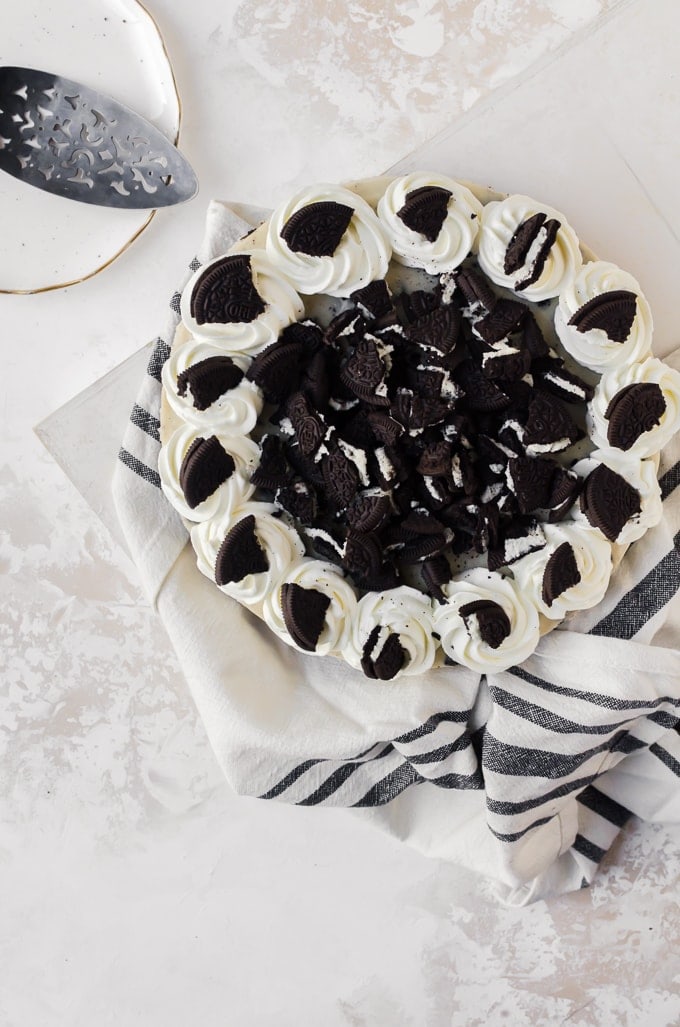 Why you'll love it
The best thing about this particular no-bake cheesecake is that it sets fairly quickly and does well at room temperature, too. Most no-bake cheesecakes get too soft at room temperature to slice and eat, but this one still holds up thanks to the use of gelatin. Here we use a packet of unflavored gelatin mixed with hot water folded into our cheesecake batter. This speeds up the setting time a bit and keeps it set. I also like that it guarantees your cheesecake sets completely every time.
It is also packed with a ton of Oreos for the cookie-obsessed. Not only do we use an Oreo cheesecake crust, but we also fill and decorate with cookies. This is a decadent and irresistible dessert that is a true crowd pleaser. It tastes and looks like it takes a lot of skill to make, but it is actually one of the most simple treats to make!
I wanted to be sure we got as much Oreo in this cheesecake as humanly possible. So this means we used an Oreo crust, folded a ton of Oreos in the cheesecake batter, then topped it with even more Oreos. It's definitely one of those "you want some cheesecake with your Oreos?" kind of moment. And there are no apologies for that.
Ingredient overview
There are a few ingredients you need to make this delicious no-bake Oreo cheesecake. Most of them are pretty basic and expected, so let's review some of the key ingredients and any substitutions
Cream cheese - For the best results, you need to use full-fat brick style cream cheese. You cannot use reduced fat or tub style cream cheese because it will not set properly.
Sour cream - I recommend regular sour cream, but if you really want to cut back on calories, you can use reduced fat sour cream.
Gelatin - This is the secret ingredient for a faster set time every time. You can find unflavored gelatin in the baking aisle or near, but not with the flavored gelatin brands.
Oreos - Classic original Oreos are my favorite for this cheesecake, but you can always experiment with one of your favorite flavors!
Instruction overview
Putting together the oreo cheesecake is pretty simple and prep only takes a few minutes if you have your ingredients ready. Here's a rough idea of how it's done.
Make the crust and press it into your springform pan.
Beat your heavy cream to make whipped cream and set aside.
Bloom your gelatin in hot water and set aside.
Beat the cream cheese and sour cream together.
Add the sweetened condensed milk, then the salt and vanilla.
Beat in the gelatin, then fold in the whipped cream.
Fold in the Oreos and pour the mixture into your springform pan.
Set in the refrigerator, then decorate when ready to serve.
Tips for success
When using the gelatin, you have to be sure all your ingredients at at room temperature, and you use hot water. The water is what blooms the gelatin. But since we aren't heating the cheesecake batter, the gelatin is added after a shorter blooming time while it is still mostly liquid. This ensures that it mixes completely into the batter and you don't get bits of chewy unflavored gelatin in your finished cheesecake. No one has time for that mess when they're trying to get down with some dessert. Unless you're making a cheesecake jello... in that case, more power to you!
If you do find you let your gelatin bloom too much and it turns into a set jello, add a tablespoon or two of hot water and mix until it thins out again.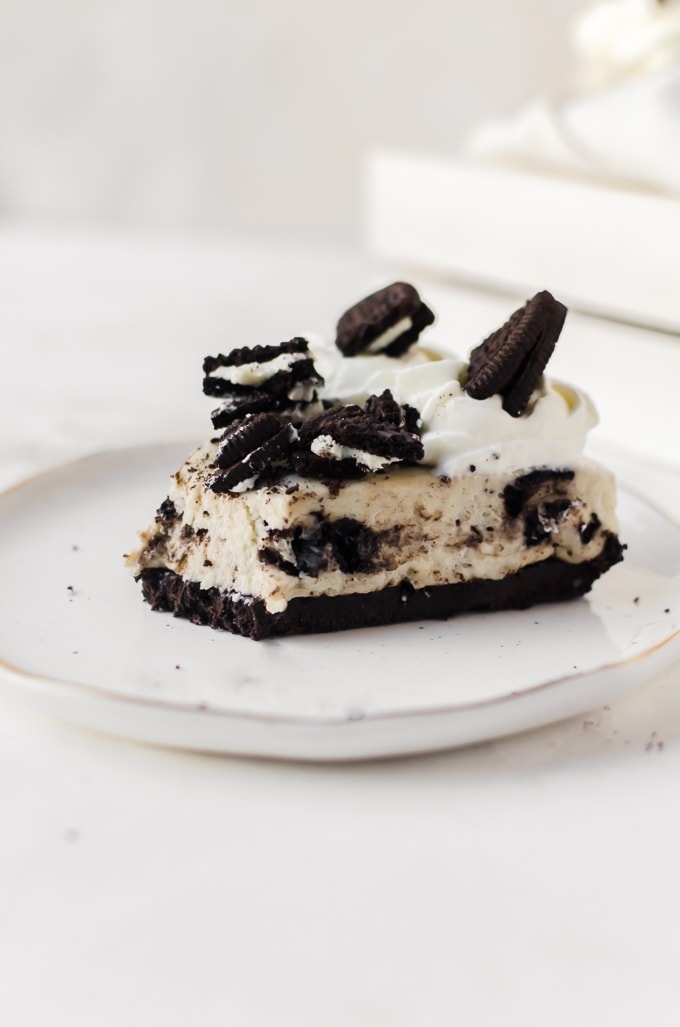 Recipe FAQs
Do I need to remove the cream from the Oreos?
No! Use the Oreos whole in each part of the cheesecake.
Can I freeze the finished cheesecake?
You can, and leave it to thaw in the refrigerator overnight. Keep in mind that it will alter the texture of the cheesecake and the cookies.
Can I bake the crust to make sure it doesn't crumble?
If you're worried, you can bake it at 350F for 15 minutes. But the combination of the butter and the filling from the cookies make a pretty good crust that holds itself well. The trick is to press the crust down very well.
Related recipes
If you're looking for more Oreo desserts, you should try this Oreo donut, Oreo fudge, and Oreo brownies.
Recipe Card
No-Bake Oreo Cheesecake
This mouthwatering no-bake Oreo cheesecake is light as air and easy as anything to make, proving you can have your cheesecake and eat it too! 
Ingredients
Crust
18

Oreos

6

tablespoons

unsalted butter

melted

pinch

of salt
Filling
½

cup

heavy cream

cold

1

package

unflavored gelatin

2 ½ teaspoons

3

tablespoons

hot water

16

oz

full fat cream cheese

room temperature

½

cup

sour cream

room temperature

14

oz

sweetened condensed milk

¼

teaspoon

salt

2

teaspoons

vanilla extract

8

Oreos lightly crushed
Topping
⅔

cup

whipped cream

broken Oreos
Instructions
Prep an 8-inch (or 6-inch for a deeper cheesecake) springform pan. Grease the bottom very lightly and measure out parchment paper that can fit along the walls of the pan. You do not need to stick the parchment paper to the sides yet. Set aside.

In a food processor, pulse the Oreos until they form a fine powder. Drizzle in the butter and add the salt. Pulse to combine until the mixture looks like wet sand.

Pour the crust into the bottom of your springform pan and pres down until it is packed into an even layer along the bottom of the pan. Set aside in the freezer until needed.

Make the filling. Whip up the heavy cream in a clean bowl with a whisk attachment. Place the whipped cream in a bowl in the refrigerator until needed. Stir together the gelatin and the water. Set aside.

Beat the cream cheese and sour cream until it is smooth. Slowly pour in the condensed milk as the cream cheese is beat on low. Continue to beat until the mixture is completely combined. Add the salt and vanilla and mix until just combined. Beat in the gelatin until is it completely combined - roughly 2 - 3 minutes. Fold in the whipped cream.

Fold in the Oreos until well dispersed.

Take out the springform pan and stick the parchment along the walls of the springform pan and immediately pour in the cheesecake filling.

Chill in the refrigerator for about 2 hours before covering without the cover touching the top of the cheesecake. Chill for another two hours.

Add the whipped cream to a piping bag with your favorite piping tip and pipe whipped cream onto your cheesecake and finish with more Oreos.

Serve chilled. The cheesecake will last if you leave it out for an hour or two.
Nutrition
Tried this recipe?
Tag me on Instagram! @acookienameddesire #acookienameddesire