This creamy cheesecake is an absolute dream come true. Swirled with caramel and pecans with a decadent chocolate ganache, it's a turtle cheesecake with an irresistible almond oat crust that tastes just like the candy! This post is in collaboration with Bob's Red Mill!
Why it works
This recipe creates a smooth, incredibly velvety cheesecake base. It nearly melts in your mouth.
The cheesecake is filled with a swirl of thick, homemade caramel. I love making caramel for this recipe because homemade caramel has more depth to its flavor. You can intensify it by allowing the caramel to get a little darker, or sweeter by leaving it at a lighter caramel. You can add more vanilla or salt for added depth and dimension.
We fold toasted pecans into the caramel to mimic the filling of the turtle chocolates. I find chocolate can be overbearing, so instead of adding it into the cheesecake along with the caramel pecans, we top the cheesecake with a smooth dark chocolate ganache.
The crust is nutty with an irresistible texture that complements the turtle chocolate flavor. It adds dimension and character to the cheesecake without being pretentious or complicated.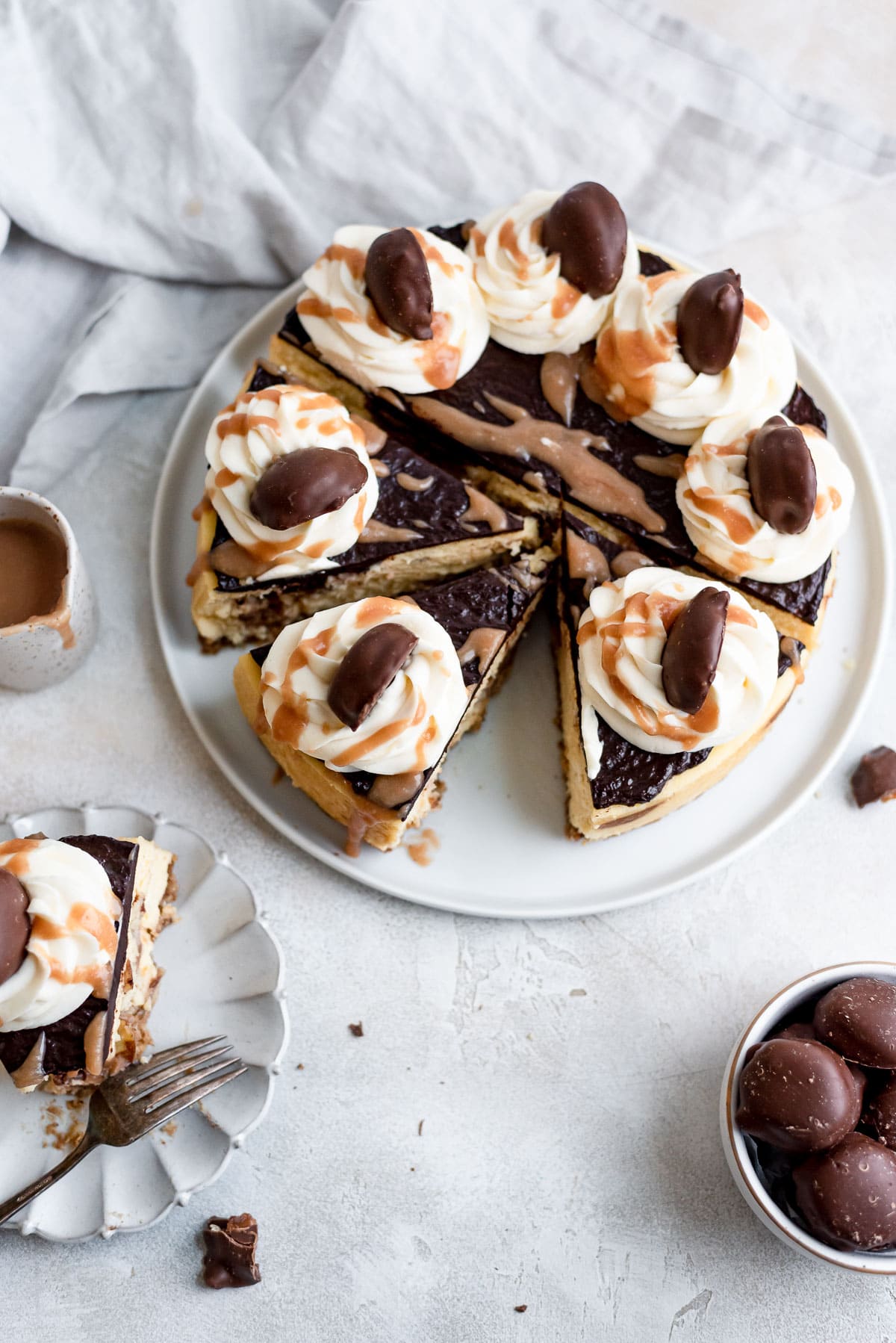 Ingredient notes
It may initially look like there are a ton of ingredients for this turtle cheesecake. In reality, a lot of the ingredients repeat in each section.
We don't need to go into detail of each separate ingredient, but I do want to go over a few key notes about some of the ingredients.
Caramel - In this recipe, we include instructions for making your own caramel sauce. It is my favorite caramel recipe. You get a lot more depth of flavor compared to store-bought caramel and a better texture, but if you are in a pinch, you can use store-bought caramel. Dulce de leche would also be a delicious substitute! 
Vanilla - We use vanilla throughout the recipe here, including vanilla bean paste. You can use just vanilla extract, or just vanilla bean paste (using a 1:1 ratio is fine). If you use vanilla extract, make sure it is pure vanilla extract and not imitation. 
Oats - I highly recommend Bob's Red Mill Old Fashioned Rolled Oats. They're an amazing quality, non-GMO, and kosher. They have other types of oats that may also work if you are in a pinch. 
Almond flour - I like Bob's Red Mill Super-Fine Blanched Almond Flour. It has some of the best flavor I've ever had from almond flour and is ground fine, which makes it perfect for adding into the crust. They also sell a version using whole almonds as opposed to blanched almonds and it works just as well if you can't find the blanched almond flour!
Cream cheese - It is so important to use full-fat block cream cheese. Other types will simply not work. Any brand will do as long as it is full-fat and in a block. 
Turtle candies - If you want to make your own candies, you can add about 50% more to the caramel recipe (if you are making the caramel from scratch). Remove two-thirds of the caramel once you've added the heavy cream and butter and set aside. Cook the remaining caramel for another 5 minutes. Allow it to cool before carefully dropping a couple of teaspoons over pecans. Let it set before topping with melted chocolate.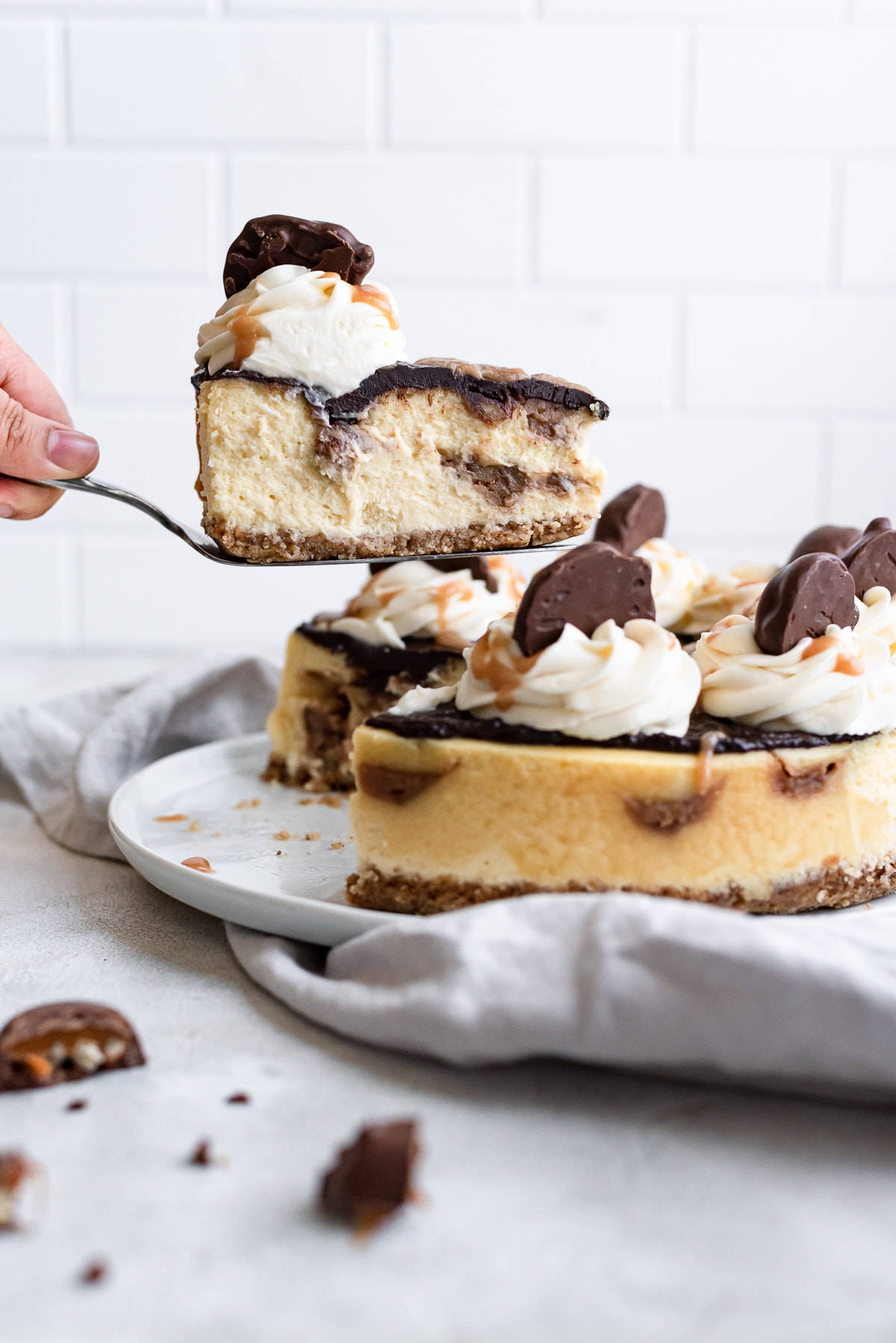 Tips
Patience is key! It pays to take your time with everything in this recipe from making the various components to even taking out the cheesecake from the oven.
The crust should be prebaked to get it golden brown and nutty. The more you processed the Bob's Red Mill Old Fashioned Oats and Almond Flour, the better the final texture of the crust will be—and tastier, too!
Make sure all your ingredients are room temperature when putting together the turtle cheesecake. This is especially important when it comes to the cream cheese and the eggs so they can properly mix together without you needing to increase the speed.
Don't beat the cheesecake batter on high speed. I recommend staying within the medium range, and do not mix for too long. This prevents air bubbles from forming within the batter, which can make the cheesecake rising and cracking while baking.
Let the batter rest for a few minutes before pouring it into the springform pan. It will give it some time to deflate a little if there are any air bubbles. If you notice any air bubbles after you pour it into the pan, you can use a toothpick to pop them.
When wrapping the bottom of the springform pan, I recommend using heavy-duty aluminum foil big enough to wrap around the springform pan in one shot. Anything smaller requiring multiple sheets will still let water seep in. I highly recommend also wrapping the bottom of the cheesecake in an oven bag for insurance.
Use hot, or even boiling water when you create your bain marie—it helps with the baking process. You should also add your water after you've put the pan in the oven to avoid accidental spills.
Avoid opening the oven as much as possible. Wait until you are at the end of the baking time to check the jiggle quickly. If the cheesecake needs more time, shut the oven door and add more time. When the cheesecake is finished, you should turn off the oven, but leave the cheesecake inside for at least an hour before opening the oven door.
If you find the cheesecake starts to brown too quickly, you can place aluminum foil over top.
Storage
You should always store your cheesecake covered in the refrigerator to prevent it from drying out.
You can freeze the cheesecake, too. Cool the cheesecake, and do not add the toppings. Wrap it well with several layers of plastic wrap and then a final layer of heavy-duty aluminum foil.
The cheesecake should last in the freezer for about three months. Allow it to thaw overnight in the refrigerator.
FAQs
How do you get the top of the cheesecake smooth?
You can run an offset spatula over the top of the cheesecake before you place it in the oven. Use a water bath (bain marie) and avoid opening the oven to avoid cracks. 
How long should you let the cheesecake cool before placing it in the refrigerator?
You should let the cheesecake fully come to room temperature or as close as possible first. Cover the cheesecake and store in the refrigerator to chill.
What happens if you overmix cheesecake?
Overmixing cheesecake will create air bubbles in the batter. The air bubbles will then make the cheesecake rise during baking like a soufflé. When the cheesecake cools, it will likely form cracks. It will still be delicious, though!
Recipe Card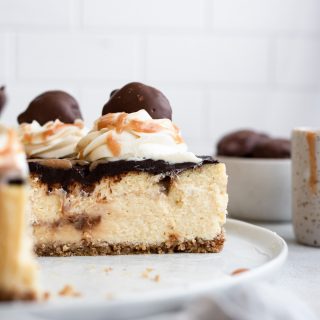 Turtle Cheesecake with Almond-Oat Crust
A creamy, velvety turtle cheesecake with caramel, pecans, and chocolate
Ingredients
Caramel Sauce
1 ¾

346 grams cups granulated sugar

½

cup

113 grams water

½

cup

113 grams unsalted butter

1

cup

227 grams heavy cream

1

teaspoon

vanilla extract

¼

cup

Bob's Red Mill Organic Unbleached All-Purpose Flour

¾

cup

85 grams chopped pecans
Crust
1

cup

100 grams Bob's Red Mill Old Fashioned Rolled Oats

1

cup

96 grams Bob's Red Mill Super-Fine Blanched Almond Flour

¼

cup

50 grams granulated sugar

¼

teaspoon

kosher salt

¼

teaspoon

ground cinnamon

3

tablespoons

42 grams unsalted butter, melted
Cheesecake
1 ½

cups

300 grams granulated sugar

¼

teaspoon

kosher salt

3

8-ounce packages (680 grams) cream cheese , cubed and room temperature

3

tablespoons

24 grams Bob's Red Mill Organic Unbleached All-Purpose Flour

2

teaspoons

12 grams vanilla bean paste

4

large eggs

200 grams, room temperature

¾

cup

180 grams sour cream, room temperature

¼

cup

60 grams heavy whipping cream, room temperature
Ganache
½

cup

120 grams heavy cream

4

ounces

dark chocolate
Topping
8

ounces

226 grams cream cheese

½

cup

100 grams granulated sugar

1

cup

220 grams heavy cream

½

cup

57 grams chopped pecans

Turtle candies
Instructions
Add the sugar and water to a light-colored, heavy-bottomed saucepan. Heat on medium, stirring occasionally until the sugar dissolves completely. Stop stirring. 

Use a wet pastry brush to clean the sides of the saucepan if there are any sugar crystals clinging to them. 

Continue to cook the sugar until it becomes a deep amber color. Turn off the heat immediately. 

Add in the butter and heavy cream and stir until fully incorporated. Be careful, as the mixture will bubble and sputter. Stir in the vanilla. 

Pour the caramel sauce into a container and set aside to cool completely. 

Preheat oven to 350°F (180°C). Spray bottom of a 9-inch springform pan with baking spray with flour. Line the bottom of the pan with parchment paper.

Pulse oats in the bowl of a food processor until finely ground. Add almond flour, ¼ cup (50 grams) sugar, ¼ teaspoon salt, and cinnamon; pulse a few times just until combined. Add melted butter, and pulse until well combined and mixture holds together when pressed. Using a small measuring cup or bottom of a glass, press crumb mixture into the bottom of the prepared pan.

Bake until set and fragrant, about 15 minutes. Let cool on a wire rack for 30 minutes. Wrap bottom and sides of pan in a double layer of heavy-duty foil; place in a large oven bag, tucking ends so the bag is flush with the top edge of the pan. Reduce the oven temperature to 325°F (170°C).

Beat cream cheese in the bowl of a stand mixer fitted with the paddle attachment at medium speed until smooth and creamy, 1 to 2 minutes, stopping to scrape sides of bowl. Add all-purpose flour, vanilla bean paste, remaining 1½ cups (300 grams) sugar, and remaining ¼ teaspoon salt; beat at low speed just until combined. Increase mixer speed to medium, and beat until well combined, about 1 minute, stopping to scrape sides of bowl. With the mixer on medium-low speed, add eggs, one at a time, beating just until combined after each addition. Add sour cream and cream; beat until well combined, 30 seconds to 1 minute, stopping to scrape sides of bowl.

Separate 1 cup of the caramel and stir in the ¼ cup flour and the pecans. 

Spray sides of the prepared pan with baking spray with flour. Pour cream cheese mixture onto prepared crust.  Swirl in the 1 cup of caramel. Lightly tap sides of pan to spread batter into an even layer and release any air bubbles. Using a wooden pick, pop and fill any air bubbles that rise to the surface. Carefully place the springform pan in a large roasting pan. 

Position the oven rack so the top of the springform pan is 5 to 5½ inches from the top heating element; place a roasting pan in the oven, and add hot water to come 1 inch up sides of the springform pan.

Bake until edges are set, top looks dry, center is almost set but still jiggly, and an instant-read thermometer inserted in center registers 150°F (66°C) to 155°F (68°C), 1 hour and 10 minutes to 1 hour and 25 minutes, loosely covering with foil to prevent excess browning, if necessary. Turn off the heat and leave the cheesecake in the oven for at least an hour as the oven cools. Let cool in the pan on a wire rack for 1½ to 2 hours. 

Refrigerate cheesecake in the pan on a wire rack overnight, loosely covering with foil only when completely cool to prevent condensation from forming on top of cheesecake. 

Make the ganache and topping while the cheesecake cools. Heat the heavy cream until steaming, but not yet boiling. Add the chocolate and allow it to sit for 5 minutes. Stir to combine completely. 

Whip the cream cheese and granulated sugar for the topping until smooth and creamy. Add in the heavy cream and mix until combined. Whip until the mixture becomes light and fluffy.

Carefully remove chilled cheesecake from the pan, and transfer to a serving plate. Top with the chocolate ganache. 

Fill the bag with the topping and pipe on top of the cheesecake. Drizzle with some of the remaining caramel, then the chocolate turtles. 

Use a warm, dry knife to slice when ready to serve.
Nutrition
Serving:
1
g
Calories:
523
kcal
Carbohydrates:
65
g
Protein:
15
g
Fat:
23
g
Saturated Fat:
10
g
Polyunsaturated Fat:
11
g
Cholesterol:
100
mg
Sodium:
356
mg
Fiber:
5
g
Sugar:
37
g
Tried this recipe?
Tag me on Instagram! @acookienameddesire #acookienameddesire