These fruity raspberry caramels are an irresistible and easy treat that makes the perfect homemade gift.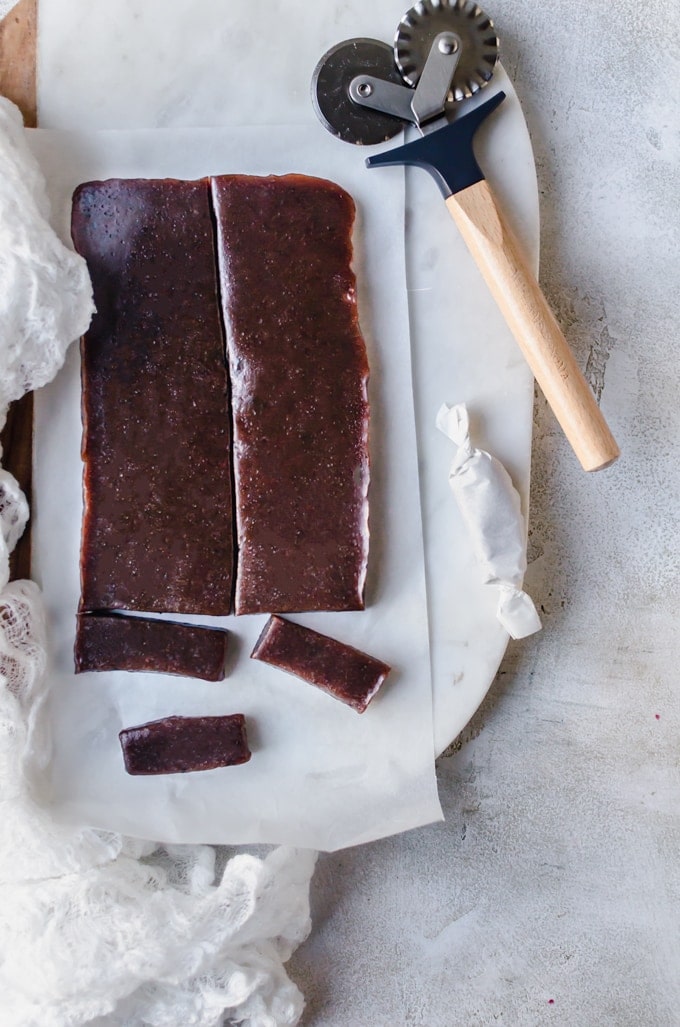 I usually make caramels at least once during the year. One year I made beer pretzel caramels. Last year I made these maple caramels with hazelnuts that I still dream about. This year, I made these raspberry caramels that I found in the Artful Baker cookbook I received to review. I never made a fruity caramel before, so I was so intrigued by the recipe. I also happened to have plenty of raspberries available to test the recipe with.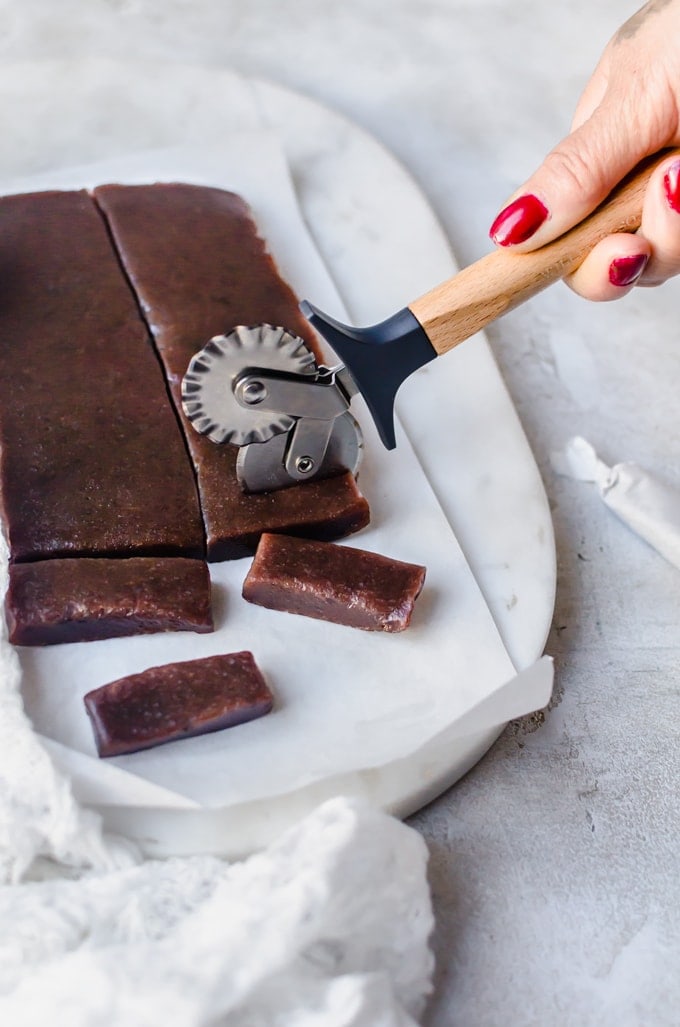 We start off making the caramel as you would any other way. Then we add in a raspberry puree to the mixture and cook until it reaches just the right temperature. For me, I found that it took quite a while to reach this temperature as the raspberry puree was quite watery and this needed to evaporate before it could get to the required temperature. While this happened, the color of the raspberry caramels darkened quite a bit which was different from what the photo had in the cookbook, but the flavor was still spot on.
The flavor is a cross between a caramel candy and fresh raspberry jam. It's delightful and utterly irresistible. I try and limit myself to just one caramel and give the rest away, but I've had maybe, oh, I don't know, six or seven? About half of the batch, maybe? I don't know. I honestly decided to stop keeping track at one point.
It makes me wonder what other fruits I could use to make caramel. While raspberry caramels are great, can you imagine what blueberry caramel must be like? Mango? What about a twist of flavors? Like all the recipes in the Artful Baker cookbook, I am left curious and wanting to try more. and more.
When making these raspberry caramels, keep a close eye on your caramel. It likes to stay at one temperature for a long time, then suddenly jump up, so you always need to be ready.
Recipe Card
Raspberry Caramels
Sweet raspberry caramels that will put a smile on your face
Ingredients
2 ¼

cups

270 grams fresh raspberries

1

cup

granulated sugar

divided

⅓

cup

heavy cream

2

tablespoons

honey

2

tablespoons

unsalted butter

2

tablespoons

fresh lemon juice
Instructions
Line a 9 x 5 baking loaf pan with parchment paper.

In a medium bowl, mash together the raspberries and 5 tablespoons of the sugar. Mash until the berries are completely mushed, then set the mixture aside for about 15 minutes. Strain the berry puree and juice from the seeds using a fine mesh strainer. Scrape the bottom of the strainer and add that to the rest of the reserved berries. Discard the seeds.

Rinse and dry the fine mesh strainer. Sit the strainer over your loaf pan.

In a heavy-bottomed saucepan, add the remaining sugar, honey, and heavy cream together. Stir to combine. Heat on medium and cook undisturbed (do not swirl or stir) until the mixture reaches 245 degrees F.

Once the mixture reaches this temperature, add the remaining ingredients, including the berry puree and stir in well. Cook, scraping the bottom and sides of the mixture, until it reaches 253 degrees F. Keep a close eye on the mixture as it will suddenly shoot up in temperature.

Immediately pour your caramel over the strainer into the loaf pan, scraping the bottom and adding to the pan. Tap the pan against your counter to remove any bubbles. Allow to set for 6 - 8 hours.

Cut into small rectangles and wrap using cellophane, wax paper, or parchment paper.
Notes
While you can sometimes make caramel candies without a candy thermometer, I highly recommend using one for this recipe. 
Tried this recipe?
Tag me on Instagram! @acookienameddesire #acookienameddesire