Because I believe breakfast and dessert need to meet more often. This maple ice cream with bourbon and bacon toffee is everything you could possibly want. Sweet, boozy, with a salty sweet bacon crunch. This is love.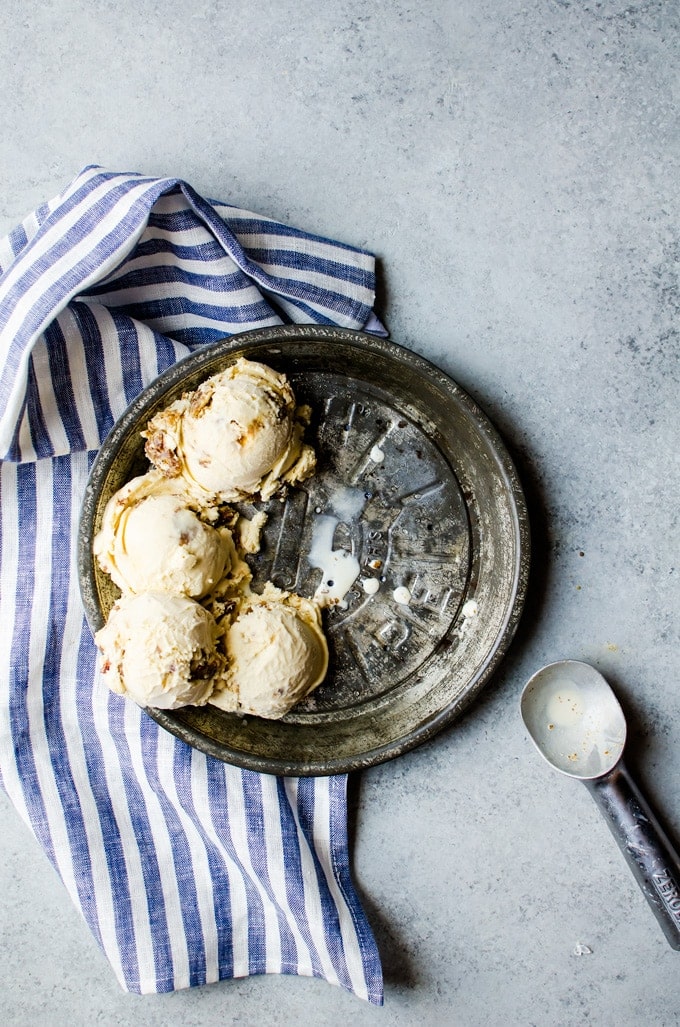 So this is my last ice cream recipe for Ice Cream Week. It is kind of bittersweet. This was the ice cream I was most looking forward to sharing with you and probably my favorite. But it also means that the giveaway is ending soon (you can go right to the bottom of the post if you want to enter) and that I will be taking a small break from ice cream. Just a small one. I don't think I could handle having a long break from making ice cream.
This particular recipe I've been wanting to make since last year. I sat on this maple ice cream with bourbon and freaking bacon toffee (!!!) for an entire year before finally making it. Last summer I just had too many ideas for ice cream recipes that I just couldn't get around to it before the end of summer and I wanted to give this recipe justice by giving you a full summer to enjoy it while I could remember to remind you that it was here for you.
It's seriously the most delicious ice cream out there. Out of every single ice cream recipe I've made, this maple ice cream is definitely my favorite. Even more than the peach crumble ice cream and the coffee oreo ice cream. And trust me, that coffee oreo ice cream is hard to beat. Maple and bourbon go so well together. Then you add in chunks of bacon toffee whish is just sweet salty bits of heaven and it's like a party in your mouth. How can you do wrong with maple ice cream + bourbon + bacon + toffee. Right? Riiiiiight?!
So go ahead and wipe that drool off your face and get in the kitchen to make this maple ice cream with bourbon and bacon toffee. And if you don't have an ice cream maker, you can always check out my guice on how to make ice cream without an ice cream maker. Or, you know, enter the giveaway below. 😉
Recipe Card
Maple Ice Cream
Creamy and decadent maple ice cream infused with bourbon and studded with bacon toffee.
Ingredients
Ice Cream Base
2

teaspoons

brown sugar

½

cup

milk powder

2

cups

heavy cream

1 ½

cups

whole milk

1

cup

maple syrup

3

large egg yolks

3 - 4

tablespoons

bourbon
Bacon Toffee
¾

sleeve of saltine crackers

10

slices

cooked bacon

1

cup

brown sugar

1

cup

unsalted butter
Instructions
In a saucepan, add the sugar, milk powder, heavy cream, milk, and maple syrup together and heat well on medium. Stir frequently while the milk powder and sugar dissolves and the mixture steams and forms a few bubbles around the edges of the pan.

Beat the egg yolks in a small bowl, then slowly drizzle some of the hot milk mixture into the eggs while continuously beating the eggs. Add about 1 cup of the milk mixture to the eggs.

Begin beating the milk mixture that is in the pan and drizzle the egg mixture back into the saucepan.

Continue to heat on medium-low, mixing constantly until the mixture is visibly thickened.

Remove from heat and transfer to a gallon freezer bag. Close the freezer bag most of the way, leaving a small hole for steam to escape. Place the freezer bag in an ice bath to cool.

Chill the freezer bag in the refrigerator at least 1 - 2 hours, or until the mixture is very cold (I like to leave mine overnight).

While the ice cream base is cooling, make the bacon toffee.

Preheat the oven to 400 degrees F. Line a jelly roll pan with aluminum foil. Line the bottom with saltine crackers. Crumble the bacon and layer on top of the crackers.

In a saucepan, mix the sugar and butter together until the butter is melted and both ingredients are well combined.

Allow to boil for about 3 - 4 minutes. Pour the mixture over the bacon evenly and place in the oven for about 5 - 6 minutes.

Remove from the oven and allow to cool completely. The toffee will harden as it cools.

Once hardened, Pulse ⅓ of the toffee in a food processor until broken in pieces. Set aside.

Place the chilled ice cream in the ice cream maker and begin to churn. Halfway through churning, slowly add the bourbon. About five minutes before the ice cream is finished, begin adding in some of the crumbled bacon toffee.

Transfer the churned ice cream to an airtight container and chill in the freezer until firm - about 3 - 4 hours.
Notes
bacon toffee adapted from Bakerita
Bacon toffee can be made in advance.
I recommend taking at least a full day to prepare this ice cream
Nutrition
Calories:
375
kcal
Carbohydrates:
31
g
Protein:
4
g
Fat:
26
g
Saturated Fat:
16
g
Polyunsaturated Fat:
1
g
Monounsaturated Fat:
7
g
Trans Fat:
0.5
g
Cholesterol:
76
mg
Sodium:
123
mg
Potassium:
212
mg
Sugar:
30
g
Vitamin A:
868
IU
Vitamin C:
1
mg
Calcium:
122
mg
Iron:
0.2
mg
Tried this recipe?
Tag me on Instagram! @acookienameddesire #acookienameddesire
Friday
Coffee Chocolate Chunk Ice Cream via Honey and Birch
Maple Ice Cream via A Cookie Named Desire
Finding Dory Ice Cream via The Tip Toe Fairy
Passionfruit Ice Cream via Olivia's Cuisine
Strawberry Black Pepper Ice Cream via Tovolo
Wednesday
Horchata Ice Cream with Dulce de Lecha Swirl via A Cookie Named Desire
Strawberry Peach Ice Cream via The Tip Toe Fairy
Sweet Tea Ice Cream via Cookie Dough and Oven Mitt
Blueberry Lemon Ice Cream via The Bitterside Of Sweet
Monday
S'mores Ice Cream via A Cookie Named Desire
Coffee Chocolate Ripple Ice Cream via An Italian in my Kitchen
Unicorn Ice Cream via The Tip Toe Fairy
Tahini Ice Cream with Chocolate Chip Cookies via The Floating Kitchen
No Churn Honey Nut Ice Cream via Honey and Birch
Vegan Peanut Butter Chocolate Praline Crunch Ice Cream via Heart of a Baker
Peanut Butter Lovers Ice Cream via Cookie Dough and Oven Mitt
Cotton Candy Ice Cream via Homemade Hooplah
Butter Pecan Ice Cream via Zagleft
Bourbon Vanilla Bean Ice Cream via Vanilla and Bean
Mint Mojito Coffee Ice Cream via The Little Epicurean
Strawberry Banana Ice Cream via The Bitter Side of Sweet
Peanut Butter Ice Cream via Pretty Simple Sweet
Vanilla Rainbow Ice Cream via Go Go Go Gourmet
Lychee and Cherry Swirl Ice Cream via My Food Story
Brigadeiro Ice Cream via Olivia's Cuisine
Salted Pretzel Ice Cream with Chocolate and Peanut Butter via Cake Over Steak
Strawberry Black Sesame Ice Cream via Madeline Marie Blog
No Churn Caramel Chip Ice Cream via Fearless Dining

a Rafflecopter giveaway