Back when I was living in London with Vlad, we had his two children on the weekends. Vlad was never really into breakfast early in the morning and usually opted for a coffee and a cigarette or two. When the kids were over, he wanted to spend every moment he could with them, so he would sit down with them while I was still asleep to have cereal with them. Being the anti-breakfast person he is, he didn't know what kind of cereal to buy them and knew enough to stay away from my muesli. Before I came along, he would buy plain corn flakes for the kids. Boring!!! I insisted we buy something fun they would enjoy, which was usually something very chocolatey with a few nuts thrown in - you know, to keep things healthy.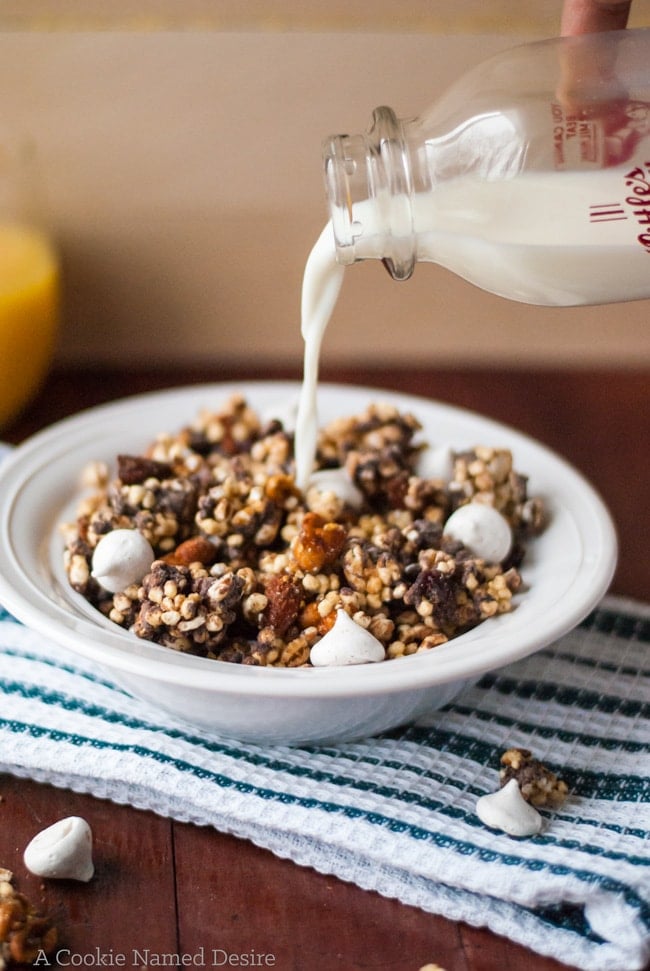 This is definitely the kind of cereal I know the kids would have loved back then and even more so now that they are older. His eldest daughter is already 12!!
This recipe is from the Dominique Ansel cookbook with some slight adaptations. I took out the corn syrup and replaced it with honey to keep things a little healthier, and also mixed up the puffed cereal I used a bit. I also added in chestnuts to the mix of nuts because I wanted to keep with the spirit of winter, but you can take them out if you'd like. What I love is that they get a little chewy - more like nutty raisins. And of course there is a nice helping of cinnamon because there is no spice that screams winter like cinnamon.
I also used two types of the meringue kisses: chocolate and hazelnut, but you can use any type you want. Make sure you pick the smallest of the meringues for the cereal just to avoid large pieces in your cereal bowl. You can always crush up  larger meringue kisses a bit which helps make the milk nice and sweet.
I will warn you, between making the meringue and the general process of making the cereal, it does take a while to put everything together. I recommend spending a weekend like I did making the cereal. I spent Saturday making the meringues, then started the cereal that evening. Sunday morning I tossed everything together and added the final touches so I was able to enjoy a nice large bowl of cereal Monday morning. The finished recipe makes enough to last you a while. I emptied a giant family-sized box of cereal and filled it with this and still had to use another container.

Recipe Card
Chocolate Nut Cereal
Ingredients
For Cereal
5

cups

puffed rice cereal

5

cups

puffed millet

⅓

cup

plus 2 tablespoons honey

⅓

cup

plus 2 tablespoons sugar

2

teaspoons

cinnamon

⅔

cup

dried cranberries

optional

1 ½

cups

chocolate chips
For Candied Nuts
1 ¼

cup

mixed nuts

including peeled diced chestnuts if desired

1

tablespoon

honey

2

tablespoons

sugar

1 ½

cups

meringue kisses

I recommend chocolate, cinnamon, and/or hazelnut
Instructions
Preheat the oven to 340 degrees F (170 degrees C). L:ine a baking sheet wi8th parchment paper or a silicone mat.

In a large bowl, combine the puffed rice cereal, puffed millet together. Stir in the honey and mix well to evenly coat the cereal. Stir in the sugar and cereal and stir again until evenly coated.

Layer the cereal on the baking sheet and bake for 8 minutes, turning halfway. Allow the cereal to cool completely on the baking sheet. Break the cereal into small chunks and place in a large bowl with the dried cranberries if using. Set aside.

Melt one cup of the chocolate in the microwave in 30 second intervals, stirring each time. Add the remaining chocolate to the melted chocolate and stir until melted. Pour the chocolate over the cereal and stir until evenly coated. Refrigerate for at least two hours to set.

Preheat the oven to 350 degrees F (175 degrees C) and line the baking sheet with more parchment paper.

Combine the nuts and chestnuts with the honey and sugar until evenly coated. Place on the baking sheet in a single layer and bake for about 14 - 16 minutes, turning the baking sheet halfway. Allow to cool completely.

Combine the chocolate-coated cereal, nuts, and mini meringue kisses together and store in an airtight container.
Notes
Cereal will remain fresh in an air tight container for about 3 weeks.
Tried this recipe?
Tag me on Instagram! @acookienameddesire #acookienameddesire