A fun and flavorful jerk shrimp salad that will transport you to an island vacation with a single bite. This easy salad recipe is light in calories but packed with flavor.
I've always struggled with balancing eating well and also baking tons of desserts at any given moment. It's not just that I always have the option to eat cake for breakfast, but I also tend to not eat anything for breakfast or lunch on days I am baking. But baking is my life. I am in my happy place when I am baking something sweet in the kitchen to share with my loved ones, so I keep on baking. And I am trying to spend more time being sure to eat throughout the day and eat well.
So when Eating in the Middle came out, I was so excited. I discovered Andi when her memoir was released and fell in love immediately. Andi is the kind of person who makes you want to become her best friend. She is funny and warm and open and just wonderful. I haven't met her before. I am basing all this from her books and blog. Does that make me weird and sort of stalkerish? Maybe. Do I care? Hell no. Do I kind of hope I will meet Andi one day and she will see me and decide she has to be my best friend? YES! Okay, that's enough. Calm down, Amanda. hashtag nochill.
What I love about this book is that instead of just telling us to live a balanced life, Andi actually does it and shows us how. She opens up about her own struggles and how she overcame them by learning how to indulge smartly. This cookbook has easy weeknight recipes, indulgent dishes to share with others, and desserts that don't hold anything back. The first recipe I needed to try was the jerk shrimp salad. I love jerk seasoning and I couldn't resist the tropical flavors.
The shrimp is spicy, but not overbearingly so. It is balanced by the sweet citrusy dressing and mango. If you want a nice appetizer this jerk shrimp salad is perfect, but you can also use the shrimp, plus the dressing if you thicken it slightly.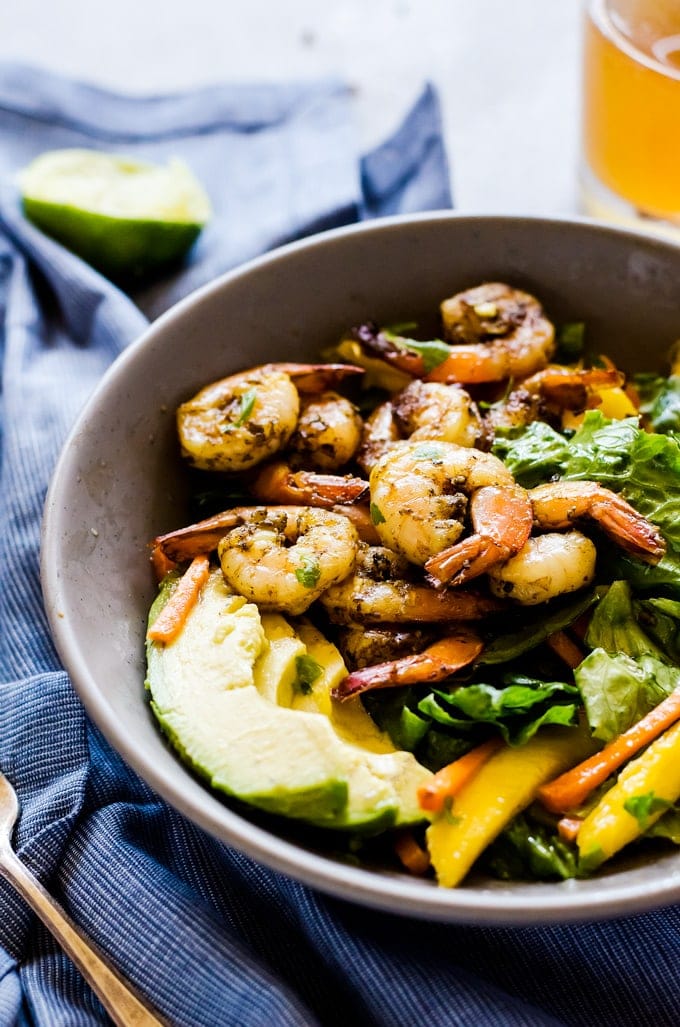 Recipe Card
Jerk Shrimp Salad
A light and refreshing jerk shrimp salad
Ingredients
3

tablespoons

extra virgin olive oil

2

teaspoons

light brown sugar

1

teaspoon

garlic powder

1

teaspoon

dried oregano

1

teaspoon

dried thyme

¼

teaspoon

allspice

¼

teaspoon

nutmeg

⅛

teaspoon

ground cinnamon

½

teaspoon

salt

¼

teaspoon

cayenne pepper

1 ½

lbs

peeled and deveined shrimp

2

tablespoons

lime juice

2

tablespoons

apricot preserves

1

large romaine heart

washed and dried

⅔

cup

fresh cilantro

chopped washed and dried

2

cups

matchstick carrots

washed and dried

1

large mango

peeled and cut in strips

1

sliced avocado
Instructions
Preheat a large skillet on medium high. Add a tablespoon of the oil.

In a small bowl. Mix together the brown sugar, garlic powder, oregano, thyme, allspice, nutmeg, cinnamon, salt, and cayenne together. Rub the mixture onto the shrimp to evenly coat.

Place the shrimp on the hot skillet in an even layer. Cook on both sides for about 3 minutes, or until it just turns opaque. Do not overcook or the shrimp will come out rubbery.

Remove from heat and place the shrimp on a heated plate.

In a large bowl, mix together the remaining oil, lime juice, and apricot preserves then mix well. Add salt and pepper to taste.

Quickly chop the romaine. Toss the romaine, cilantro, carrots, mango, and avocado into the bowl with the dressing and mix to combine the dressing. Top with the shrimp and serve.
Nutrition
Calories:
388
kcal
Carbohydrates:
22
g
Protein:
36
g
Fat:
19
g
Saturated Fat:
3
g
Polyunsaturated Fat:
2
g
Monounsaturated Fat:
13
g
Trans Fat:
1
g
Cholesterol:
274
mg
Sodium:
504
mg
Potassium:
828
mg
Fiber:
5
g
Sugar:
14
g
Vitamin A:
900
IU
Vitamin C:
28
mg
Calcium:
135
mg
Iron:
2
mg
Tried this recipe?
Tag me on Instagram! @acookienameddesire #acookienameddesire