This wholesome quinoa breakfast bowl was inspired by the flavors of a Persian love cake. It has notes of rose, honey, and almond, then topped with pistachios and pomegranate. You will want to have this tasty meal every day.
This recipe and post was sponsored by one of my all-time favorite brands, Bob's Red Mill.. Thank you for supporting the blog and the brands I <3.
I remember the first time I heard about quinoa years back when it first started becoming popular. A friend was talking about the healthy benefits during a Mother's Day barbecue and how she heard it heard it was a whole grain superfood and a complete protein. At the time, it was still hard to find and she found a 2lb bag of quinoa and bought it for me to try. I was hooked on the nutty flavor and the fun texture. What's more is that my daughter who was about 2 years old at the time loved it as much as I did. It was a win across the board.
Quinoa is a staple in my house now that Bob's Red Mill sells quinoa at all my local stores.
Bob's sells two kinds of quinoa: white and tricolor. You can use both to make a wholesome quinoa breakfast bowl, but I prefer the look of the white quinoa. You can find where they sell Bob's quinoa using their store locator – and get a coupon while you are at it!
Let's take a moment to discuss quinoa breakfast bowls. First, who here knew they were a "thing"? I only discovered them this past November and it kind of blew my mind. I've been going crazy making quinoa breakfast bowl day after day for about two weeks straight. I tried so many flavors, but I can't get enough of this Persian love cake-inspired breakfast bowl. The spices and nuttiness of the bowl is just so warm and inviting.
Quinoa breakfast bowls in general are so filling because it is a complete protein. And Bob's quinoa cooks up in 15 minutes, plus comes prewashed, so it is something that you can actually make on a weekday. I like to make mine and let it cook while I get ready. I only stop every 5 – 10 minutes to give it a quick stir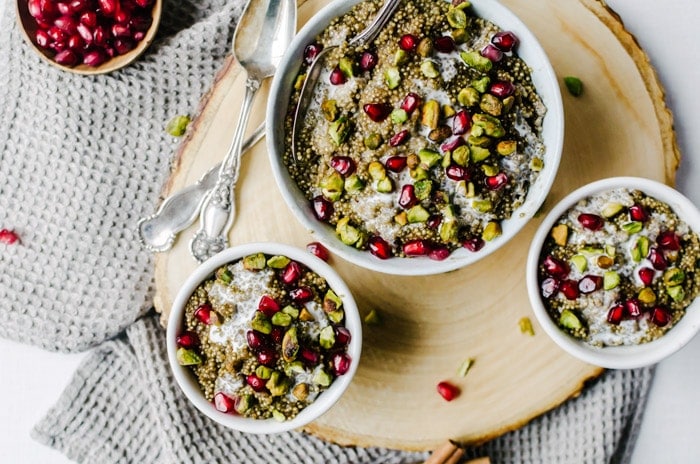 Yield: 2 servings
Quinoa Breakfast Bowl
Prep Time 3 minutes

Cook Time 20 minutes

Total Time 23 minutes
Ingredients
1/2 cup uncooked Bob's Red Mill quinoa
1/4 cup almond flour
1 1/4 cup unsweetened almond milk
1/4 teaspoon salt
1 1/2 - 2 tablespoons honey
1/2 teaspoon rosewater
1/2 teaspoon vanilla extract
1/2 teaspoon ground cinnamon
1/4 teaspoon ground cardamom
1/2 teaspoon orange zest
pistachios, crushed
pomegranate seeds
Instructions
In a medium saucepan add the quinoa, almond flour, almond milk, salt, honey, rosewater, vanilla, cinnamon, cardamom, and orange zest. Stir well.
Heat on medium high and cook until the quinoa is plump, soft, and almost double in size. Divide into two bowls and top with pistachio and pomegranates. Serve hot.
This post was sponsored by Bob's Red Mill. All thoughts and opinions are, of course, entirely my own!