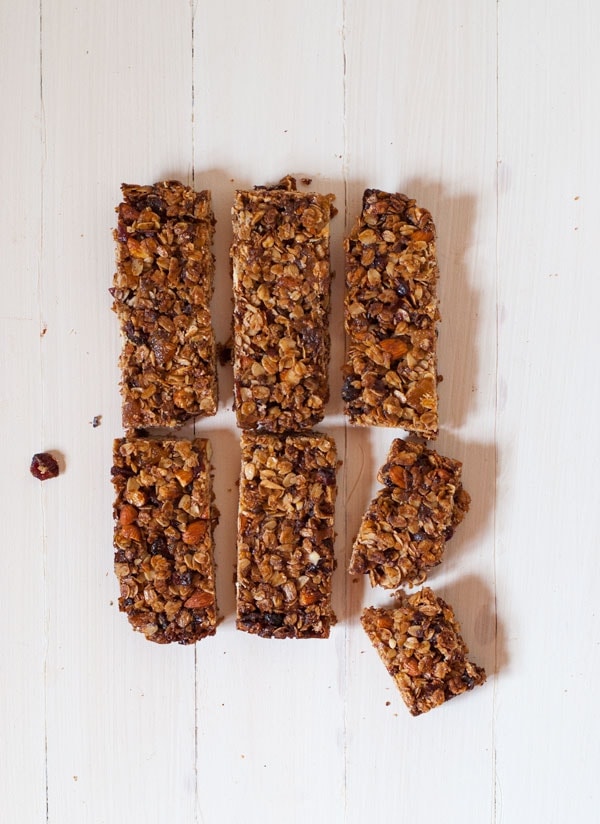 I am a super snacker. I can't go anywhere without an arsenal of snacks with me. Seriously... my purse is more like a mini grocery store full of awesome delicious snacks. My phone and wallet usually end up lost among all the mini snack bags and bananas. It's a trait my daughter is clearly taking on. Don't tell anyone, but there have been times when we've survived an entire day on snacks. Because of this deep love for snacking, I do my best to load up on healthy snacks and make my own so I can control the ingredients. You know, cause it's not good to eat nothing but string cheese, yogurt and berries for days on end.
Obviously if you are reading this post, you might have guessed that we like to make granola bars of the soft, chewy and fruity variety. If not... surprise! There's just something about a granola bar full of fruits and some salty almonds tossed in that makes me come back again and again until I've eaten an entire batch of them all on my own.
There's a ton of delicious cherries and dried mango in here. Plus a handful of mini chocolate chips and lightly salted almonds. I so, so, so, sooooo recommend using this combination, but I mean, it's granola, so you can throw in whatever you want. Don't have cherries? Use cranberries instead. Can't find the mangoes that aren't covered in sugar (don't use those, they are ghastly!)? Try some dried pineapple. Want something sweeter? Add ¼ cup more sugar! Granola recipes aren't really recipes. They are more like reference points for how much of each ingredient you need to ensure the consistency is what you want it to be. All add-ins are optional!
I like customization. I like being able to do things my way. That's the beauty of these bars. But really.... try it out this way at least once . Trust me, you won't regret it!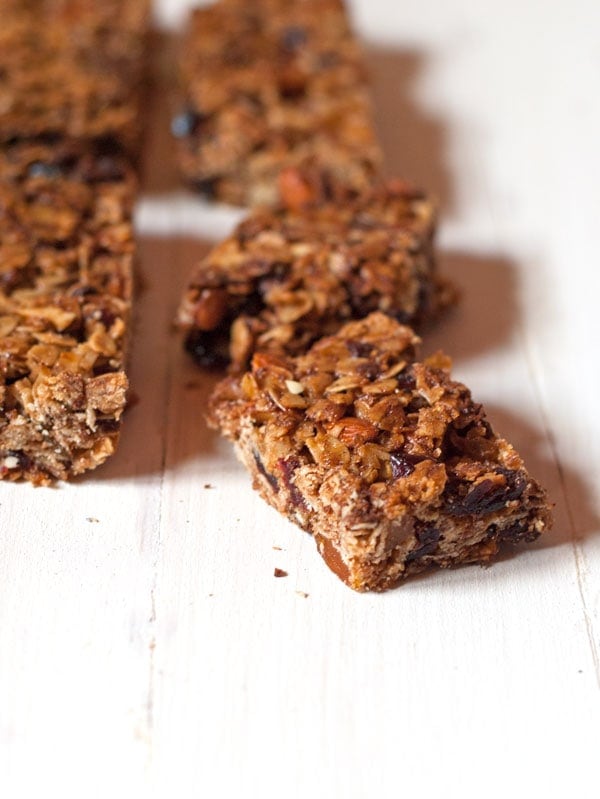 When you bake these, let them get some good color on top. They should be a nice golden brown on top and a little darker around the edges. Don't be afraid of the color! They will still feel as though they aren't set in the middle and you might be tempted to put aluminum foil on them and bake them for a little longer, but resist. They will set once they are cooled. These -sometimes- get a little crumbly when you cut them (but stay together wonderfully once they are). Just toss the pan in the fridge for a few minutes prior to cutting to get cleaner edges.
Now, get to noming!
Soft, Chewy Cherry Mango Granola Bar
Ingredients
1 ¾

old fashioned oats

⅓

cup

ground old fashioned oats or pre-ground oat flour

½

cup

granulated sugar

½

teaspoon

salt

½

teaspoon

ground cinnamon

1

cup

dried cherries

roughly chopped

1

cup

chopped dried mangoes

not the kind with added sugar

1

cup

chopped lightly salted almonds

6

tablespoons

melted butter

¼

cup

plus 2 tablespoons honey

1

tablespoon

water
Instructions
Preheat the oven to 350 degrees and line an 8x8 baking pan with parchment paper. (Tip: leave extra parchment paper hanging on opposing sides of the pan and clip them down with binder clips. When the bars are done, the flaps help lift up the parchment more easily)

Mix the dry ingredients together in a bowl. Add in the butter, honey and water and mix well.

Put the ingredients in the baking pan and pack down the ingredients until it looks level.

Bake for about 30 - 40 minutes. My oven runs a little hot, and 35 minutes seems to be the magic number for me.

Take out the granola and allow it to completely cool - about one hour. Cut the bars using a serrated knife. You can cut before or after taking out the granola from the pan. Store in an airtight container, using wax paper to separate each bar.
Tried this recipe?
Tag me on Instagram! @acookienameddesire #acookienameddesire