Curry = happiness.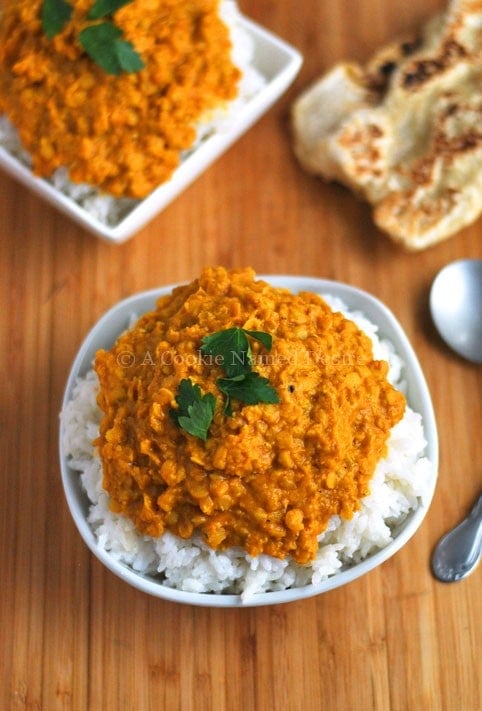 At least it does for me.
I love a big bowl of red curry with some garlic naan bread when I need some comfort food, and I've really been in the need for some comforting. A quick and simple red curry lentils recipe is just what I need.
To be honest, lentils always intimidated me. For years, I would buy lentils, let them sit my kitchen for months while I try to come up with a way to use them before ultimately giving them away to a good home. Sad, I know.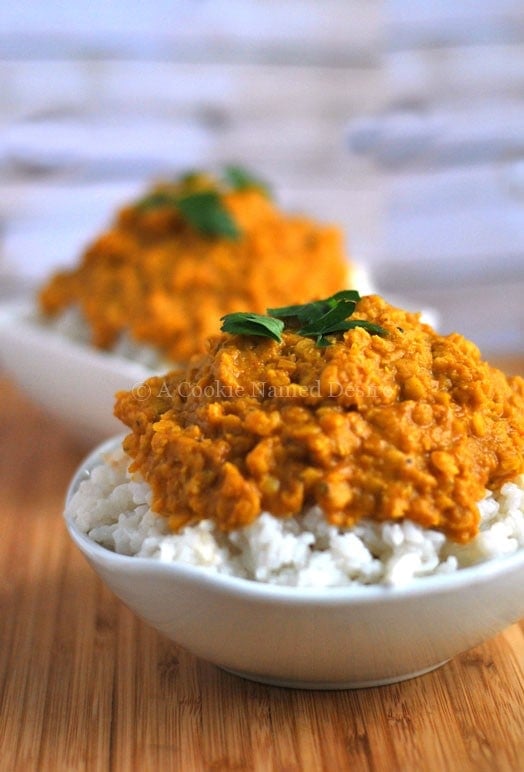 It's not that I couldn't some up with any recipes for the lentils, I simply could not find a recipe that felt right. Does that ever happen to you? You know, you find a recipe and it uses the ingredients you have and the photos look oh so tempting, but there is something about it that just doesn't feel right? Like you need to save those ingredients for the perfect meal and that recipe just isn't it? Yeah, that's me every day. I've got a few issues.

Then, this recipe pretty much saved my life. And my lentils. I don't know why it didn't come to me sooner, I mean I love curry. Love it. And it's ridiculously easy to make. Red curry lentils are great to use as a base for other additions such as peas, chicken and chickpeas (yum)!
Usually I like to eat my curry with both rice and naan bread - you know, cause, I'm a total glutton that way. But again, it's all about the comfort. What I like to do is use some of my coconut milk when I make my rice to give it a really delicious coconut flavor to add to the curry.
You can also try leaving a teabag on top of the rice as you cook it. I highly recommend you try one or both! Sometimes I also like to stick one or two cardamom seed in the rice as it cook.
I love experimenting with my rice.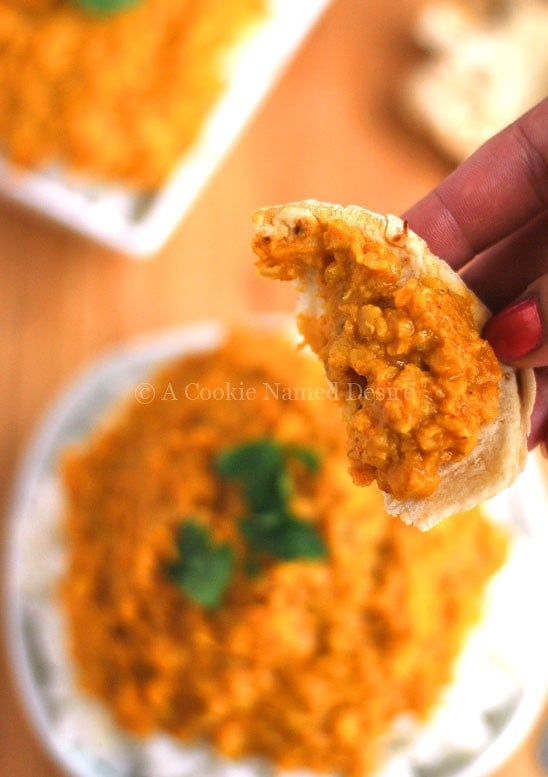 The curry is creamy and has a ton of flavor, but isn't so exotic that someone less adventurous with their food wouldn't be able to enjoy it too. It's really a great beginner curry if the thought of making or trying curry intimidates you. Really, you should just try this recipe. Your taste buds will thank you.
Don't have time to make this delicious curry now? Pin it for later!
Recipe Card
Red Curry Lentils
Easy and quick red curry lentils
Ingredients
1

bag

16oz red lentils

5 ½

cups

water

½

medium onion

2

cloves

of garlic

2

tablespoons

red curry paste

½

can coconut milk

2 ½

teaspoons

curry powder

1 /2

teaspoons

chili powder

½

teaspoon

tumeric

½

teaspoon

red chili flakes

2

tablespoons

sugar

zest and juice of one medium lime

salt and pepper to taste
Instructions
Bring the lentils and water to a boil, then bring it down to a low rumble for about 15 minutes. Begin cooking your rice.

While the lentils are cooking, chop the onion and garlic and sautee in the oil on medium heat until fragrant and transparent.

Mix in the red curry paste and cook for an additional minute. Add in the coconut milk and the remaining ingredients and simmer on low until the lentils have absorbed most of the water.

Transfer the curry mixture to the lentils, stir and allow to simmer on low for another couple of minutes. Allow the curry to rest for a few minutes before serving over rice or with naan.
Notes
Adapted from Pinch of Yum
Nutrition
Serving:
1
cup
Calories:
163
kcal
Carbohydrates:
22
g
Protein:
4
g
Fat:
8
g
Saturated Fat:
6
g
Polyunsaturated Fat:
1
g
Sodium:
233
mg
Fiber:
4
g
Sugar:
10
g
Tried this recipe?
Tag me on Instagram! @acookienameddesire #acookienameddesire