Homemade naan is easier to make than you think. This warm, buttery garlic naan is perfect with comforting curries, or even enjoyed on its own as a snack! You can also change up this naan bread recipe to incorporate any of your favorite flavors. 
I made this homemade naan recipe early in my blogging days, but it desperately needed an update. I've completely changed how I make this recipe to make it even softer and more pillowy. It is similar to my pita, but with that distinct naan bread flavor. Here, I kept the garlic flavor because it's my favorite, but you can omit it altogether, or spread any of your favorite flavors onto the homemade naan.
My love for all Indian food started when I was living in London. In case you didn't know, Indian food is basically the true British national cuisine. It didn't help that for three years I lived right next to a really nice Indian restaurant. Every evening when I came home from class I could smell the intoxicating aromas of different curries being made as the prepped for dinner.
Needless to say, we became best friends. We were on a first name basis and even though they don't have a delivery service, they would often take the 10 foot trip to our flat to deliver our food. We'd get free papadums and chutneys, and if we were short on cash, they had no issues letting us pay later. If I could give only one piece of advice to any college student, it is to become close with the owners of your favorite restaurant. One thing I had to get with every order no matter what I was eating was their garlic naan. I am drooling now just thinking about it. It was the best naan I've ever tasted.
Warm, buttery, garlic naan. Mmmmm....
It got to the point where I had to have that naan bread all the time. That soft, savory, hot bread became all I could think about.
I had to make it.
I've updated the homemade naan recipe over the years to make the dough easier to manage and more consistent, but the final product softer and pillowy. One thing that didn't change is how I bake - or cook - the homemade naan. I use a cast iron skillet because it is faster and easier and you can ensure you get a nice level of brown. It is important to use a timer when cooking the bread because you are cooking it on your stove. If you have a timer on your oven or one on your phone, I recommend using it. You want to be sure the bread is thoroughly cooked, but not completely blackened. Some black spots are expected - and a good thing. You just don't want your bread to be one big black spot!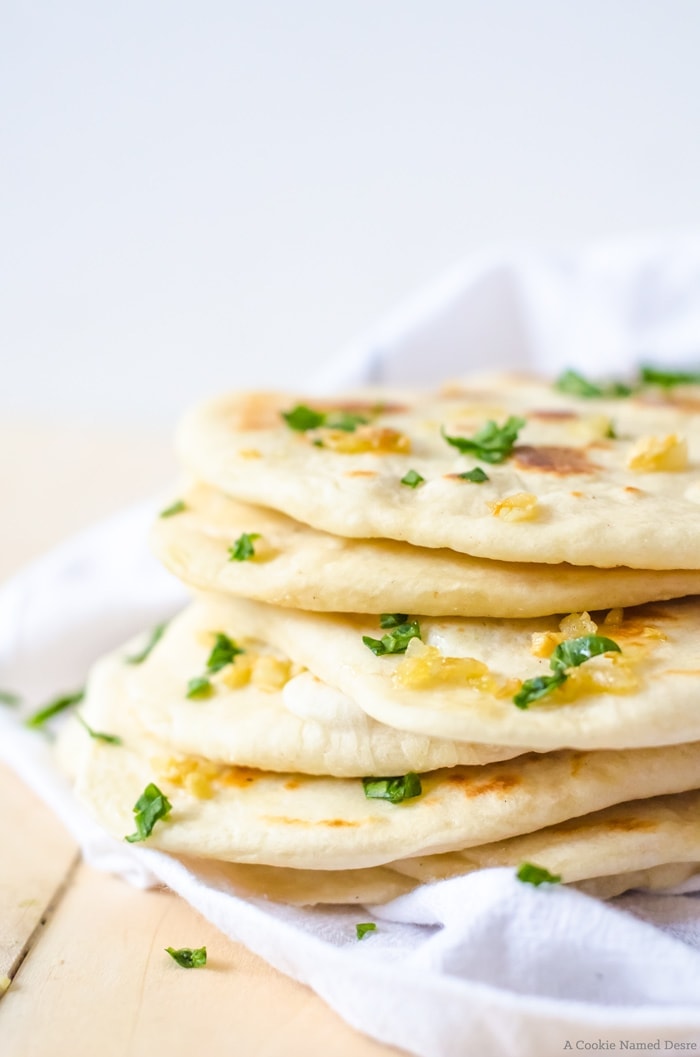 The end result is absolutely delicious though! I eat my homemade naan with everything. Whenever I have a hankering, I just pop one of these bad boys in the microwave for about 20 seconds (because they are best when they are hot!) and munch away while reminiscing about my old flat in Chiswick.
Nervous about baking with yeast? Read my beginner's guide on yeast!

Homemade Naan Recipe
Yield: 11 - 12 naan

Prep Time: 30 minutes

Cook Time: 22 minutes

Total Time: 52 minutes
Ingredients
1 teaspoon active dry yeast
¼ cup warm water
620 grams (scant 5 cups) unbleached all-purpose flour
1 ½ teaspoons salt
2 teaspoons sugar
½ teaspoon baking powder
¾ cup milk
¾ cup plain yogurt
4 tablespoons unsalted butter
3 cloves finely grated garlic
2 teaspoons finely chopped parsley
coarse salt
Instructions
Mix together the yeast and the water together for 5 minutes, or until it becomes frothy.
Add in the flour, salt, sugar, baking powder, milk, and yogurt. Mix until it comes together and then knead until smooth and still tacky - about 10 minutes.
Roll into a ball shape and place in a greased bowl. Cover and allow to rise for 2 hours.
Turn out onto a lightly floured surface and divide into 11 - 12 equal pieces. Cover and allow the pieces to rise for an hour.
Roll out each piece into an oblong shape (a rough teardrop shape is preferable). Heat a cast iron skillet on medium
Place one shaped naan on the skillet and cook for 1 - 2 minutes, flip and cook for an addition 1 - 2 minutes. Allow to cool on a clean white cloth.
Add the butter to the skillet while it is still hot from making the naan and melt. Add in the garlic and cook until fragrant and translucent. Remove from heat. Toss in the parsley and brush the naan liberally with the garlic butter. Sprinkle with salt and serve warm