I do not know if you've heard, but there was a really big storm that hit my little part of the world. Southern New Jersey was hit with a major storm – they are still looking for evidence of a tornado, I believe. My entire neighborhood is completely destroyed with trees fallen all over the roads, on peoples lawns, and on a couple of houses. There are cul de sacs that are completely shut off from the world with huge trees blocking their way out. The power is out in most stores, even the larger stores and chains. Traffic lights are down (some of them on the sides of the road) and there aren't enough police to direct traffic so its every man for himself once you leave the house. There are maybe two gas stations open and lines that go on all down the pikes. It's like this in several neighboring towns as well.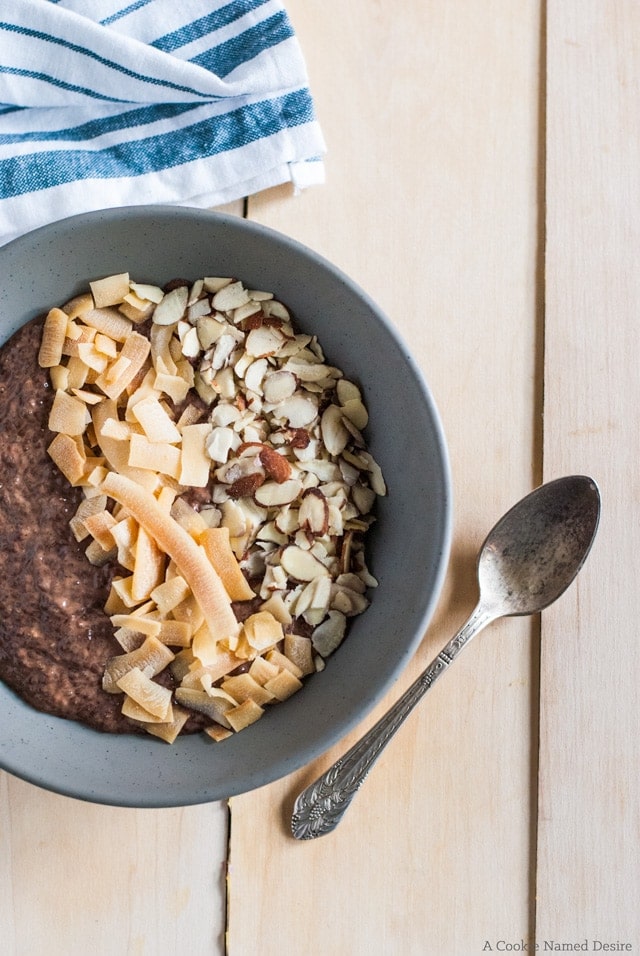 I eventually found refuge in a Starbucks a couple of towns away where they were only minimally damaged. Their wifi doesn't work, but the cell towers were not damaged, so I am using my mobile hotspot to write this post. They hope to have power back up in my neighborhood by Monday.
In the meantime, I've been getting thrift with food. Obviously we ran out of meat after the first day, but I've been doing a few experiments including making a rhubarb peach crumble on the grill. The top didn't get as crunchy as I would have liked, but it tastes AMAZING!! I've also grilled myself some eggs and veggies and boiled water on the grill to make pasta. Its times like these you really appreciate those recipes that do not require electricity to make. I have almond milk saved in a cooler (plus a lot of almond milk that does not need to be refrigerated on-hand). I've been satisfying my sweet tooth by making no-bake recipes like this almond joy chia pudding.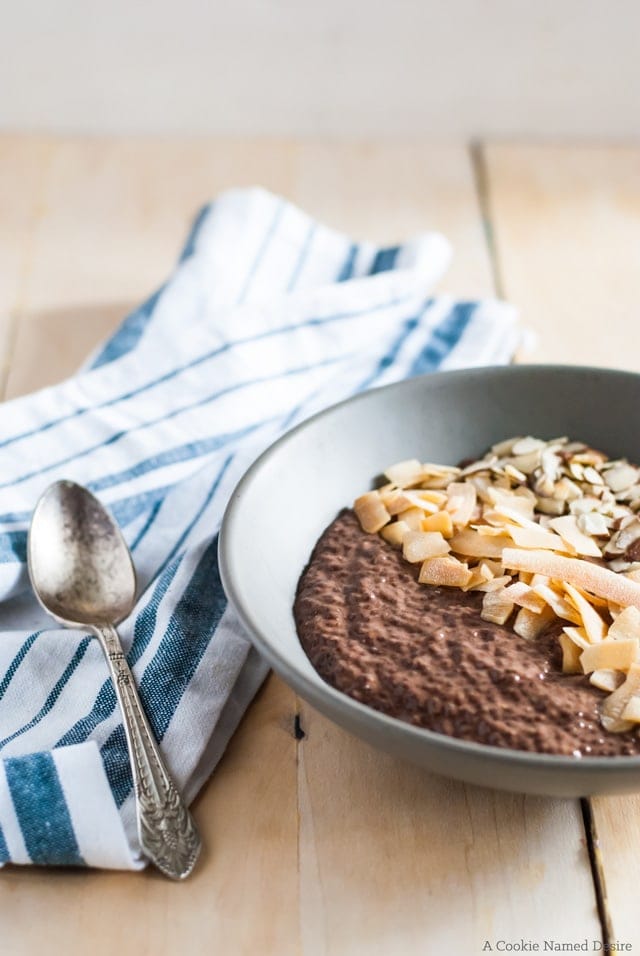 What makes this almond joy chia pudding so amazing is that it has so much flavor, takes very little time to make, and you can eat it chilled or room temperature. It has a wonderful mouthfeel from the chia seeds, toasted coconut flakes, and almond slivers. Oh, and you have to use toasted coconut flakes, the provide extra sweetness and the coconut flavor is just amazing. If you cannot find any, you may toast unsweetened coconut flakes and use that instead.
This pudding is easily halved, doubled, or even tripled. I like to make a big batch of this to share with my family or eat over the next couple of days, but due to lack of coolers and ice, I've been making them one bowl at a time.
Recipe Card
Almond Joy Chia Pudding
Ingredients
1

tablespoon

creamy almond butter

2

teaspoons

of sugar

or sweetener of choice or to taste

1

scant tablespoon cocoa powder

1

cup

Blue Diamond unsweetened vanilla almond milk

¼

teaspoon

vanilla extract

2 ½

tablespoons

chia seeds

½

tablespoon

slivered almonds

2 - 3

tablespoons

toasted coconut flakes
Instructions
Mix together the almond butter, sugar, and cocoa powder together. Slowly begin adding the almond milk, mixing constantly with a whisk or spoon until all the milk is added. Add in the vanilla. Stir in the chia seeds and mix until it is thoroughly combined and there are no clumps of chia seeds.

Chill in the refrigerator for about 3 - 4 hours. Add the almonds and coconut flakes and eat immediately.
Tried this recipe?
Tag me on Instagram! @acookienameddesire #acookienameddesire
This post is sponsored by Almond Breeze Almondmilk