Apple bread gets a makeover! Instead of spending an hour baking a loaf of apple bread, give it the waffle treatment and make these crunchy on the outside, but fluffy on the inside waffles. Let's hear it for apple bread waffles for breakfast!

Sometimes I get so excited to post a recipe that I decide to put it up immediately and other recipes get pushed to the back. Other times, I make an amazing recipe, but I want to wait until the perfect moment to share it. Sometimes those perfect moments happen, but other times they come and go before I get that chance to share. This happens to be the latter. I thought I would post this during the height of apple season, so I saved it, but I kept waiting and waiting and had things come up and suddenly it's almost Thanksgiving and I still haven't shared my apple bread waffles!

The last time I made waffles for the blog, it was my favorite banana bread wafles. i thought it would be really fun to share my apple bread waffles. I love using my apple iron to convert quick bread recipes because I get to have my apple bread faster and cover it in a bunch of salted caramel and maple syrup and no one will judge me.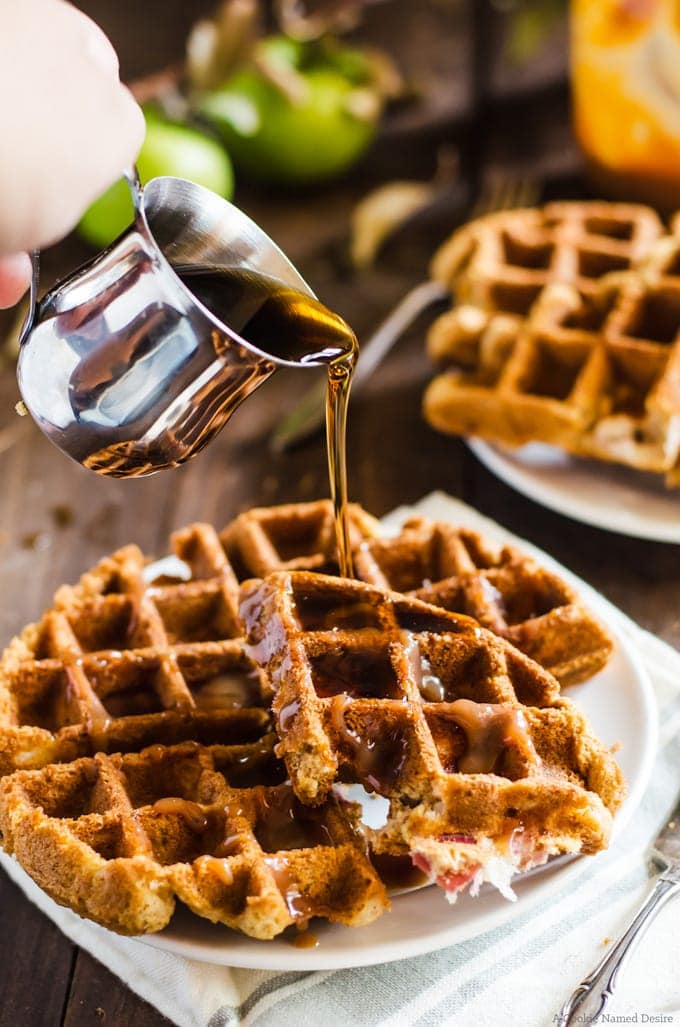 Like my banana bread waffles, this is a reguarl apple bread recipe that I made in the iron - not a wafle with apple bread flavors. Yes, there is a difference! It has a sturdier and crispier texture on the outside, but it is still light and fluffy on the inside. It really holds up to a lot of toppings which is great for a big fall brunch. It also means you can bake this recipe in a loaf pan and have a really delicious apple bread loaf - I do recommend omitting the buttermilk if you decide to make a loaf. I did add it in to the waffles to give it a bit more of a traditional waffle taste and tang that really tastes great with these apple bread waffles!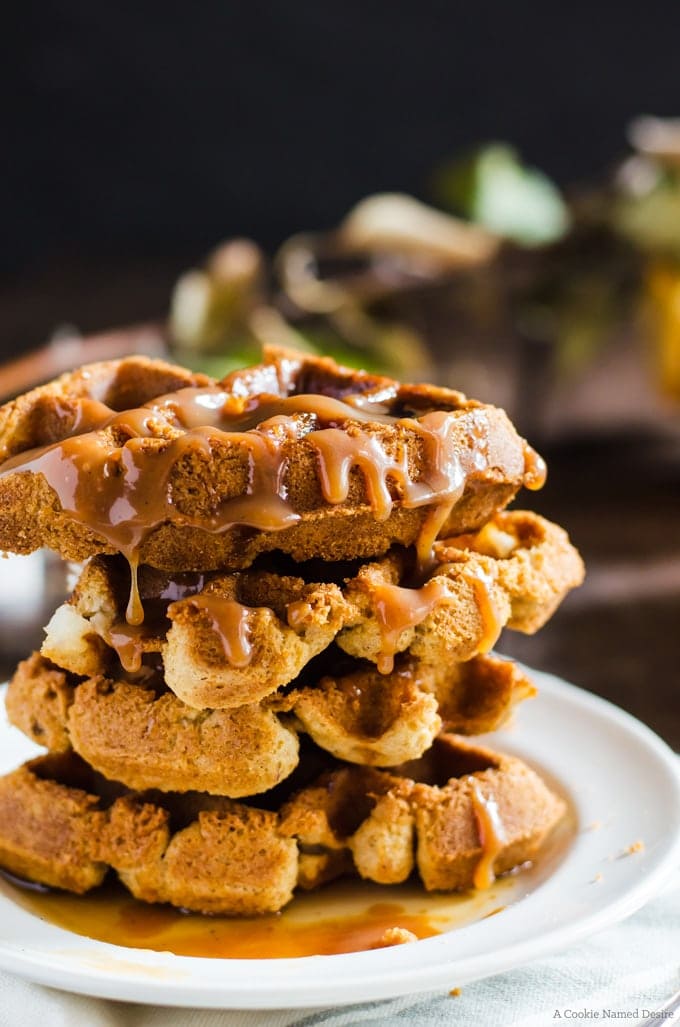 Recipe Card
Apple Bread Waffles
Apple bread gets a makeover! These waffles are crunchy on the outside, but fluffy on the inside... the perfect start to your morning.
Ingredients
1 ½

cups

all-purpose flour

½

teaspoon

baking soda

1

teaspoon

salt

1

teaspoon

ground cinnamon

¼

teaspoon

ground nutmeg

¼

teaspoon

ground cloves

½

cup

1 stick unsalted butter, melted

2

tablespoons

vegetable oil

¼

cup

packed brown sugar

¼

cup

granulated sugar

1

egg

beaten

1

egg yolk

beaten

1

teaspoon

vanilla extract

¼

cup

buttermilk

½

cup

toasted pecans

chopped

1 ½

cups

peeled and finely chopped apples
Instructions
Preheat your waffle iron. Preheat your oven to 200 degrees F.

Mix together the flour, baking soda, salt, cinnamon, nutmeg, and cloves together. Set aside.

Beat together the butter, oil, both sugars, egg and yolk, vanilla, and

buttermilk

together until light and ribbony.

Mix in the flour mixture, mixing until just combined. Fold in the pecans and apples.

Generously grease your waffle iron with butter or oil and place a about ⅓ cup of batter onto the middle of the iron. Close and cook according to manufacturer instructions. Place the waffle onto a wire rack and place the rack in the preheated oven to keep warm. Repeat with the remaining batter.

Serve with butter, more apples and pecans, salted caramel, and/or maple syrup.
Tried this recipe?
Tag me on Instagram! @acookienameddesire #acookienameddesire