A delicious banana cream pie ice cream with a peanut butter swirl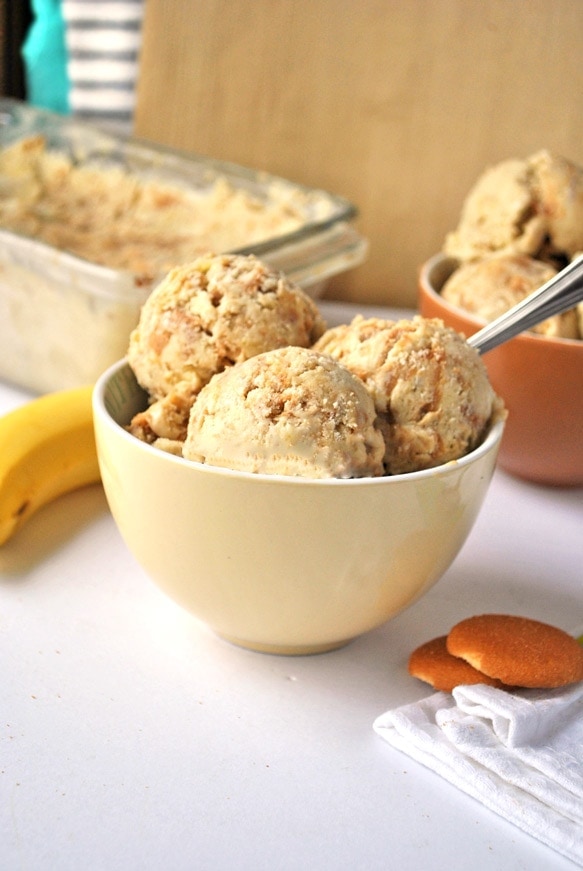 I didn't plan on making another ice cream recipe so soon. In fact, I wanted to make pie, but this recipe isn't about me. It's about my great-grandmother.
My great-grandmother is the matriarch of the whole family and her neighborhood. Everyone refers to her a "Grandma Davis," even if she isn't related to them. During every holiday, everyone would go to her house and she'd make these huge, delicious meals. She was famous for her cooking.
A year and a week ago, my great-grandmother had a stroke and she's been in an out of the hospital and placed in a nursing home. She doesn't talk very well anymore and can no longer walk. A few days ago she came down with an pneumonia and went back to the hospital. They wouldn't let her eat for two days because of the medication. When I went to visit her, she kept saying how hungry she is and how much she wanted to eat. She looked to frail and helpless in her hospital bed naming all the foods she missed eating when she was healthier. My heart broke looking at her.
I wanted to make something in honor of her. Something I knew that she would be able to really enjoy once she got better.
The last time she came to visit my house before the stroke, my mother made dinner and I made a banana cream pie that she loved so much, she ended up taking the rest of the pan with her. She also loved everything ice cream. I knew that this banana cream ice cream would be something she would go crazy for.
Another things that makes this banana cream pie ice cream so special is that it is an exact replication of that banana cream pie I made for her that day in ice cream form. You see, the pie had a peanut butter swirl that she went nuts over. Certainly a small twist on the traditional pie, but she liked it and I know you will too.
Recipe Card
Banana Cream Pie Ice Cream Recipe – With and Without Ice Cream Maker
Ingredients
3

ripe bananas

6

egg yolks

1

cup

sugar

divided

pinch

of salt

1

cup

milk

1

cup

heavy cream

2

tablespoons

banana pudding powder mix

2

teaspoons

vanilla extract

1

cup

whipped cream

1

cup

quartered Nilla wafers
Peanut Butter Swirl (optional)
¼

cup

creamy peanut butter

¼

cup

honey
Instructions
Heat your oven to 350 degrees and put unpeeled bananas on a baking sheet.

Bake the bananas for about 10 - 15 minutes, or until skins are completely black and you can smell the bananas. Allow to cool before unpeeling the bananas and scooping it out. Mash the bananas and set aside.

Lightly beat the egg yolks and half cup of sugar until smooth and light in color.

Mix the milk, cream, ½ cup sugar and salt together in a medium pot and heat to a low rumble. Do not allow it to boil.

Slowly add about a cup of the cream mixture to the eggs and mix. This is to help raise the egg temperature without cooking them.

Add the tempered eggs, mashed banana and banana pudding mix to the hot cream and stir constantly until the custard sticks to your wooden spoon. Remove from heat.

Prepare an ice bath and soak the pot with the custard in the bath, being careful not to get any of the water inside the pot of custard. Allow to cool completely.

Strain the custard and mix in the vanilla extract.

If you are using an ice cream maker, follow the manufacturer instructions then put in a container. Fold in the whipped cream and Nilla wafters. Mix the peanut butter and honey and heat in the microwave for about 15 - 20 seconds. Add the peanut butter and swirl. Freeze until completely set.

If you are not using an ice cream maker, put the custard in a container and freeze for 45 minutes. Take out the ice cream and break up any frozen areas and vigorously mix the ice cream, preferably with an immersion blender. Repeat this process of freezing and breaking up the frozen areas about 3 - 4- times. Fold in the whipped cream and Nilla Wafers. Mix the peanut butter and honey and heat in the microwave for about 15 - 20 seconds. Add the peanut butter and swirl. Freeze until completely set.
Tried this recipe?
Tag me on Instagram! @acookienameddesire #acookienameddesire