Fluffy banana sheet cake topped with creamy peanut butter frosting. This is the perfect cake for any occasion.
Whenever I get asked to bake a cake for a crowd, a sheet cake is usually my go-to. They're so much easier than making a layer cake, and easier to cut then pass out to guests. This banana sheet cake is one that gets requested all the time, especially when it gets topped with creamy peanut butter frosting.
One question I get asked a lot is whether or not this banana sheet cake can be layered. The answer is absolutely, yes! You can take out the cake from the pan, and layer it with another and end up with a rectangle layer cake. It is perfect for when you need to feed more people, but maybe don't have the space to lay out two individual sheet cakes.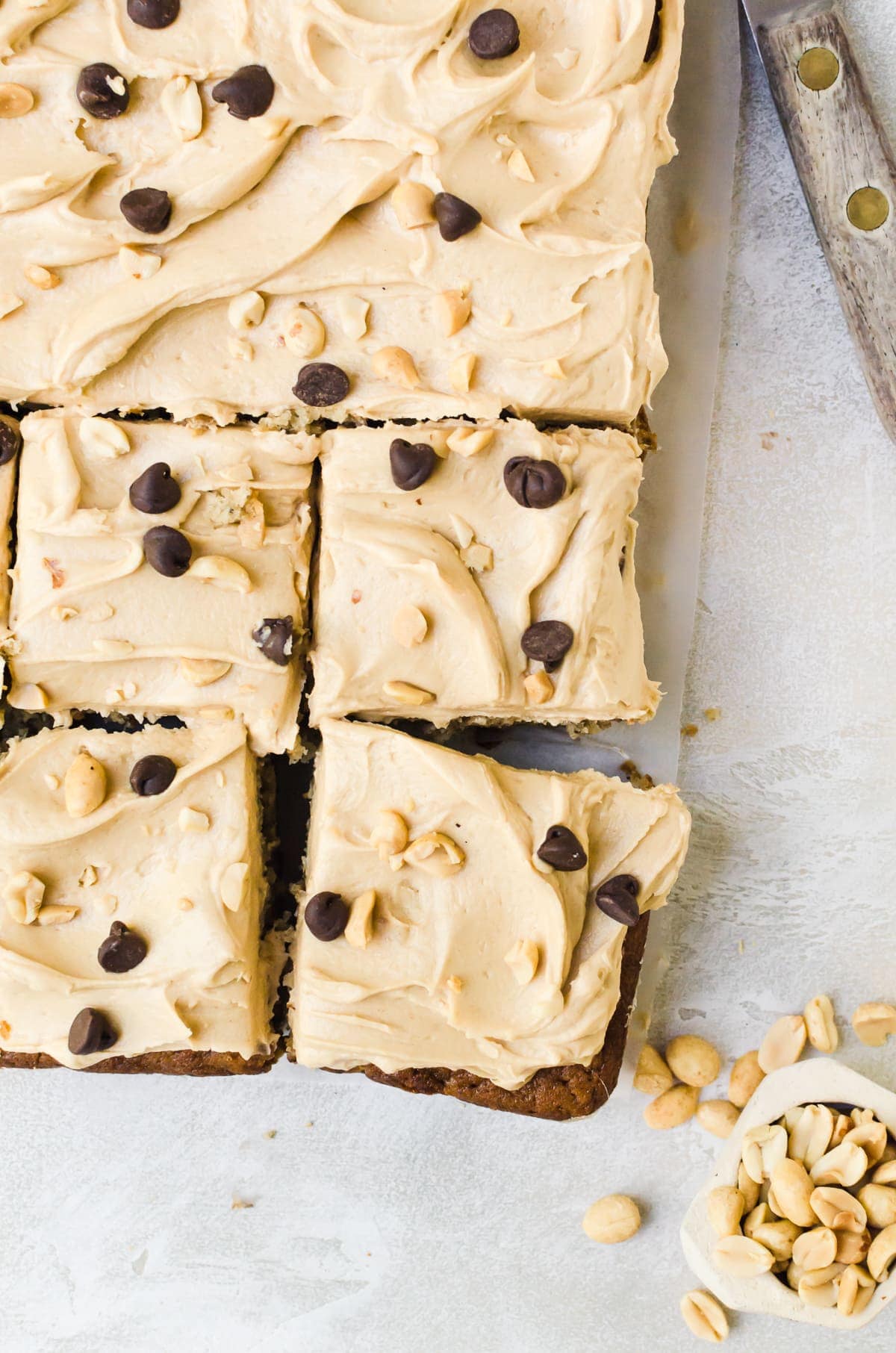 There's a lot of ways to decorate a banana sheet cake. I love the swirls of creamy frosting, but you can also pipe any number of shapes or even do clouds of dollops across the cake. If you are new to sheet cakes, it might be useful to know that you don't typically frost the sides.
You can freeze your banana sheet cake if you want to make it ahead of time. Typically, I recommend tightly wrapping the unfrosted cake in plastic wrap and freezing. When you are close to ready to serve, add the peanut butter frosting. You can freeze the cake with the frosting on, you can do so, but you must first partially freeze the cake so the frosting hardens slightly and won't smush down when you add the plastic wrap. When you are ready to thaw, remove the plastic wrap immediately.
When baking the cake itself, I recommend creating a slight well in the middle of the batter and leaving the edges a little more full. Sheet cakes tend to want to puff more in the middle, and this helps keep the baked cake a little more level. Also, if you don't have super ripe bananas, you can roast yours to bring out more of its flavor. If you want to make this cake a little more fancy, you can brown your butter before you add it to the recipe. It's a simple trick that elevates the flavor so much! If you want a smaller version to try, check out my brown butter banana cake.