A velvety, creamy blood orange ice cream studded with raspberries. This is the perfect winter treat to celebrate this vivid citrus' season! 
I love blood oranges. I love them so much that I can never buy them without feeling the need to cook with them, in order to celebrate my love for their ruby red deliciousness. So in lieu of the blood orange season, it hit me: blood orange ice cream. Sure, it is the dead of winter and I am buried in two feet of snow, but blood oranges are a winter fruit and ice cream is a year-round treat (at least it is to me).
I think you will really enjoy this blood orange  ice cream because it has the smooth creaminess that one craves for in ice cream, with the nostalgic taste of orange creamsicles from our youth, AND a tangy finish that you can only get from fresh ingredients.
During my experiment creating this ice cream, I realized that you can get the best color and flavor from using blood oranges with a lot of crimson on the outer peel. You get the best juice from citrus that is room temperature, but the rind releases the most fragrant oils with the citrus is cold, so I recommend refrigerating the oranges, zesting them, then letting them sit out on the counter for about an hour. You can leave the zest in the refrigerator while you wait.
As for the raspberries, they aren't in season... But you can buy then frozen and they are just as good as a ripe, in-season berry because they get flash-frozen at the peak of the season, to be used for your enjoyment later-- yay technology!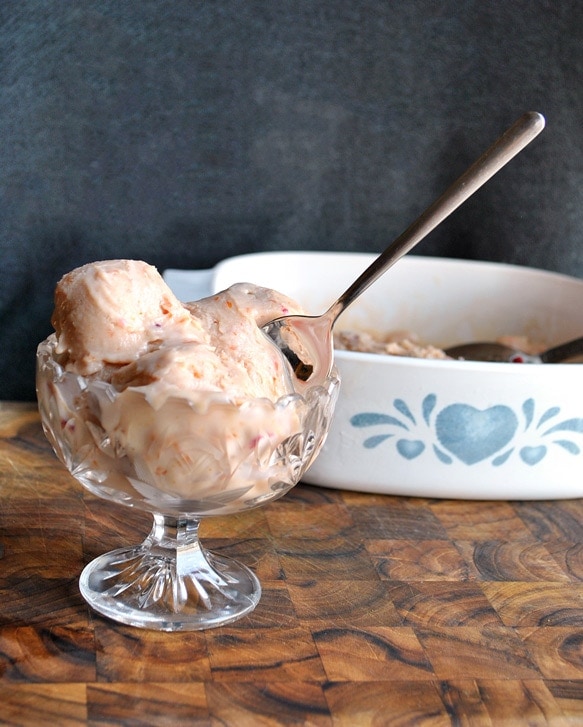 To tell you the truth, I have never made ice cream before this. I always thought you needed an ice cream maker. That is until I found this article from David Lebovitz. As soon as I learned that no such high-tech gizmos were needed, I jumped onto the ice cream bandwagon and have made about 5 different ice cream recipes thus far. If you are fortunate enough to have an ice cream maker, do you think the investment is worth it? If so, which models do you recommend?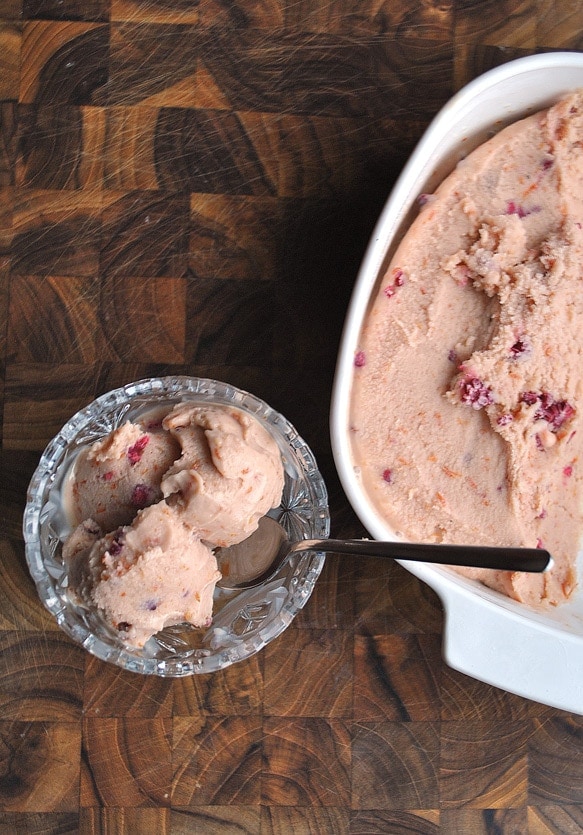 Don't have time to make this Blood Orange Raspberry Ice Cream now? Pin it for later!
Recipe Card
Blood Orange Raspberry Ice Cream
A delicious, citrus, smooth and creamy ice cream to eat all winter long! Studded with raspberries as an added bonus 🙂
Ingredients
5

egg yolks

1 ½

cup

300 g sugar, divided

pinch

of salt

1 ½

cup

350 mL milk

1 ½

cup

350 mL heavy cream

6

blood oranges

zested and juiced

2

teaspoons

vanilla extract

1

cup

125 g raspberries, lightly mashed
Instructions
Put eggs and ½ cup (100 g) sugar into a small bowl and whisk until light in color.

In a medium pot, mix the milk, cream, ½ cup (100 g) sugar and salt together and heat to a low rumble. Do not allow it to boil.

Slowly add ⅓ of the cream mixture to the egg yolks to increase the temperature of the eggs, then add the eggs back into the pot.

Lower the heat and cook the mixture, stirring constantly with a wooden spoon to create a custard. Once the custard coats the back of the spoon, take off the heat and strain through a fine mesh strainer. Add the vanilla. Cool the custard in an ice bath or refrigerator.

While the custard is cooking, create your blood orange syrup by mixing the zest, blood orange juice and sugar in a small pot. Allow it so boil, stirring occasionally for about 5 - 7 minutes. Cool the syrup in the refrigerator with the custard.

Once both the syrup and custard are cool, mix together and add in the mashed raspberries. Stir to combine.

Freeze the ice cream in your ice cream maker as per the manufacturer instructions.

*If you do not have an ice cream maker, place the ice cream in a container and place in the freezer. Every 30 minutes for about 3 - 4 hours, mix the ice cream. Be sure to scrape the sides and bottoms to break up the ice crystals. Use am immersion blender if you have one available.
Tried this recipe?
Tag me on Instagram! @acookienameddesire #acookienameddesire