Fall in love with this juicy, flaky barbecue salmon with grilled vegetables. Each bite is filled with flavor thanks to easy cedar plank grilling. There isn't anything better to pair with a chilled glass of Pinot Grigio wine. This post is sponsored by DaVinci Wine, thank you for supporting brands I love..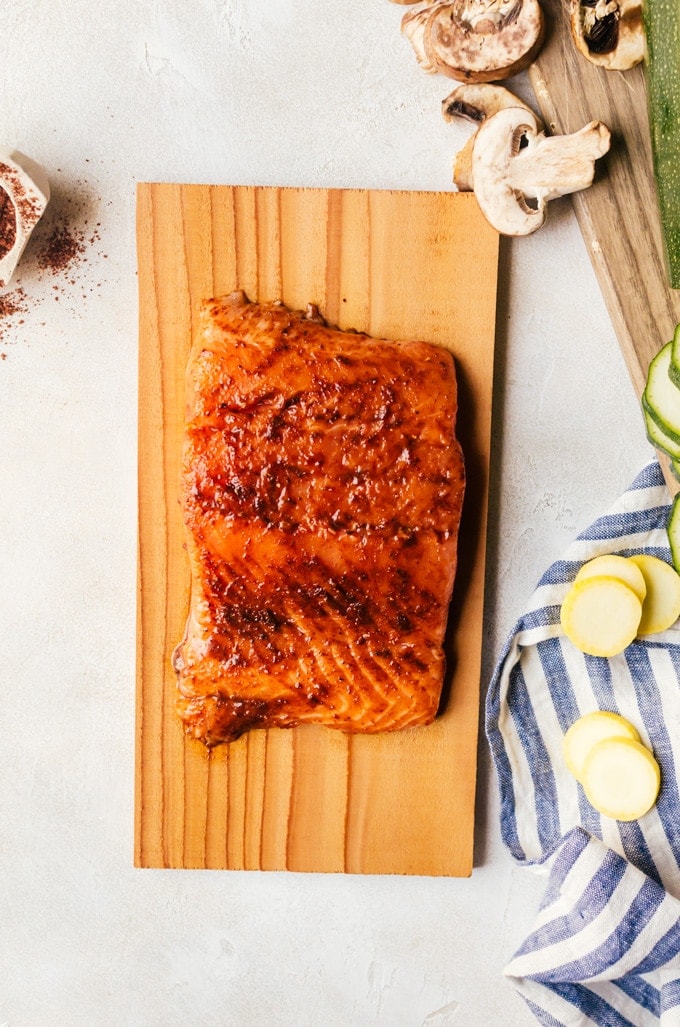 This summer has probably been one of my favorites in a long time. We've been busy going to different events and making as many trips out as humanly possible. So far, we've also done plenty of barbecues and tons of family time in which I've been able to see my wonderful nieces nearly daily. Fall is slowly approaching, but I am definitely taking
advantage of every last possible moment of summer. Still, I take time to savor each moment and make sure each one is special.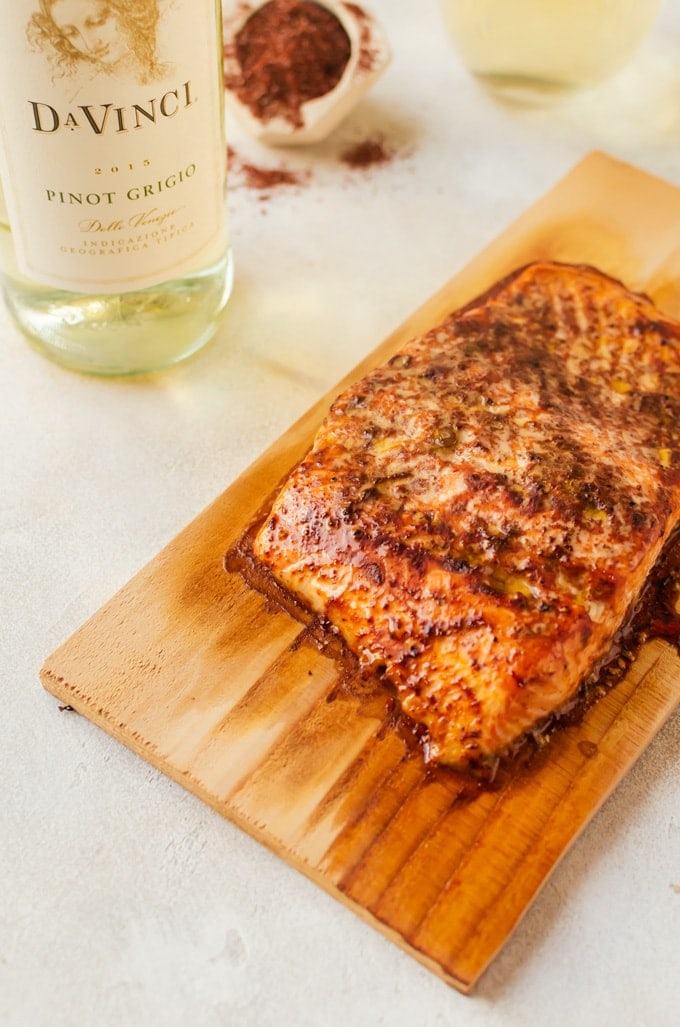 I've recently made a trip to a spice shop and picked up these incredible spices, a few of which were hand ground right in the shop. Since getting them, I've been creating my own blends. One of my favorites is this Carolina barbecue dry rub that I've been using on just about everything. I especially love it on this cedar plank grilled barbecue salmon.
It's subtly sweet and spicy and perfectly complex. Of course, you obviously don't need freshly ground spices to make this rub. I usually use the rub on just the fish, but you can also use it on the vegetables. I tend to dress my vegetables simply when I am grilling them, but when sautéing or roasting, I love to use it liberally. Luckily, my barbecue rub recipe gives you plenty to use for experimenting.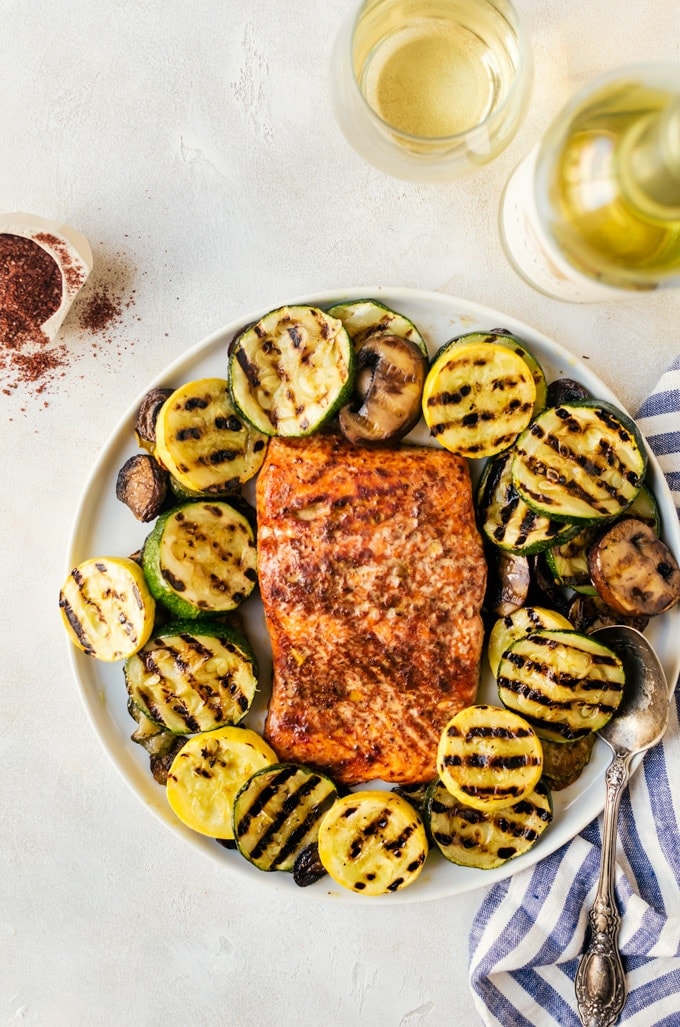 Usually, I am not the biggest fan of white wine, but that was before I tried DaVinci Pinot Grigio. It's light, crisp, a touch more acidic, and not too sweet which means it pairs better with all types of food. It's quickly become the only white wine I will drink.
It's made by the Cantine Leonardo da Vinci which is a cooperative of winegrowers located in Vinci, Italy, the birthplace of Leonardo da Vinci. You can find out more about them on Facebook or their website.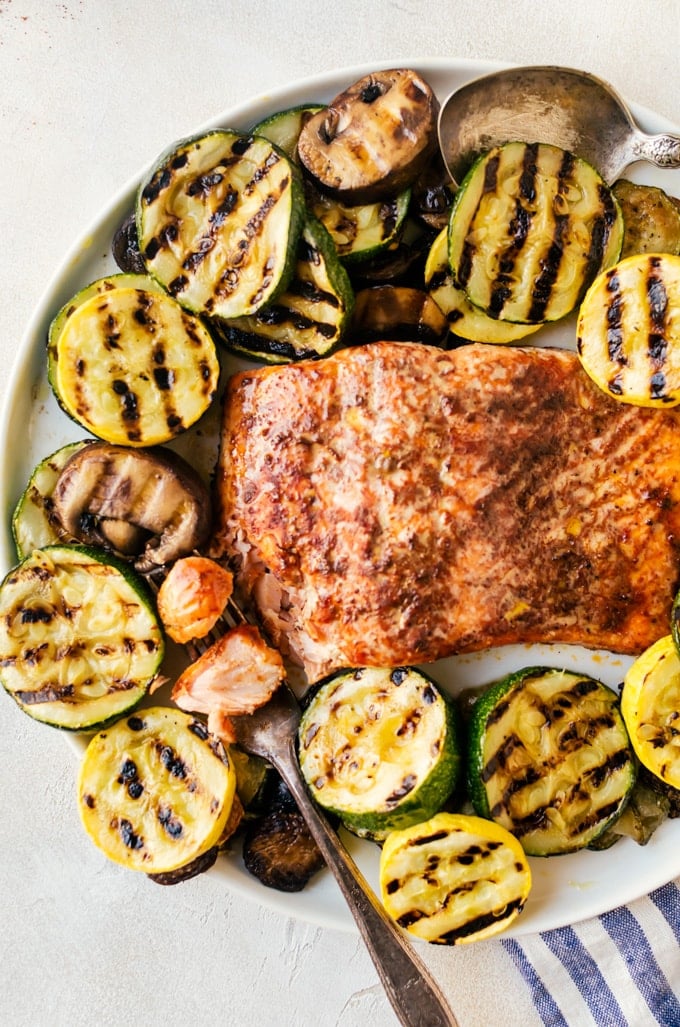 This barbecue salmon is simple enough to become a favorite summer dinner, but delicious and impressive enough to also make a great date night dinner, especially paired with a chilled glass of white wine.
Cedar Plank Grilled Barbecue Salmon
Author:
Prep time:
Cook time:
Total time:
Ingredients
1 cedar plank*
1 ½ lbs fresh salmon filet
2 tablespoons barbecue rub (recipe follows)
1 zucchini, sliced
1 yellow squash, sliced
2 cups sliced mushrooms
Extra virgin olive oil
Salt
Pepper
Instructions
Soak the cedar plank in water for at least an hour. Preheat your grill and wait for the flames
to go down.
While the plank is soaking, pat dry your salmon filet and rub down with the barbecue rub.
Slice your vegetables into thick medallions that are roughly ½ inch thick. Brush your
vegetables with extra virgin olive oil and season with salt and pepper.
Preheat your cedar plank by grilling it on both sides for about a minute. Place the salmon on
the plank and grill for about 13 – 18 minutes, or until the salmon is cooked through and
flaky. Set aside to rest.
While the salmon is resting, grill your vegetables. They should take about 2 minutes per
side.
Serve with a chilled glass of DaVinci Pinot Grigio and a side salad.
Notes
*You can purchase cedar planks at some grocery stores and home improvement stores.[br]Before purchasing, make sure your plank is made for grilling.
Barbecue Rub

Prep Time 25 minutes

Cook Time 18 minutes

Total Time 43 minutes
Ingredients
2 tablespoons paprika
1 tablespoon salt
1 tablespoon granulated sugar
1 tablespoon brown sugar
1 tablespoon ground cumin
1 tablespoon chili powder
1 tablespoon freshly ground black pepper
Instructions
Mix all the ingredients together in a small bowl. Store in an airtight container at room
temperature for up to 6 months.
This post is sponsored by DaVinci Wine, thank you for supporting brands I love.