This post has been compensated by Inmar Intelligence and its advertiser. All opinions are mine alone. #SauceIntoSummer #SauceLikeYouMeanIt #TexasPete Bright, citrusy, with a little kick of spice, this grilled swordfish is a great way to enjoy having a meal outside without feeling weighed down.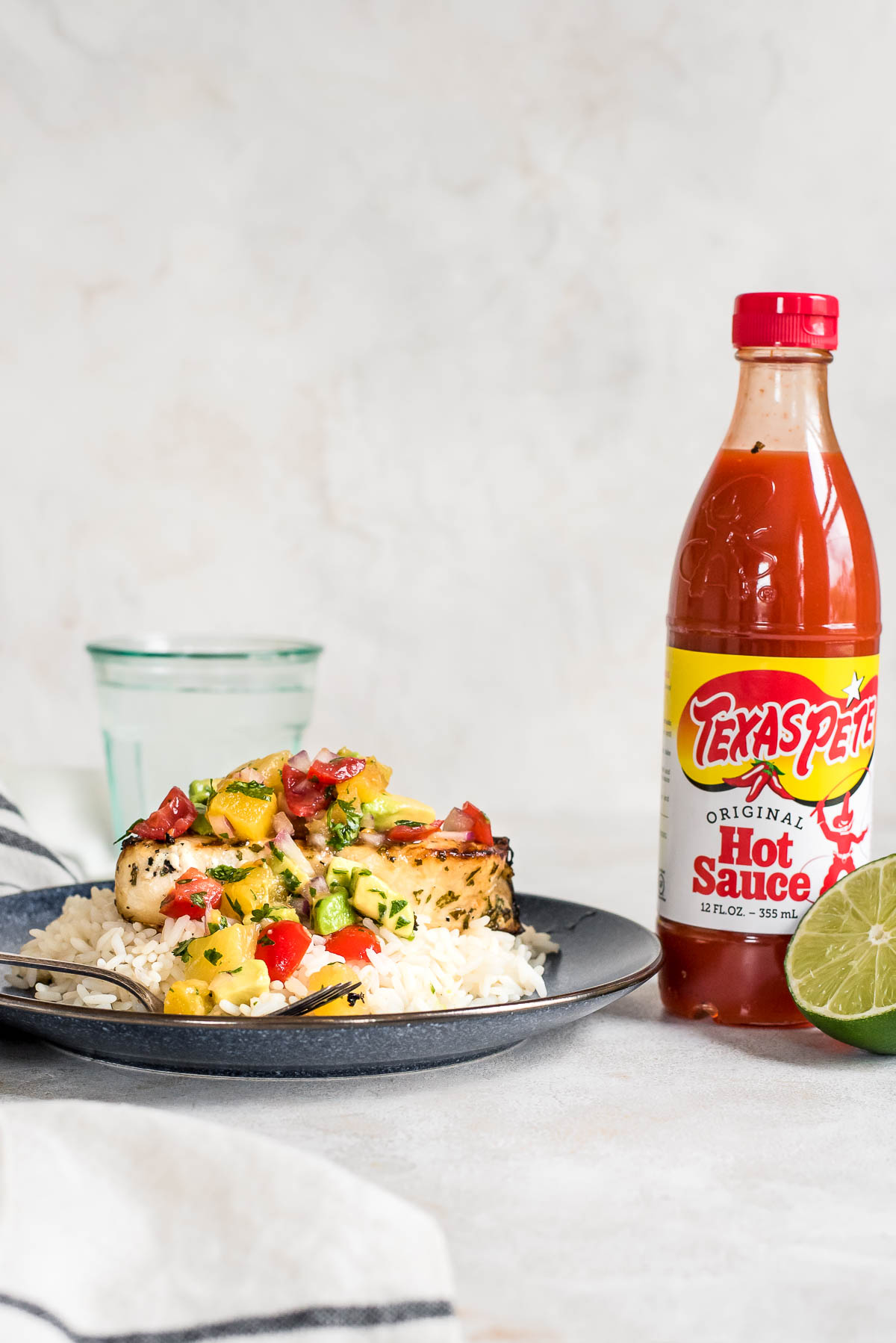 My favorite part of warm weather is having a lot of barbecues with the family! We moved not too long ago, and our yard is perfect for barbecues. I love burgers and brats, but my favorite is grilled fish because it doesn't weigh me down, and tastes just the way warm weather should: bright and fresh! This year I plan on making a lot of this grilled swordfish steak because it is just so good!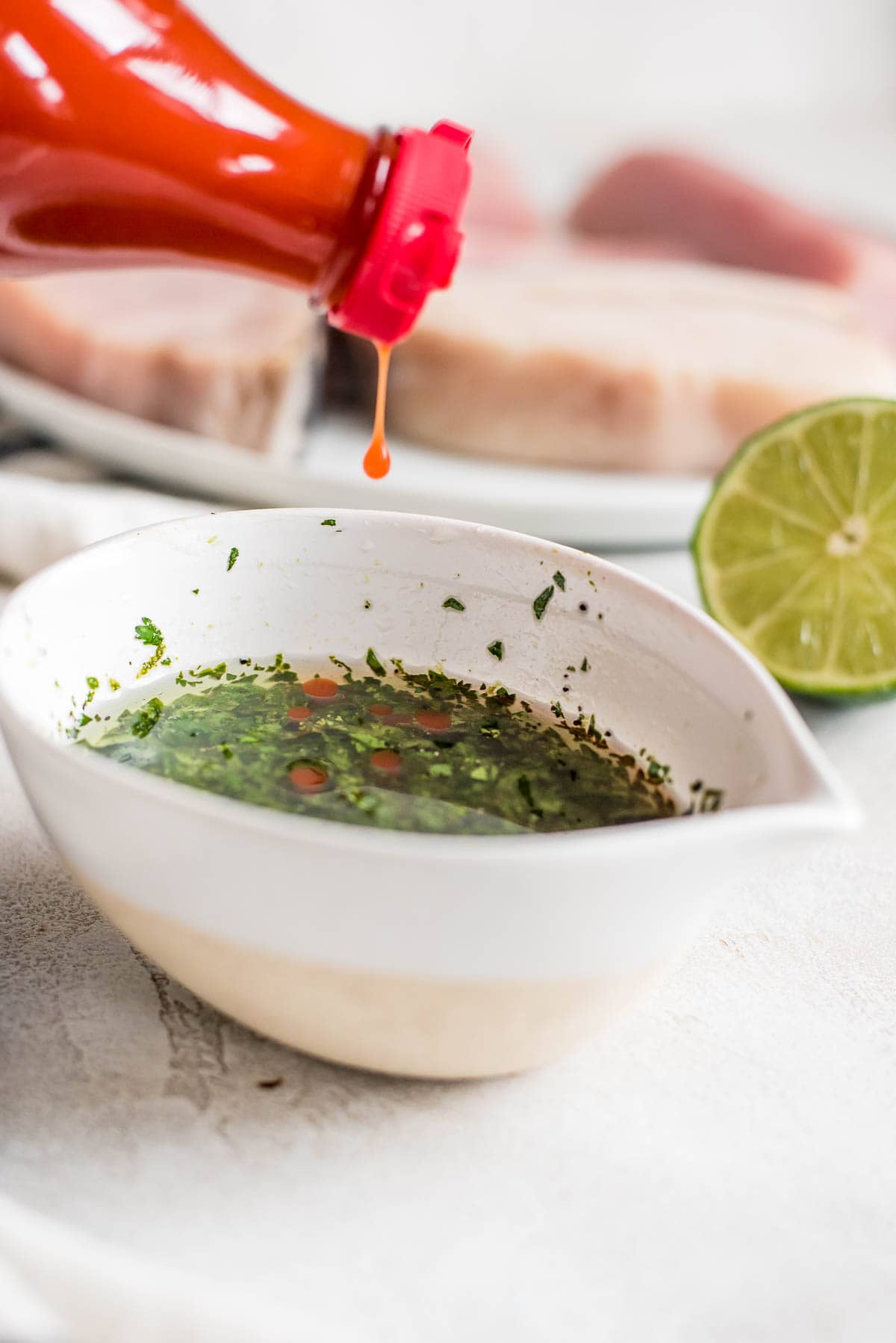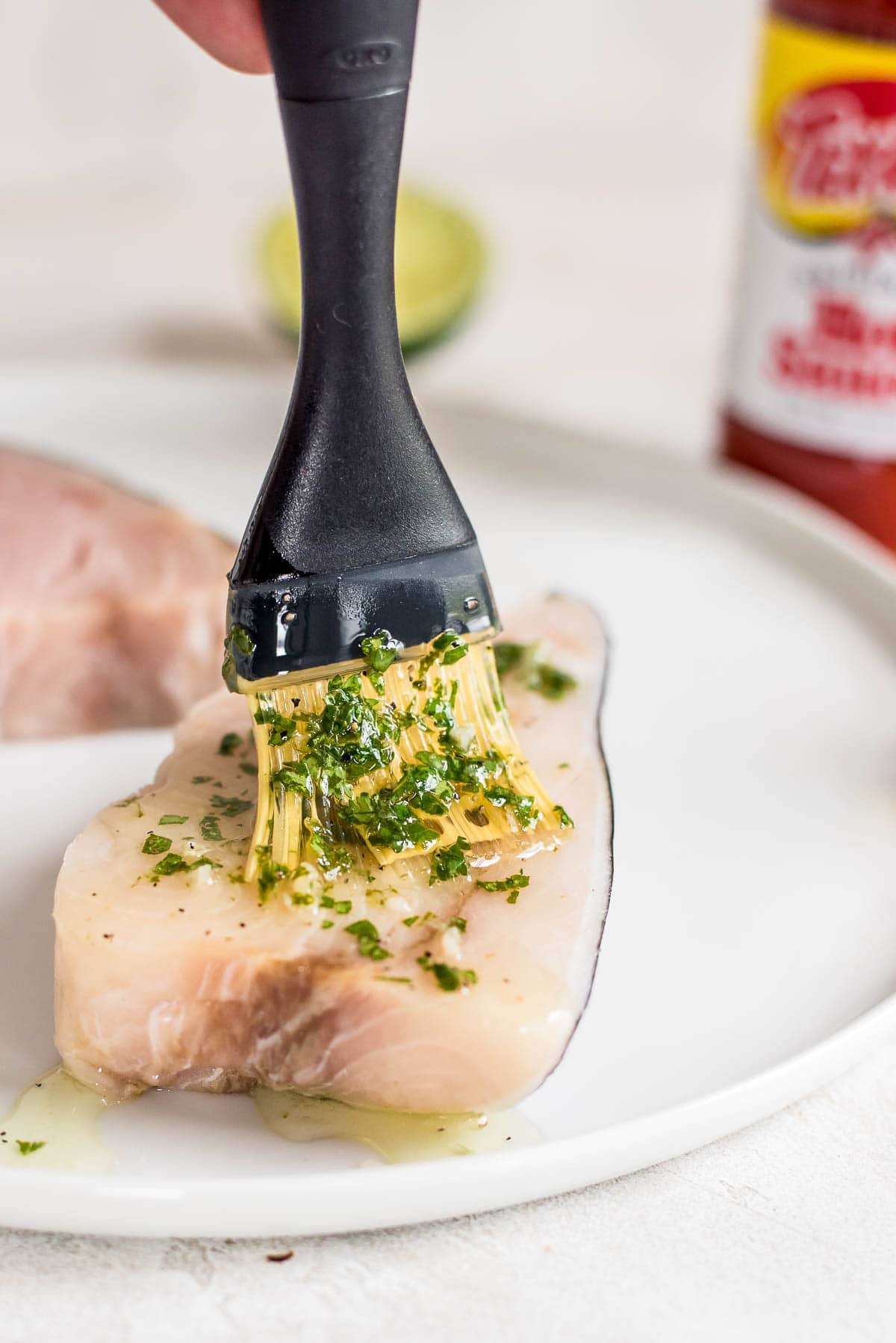 Why this recipe works
First, the fish is sturdy enough to hold up to being grilled without falling apart. It's meaty, yet slightly sweet and goes well with a ton of fresh ingredients.
Next, because we use ingredients like fresh citrus and herbs, the flavor remains bright and light which is exactly what you want when you are relaxing outdoors.
When you Sauce Like You Mean It®​ with Texas Pete® Original Hot Sauce​, you get a really nice kick which gives the fish more dimension and keeps you on your toes.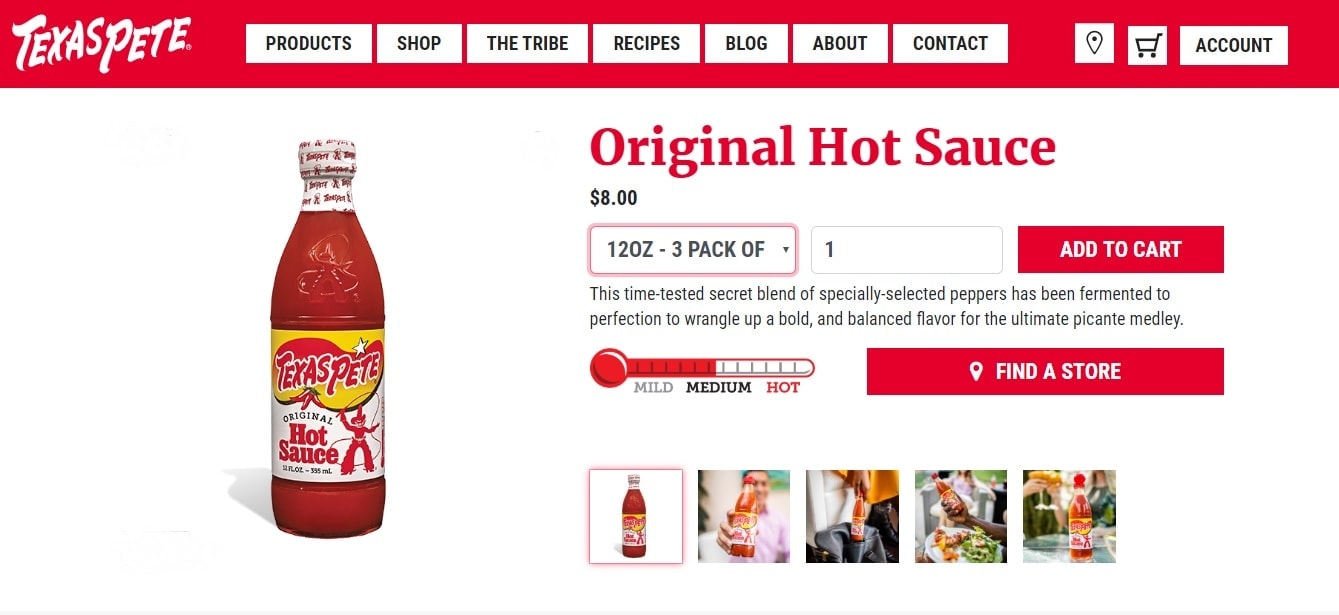 Why Texas Pete® Hot Sauce
​
I decided I wanted to use hot sauce to pump up the flavor and give the dish a nice kick because it is easier than handling something like jalapeno when you can hurt yourself easily if you accidentally touch your face right after chopping it. You can also easily control the heat by adding a dash at a time until you get just the right amount of heat.
The flavor of Texas Pete® Original Hot Sauce also pairs really well with the flavors we use in this fish and the salsa. It blends into the flavors perfectly for a delicious meal.
Texas Pete® products are available in a lot of places online. It was so easy for me to order exactly what I needed from their website. You can check out where to buy Texas Pete® products​ using their locator.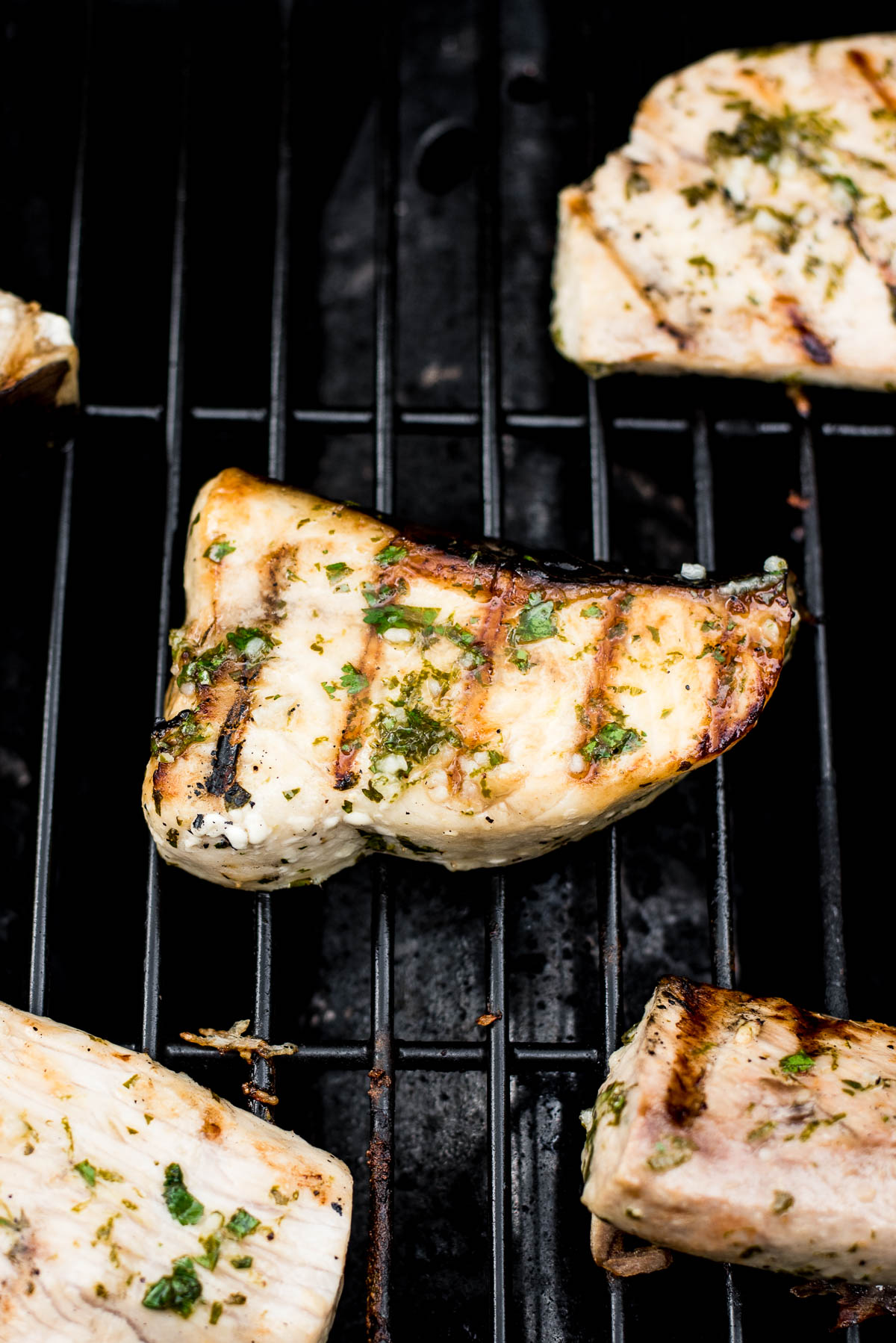 Ingredients
Swordfish - This is our main ingredient. It is flaky, light, with a slight sweetness to it. You can replace it with Mahi Mahi, salmon, or tuna steaks. You want your steak to be about 1 ½ inches thick
Limes - This adds a brightness to the dish that cannot be beaten. Use fresh limes. You can also incorporate lemons if desired.
Extra virgin olive oil - The oil adds fruity notes, but its main purpose is to help spread the delicious flavors around the fish and to cook.
Garlic - Required for adding dimension and deliciousness to the flavor profile.
Cilantro - It pairs well with the other ingredients to give the grilled swordfish a wonderful Mexican flair. If you don't like cilantro, you can skip it.
Texas Pete® Original Hot Sauce

​

- This helps amp up the flavor and kick things up a notch! It brings you into the fold as a Texas Pete® Tribe member so you can have the confidence to live life more on the edge and amplify your experiences.
Spices - We use a medley of spices to round out the flavor and enhance the fish
Pineapple salsa - This adds more fresh, bright flavor, and a touch more spice to the dish (thanks to an extra few dashes of Texas Pete®).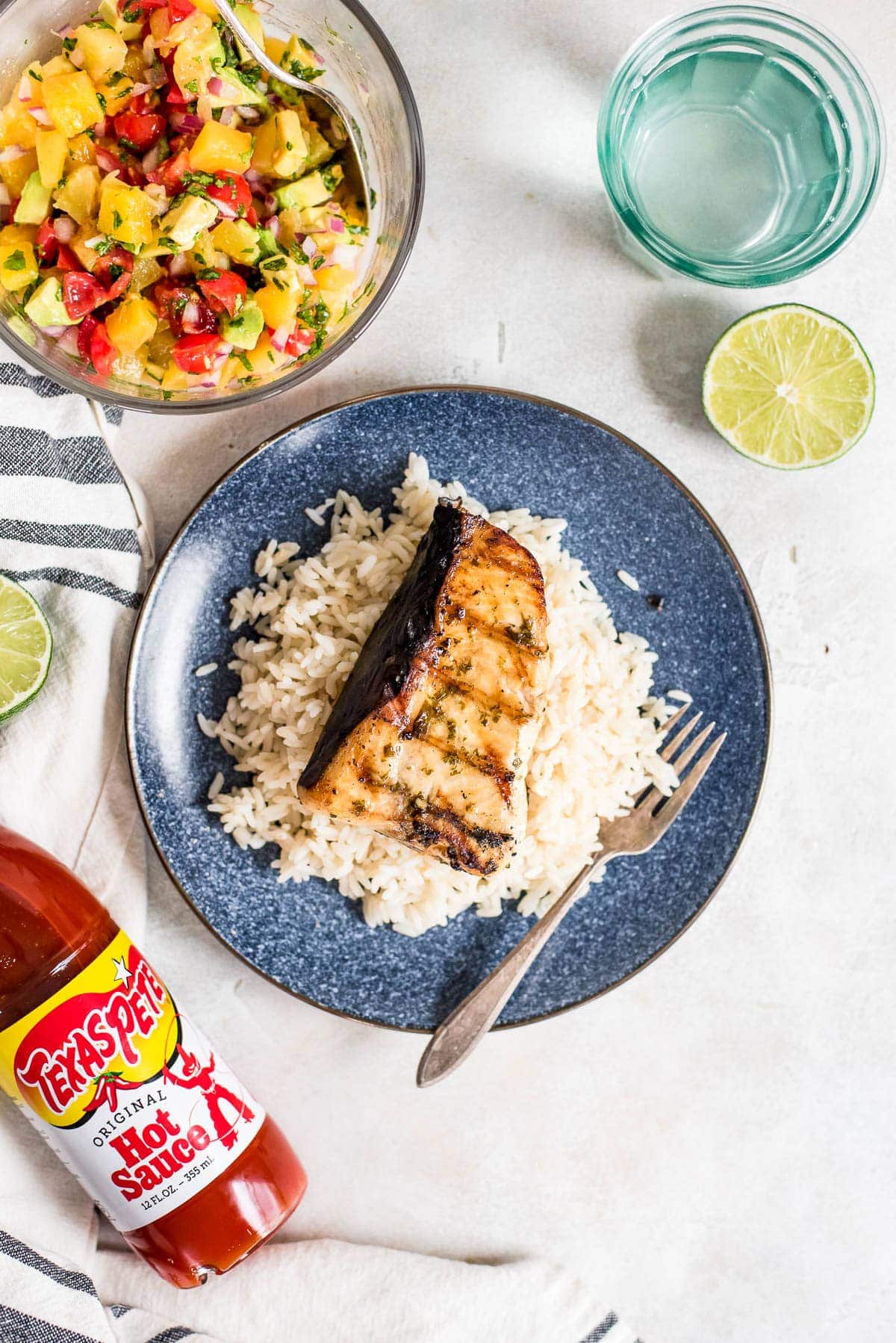 How to make
What I love about making this grilled swordfish steak is how easy it is to make. All it takes is to mix together all the ingredients for the marinade and coat the fish in it. You should let it sit for a few minutes before finally grilling it on either side until flaky.
Tips for grilling swordfish
Grilling fish can be daunting. The thought of wasting a beautiful piece of fish to the cracks of a grill is enough to make you want to cry. But fear not because it is actually not that difficult to grill a fish like swordfish. In fact, it is one of the best fish to grill.
Use a thicker cut of fish. I recommend a 1 ½ inch thick steak, but even just 1-inch is good, too. If you use a thinner cut, it will cook long before it can be easily released from the grill.
Make sure the grill grate is properly cleaned. Any stuck food on the grate will hold on to the fish, and make them harder to flip.
Preheat your grill. It seems like common sense, but making sure your grill is properly heated up will do wonders to ensure your fish doesn't stick.
Oil the grill just before putting the fish down. Just like with frying fish, you want a bit of fat on the surface to prevent sticking.
Don't flip too much. You should just cook each side for about 5 - 6 minutes each, flipping no more than four times. Check for doneness frequently.
Don't cut the fish in the center to check if it is done! That will release the juices and dry our your fish. Instead, check the edges, and look at the color. It should be opaque and the ends should be nice and flaky. If you're unsure, take out your kitchen thermometer and look for a temperature of 145°F.
Recipe Card
Grilled Swordfish with Pineapple Salsa
An easy and light grilled swordfish topped with pineapple salsa
Ingredients
Swordfish
4

swordfish in 1 - 1.5 inch thick filets

¼

cup

lime juice

zest one lime

2

tablespoons

extra virgin olive oil

2

finely diced garlic

1

tablespoon

cilantro

10 - 12

dashes Texas Pete® Original Hot Sauce​

salt

pepper
Pineapple Salsa
1

cup

diced fresh pineapple

1

medium tomatoes

seeded and chopped

½

avocado

⅓

cup

chopped sweet onion

2

tablespoons

minced fresh cilantro

6

dashes Texas Pete® Original Hot Sauce​ or to taste

salt

pepper
Instructions
Pat dry your swordfish and set aside.

In a small bowl, mix together the remaining ingredients for the swordfish to make the marinade. 

Coat the swordfish liberally in the marinade and set aside. 

Prep, then heat up the grill until it is roughly 400 degrees F. 

Lightly coat the grill grate in oil, and add your fish. 

Cook the fish for about 5 - 6 minutes on each side. 

While the fish are cooking, slice up your pineapple, tomatoes, avocado, and onion into small dices. 

Mince the cilantro. 

Add the ingredients to the salsa together, including the Texas Pete® Original Hot Sauce​, salt, and pepper. 

Remove the cooked swordfish and allow it to sit for 3 - 4 minutes. 

Serve topped with the salsa.
Notes
Adjust the amount of hot sauce according to your own heat tolerances.
Nutrition
Serving:
1
g
Calories:
384
kcal
Carbohydrates:
14
g
Protein:
32
g
Fat:
23
g
Saturated Fat:
5
g
Polyunsaturated Fat:
16
g
Cholesterol:
103
mg
Sodium:
544
mg
Fiber:
4
g
Sugar:
6
g
Tried this recipe?
Tag me on Instagram! @acookienameddesire #acookienameddesire