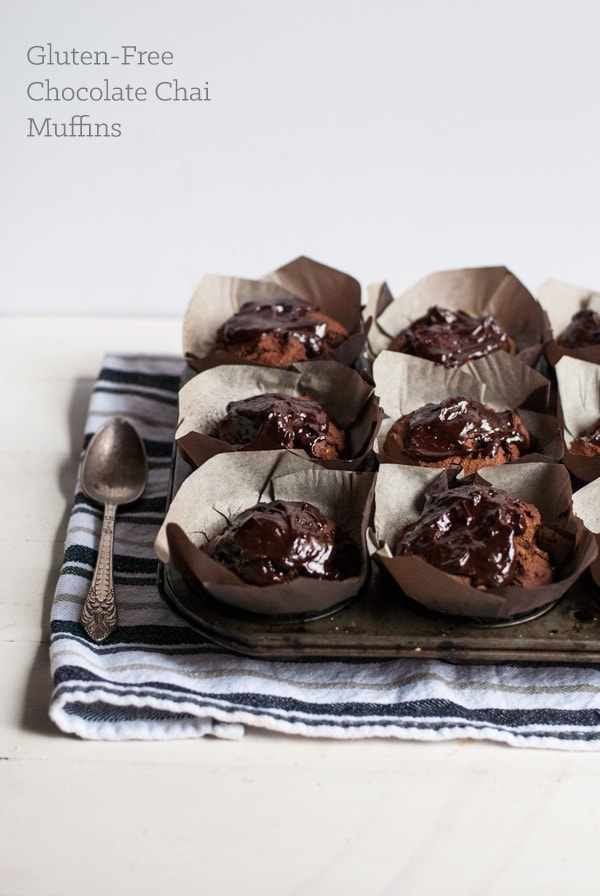 For my latest Homegrown and Healthy post, I made these amazing chocolate chai gluten-free muffins. I was inspired to make these muffins after seeing the Tazo chocolate chai latte. I knew that I wanted a big cup of the stuff... and that it needed to be in a muffin.
Gluten-free baking is still fairly new to me, but I applied a few principles I've learned along the way to these muffins.
1. Gluten-free flours usually tend to absorb more liquid than all-purpose flour
2. Most gluten-free flours also have a finer crumb.
I realized I needed to use a bit more liquid to ensure the muffins didn't taste dry. I am perfectly okay with a finer crumb.
What I like about the Tazo chocolate chai is that it is a concentrate, so it is full of that chocolate chai flavor. I only needed to add a tiny bit more of my favorite chai flavors into the muffins to enhance that flavor. I also added in a bit of coconut oil and flour to add a bit more to the flavor profile. It isn't a huge flavor player, just enough to give you pause. Since these bumps and valleys on the muffins beg for something to top it, I made this sort of ganache using chocolate and the chai concentrate. This moist muffin is full of chocolate chai bliss and therefore makes a wonderful seasonal nibble.
I think one of my favorite parts of autumn is the food. I mean, yeah, I get to wear all my scarves and the boots, but man, autumn flavors are just so delicious. I love the smell of the spices and the warmth of the food and how filling and comforting everything is. I always say that my favorite seasons are both spring and autumn equally, but if I am honest with you, I think I prefer autumn a lot more.
We live in a very woodsy area. There's literally 40 trees in my yard. Granted, most of them are pretty thin, but they are so high and there are a ton of leaves on them. Raking the yard is a futile project. My daughter loves stomping on the leaves and hearing them crunch under her small feet. I remember how fun it used to be jumping in the huge leaf piles and I can't wait until we finally get around to creating a few for her to play in. Sadly, we missed going out to pick pumpkins. I have no idea how that happened, but October came and went way too fast. I can't believe we are already halfway through November as it is! At least out local farm is still doing apple picking, so I know I can still make a ton more apple recipes.
For now, let's throw on a comfy sweater, bake up some muffins and make a big ol' mug of chocolate chai and enjoy our weekends!
Recipe Card
Chocolate Chai Gluten-Free Muffins Recipe
Ingredients
1 ⅓

cups

Bob's Red Mill Gluten-Free Baking Flour

1

cup

coconut flour

⅓

heaping cup cocoa powder

1

teaspoon

baking soda

1 ¼

teaspoon

baking powder

½

tsp

salt

1

teaspoon

caradmom

1

teaspoon

cinnamon

¼

teaspoon

allspice

½

teaspoon

ground cloves

½

teaspoon

ginger

¾

cup

unrefined coconut oil

¾

cup

sugar

1

cup

plus 2 tablespoons Tazo chocolate chai tea latte

2

tsp

white vinegar

⅓

cup

+ 2 tablespoons milk

I used whole, but any kind will work

½

tsp

vanilla extract

2

large eggs

room temperature

½

cup

chocolate chips.
Chocolate Chai Ganache
2

tablespoons

chocolate chai tea

4

oz

chocolate

I used semi-sweet, but dark or milk can work, too
Instructions
Preheat the oven to 400 degrees F

Mix together the dry ingredients in a medium bowl. In a large bowl, mix together the wet ingredients and mix well.

Slowly fold the wet ingredients into the flour mixture. Be careful to not overmix. Lumps are perfectly fine. Fold in the chocolate chips.

Line a baking sheet with liners and fill each almost completely full with the batter. Bake for 13 - 15 minutes. Allow to cool.

Over a double boiler, heat together the chai tea latte and chocolate. Once the muffins are cool enough to handle, dip the tops into the chocolate. Allow to set for about 5 minutes before serving.
Tried this recipe?
Tag me on Instagram! @acookienameddesire #acookienameddesire