A rich and intense chocolate chili ice cream that perfectly balances decadent chocolate and the slow spice of chili. The perfect ice cream to impress that special someone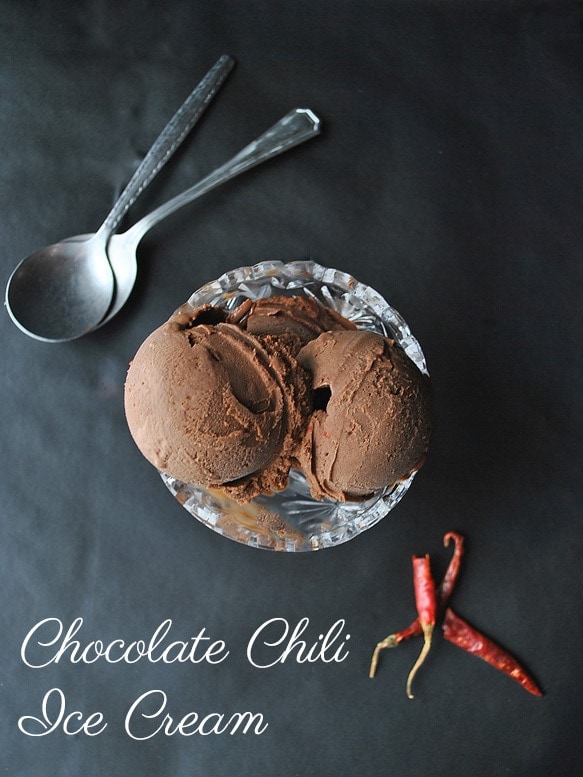 Ah, Valentine's Day. The day of love ….and intense stress while you try to figure out your plans for the evening. Seriously, it's on the same day each year, I have no idea how I keep forgetting to prepare something nice Every Single. Time. Anyone there with me? Anyone? Anyway, in my opinion, nothing says love like a good home-cooked meal and a quiet evening alone so my fiancee and I would always spend our Valentine's Day at home. One year we tried this incredibly rich and spicy cake. I was not expecting it, but found the contrast to be exhilarating. Lately, I've been on an ice cream craze, so I decided to translate that cake into ice cream form.
What is so great about this chocolate chili ice cream is that it starts off rich and chocolatey. It has the perfect fudgy texture that keeps you wanting more… it is not until later that the spice slowly starts to make an entrance. It's that slow heat that really sets this ice cream apart. It is so good. So. Good.
I wanted the chocolate chili ice cream to be as rich and chocolaty as possible, so I had to search for the best chocolate in my area. I found some nice Dutch processed cocoa and 75% dark chocolate. You do not have to go to such lengths because I tried this recipe with semi-sweet chocolate chips and regular cocoa powder with equally delicious results and may be a better option if you do not like dark chocolate. (Normally, I am not much of a dark chocolate person either, but it just works for me with this recipe).
A couple of notes on the chocolate chili ice cream
For the chili, I was not too sure what I wanted to do, but when I saw dried Aleppo peppers, I thought that would be a good place to start since they are more widely available and you can more easily tailor the heat you want. When I first made this chocolate chili ice cream, I ground my peppers into a very fine powder and added it to the ice cream. After making a lot of ice cream in the past years, I've changed my method in preference of infusing my milk with the peppers. It helps to better permeate the heat throughout the ice cream without risking having any larger bits of chili in the ice cream. You can still use the grinding method if you want, it's still a good method!
Guess what? I didn't use an ice cream maker here! You don't need one to make a delicious ice cream. Here is a quick guide on how to make an ice cream with an ice cream maker.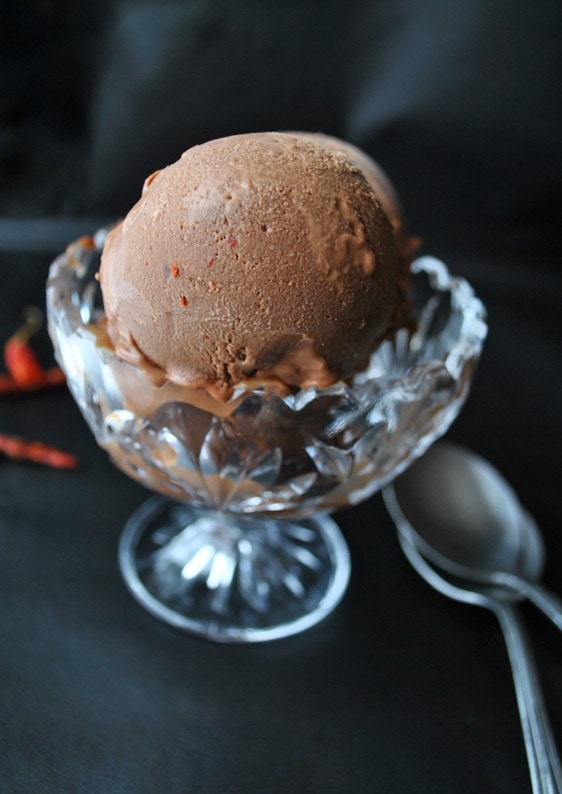 Chocolate Chili Ice Cream Recipe
Ingredients
2 cups heavy or whipping cream, divided
1 cup whole milk
2 dried chilis, split in half, seeds retained
1 cup sugar, granulated
pinch of salt
4 tablespoons Dutch unprocessed cocoa
6 - 7 ounces dark or semi-sweet chocolate, chopped
5 egg yolks
1 teaspoon vanilla extract
Instructions
In a medium-sized pot, slowly bring half the cream, and cocoa powder to a boil, mixing the cocoa powder thoroughly.
Once the cream has reached a boil, remove from heat.
Add the chocolate chips and stir until everything is smooth and creamy. Mix in the remaining cream. Set to the side
In another medium pot, mix the sugar, salt milk, and chilis and heat to a very low simmer.
Put the egg yolks in a small bowl and lightly beat until it is a smooth consistency. Add some of the milk and sugar mixture in the yolk one cup at a time to slowly raise the temperature of the yolks. After about half of the milk mixture is incorporated in the yolk, add the yolks to the milk mixture, getting as much of the yolk in the pot as possible.
Using a wooden spoon, heat the milk and egg mixture on medium heat stirring constantly to create a custard. Occasionally scrap the sides and bottoms of the pot to prevent the custard from sticking. The custard is ready when a thick coat of custard sticks to the wooden spoon
Place a strainer over the chocolate mix and slowly strain the custard into the chocolate to separate the chili and any egg that may have cooked. Mix until everything is a uniform chocolate color. Add in the vanilla and mix.
Cool the chocolate in the refrigerator or in an ice bath. You can make an ice bath by filling a larger pot with ice and cold water. Place the chocolate in the pot without completely immersing the pot.
Put the chocolate in your ice cream maker and and follow the manufacturer directions. Take the ice cream out and freeze in an airtight container for another 3 - 4 hours or overnight. If you prefer soft serve ice cream, enjoy immediately.
*If you do not have an ice cream maker, put the chilled chocolate in a container and place in the freezer. Mix the ice cream every 30 minutes, breaking up all the frozen pieces. If possible, use a hand mixer or immersion blender. Repeat for 4 hours, then let the ice cream freeze completely for another 4 hours or overnight.