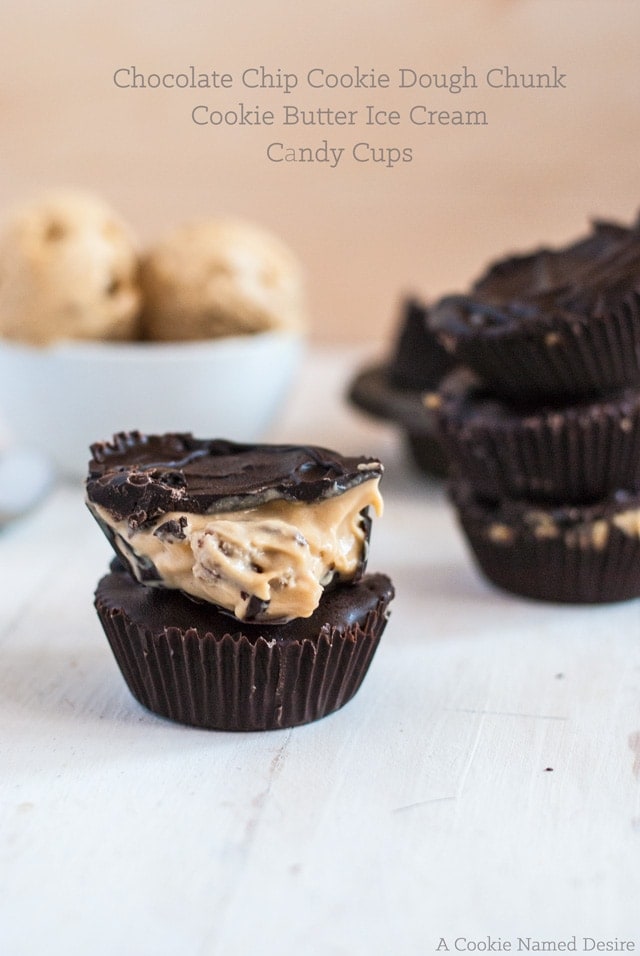 Try sayng that 5 times fast. Yeah, I probably could have come up with an easier/shorter title, but then we wouldn't have this super fun alliteration. I've been thinking about this ice cream for months. As in, I starting thinking about it in December, made it in January, and kept it untouched in my freezer all this time because I could not think of how I wanted to photograph it. I know, total #foodbloggerproblem right now. It's just that I knew this ice cream was meant for something special, but I just didn't know what it was at the time. Then... it hit me. I needed to put them in a chocolate candy cup.
Cause what is better than having ice cream coated in chocolate and spoon-free on a hot summerr day.... or any day for that matter. Sometimes it takes me a while to come up with a good idea, but I tell you, when it's good, it's awesome.
I really can't explain how amazing this ice cream is - even without the candy cups. I mean... it's cookie butter ice cream.... with chocolate chip cookie dough chunks. It's pure bliss on a spoon. If you told me I could only eat one type of ice cream ever again, this would be my choice. No hesitation. No looking back. Wrapping it in chocolate is just the cherry on top.
I used my favorite ice cream base from Jeni's Splendid Ice Cream for this (it's the only base I use anymore these days.) which results in a really creamy and light ice cream and works so well with the cookie butter. Also, I highly encourage you to use any and all types of cookie butter here. Can you imagine a chocolate chip cookie butter ice cream with chocolate cookie dough chunks.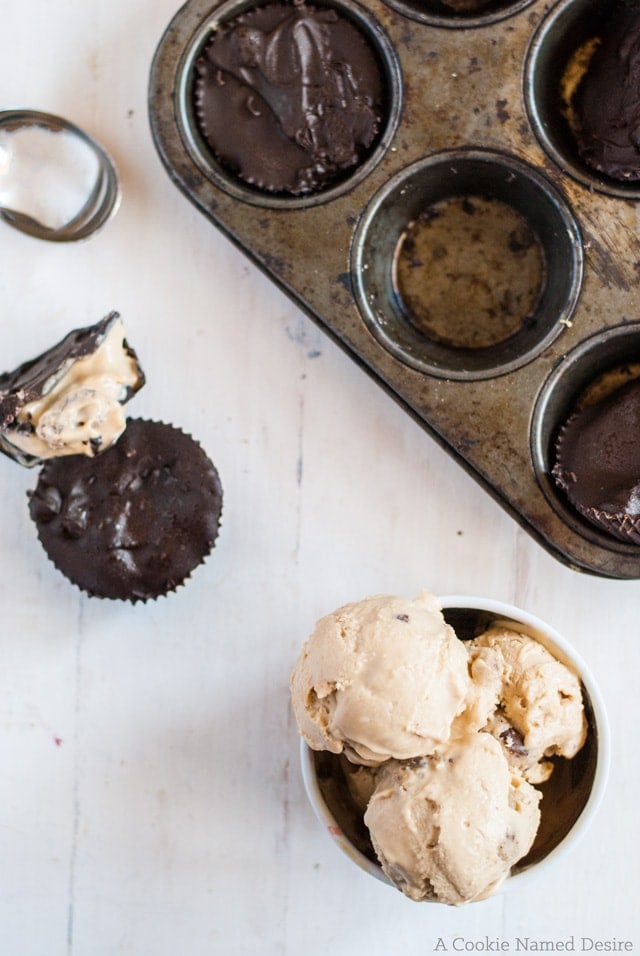 Manna from heaven.
Don't have an ice cream maker? No problem! Learn how to make ice cream without an ice cream maker here.
Recipe Card
Chocolate Chip Cookie Dough Chunk Cookie Butter Ice Cream Candy Cups
Ingredients
For the Cookie Butter Ice Cream
2

cups

milk

4

teaspoons.

cornstarch

1 ¼

cups

heavy cream

⅔

cup

sugar

2

tablespoons

agave nectar

¼

teaspoon.

kosher salt

3

tablespoons

cream cheese

softened

1

tablespoon

vanilla extract

1

cup

cookie butter
For the Chocolate Cookie Dough Chunks
½

cup

butter

softened

½

cup

sugar

½

cup

packed brown sugar

3

tablespoons

water

1

teaspoon

vanilla extract

1 ½

cups

all purpose flour

¼

teaspoon

salt

¾

cup

mini chocolate chips
For the Candy Cups
20

oz

dark chocolate

melted
Instructions
For the Cookie Butter Ice Cream
Take two tablespoons of the milk and mix it with the corn starch to create a slurry, Set aside.

In a large saucepan, mix together the remaining milk, heavy cream, sugar, and agave nectar together and bring to a boil for about 4 minutes, stirring often. Add in the slurry. Simmer for another 2 minutes, stirring constantly. Turn off heat.

In a small bowl, mix together the cream cheese and salt together. Add in ¼ cup of the hot cream mixture to the cream cheese and mix until smooth. Add the cream cheese mixture and vanilla into the saucepan. Add in the cookie butter and mix until thoroughly combined. Pour the ice cream base into a large ziplock bag and place in a bowl full of ice and water to cool for 30 minutes. Transfer to an ice cream machine and follow according to manufacturer instructions. (Please read notes for instructions on how to make the ice cream without an ice cream maker).

Make the chocolate chip cookie dough by beating the butter and sugars together until light and fluffy. Add in the water and vanilla extract and beat well. Add in the flour and salt and mix until just combined. Fold in the mini chocolate chips.

Take the container you will keep your ice cream in and begin layering your ice cream. Start by placing chunks of the cookie dough around the bottom of the container. I find it is easiest to use a 1 teaspoon measuring spoon to measure out and roll the cookie dough into balls and place them in rows in the container. Pour enough of the ice cream base to cover the cookie dough. Add more of the cookie dough batter over the ice cream. Repeat until you've used up all the ice cream base. You may have more cookie dough left over, but I am sure you will come up with a few good ways to use it up!

Cover your container so that it is airtight and freeze for about 2 hours. We want the ice cream firm, but still pliable and easy to work with.

Line a muffin tin with cupcake liners. Add a thick layer of chocolate on the bottoms and sides of each liner. It is important to make sure these areas are thick. I recommend doing two thick layers of chocolate. Allow the chocolate to cool and harden.

Scoop out ice cream and place in the cups, leave a bit of room on top for the top layer of chocolate. Smooth the tops of the ice cream. It helps to use the back of an ice cream scoop or spoon. Again, you will have some left over ice cream, but that hopefully won't be a problem! You can always make more candy cups if you wish - just melt more chocolate.

Pour chocolate over the tops of the ice cream and spread out to the sides. It is important to make sure the top layer of chocolate fully encases the ice cream in the candy cup otherwise you might have some mess when the ice cream begins to melt!

Place the muffin tin in the freezer for 10 minutes to help the chocolate harden. Peel away the cupcake liners and place the ice cream cups in an airtight container in the freezer.
Notes
To make this ice cream without and ice cream maker: Place the cooled custard in your ice cream container, cover, and freeze. Use an immersion blender to blend the mixture every 45 minutes for 3 hours. You can then either drop and mix in chunks of the cookie dough, or use another container to layer and described in the instructions.
Tried this recipe?
Tag me on Instagram! @acookienameddesire #acookienameddesire