All of our fun fall activities are finally underway. We went apple picking for the first time and got the most amazing apples. We picked like $25 worth of apples and I am making as many apple recipes as possible. My favorite has been an apple pie smoothie. We also went to the Greek Agora and gorged on so much Greek food I could barely move. Next week we are going on a hayride and picking some pumpkins.
For some reason, I don't make many brownies or blondies. I love brownies and could probably gorge myself on a whole pan in a day if I knew the calories wouldn't count. And there is an inifite amount of things you can do with blondies and I haven't tried nearly enough of them. I've decided that I need to make it a point to make more of them as possible.
So... Chocolate chunk caramel pumpkin blondies. That's a bit of a mouthful, isn't it? As much as a mouthful it is to say, trust me that you will want to have a mouthful of these gooey bars. These pumpkin blondies are the epitome of gooey melt-in-your-mouth amazingness. The chocolate and caramel melt together in the center of the blondies to create the most amazing bar ever. You'd basically have to be a crazy person in order to turn one of these down. Don't be a crazy person.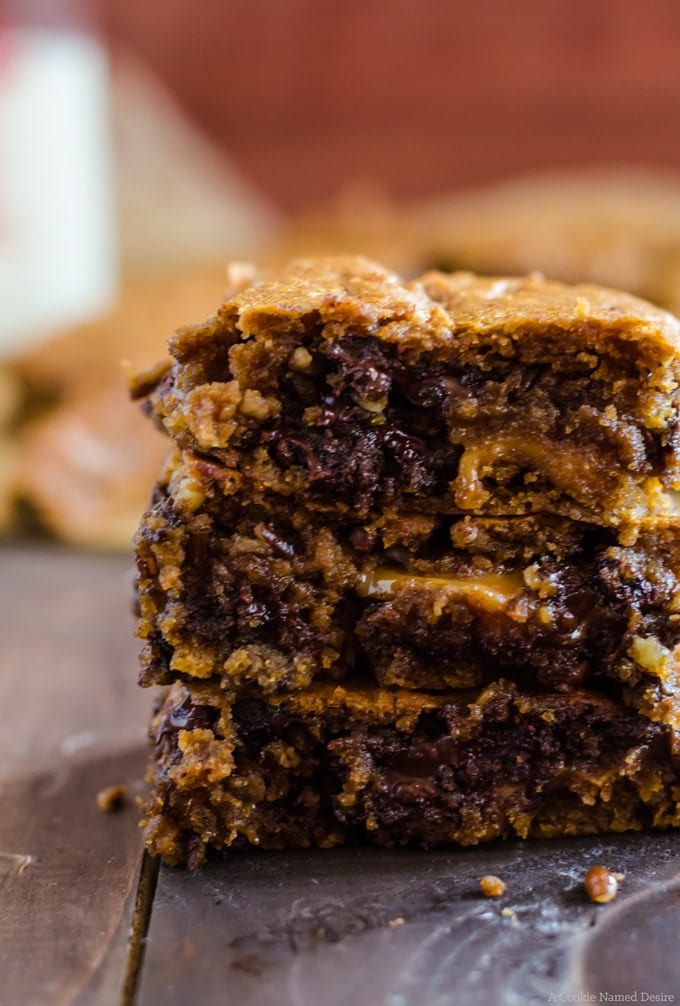 I don't mean to sound over confident or anything, but I think this is the kind of the best pumpkin recipe for someone who doesn't like pumpkin. With this blend of pumpkin, chocolate, and caramel, it pretty much guaranteed to convince anyone that they love pumpkin. So go ahead and get your fat pants on and make some chocolate chunk caramel pumpkin blondies.

Recipe Card
Chocolate Chunk Caramel Pumpkin Blondies
Ingredients
2

cups

all-purpose flour

1

teaspoon

baking soda

1

teaspoon

salt

1

teaspoon

cinnamon

2

teaspoons

pumpkin pie spice

1

cup

2 sticks unsalted butter, melted and cooled

1

cup

sugar

½

cup

brown sugar

1

large egg

2

teaspoons

vanilla extract

1

cup

pumpkin puree

2

cups

dark chocolate chunks

22

soft caramel candies
Special Equipent
Instructions
Preheat the oven to 350 degrees F. Link a 9 x 13 baking pan with parchment paper

In a small bowl, mix together the flour, baking soda, salt, cinnamon, and pumpkin pie spice. Set aside.

In a separate bowl, mix together the melted butter and both sugars, Beat well until light in color. Add in the egg and vanilla, then beat well. Mix in the pumpkin puree and mix until thoroughly combined.

Slowly pour the flour into the wet ingredients and fold in until just combined. Fold in the chocolate chunks.

Pour half the batter into the pan, then add the caramels in a layer over the batter. Pour the remaining batter into the pan.

Bake for 40 - 45 minutes, or until a toothpick inserted in the middle has a few crumbs clinging to it. (we want it slightly underbaked). Allow to cool, then remove from the pan. and wait until completely cool until cutting (Or not. It'll be hard to resist, but it will be harder to cut while warm)
Tried this recipe?
Tag me on Instagram! @acookienameddesire #acookienameddesire