Lusciously silky smooth chocolate pudding sit on top of a delicious sweet and salty cracker crust and topped with a light vanilla coffee whipped cream. These chocolate pudding tarts prove that chocolate + vanilla and sweet + salty are everything.
This post is a sponsored conversation with Nielsen-Massey. All thoughts and opinions are, as always, 100% my own. Thank you for supporting the brands I love and keeping the oven on at A Cookie Named Desire "kitchen-quarters"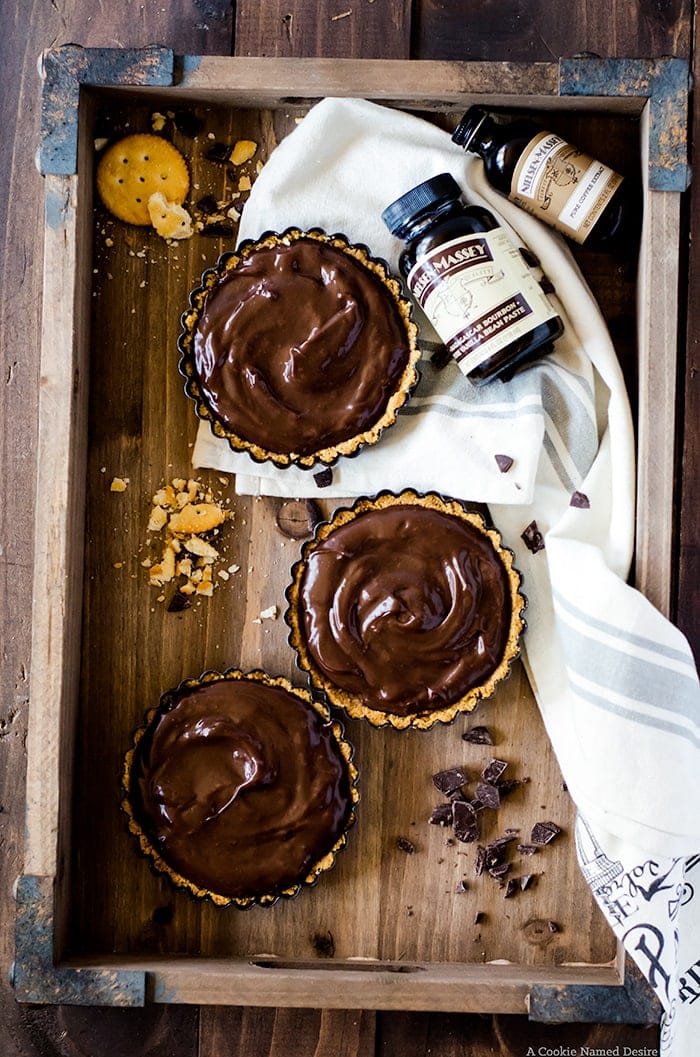 I love sweet and salty desserts. The way the salt brings out the other flavors in the dessert while balancing the sweetness to keep it from being too cloying is just… delectable. That's why when the amazing people behind Nielsen-Massey asked me to create a delicious chocolate and vanilla treat, I knew I wanted it to be something that was both sweet and salty and this sumptuous chocolate tart with a sweet and salty cracker crust seemed perfect.
Chocolate is my favorite in desserts. Dessert almost doesn't feel complete without it. But I don't often like plain chocolate on its own. I mean, it's good and all, but I usually want something a bit more. That's why I love making chocolate desserts so I can enhance the flavors of the chocolate to create a more rounded treat. Everyone knows coffee really helps to amplify the flavors of chocolate – and why I adore the coffee extract from Nielsen-Massey, but vanilla is really where it is at with flavoring chocolate. If you look carefully, you will see nearly every chocolate dessert has some vanilla added. That's because the vanilla brings out floral notes in the chocolate and helps balance all the other flavors playing together in your dessert. It adds complexity and depth in a way no other flavor can with chocolate. And this is especially true with these chocolate pudding tarts.
Some people use the term peas and carrots. For dessertoholics like me, it's chocolate and vanilla. You can look through my journals and see "chocolate + vanilla 4 ever" inside elaborately decorated hearts everywhere. I call them chocnilla power couple. Harold McGee, the noted author behind On Food and Cooking, notes, "Added with a light touch, vanilla can contribute a sense of depth, warmness, roundness, and persistence to almost any food." And who is going to argue with Mr. McGee?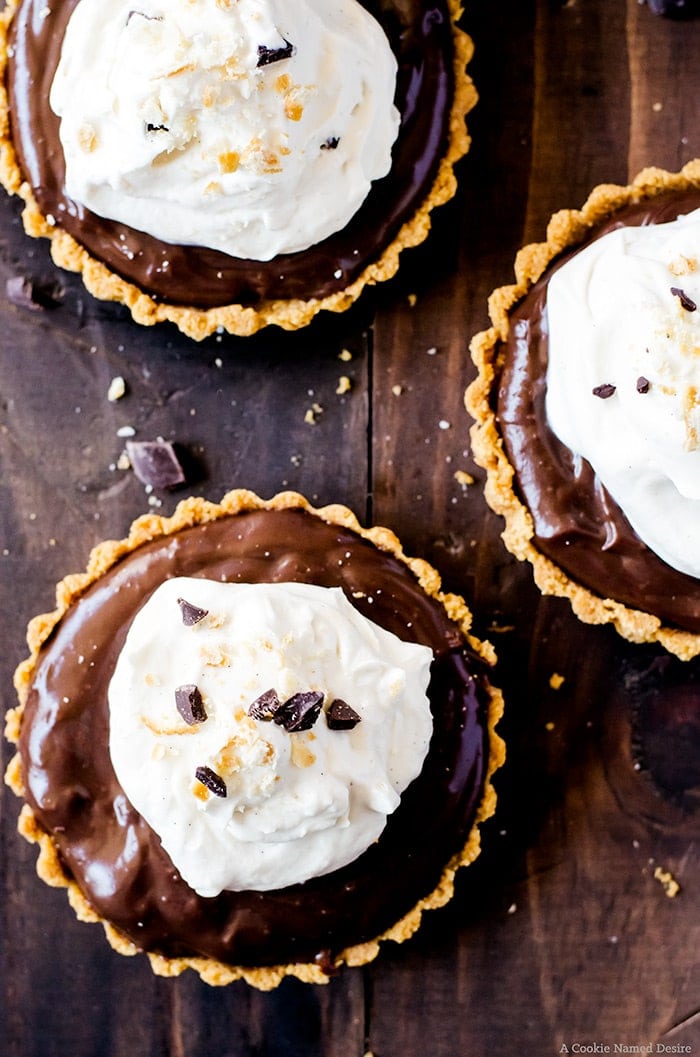 My first taste of high quality vanilla actually came from a bottle of Nielsen-Massey Madagascar Bourbon Vanilla Bean Paste I found at a great price at a store near me. At the time I was really becoming interested in using finer ingredients in the kitchen and was immediately drawn to this bottle. The smell was intoxicating and the favor of the vanilla bean paste was unlike anything I've ever had in my life. So when I was deciding on which Nielsen-Massey vanilla products to use in this recipe, I knew it had to be this paste. I just had to. You can use any of their vanilla products to make the chocolate pudding tarts, but I can't recommend this enough.
Besides the amazing balanced flavors of these mini chocolate pudding tarts, the recipe is deceptively simple to make. The chocolate pudding filling takes moments to whip together. The hardest part is the waiting for the pudding to set in the refrigerator. But can I let you in on a little secret? I only let the tarts chill for about 20 minutes before I decided to dig in and they were still incredible!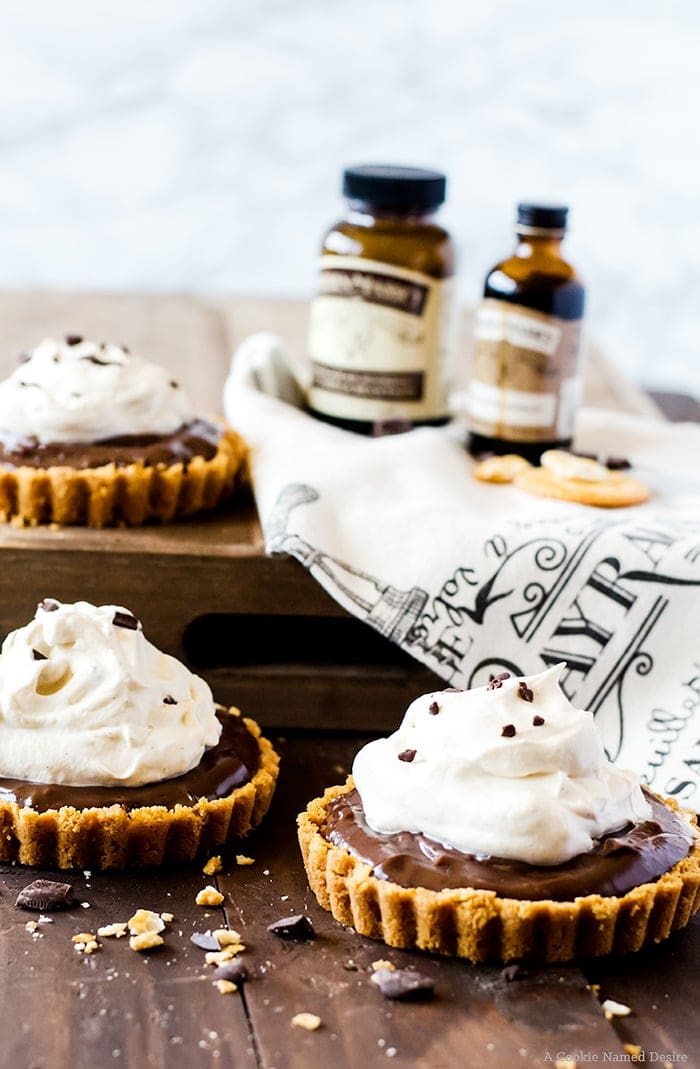 Note: To keep the flavors balanced and allow the chocolate and vanilla to shine, I recommend brands such as Late July or Annies which are organic, free of artificial flavors and preservatives.
Fore more vanilla inspiration, check out Nielsen-Massey on Insta!
Recipe Card
Chocolate Pudding Tarts with Cracker Crust
Ingredients
For the Crust
2 ½

sleeves crackers

finely crushed (about 2 ½ cups)

3

tablespoons

granulated sugar

8

tablespoons

unsalted butter

melted
For the Pudding
½

cup

granulated sugar

1

tablespoon

cocoa powder

1

teaspoon

salt

¼

cup

cornstarch

5

large egg yolks

room temperature

2

cups

milk

½

cup

heavy cream

5

oz

dark chocolate

2

oz

semi-sweet chocolate

1

teaspoon

Nielsen-Massey coffee extract

2

teaspoons

Nielsen-Massey vanilla bean paste
For the Whipped Cream
⅔

cups

heavy cream

1

teaspoon

Nielsen-Massey vanilla bean paste

½

teaspoon

Nielsen-Massey coffee extract

¼

cup

powdered sugar
Instructions
Make the crust. Preheat the oven to 350 degrees F. Add the crackers and sugar together in a food processor and pulse to blend. While the food processor is running, drizzle in the melted butter until it is fully incorporated and the mixture looks like wet sand. It should stick together when pressed.

Evenly divide the crumbs among six 4-inch tart pans. Press the crumbs along the bottom and sides of the pans, being sure to press firmly. Bake in the oven for 10 minutes. Allow to cool until it is at room temperature, then transfer to the refrigerator while you make the filling.

Make the filling. In a large saucepan, mix the sugar, cocoa powder, salt, and cornstarch together until well combined. Add the egg yolks and mix until well combined and light in color. Turn on the heat and slowly drizzle the milk and heavy cream to the pan, whisking the mixture constantly.

While continuing to whisk the mixture, bring the saucepan to a light boil and let it boil for about 30 seconds before immediately removing from the heat. Add in both types of chocolate and both extracts and whisk in until full incorporated.

Allow to cool to room temperature, whisking often to prevent skin from forming. If skin does form, simply whisk it back in.

Take out the tart shells. Strain the pudding into the tart shells using a fine mesh strainer to remove any lumps.

Chill in the refrigerator for at least 2 hours, preferably up to 4 hours.

When almost ready to serve, chill your mixing bowl and whisk until chilled through – at least 10 minutes if using a metal bowl, you may need to chill for longer if using a glass, ceramic, or plastic bowl. Add the heavy cream, extracts, and powdered sugar, Whisk until stiff peaks form.

Dollop whipped cream over the pudding and serve. Optionally top with cracker crumbs and chocolate shavings.
Tried this recipe?
Tag me on Instagram! @acookienameddesire #acookienameddesire