These cinnamon bun scones are simple, healthy, and will make your Monday's infinitely better. Tempted yet?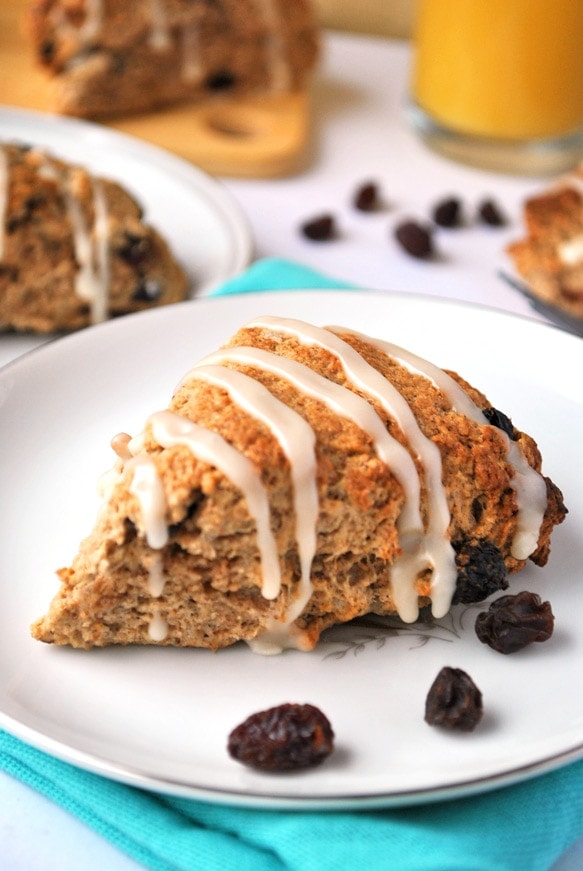 One of my favorite breakfasts is a scone with a hot cup of tea. It makes me feel like a proper grown-up having a sophisticated breakfast. I picture myself with a cute plate, cup, and saucer,  gracefully sitting by the window. In reality, I usually end up eating my scones in the car on the way to work while grumbling about how early it is, and forgetting my tea at home. Close enough.
Scones are also a perfectly acceptable breakfast that can be considered moderately healthy when using whole wheat flour. Plus, cinnamon bun scones are a lot healthier than actual cinnamon buns,while keeping all the flavors in tact. I mean, what is the point of a healthier alternative if it doesn't have the same delicious taste? It's just a waste of ingredients if you ask me.
You will love these cinnamon bun raisin scones because they are delicious AND crazy simple to make. They are even kid and mess-friendly, so who can say fairer than that?
What makes them so delicious? Well, these scones have the perfect amount of sweet butteriness (that's my new word of the day, like it?) and the right balance of cinnamon and glaze to remind you of an authentic cinnamon bun. Also, you get to taste juicy raisins in every bite bite. Did I mention the raisins are re-plumped with a cinnamon-infused water so you get an extra dose of spiced goodness?!
Don't have time to make these yummy, scrummy cinnamon raisin bun scones now? Pin it for later!
Recipe Card
Cinnamon Bun Raisin Scones
Warm, healthy cinnamon bun raisin scones. These scones are the best way to start off your morning. A simple and easy recipe and make  Monday infinitely better.
Ingredients
½

cup

150 g raisins

2

tablespoons

water with 1 teaspoon ground cinnamon mixed in

2

cups

226 g whole wheat flour

¼

cup

50 g packed light brown sugar

1

tablespoon

baking powder

½

teaspoon

sea salt

3

tablespoons

unsalted butter

chilled and cut into small squares

¼

cup

59 mL unsweetened almond milk

2

tablespoons

plain yogurt

2

teaspoons

vanilla extract

2

eggs

2

teaspoons

ground cinnamon
For the Glaze
2

teaspoons

almond milk

½

teaspoon

vanilla extract

½

cup

60 g powdered sugar
Instructions
Preheat the oven to 400 degrees F and line a baking sheet with parchment paper.

Add the water to the raisins and heat in the microwave for about 20 - 30 seconds to re-plump the raisins. Set aside to cool.

In a large bowl, mix the flour, sugar, baking powder and salt.

Use a pastry cutter or your hands to cut the butter into the flour mixture until the mixture resembles a coarse meal.

Create a well in the middle of your flour mixture and add the almond milk, yogurt, extract, eggs and cinnamon.

Use a fork to mix the wet ingredients to the dry ingredients until completely combined and the dough begins to form. Once the dough starts to form, add the raisins and lightly knead the dough in the bowl to combine any remaining flour.

Lay the dough on your parchment paper and use your hands to form a square approximately 9 inches in diameter.

Use a pizza cutter to cut into 8 equal pieces and gently pull each piece apart so they are near each other but no longer touching.

Bake for about 12 - 15 minutes, or until a light golden brown. Set aside on a wire rack to cool.

While the scones are baking, make the glaze by mixing the almond milk and vanilla together in a small bowl. Slowly add the powdered sugar.

Drizzle the glaze over the scones. I used a sandwich bag with a corner cut out.
Tried this recipe?
Tag me on Instagram! @acookienameddesire #acookienameddesire