A velvety, rich white chocolate creme brûlée with blackberry jam. This creamy dessert is perfect to enjoy with friends or whenever you need a decadent dessert to impress your guests!
If you've spent any time on this blog, you already know I do love a good drink. For me, there is nothing better than spending time with people and enjoying a good drink and a nice dessert to pair with it. A night with friends just isn't the same without it! Despite not having sharing many creme brûlée recipes on the blog, it is one of my favorite desserts (that along with cheesecake).
I felt it was long overdue for me to share another creme brûlée recipe because it is great to have at a dinner party along with a nice glass of VOVETI prosecco. Making the brûlée as you sit around the table is just so much fun - obviously not when you've had too much prosecco, that would be bad! If you don't have kitchen torches on-hand a toaster oven or oven broiler will work, but you will have to keep a close eye on the sugar so it doesn't burn
This white chocolate creme brûlée with blackberry happens to be a favorite to pair with a sparkling wine like VOVETI prosecco because it brings out those wonderful fruity notes in the wine and the blackberry jam ends up being a fun little surprise at the bottom. The rich velvet creme is a welcome contrast to the bubbles of the prosecco and the pinch of salt in the caramelized sugar top brings more dimension and keeps the creme brûlée from being too sweet. The salt in the sugar is actually my secret for making creme brûlée irresistible.
I shared this treat with my friends at a little reunion we had. Last week was my high school reunion and I didn't really want to go. I had a graduating class of 1000 and that is just too much for me to handle. Instead, a friend and I called up a few old friends and had our own little reunion.
I volunteered to host and was really excited to get to use VOVETI prosecco in action. VOVETI is actually a collaborative effort between the Collavini and Ferrer families. Since I am already such a huge fan of Gloria Ferrer wines, I knew this has to be amazing... and their collective expertise did not disappoint with this wine. In case you were wondering, VOVETI is surprisingly affordable for a sparkling wine. It has all of the flavor and characteristics of a much more expensive sparkling wine, but at a price point that makes it a great choice for everyday entertaining.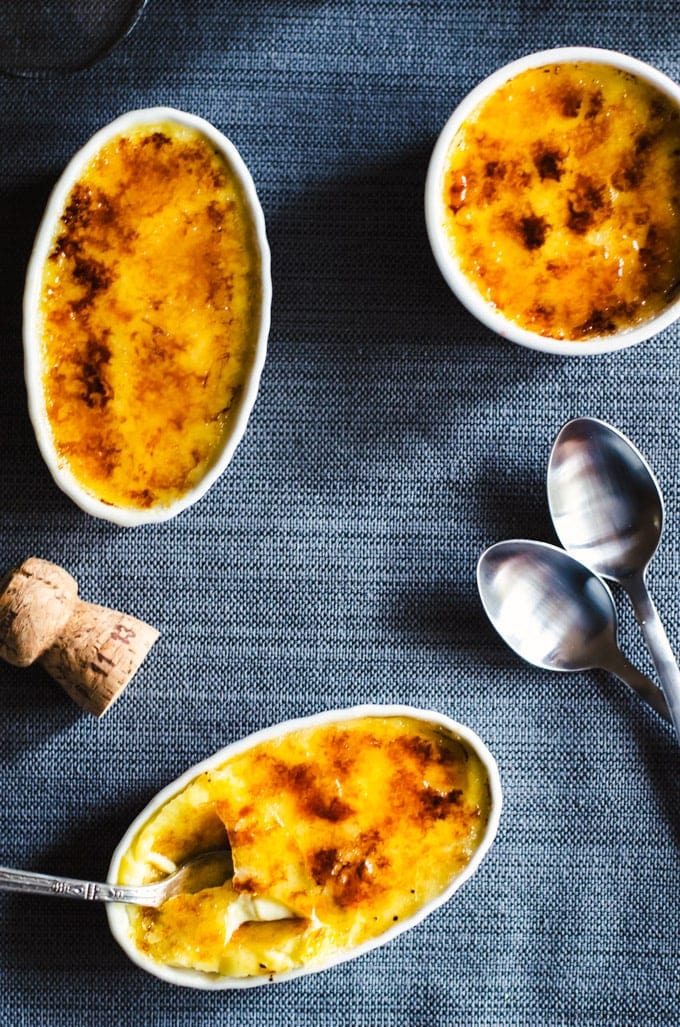 Needless to say, it went down like a charm with this white chocolate creme brûlée!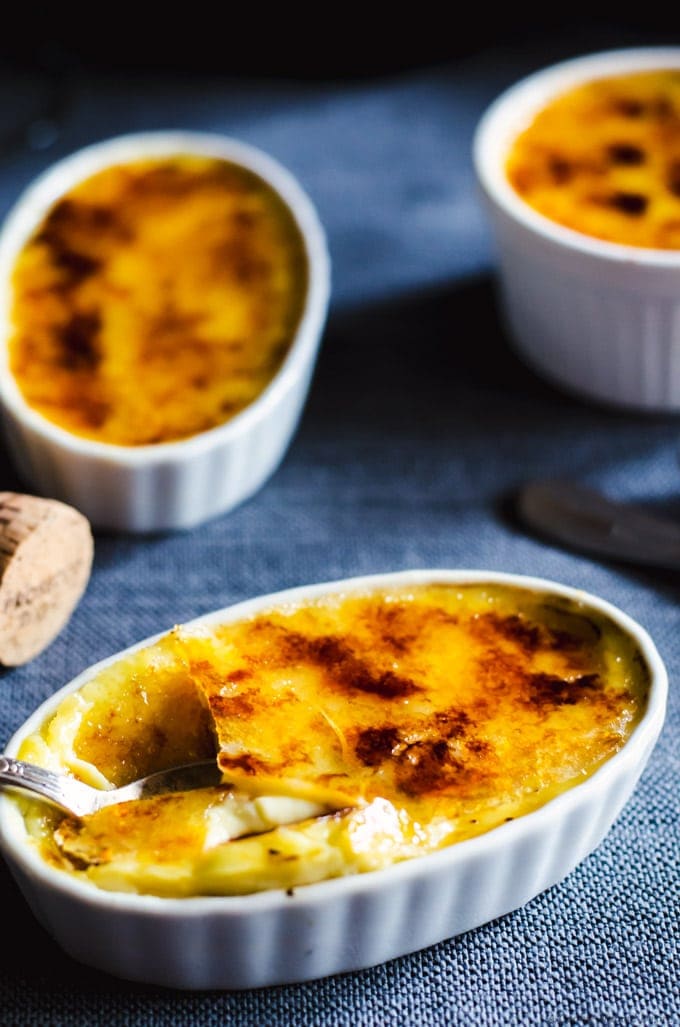 Recipe Card
Creme Brulee with White Chocolate and Blackberry Jam
Ingredients
2

cups

heavy cream

4

oz

white chocolate

NOT chips

4

large egg yolks

room temperature

⅓

cup

sugar

⅛

teaspoon

salt

½

teaspoon

vanilla extract

2 ½

tablespoons

blackberry jam
Topping
2

tablespoons

sugar

⅛

teaspoon

salt
Instructions
Preheat the oven to 300 degrees F.

In a medium saucepan, heat the heavy cream on medium heat until just steaming, then add the white chocolate and stir well until the white chocolate dissolves.

In a medium bowl, whisk together the egg yolks, sugar, and salt together until light in color. Slowly pour ½ cup of the heated cream into the yolks, stirring the yolks constantly. Once full incorporated, slowly drizzle the remaining cream into the yolks, again while still constantly stirring the yolks.

Place a heaping teaspoon of blackberry jam into the bottom of your ramekins and place the ramekins into a 9x13 baking pan. Slowly pour the cream mixture into the ramekins. It is best to go slowly as possible and more toward the side of the ramekin to prevent the jam from swirling in the cream. If you are not concerned about how it looks, no need to be as careful! Pull out the oven rack a bit so you can place the baking pan in the oven, do not close the door.

Very carefully pour water into the baking pan, being very careful as to not get any drops of water into the ramekins. You want enough water to cover the bottom of the baking pan, but not enough for it to reach the top of the ramekins. Push the oven rack back in carefully and close the oven door. Bake for about 45 minutes, or until the sides are set, but the middles are still a little jiggly. Remove from the baking pan and chill completely - about 3 - 4 hours in the refrigerator.

Mix the sugar and salt together for the topping and sprinkle evenly among the ramekins. Caramelize with a kitchen torch, or the broiler in your oven.
Tried this recipe?
Tag me on Instagram! @acookienameddesire #acookienameddesire