A simple recipe for margarita dip. A sweet, creamy dip with all the flavors of a margarita. Perfect for celebrating Cinco de Mayo in style. 
This post was sponsored by Tostitos. Thank you for supporting the blog and the brands I love!
Cinco de Mayo was always a favorite holiday of mine, but it wasn't until I was a nanny in college that I grew to really love the holiday. My first day caring for two adorable little girls was on Cinco de Mayo and I wanted to impress them and their parents by planning something fun to celebrate with the children. I thought it would give me an opportunity to also teach them some Spanish and give me extra brownie points with their mother and father who wanted me to help them learn the language since it was their father's native language and they had been lax with teaching them thus far.
We decided to do crafts and learn the history of Cinco de Mayo and have an outdoor picnic which included quesadillas, Mexican street corn, plus chips and dip. I made a kid-friendly version of this margarita dip for sweet cinnamon tortilla chips I made that the kids absolutely adored. When I heard about the limited edition Sopapilla tortilla chips from Tostitos, I knew I needed to remake that dip again for Cinco de Mayo this year.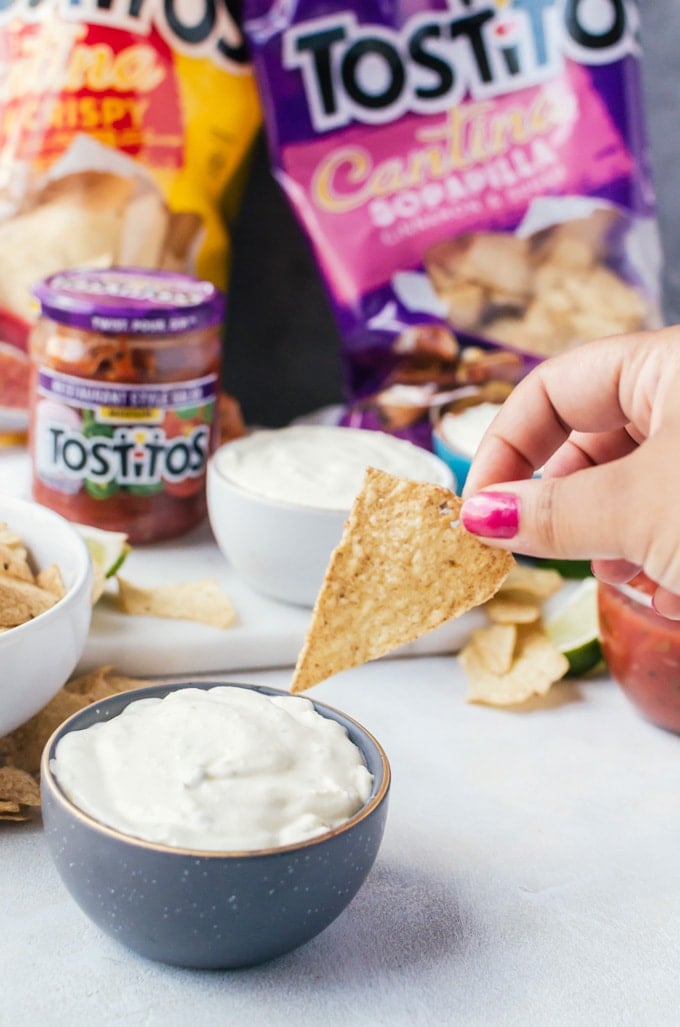 The margarita dip is creamy with bright notes of orange and lime. There is an -optional- splash of tequila for a true margarita flavor. Trust me, it is still very delicious without it. This sweet margarita dip is the perfect accompaniment to the sopapilla chips which are flavored with cinnamon, sugar, and just a hint of honey. Oh, my gosh, these chips are mouthwatering. Even the smell of them is intoxicating. I've already stocked up on a few bags because they are only available for Cinco de Mayo. Speaking of, Tostitos also has a site where you can create a piñata of yourself and win a pretty sweet giveaway. I can't think of anything better for Cinco de Mayo.
This margarita dip is good the day it's made, but the flavors really develop and round out if you cover it and leave it in the refrigerator overnight. If you can't wait that long, then a simple four-hour chill works just fine. If you want to turn this into an amazing treat, you can drizzle the dip over a plate of the Tostitos Sopapilla chips and top with fresh fruits for delicious dessert nachos.
Margarita Dip
Yield: 2 cups

Prep Time: 10 minutes

Total Time: 10 minutes
Ingredients
1 8oz block cream cheese, room temperature
½ cup heavy whipping cream
4 tablespoons unsalted butter
½ cup powdered sugar
3 tablespoons tequilla (optional)
Zest of one lime, finely chopped
2 tablespoons lime juice
2 tablespoons fresh orange juice
¼ teaspoon vanilla extract
¼ teaspoon salt
Tostitos Sopapilla chips
Instructions
The day before you are ready to serve the dip, mix all the ingredients together in a bowl. Whip using a hand mixer or stand mixer until the dip is light and fluffy.
Transfer the dip to a bowl and cover. Store in the refrigerator overnight.
Serve the next day with Tostitos Sopapilla chips or Tostitos Cantina chips.