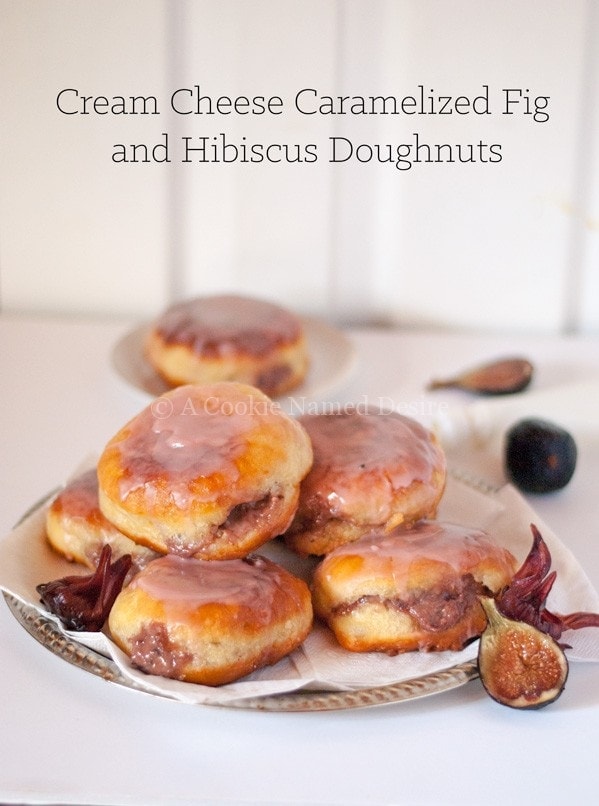 Umm... so where was my memo that Friday was national Doughnut Day? Where is my free melt-in-your-mouth Krispy Kreme doughnut?  I always seem to miss these things. You know, I only discovered that whole Tax Day freebie thing like a month ago. I just discovered right now that my birthday is National Pina Colada Day. Sweet! Now I don't have to dread my 27th birthday so much. (P.S. I totally had to use a calculator to figure out how old I was because I've been in denial about my age after turning 25). Anyway, even though I am a little late, I thought I may as well share these super delicious doughnuts with you anyway.
I actually made these doughnuts a little while ago, but I just wasn't happy with how the glaze looked and I simply haven't been able to pick up more dried hibiscus flowers. I planned on having a nice thick uniform glaze with a pop of color, but I went a little overboard with my hibiscus syrup and my glaze was too runny. And it was too delicious for me to do it in layers to build a nice glaze (meaning I kept sneaking licks of the glaze until it magically disappeared.) Oh well, they didn't turn out too terribly, right??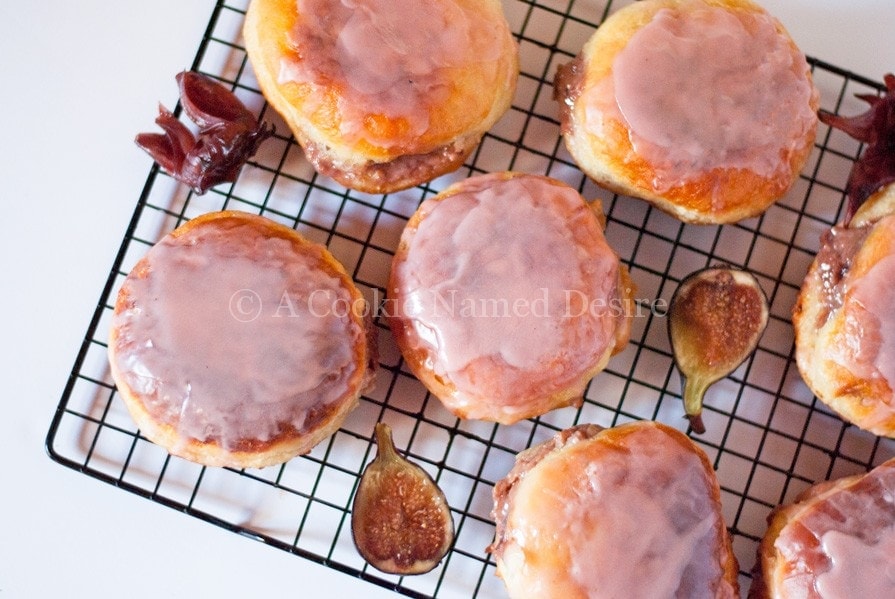 I found fresh figs at my produce store and I knew I wanted to pair it with the dried hibiscus flowers I've been saving. For a while I researched difference ways the flowers could be used when it suddenly hit me that I wanted to make a doughnut and thus these seriously scrumptious doughnuts with cream cheese caramelized fig filling and hibiscus glaze were born.
The filling is like a caramelized fig cheese cake with a hint of balsamic vinegar. It's so lusciously creamy and sweet. The hibiscus glaze is delicate and sweet. Oh, and the doughnut. Yumm.. It has a thin crispy outside layer which gives way to a light and airy bread. It blends perfectly with the filling.  These may not be Krispy Kreme doughnuts, but they are pretty darn close.
While it is not necessary, you may want to use a candy thermometer or a deep fry machine. It helps you ensure the oil is at the right temperature and stays there. When I first made doughnuts without either, the first two were completely burnt on the outside and raw in the middle. Then, a couple more ended up being way too greasy because I let the oil cool too much. Now, I use a candy thermometer and a cast iron skillet.
Recipe Card
Doughnuts with Cream Cheese Caramelized Fig Filling & Hibiscus Glaze
Ingredients
2½

teaspoons

active dry yeast

⅔

cups

milk

room temperature

3 ½ - 3 ¾

cups

all-purpose flour

plus extra for kneading

⅓

cups

sugar

2

teaspoons

salt

3

eggs

room temperature

7

tablespoons

unsalted butter

room temperature
Caramelized Figs
12

figs

cut in half lengthwise

½

cup

sugar

½

teaspoon

salt

2

tablespoons

balsamic vinegar

1 8

oz

block cream cheese

room temperature

⅓

cup

sugar
Hibiscus Glaze
5 - 6

dried hibiscus flowers

2

tablespoons

granulated sugar

1

cup

powdered sugar

½

teaspoon

vanilla extract
Instructions
Mix the yeast and milk in a large bowl, allow it to sit for about 5 minutes. Add the remaining ingredients, except the butter and mix well until a dough forms. Slowly add the butter, one tablespoon at a time until completely incorporated. Knead the dough for about 10 minutes. Add more flour, up to a quarter cup if the dough is too sticky. Note: The dough should be a little sticky, you do not want a tough dough.

Make Ahead: Place the dough in a lightly greased bowl and cover tightly with plastic wrap and refrigerate 8 - 10 hours. Make Now: Place the dough in a lightly greased bowl and cover tightly with plastic wrap and place in a warm, dry area.for about 1 -2 hours, or until double in size. Line a baking sheet with lightly greased parchment paper.

Flour your work surface well and roll out the dough into a square, about ½" thick. Cut out 3 - 3 ½" circles. and place on the baking sheet. Allow to rise for another 1 - 2- hours.

Heat at least 3" of oil in a large pan or deep fryer until it is about 305 degrees. Line a wire rack with paper towels on the bottom to catch excess oil.

Place up to three doughnuts in the oil and fry each side until a nice golden brown, about 3 minutes per side. Remove the doughnuts and allow to cool on the wire rack.

Coat the figs in sugar and place the salt, sugar and figs in the saucepan, cut side down first. Cook on medium heat until the sugar melts down and the figs start to brown. Flip the figs and add the balsamic vinegar. Cook for another 3 minutes. Allow to cool. Cut the figs in quarters and separate from the sauce. Reserve the sauce for another recipe.

Cream the cream cheese and sugar until smooth. Fold in the figs.

Boil the hibiscus flowers in ½ cup of water and the granulated sugar. Bring down to a simmer for about 5 minutes, stirring occasionally. Strain the water and reserve in a small bowl. In a separate bowl, add the powdered sugar, 2 - 3 tablespoons of hibiscus water and the vanilla extract.

Poke a hole through the side of each of the doughnuts and fill a piping bag with the cream cheese mixture. Fill each doughnut with the cream cheese. Dip the doughnuts in the hibiscus glaze and allow it to set.

Serve immediately. Best eaten the same day.
Tried this recipe?
Tag me on Instagram! @acookienameddesire #acookienameddesire