Grapefruit Cake with Chocolate Ganache and Candied Grapefruit Peel. A simple, rich, nearly guilt-free pound cake recipe that is perfect to impress anyone.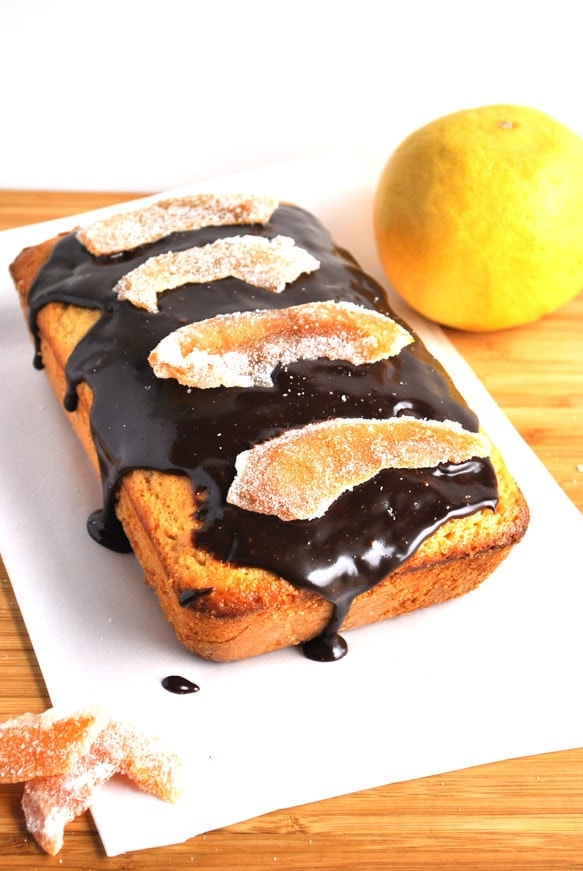 My daughter is at an age where she wants everything she sees, even if she has no clue what it is. My first experience with this new stage happened a few days ago when we went grocery shopping. She insisted I grab a grapefruit, even though she hates grapefruit. The bright yellow and pink peel drew her in, and I was left with the choice of buying the grapefruit or suffering the wrath of a toddler tantrum. I had to do it. Plus, I like grapefruit, so it's not as though it was going to waste.
Since I knew my daughter wouldn't eat it, I decided to use it for myself. I hadn't made a cake in a while, so I decided I would use it in a cake. Originally, I was going to make a grapefruit frosting, but I came across this lemon yogurt pound cake and realized I could easily modify it using the grapefruit instead. The results? An out-of-this-world, delicious, moist cake with a sweet citrus undertone, blended with a creamy chocolate ganache and a sweet and tart finish from the candied peel. All-in-all, the perfect cake. This is coming from someone who isn't a huge cake fan, so you know it has to be good!
There are a few things that makes this grapefruit cake so great.
It is really easy to make. Even the candied grapefruit peel is awesomely simple.
The cake is super moist. I mean, you can leave this cake out uncovered for days and it will still stay moist.
The grapefruit, the chocolate, the sugar…. it all meshes so well together, you will want to eat the whole cake at once.
This cake is not too outlandish with its flavors, but definitely different enough to impress family and friends.
Grapefruit and chocolate go great together.
There is no butter, so it's a little better for you than your other cakes.
Toddler approved.
Yum.
In my recipe, I used avocado oil. It is my favorite oil to use in my baking if a recipe calls for oil (my favorite brand is Chosen Foods). It has a ton of health benefits and has a very subtle flavor to it that blends with the food you are making unlike Extra Virgin Olive Oil in which you typically have to take the flavor of the oil in account with your dish. If you don't want to go out an buy avocado oil (I really recommend trying it out a few times at least!), you can opt for a vegetable or canola oil instead.
Don't have time to make this sweet and tart Grapefruit Cake? Pin it for later!
Grapefruit Cake with Chocolate Ganache and Candied Grapefruit Peel
Total Time:
1 hour
15 minutes
Grapefruit Cake with Chocolate Ganache and Candied Grapefruit Peel. A simple, rich, nearly guilt-free pound cake recipe that is perfect to impress anyone.
Ingredients
Candied Grapefruit Peel
Peels from one grapefruit, sliced
1 cup (200 g) granulated sugar, plus more for dusting
Grapefruit Cake
1 1/2 cups (188 g) all-purpose flour
2 teaspoons baking powder
1/2 teaspoon sea salt
3/4 cups (170 g) plain low-fat yogurt (I used Stonyfield, but Fage is great too!)
1 cup (200 g) granulated sugar
3 large eggs
zest of one pink grapefruit
1 teaspoon pure vanilla extract
1/4 cup (60 mL) avocado oil
juice from 1/2 of a pink grapefruit
Ganache
4 - 6 oz (140-180 g) semi-sweet chocolate
1/4 cup (60 mL) heavy cream
1 tablespoon granulated sugar
1/2 tablespoon light corn syrup
2 tablespoons unsalted butter
Instructions
Make the candied grapefruit peel. The peels should be about 1/4" in thickness and about 3" long and an inch or so wide. Boil the peels for about 5 minutes in a medium pot, drain and boil then drain again. Fill the pot with the peels, sugar, and 1/2 cup (100 mL) of water. Simmer on medium low until the peels are translucent. Toss in sugar and leave on a wire rack to cool.
Preheat the oven to 350 degrees F. and lightly grease and flour a loaf pan.
Sift the flour, baking powder and salt together in a medium bowl.
In a large bowl, mix the yogurt, sugar, eggs, zest, vanilla extract, and grapefruit juice.
Slowly add the flour mixture to the wet ingredients and pour into the loaf pan.
Bake for about 50 minutes, or until a toothpick comes out clean.
Make the ganache. Chop the chocolate and set aside. Put the cream, sugar, and corn syrup in a saucepan and bring to a light boil. Remove from heat and add the chocolate and butter. Whisk until the chocolate and butter are completely melted.
Drizzle the ganache over the cake and top with the candied grapefruit peel.
Notes
Keep in an airtight container up to 4 days.
*Recipe adapted from Barefoot Contessa