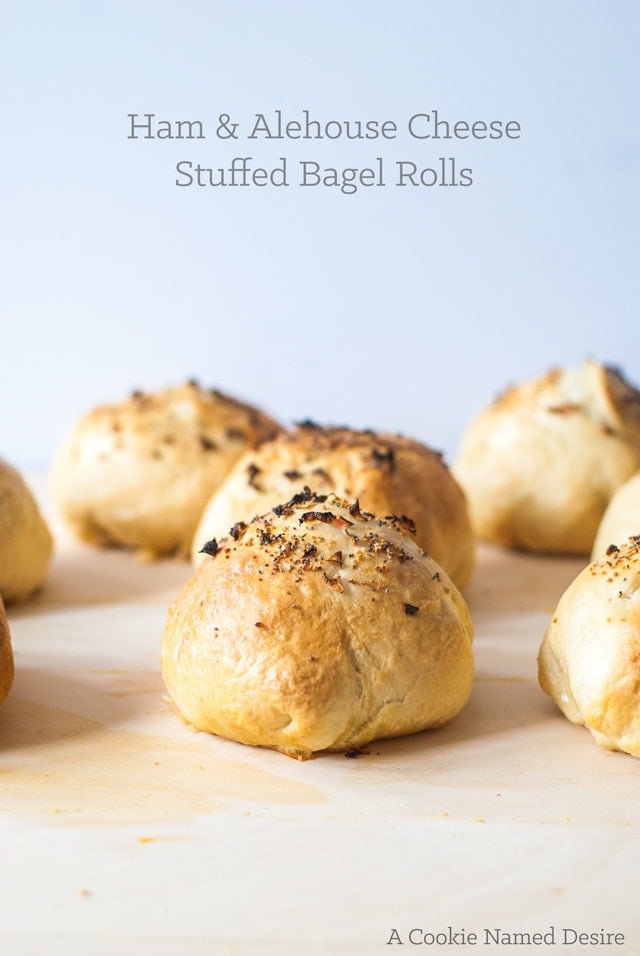 Let's talk about dropping the ball for a moment. As in, I totally dropped it. Again. As usual. I made this recipe for you ages ago and totally forgot to post it before the Super Bowl. (Who were you rooting for by the way? I was rooting for all the salty & spicy snacks + beer).
As much as I love sweets, I am definitely more of a savory snacker and often reach for something with lots of onion and garlic and herbs. I also like to keep things fairly uncomplicated with few ingredients that are known for going well together. (as is proven by many of the recipes here on the blog). Sure, I could have stuffed these bagels with something to make it more over the top like sirracha and herb coated onion rings or something, but I wanted this to be easy and SIMPLE.
After my local grocery store closed, I've been going to the next closest store which is Aldi for my last minute shopping. What I love about Aldi is that they are a German company and often have European ingredients and food that you can't find in many other stores. During my latest trip, I found this alehouse cheddar that is... pretty fantastic! Seriously, you might want to make sure you don't eat too much of it at once!
I used the same recipe for my New York Bagels here, just changing up the ast few steps. After you roll them into balls, you flatten them instead of making the hole and add your fillings. Fold the edges together and smooth it out (<--- this is very important to make sure your cheese doesn't seep out when cooking!) and bake as normal. If you start this in the morning after a nice breakfast, you will have this done in time for brunch.
Recipe Card
Ham & Alehouse Cheddar Stuffed Bagel Rolls
Ingredients
3 ½

cups

bread flour

all-purpose can work in a pinch

1 ½

teaspoons

sea salt

2

teaspoons

active dry yeast

2

tablespoons

sugar

1 ¼

cup

very warm water

1

tablespoon

oil

8

ounces

alehouse cheddar

yes, you can use regular sharp cheddar

1

teaspoon

ground mustard

can also use regular mustard

8

ounces

smoked ham slices

¼

teaspoon

sesame seeds

¼

teaspoon

poppy seeds

¼

teaspoon

minched garlic

dried or fresh

1 ½

teaspoons

miced onion

dried or fresh
Instructions
Mix together the flour and salt together. Set aside. Mix together the yeast, sugar, and water together and proof (allow the yeast to get nice and foamy - if this doesn't happen, you may need new yeast) for about 10 minutes. Slowly pour the yeast mixture into the flour mixture.

Mix together until a dough forms, then knead it for about 10 minutes. The dough should be firm and slightly sticky. If it feels too sticky to handle (which can happen if you are working in a humid environment), add up to ¼ cup more flour one tablespoon at a time. Shape the dough into a ball.

Lightly grease a bowl with the oil and place the dough in the bowl. Cover with a tea towel or plastic wrap. Allow it to rise in a warm, dry area for one hour. I like to leave it in my oven with the light turned on. Punch down the dough down, reshape into a ball and allow it to rise for another 10 minutes.

Equally divide the dough into 8 pieces. I weighed my dough to be precise. If you are wondering, I had just over 800 grams of dough which means each ball was just over 100 grams each. Roll the dough into balls and allow it to rise for another 10 minutes. This rise is optional, but I highly recommend it.

Flatten each ball of dough and fill with the ham and cheese and ground mustard. I found it was best to add the cheese first and mustard first, then the ham. This way the ham acts like a border on the dough which makes it harder for any cheese to escape. Fold the ends of the dough together and smooth it out. It is very important that the egdes seal together completely. I used a moistened finger to help adhere any proglem areas. Smooth the top of the dough.

Preheat the oven to 425 degrees F and line a baking sheet with parchment paper. Boil a large pot of water and add as many rolls as fits comfortably in the pot. You do not want the pot over filled or else the rolls will bump and stick together. Boil each roll for 1 - 2 minutes on each side. The longer it boils, the chewier the bagel will be. I like mine chewy, so I go for 2 minutes on each side.

Mix together the sesame seeds, poppy seeds, garlic, and onion together in a small bowl. Place the bagel rolls on the baking sheet and sprinkle the seed mixture over top the rolls. The moisture from the boiled rolls should be enough to keep the topping adhered.

Bake for 12 - 15 minutes, or until a nice golden brown. Allow the bagels to cool for about 15 - 20 minutes before serving.
Tried this recipe?
Tag me on Instagram! @acookienameddesire #acookienameddesire