A delicious and authentic homemade pita bread you will want to make over and over again. This is an incredibly delicious and easy no-bake bread!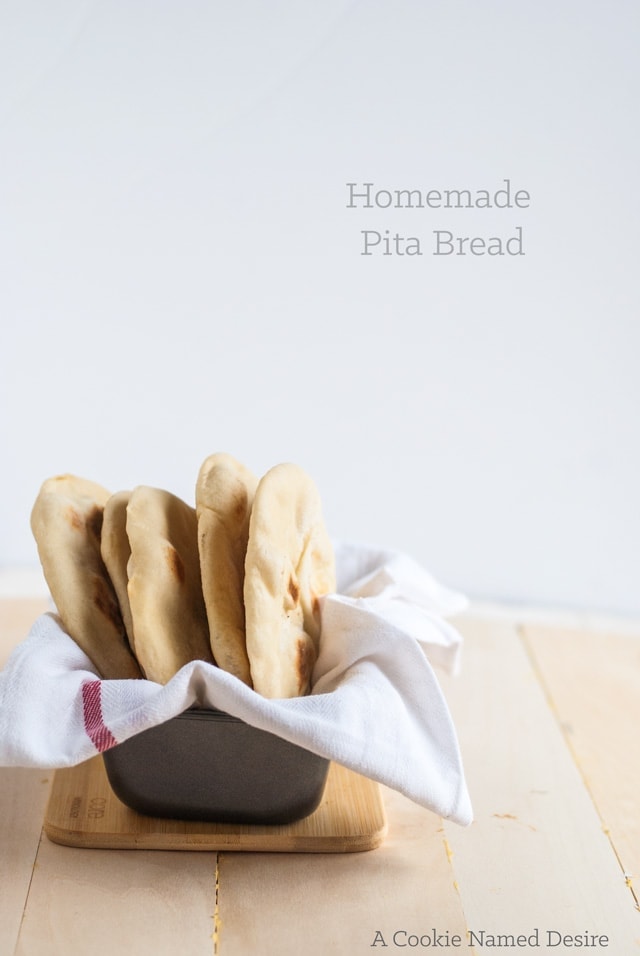 So I've been on a bit of a bread making roll these days, huh? I always get in these moods where all I want to do is make tons of bread. I've made about three batches of pita bread this week already and I am tryinggggggg not to make a fourth. Pita bread is my go-to bread. It makes great sandwiches, they are great on their own, and you can turn them into some awesome pita chips perfect for dipping.

My flatmates and I were obsessed with this place called Hummus Bros in London and they had the fluffiest, warmest whole wheat pita bread I've ever had. (And oh my gosh, their hummus was phenomenal). We went there a couple of times a month.... and for a little while, I went there about once a week. Just between you an me, I still have my loyalty card. Only two away from a free meal!! I hope the next time I am in London, they are still doing the loyalty card thing because I want my free mushroom and caramelized onion hummus. Mmm.... excuse me while I wipe the drool off my.... everything.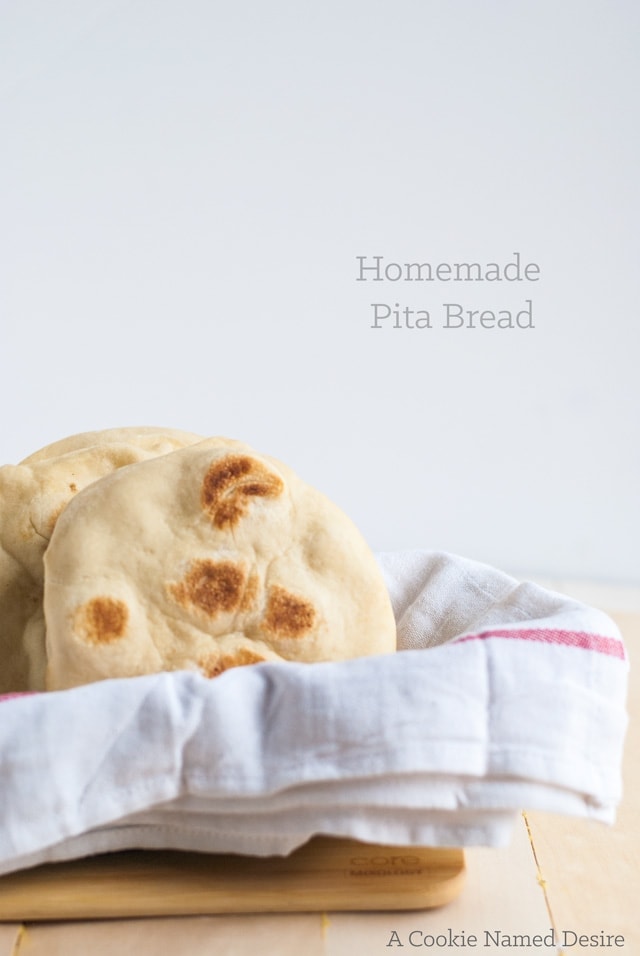 Now, this homemade pita bread isn't anything like that pita cause it's not 100% whole wheat (trust me, I wanted to, but I didn't have enough whole wheat flour). I did use a small amount of white whole wheat flour to make myself feel a little better about myself, but please, use 100% all purpose or 100% white whole wheat flour if you want.
Homemade Pita Bread Recipe
Recipe Card
Homemade Pita Bread
Ingredients
2 ¼

teaspoons

active dry yeast

1

cup

warm water

1 ½

cups

all purpose flour

plus an optional additional ¼ cup as needed

1

cup

white whole wheat flour

2

tablespoons

olive oil

plus extra for bowl and pan

2

teaspoons

salt
Instructions
In your stand mixer, combine the yeast, water, and one cup of the flour together. Mix everything together until thoroughly combined. Let it sit and rise for 20 minutes. This creates a quick sponge.

Add the oil, salt, and white whole wheat flour to your sponge. Knead on low with your dough hook until a dough forms. If the dough seems very stick, add the ¼ cup flour one tablespoon at a time. Knead for about 6 minutes more.

Turn the dough onto a floured surface and form the dough into a ball. Lightly coat the mixing bowl with a layer of oil and place the dough back in the bowl, then cover with plastic wrap. Allow it to rise for about 1 hour and 45 minutes to 2 hours.

Lightly punch down the dough and turn onto a floured surface. Divide the dough into 8 equal pieces. Roll each piece into a ball, then allow it to rise for about another 30 minutes. Flatten out each ball until it is about 5 - 6 inches in diameter and allow it to rest for about 10 minutes.

Lightly coat a cast iron skillet with oil and heat on medium. Cook one pita at a time by heating one side for 2 - 3 minutes, then cooking on the other side for about 1 -2 minutes. Flip one last time and cook for another 30 seconds. The pita should blister, puff, and form brown spots. Allow the bread to cool on a plate lined with a clean white tea towel
Tried this recipe?
Tag me on Instagram! @acookienameddesire #acookienameddesire