A simple guide on how to make limoncello overnight! This is the perfect post-dinner sip or as a gift for others!
One of my favorite restaurants in London was this small Italian restaurant ran by an older Albanian couple nestled between Hammersmith and Standford Brook stations called Casa Mia. My friend and I discovered it when we were hunting for a flat together and needed something hearty and a couple of glasses of wine before we continued our search.
We just missed their lunch special, but the owner honored it for us anyway. There were only a few tables close together, and one larger table with benches and downstairs you could look into the small kitchen on your way to the restrooms. The restaurant was simply decorated with a few paintings and plants and the back wall was filled with their many Italian wines, spirits, and liqueurs.
Usually we only went there for lunch - it was only 5 quid and included a glass of wine, but if you had dinner, they would always offer a complementary glass of limoncello, which is an Italian tradition. We would drink our limoncello and chat with the other restaurant-goers and the waiter.
When the owners had a free moment, they would come up and tell us about their lives before moving to London and the strange things they see in the restaurant business. Casa Mia became our home away from home. Today, they have expanded and are a much larger restaurant with a whole new look, and I couldn't be happier for them.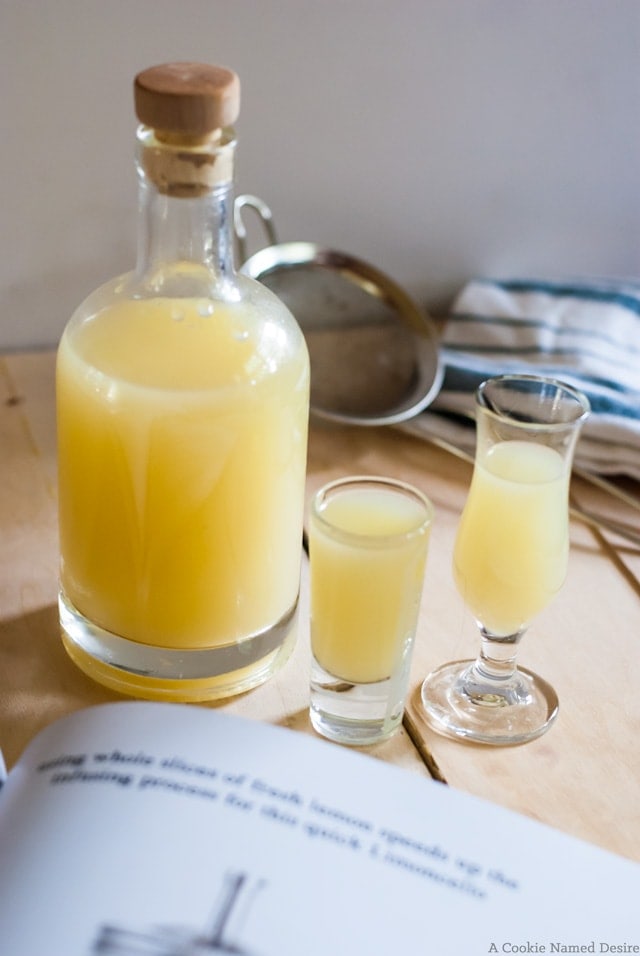 When I got my copy of the book, Infuse, by Eric Prum and Josh Williams and saw their recipe for overnight limoncello, I knew I needed to make it so that I could be transported back to those happy times again. I tried their recipe exactly as they state in the book and it was so delicious! It had a wonderful lemon flavor and just the right amount of sweetness. I hoped for a stronger lemon flavor that I associate with limoncello, so I decided to blend the lemon into the vodka, and also doubled the recipe so I could have more of it on-hand. It came out perfect and tasting exactly the way I imagined.
In case you were wondering, Infused is a book on infusing oils, spirits, and water with a mix of spices, herbs, and fruit. More than that, they also tell you how to infuse other things like maple syrup and teas for an extra kick of flavor. It is filled with large, beautiful photography and they provide recipes that include many of the infusions they provide.
The recipes are simple to put together and use only ingredients that are readily available in most stores which I appreciate. All the recipes are only enough to fill in a mason jar, which makes sense considering they sell their own mason jar shakers and taps. On one hand, this does make things easier to put together, but on the other, you if you want more than a mason jar's worth of whatever it is you are infusing, you have to do some math to double or triple your recipe, which isn't that bad, right?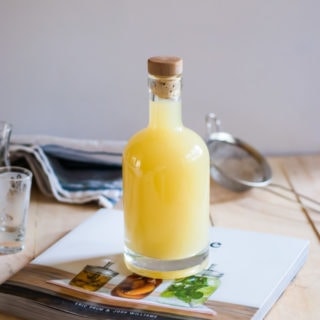 How to Make Limoncello
A simple recipe for overnight limoncello
Ingredients
10

oz

vodka

2

lemons

deseeded

10

oz

simple syrup
Instructions
Mix all the ingredients together in a blender and blend on low for about a minute, then slowly increase the speed to high and blend for another minute.

Pour into a large mason jar, or airtight container and allow to infuse for about 12 hours at room temperature.

Strain into an airtight container.
Nutrition
Serving:
1
oz
Calories:
54
kcal
Carbohydrates:
7
g
Sugar:
6
g
Tried this recipe?
Tag me on Instagram! @acookienameddesire #acookienameddesire