Learn how to make super juicy turkey burgers stuffed with caramelized onions and mushrooms. Top with all the fixings and a flavorful pretzel bun for the best summer grilling experience.
Thank you to the Mushroom Council for sponsoring this post. Make the pledge to be a blenditarian and share what drives you to do better!
I love nothing more than a barbecue. Going out and grilling some burgers and eating outside is probably my favorite thing to do. Even if we have to use an indoor grill and eat inside, will work for me.... Maybe it's the juicy burgers I am more interested in? Either way, I am all about grilling and burgers and hanging out. Ever since I gave up beef a few years ago, I've been on a mission to find delicious, flavor-filled juicy turkey burgers to fill the void left behind by my favorite beef burgers.
I've tried a few different store-bought turkey burgers and some of them are okay, but most are either lacking in flavor or are so dry, they are barely edible. And they frankly just never look as appealing, if I am honest. So it quickly became apparent that I need to start making my own turkey burgers. The first thing I knew is that I wanted lots of flavor in the burgers. For me, the burger meat is just another opportunity to add in more complexity to the flavors you bring into a burger. I love stuffing mine with cheeses, herbs, and veggies. Right now, my favorite combination involves caramelized onions and mushrooms.
As a blenditarian, I truly believe that adding mushrooms to my turkey burgers really help make them juicier, and more flavorful. The mushrooms themselves taste meatier and add umami to the burgers. For the best results, we chop the mushrooms finely to minic the consistency of the ground turkey. It also makes our burgers slightly more healthy since they add vitamin D, B vitamins, antioxidants and potassium. Plus, it adds to bulk the burgers up so we get bigger burgers without weighing it down with so.much.meat.
You can use any onions you like for the caramelized onions. I love using sweet onions or red onions. My family is split 50/50 between those two, but I may even like using scallions the most! Whichever you onion you choose, my recommendation is to cook them low and slow for that deliciously sweet caramelized flavor. If you find they are browning too fast and may burn, take them off the heat immediately and stir constantly until it cools a bit more. Turn down the heat on your stove and replace the pan back onto the burner.
Top with any of your favorite burger fixings. For these burgers I decided to do with double slices of cheddar, sliced avocado, red cabbage drenched in lime, and chipotle mayo. the flavors are bright and refreshing, perfect for summer, but there are no rules with burgers. Top with Swiss, whipped goat cheese, french fried onions, tomato, fries, or anything that comes to mind. My only recommendation is to serve it with toasted pretzel buns. They are just sooo tasty!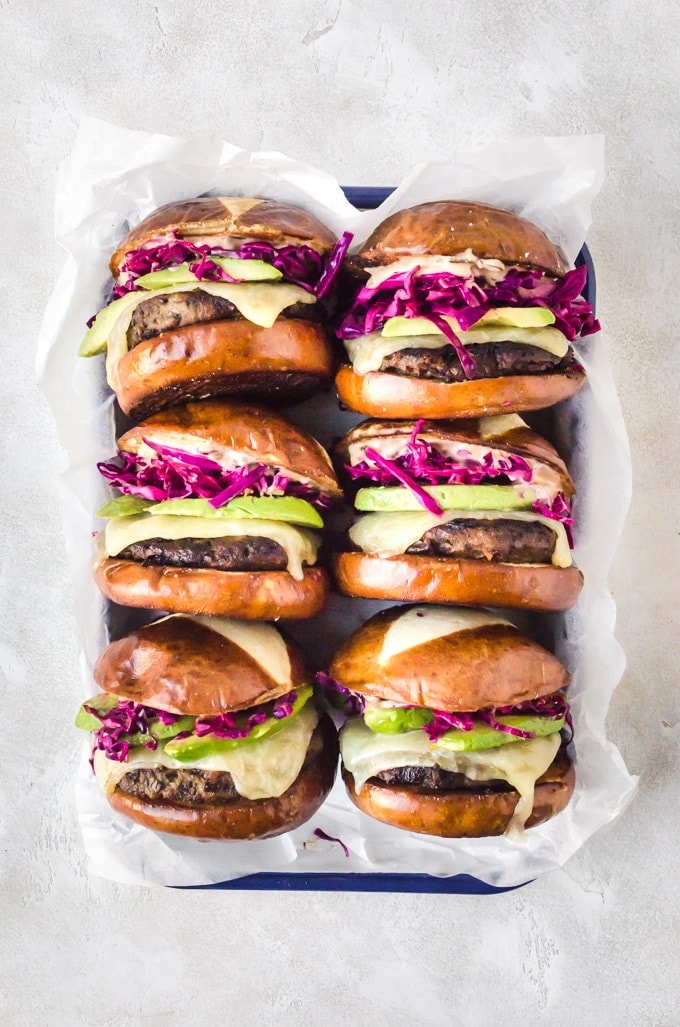 Recipe Card
Juicy Turkey Burgers
Irresistibly juicy turkey burgers with caramelized onions and mushrooms
Ingredients
For the Burgers
1

medium onion

¼

cup

oil

1 ½

lbs

ground turkey

8

oz

portobello mushrooms

finely diced

4

clove

garlic

finely diced

salt

pepper
Burger Assembly
6

burger buns

cheddar cheese

avocado

red cabbage

lime

chipotle mayo

1 tablespoon chipotle, ⅓ cup mayo
Instructions
Dice your onion and heat 2 tablespoons of oil in a large skillet on medium low.

Once the skillet is heated through, add your onions and slowly cook, stirring frequently, until the onions are soft and caramelized. This should take approximately 15 minutes. Set aside.

In a large bowl, mix together all the ingredients for the burger patties together and mix until well combined. Remember to finely chop the mushrooms so they are roughly the same size as the ground meat. Add the salt and pepper to taste.

Grab about 7 -8 oz of the burger mixture and roll into a ball, then flatten into a patty shape.

Add a small amount of the remaining oil back into your skillet just so it is enough to coat the skillet. Turn the skillet up to medium high heat. Cook patties for about 3 - 4 minutes per side, adding cheese once you've flipped the patty to allow the cheese to melt. To cook in your grill: Preheat your grill and add your patties to your grill. Cook for 3 - 4 minutes and add the cheese once flipped to melt the cheese.

Place the patties on your buns and top with avocado. Toss the cabbage with lime and add to the burgers. Mix together the chipotle and mayo and brush on the cut side of the top of the burger buns. Serve hot.
Nutrition
Serving:
1
g
Calories:
397
kcal
Carbohydrates:
4
g
Protein:
30
g
Fat:
29
g
Saturated Fat:
6
g
Polyunsaturated Fat:
21
g
Cholesterol:
120
mg
Sodium:
198
mg
Fiber:
1
g
Sugar:
2
g
Tried this recipe?
Tag me on Instagram! @acookienameddesire #acookienameddesire
I was selected for this opportunity as a member of CLEVER and the content and opinions expressed here are all my own.