So, I mentioned my love affair with breakfast before, right? I mean, sometimes I'll eat some breakfast at like 11pm just because it's so delicious. I also have a -thing- for scones because they are the perfect breakfast hand food that I can munch on everywhere. These lemon blueberry scones are one of my favorites. It is not like your traditional scone in that is is a little more moist (I don't know if you can tell, but I love the cakes and sweet breads to be on the moist side), and there is a sweet, crunchy, golden brown streusel topping.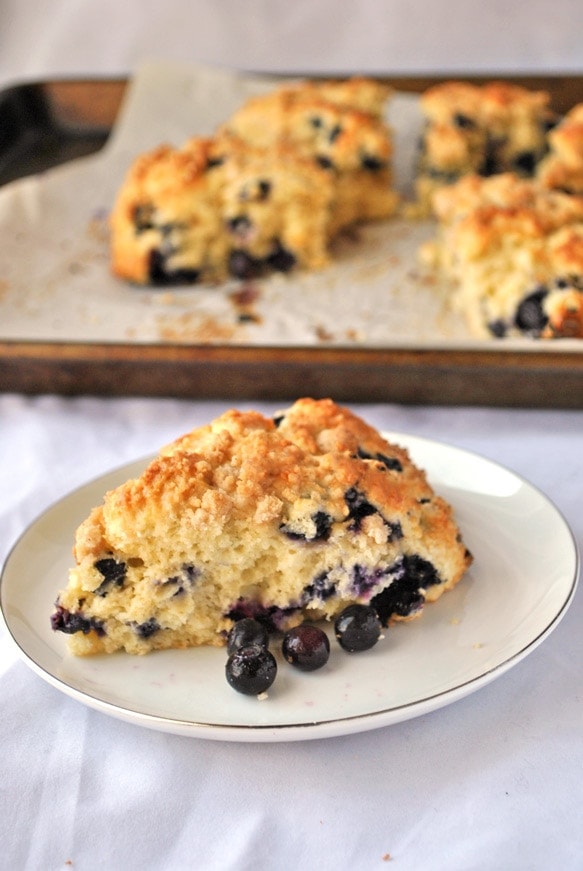 These scones are filled to the max with fresh blueberries that burst with flavor with every bite. The flavor is brightened and intensified with a hint of lemon and the whole thing is finished with the deliciously crunchy streusel topping.  This is so delicious, I swear you will be tempted to eat a whole batch on your own. Go on, I won't tell anyone.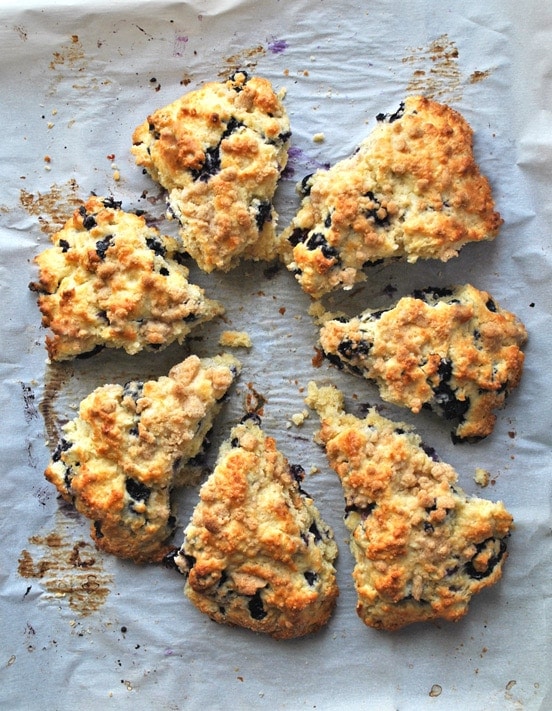 Lemon Blueberry Scones with Streusel Topping
Ingredients
2 cups all-purpose flour
¼ cup tablespoons sugar
1 tablespoon baking powder
¾ teaspoon salt
6 tablespoons cold unsalted butter, cut into pieces
1 teaspoon grated lemon zest
1 tablespoon fresh lemon juice
⅓ cup heavy cream
2 large eggs, lightly beaten
1½ cups fresh blueberries
Streusel Topping
¼ cup all-purpose flour
2 tablespoons packed light brown sugar
½ teaspoon cinnamon
2½ tablespoons unsalted butter, room temperature
Instructions
Preheat the oven to 400 degrees and line a baking sheet with parchment paper.
Combine your flour, sugar, salt and baking powder together in a medium bowl.
Cut in the butter using your hands or pastry cutter until the flour resembles large crumbs.
Mix the lemon zest, juice, heavy cream and eggs in a small bowl and whisk together.
Dig a well in the middle of your flour mixture and pour in the egg mixture. Use a fork to combine. Once a dough forms, use your hands to full incorporate the egg mixture into the dough. Fold in the blueberries.
Place the dough on your parchment paper and form into a square that is about 1" thick. Cut into 8 pieces and separate each slice so they are not quite touching.
Make the streusel topping by combining all the ingredients together and using a fork to mix well until large crumbs form. Cover the scones with the streusel topping and bake for about 20 minutes or until a light golden brown.
Transfer the finished scones to a wire rack to cool and enjoy.