An easy lemon pound cake that bakes up beautifully in your favorite Bundt pan. This pound cake is rich, moist, and full of bright lemon flavor.
My father used to buy a pound cake every week when I was a child. He has an insatiable sweet tooth and would eat half the cake on his own, leaving the rest of the family to fight over the remaining cake. I swear there were a few times he would secretly finish a whole cake on his own. In my eyes, pound cake was the best cake a person could get their hands on.
Now that I am an adult I prefer a lighter cake paired with fruit and whipped cream, or a fudgy chocolate cake. Still, pound cake reminds me of reaching out my small hands for a piece of a piece of dense, buttery cake and savoring each and every crumb while it lasted. It is like a momentary reset button back to simple days where there was nothing more important than trying to convince my mom that I deserved another small slice of cake. These days I feel we could all do with a small trip back to memories like this, so when I saw the recipe for lemon pound cake with cornmeal in my Short Stack cookbook, I knew I need to make it.
Short Stack is a series of mini cookbooks each focused on a particular ingredient. A few years ago I received three Short Stack cookbooks (Buttermilk, Egg, and Tomato). They recently released a "full size" cookbook that features several ingredient categories all put together in a bright, beautifully illustrated cookbook. I've tried a few recipes in the book so far and I've almost finished eating my way through the winter squash section. Everything is amazing. The recipes are easy to follow and the flavors are just amazing.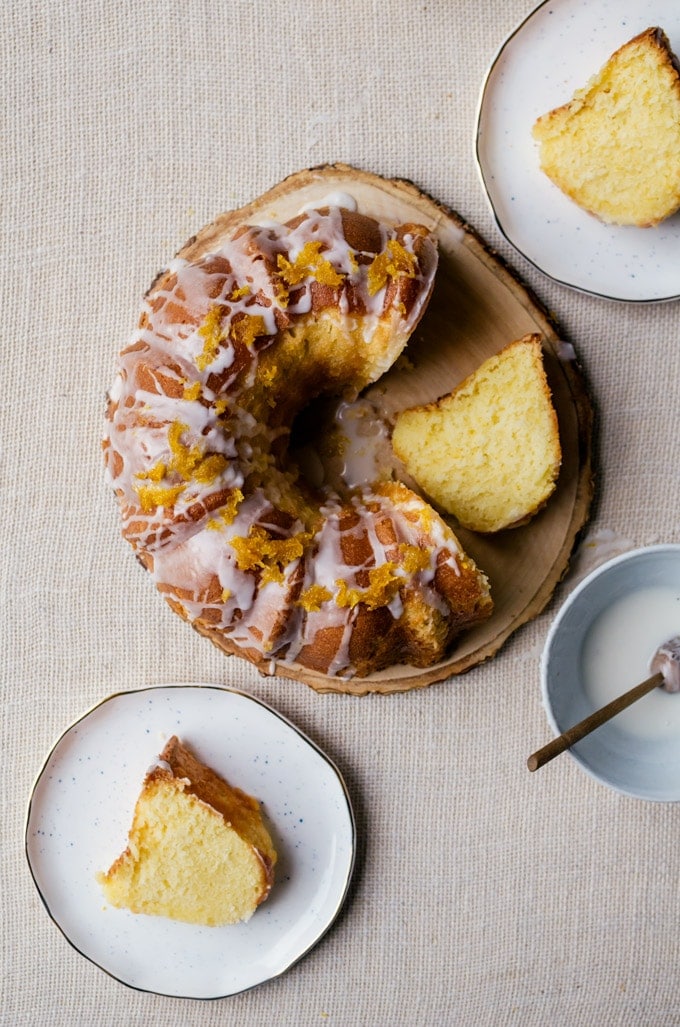 My favorite, though, is definitely this super lemony lemon pound cake with cornmeal. There is lemon permeated throughout the cake to give you a bright punch of flavor. We start with lemon juice and zest in the cake. Once finished, the cake is then drenched in lemon-infused simple syrup before lemon icing and candied lemon zest decorate the top. The cornmeal adds a really nice texture similar to the lemon lavender semolina cake I made last spring.
The only changes I made with this cake is that I doubled it so I could make it in a Bundt cake. The icing did need a bit more liquid than called for when you double it, so I added a couple of tablespoons of milk.
It's comforting, bright, and I promise everyone will be begging for another slice!


Yield: 1 cake
Lemon Pound Cake
Prep Time 35 minutes

Cook Time 1 hour

Total Time 1 hour 35 minutes
Ingredients
2 cups all-purpose flour
1 cup cornmeal
1/2 teaspoon baking soda
1/2 teaspoon salt
1 cup (2 sticks) unsalted butter, room temperature
3 cups granulated sugar
4 teaspoons lemon zest
6 large eggs, room temperature
1/4 cup lemon juice, room temperature
1 cup sour cream
For the Lemon Syrup
1/3 cup lemon juice
1/3 cup granulated sugar
For the Glaze and Topping
2 cups powdered sugar
2 tablespoons lemon juice
1 - 2 tablespoons milk
1 tablespoon lemon zest
1 tablespoon granulated sugar
Instructions
Preheat the oven to 325 degrees F. Grease and flour a 12-cup Bundt pan very well.
In a medium bowl, mix together the flour, cornmeal, baking soda, and salt together. Set aside.
Beat the butter, sugar, and lemon zest until light and fluffy.
Beat in the eggs one at a time, then beat for an additional 2 minutes.
Stir together the lemon juice and sour cream together.
Alternate adding the flour (in three additions) and sour cream (in two additions) to the butter mixture.
Pour the batter into the Bundt pan and bake for about 50 - 65 minutes, or until a nice golden brown and a toothpick inserted in the middle comes out clean. The cake should pull away from the sides of the pan slightly.
Allow to cool in the pan for about 30 minutes. Tap the pan against the side of the counter a few times on every side to help loosen the cake. Carefully turn out onto a wire rack and tap out the cake.
As soon as the cake is on the wire rack, add the lemon and sugar together for the syrup in a small saucepan and heat until the sugar is dissolved and slightly thickened. Pour the syrup over the cake while it is still hot. Allow to cool completely.
Mix together the powdered sugar and lemon juice for the icing and drizzle over the now cooled cake. Mix together the lemon zest and granulated sugar for the topping and spread over the top of the cake and icing.