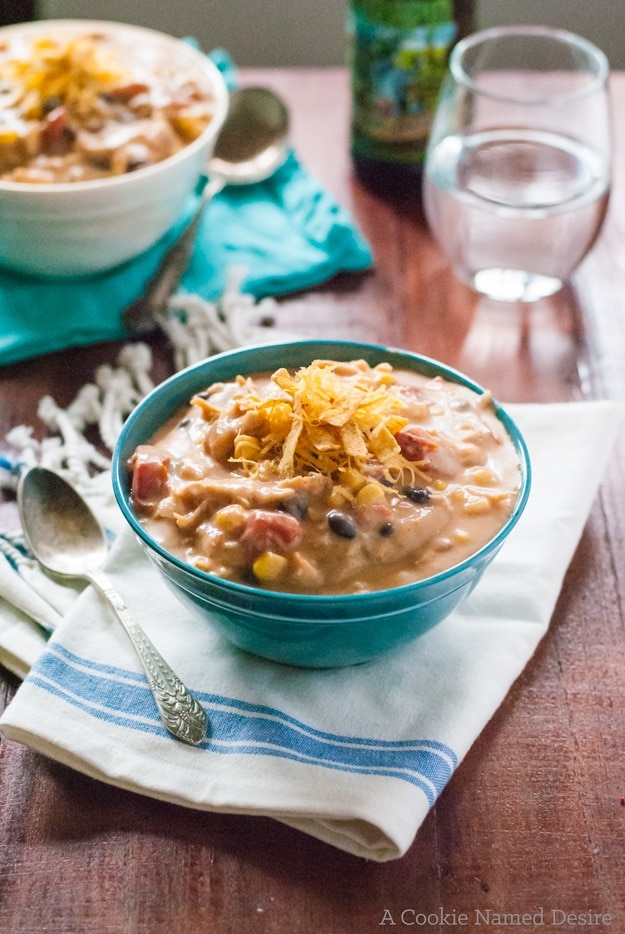 Oh my gosh, it's the first post of the New Year and we are starting off with a light, savory recipe. Just a taste of some of the changes coming to the blog. (don't worry I'll always be primarily a dessert and baking blogger, but my waistline is begging me to share some of these healthy savory recipes with you!) Truthfully though, a soup recipe on this blog really isn't that foreign if you look at the savory recipes already on this blog. You want to know why? Because soup is my favorite.
It's just so easy to whip up a nice, big pot of soup and eat it over a few days. When Vlad and I were still living together in London, we spent a lot of time living off different types of soup. In fact, a very large, almost overflowing pot of soup was the very first meal I ever made for him. Before that, I would always order food and he thought I didn't even know how to cook. The look on his face when he came home from work to find soup waiting for him was priceless.
Our favorite thing to do was set aside some of our grocery money and go to each of the product stores on our high street. We were lucky because there were three different produce shops and two produce kiosks on our street, so we always had great variety and great prices.
Vlad is very athletic and really into health (the complete opposite of me at the time), so he taught me how to lighten up my favorite foods without compromising on taste. I was obsessed with Mexican food and he made this lightened chicken taco soup for me and I completely fell in love with it!!
Super cheesy, very taco-y and oh my gosh, just thinking about it is making me drool. It's got tons of good-for-you additions because tacos, behind all that cheese and grease, is actually full of really healthy add-ons like tomato, black beans, corn, and protein.
We keep things light here by using reduced-fat milk (side note: everyone should stay away from skim milk - that's just sugary water with a milky tint). and fat-free, low-sodium broth. With a very sharp cheese, you can also cut down on the amount you need to get a good cheesy flavor, so grab the good stuff. I also bake the chicken to amp up the flavor. After that, you can really pick and choose what you add into the soup, but in this recipe, I've shared my favorites. If you want to make it a little indulgent, feel free to add a tablespoon or shredded cheese on top and maybe a couple of crunchy tortilla strips.
Recipe Card
Lightened Chicken Taco Soup
Ingredients
1

lbs

chicken breast

3 ½

tablespoons

taco seasoning

divided

5

tablespoons

extra virgin olive oil

½

onion

diced

2

cloves

garlic

minced

½

cup

flour

2 ½

cups

reduced fat milk

divided

8

oz

sharp cheddar cheese

shredded, plus more for topping (optional)

1

15 oz can corn, drained

1

15 oz can black or red beans, drained

1

15 oz can fire roasted diced tomatoes

2 - 3

cups

chicken broth

salt & pepper to taste
Instructions
Cut the chicken into quarters and coat with a tablespoon of the taco seasoning. Wrap in aluminium foil and bake for about 35 minutes, or until cooked through. Use two forks to shred the chicken. Cut any pieces that are too large. Reserve any liquid in the foil to add to soup.

Heat the oil in a large pot on medium-high. Add the onions and cook until translucent, add the garlic. Add the flour and stir until the flour browns slightly. Whisk in about one cup of the milk and mix until smooth and begins to thicken. Add the cheese and stir occasionally until the cheese is melted and full incorporated.

Add the corn, beans, remaining taco seasoning, and tomatoes. Slowly add in the chicken broth (add the juiced from the shredded chicken to your chicken broth prior to adding to the soup.) until it reached the desired consistency. Add salt and pepper to taste.

Bring the soup to a light boil. Once the soup begins to boil, bring down to a simmer and cook for at least 10 - 15 minutes.

Serve with more shredded cheese and tortilla strips if desired.
Tried this recipe?
Tag me on Instagram! @acookienameddesire #acookienameddesire