This shop has been compensated by Collective Bias, Inc. and its advertiser. All opinions are mine alone. #TeaProudly #CollectiveBias #TeaProbiotics Grab a handful of maple pecan granola for a delicious morning or afternoon treat. Use it to top yogurt, eat it like cereal, or fold it into your ice cream. There's no end to what you can do with this granola.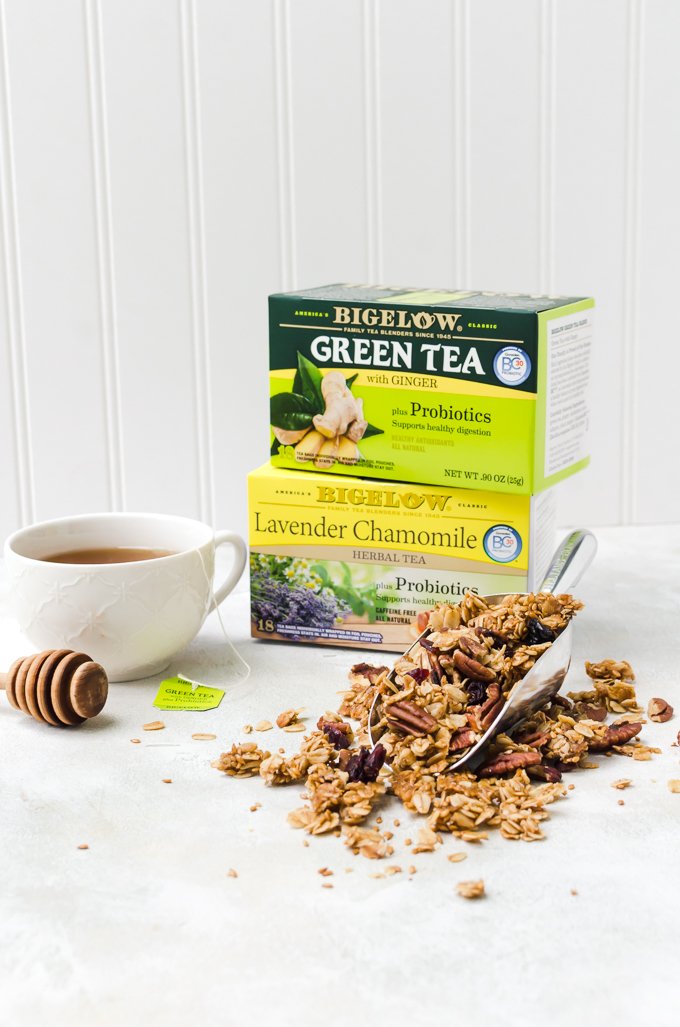 P.S. This image right up here, it's clickable and will take you right to where you need to go to buy the new Bigelow probiotic teas, so give it a click and try it out!
It's about that time when we all get a little more cozy. Flavors with lots more depth and dimension. That allow you to slow down a little more and really enjoy the moment.
I love granola. It's one of the things I really love making to have around to snack on. I don't share a lot of recipes on the blog, but I make a ton of it. We usually go through a batch of granola every couple of days.
Sitting down and having a bowl of granola and a hot cup of tea is just magical. It's one of those relaxing "me" moments that I don't get often, but are so precious to me.
I have a collection of tea in my house. I love to try new flavors, but one of my favorite brands I tend to reach for is Bigelow. I love the quality of their tea and how robust the flavors are.
They recently released three new teas with added probiotics: Lemon Ginger with Probiotics, Green Tea with Ginger Plus Probiotics, Lavender Chamomile Plus Probiotics. The last two are new to Walmart. The added probiotics, Ganeden-BC30, helps support healthy digestion when paired with a healthy diet. It's their way of helping you "tea proudly" as you snack on some maple pecan granola.
You can stay in touch and learn more about Bigelow and their line of probiotic teas by following them on Facebook, Twitter, and Instagram.
Getting the best maple pecan granola clusters
There's nothing like having granola with large, tasty clusters. I follow a few simple steps to ensure I get those big clusters every time.
To start, I don't do a lot of mixing when the granola is in the oven. In fact, I mix once, just to stir in the pecans and that's all. It gives the oats a chance to really stick together. Once I've added the pecans, I also gently press everything together with the back of my spatula to really encourage everything to stick.
I also do not touch the granola once it is out of the oven. It smells amazing and the first thing I want to do is sneak a taste, but I get the best clusters when I just leave it alone until it is completely cooled. Usually, I will let the granola cool overnight just to be sure.
Once it's completely cooled, I will gently break it apart in as large chunks as possible.
Some people also like to whip an egg white until it is foamy and stir it into the granola. It does work and adds some extra protein which is great. I am a fan of experimenting and seeing for yourself if it works for you.
Maple Pecan Granola
Total Time:
1 hour
8 minutes
Warm and irresistible maple pecan granola
Ingredients
3 ½ cups old-fashioned oats
⅓ cup flax seeds
¾ cup maple syrup
½ teaspoon salt
2 teaspoon vanilla extract
1 cup chopped pecans
½ cup dried fruit or chocolate chips (optional)
Instructions
Preheat the oven to 325 degrees F. Line a baking sheet with parchment paper.
In a bowl, mix together all the ingredients except for the pecans and any other add-ins. Stir until well combined and the maple coats all the oats.
Add the mixture to the baking sheet and press gently together an an even layer that isn't too thick.
Bake for 30 minutes, remove the baking pan to add the pecans. Stir to mix and press the mixture together again.
Bake for another 30 minutes. Remove and do not touch the granola until it is cooled completely.
Break apart the granola and store in air tight containers for up to a week.