Tender mixed berry scones filled with blueberries, blackberries, raspberries, and strawberries then topped with a sweet vanilla glaze. Berry scones like these make excellent treats for breakfast, brunch, or with tea.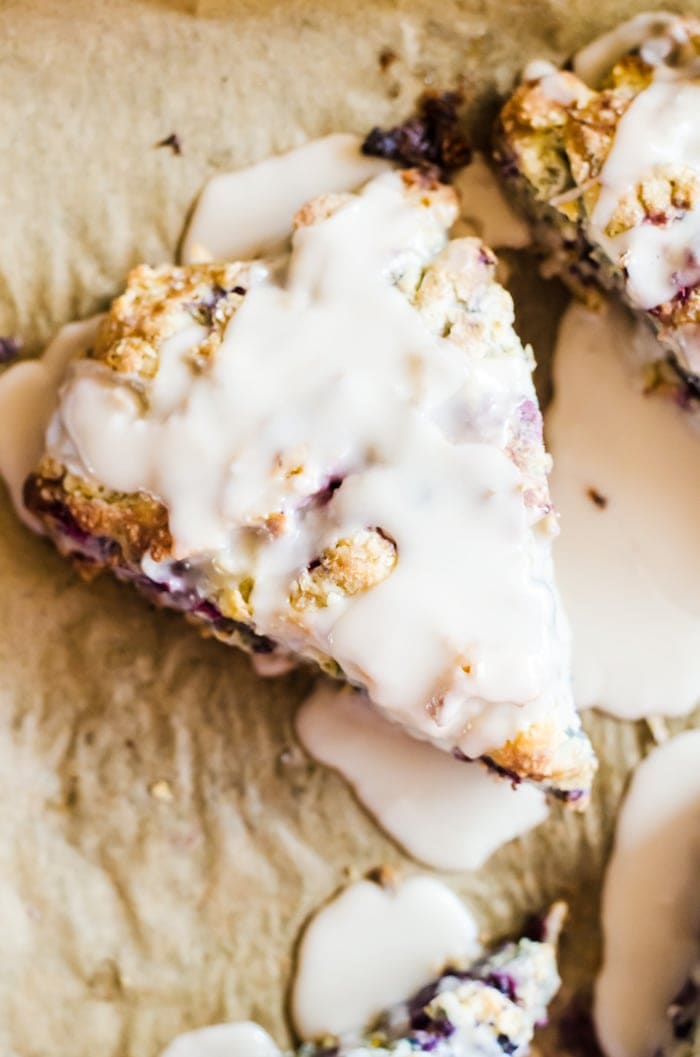 I am a sucker for a good scone. Not the dry, crumbling lumps of cardboard you find at most coffee shops. I mean something that is moist, tender, and full of favor. More like a biscuit than a piece of coal. My favorite baked goods usually involve fruit, and this is especially true of scones. I love scones full of fruit whose juices bleed into the scones and create swirls of beautiful color throughout.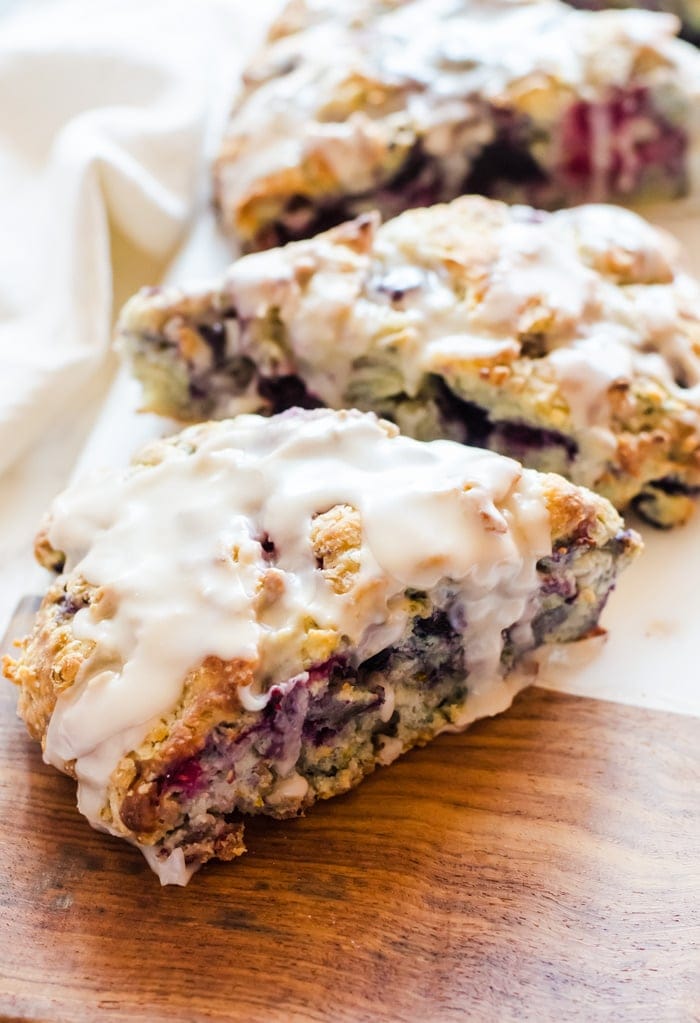 Fruit scones are usually made by rolling out the dough and folding the fruit in as though you were folding it in an envelope or by using dried fruits like these cranberry orange scones. But by using frozen fruit, you can easily fold in the fruit while you are making the dough which is faster and the berries also produce less juice, keeping the scones from becoming gummy.
The women in my family celebrate Mother's Day together, even if they are not yet mothers. We usually do brunch together, then spend the rest of the day together snacking, watching movies, and chatting about everything. This year Mother's Day falls on my friend's birthday (the one I am making the cakes for). So while I am still doing brunch, it will end up being an early one.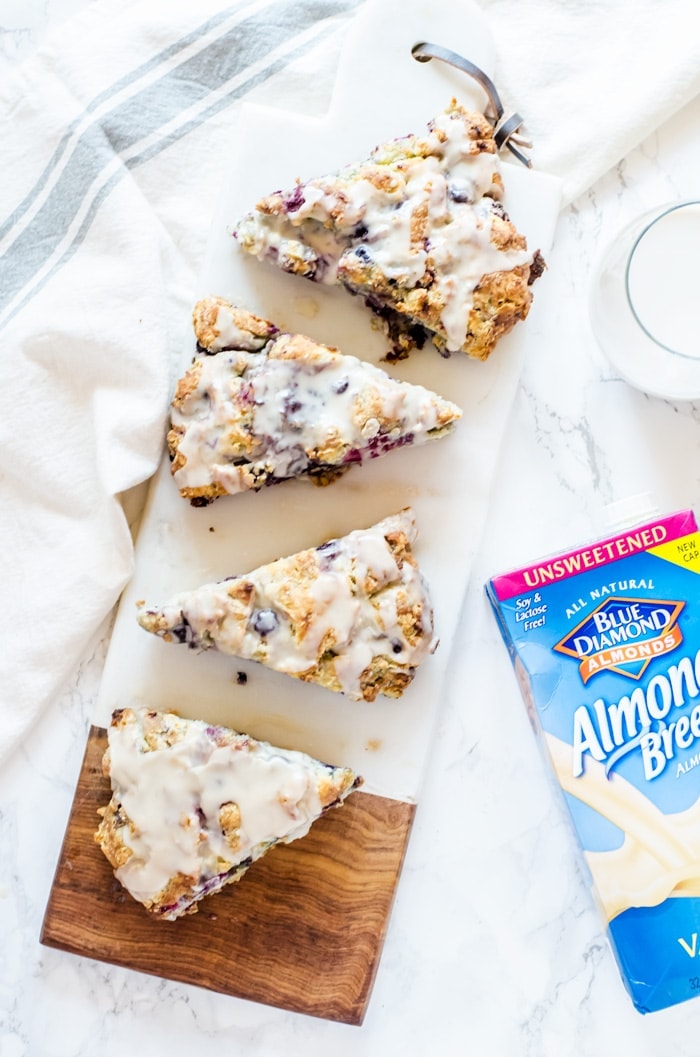 I am doing preparations by making some things the night before and making these scones before I go to bed. Luckily, these mixed berry scones taste just as amazing the next day (or two or three) as they do the first day.
When making these mixed berry scones, it's important to keep everything very cold. I recommend storing your flour, bowls and utensils for a few minutes prior to making the scones. Only take out the frozen berries (I prefer Wymann brand) right when you are about to use them. I put my flour in the freezer after adding the berries to make sure everything stays nice and cold as I mix up the wet ingredients. Normally, I take apart my scones before baking, but found these were just a bit too moist for that. Taking them apart 20 minutes in leaves them firm enough to pull apart to finish baking and allow the edges to get just a bit crisper.
Recipe Card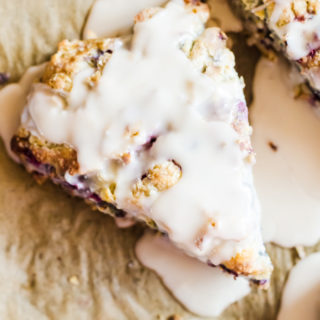 Mixed Berry Scones
Ingredients
2 ½

cups

all-purpose flour

plus extra for fruit

½

teaspoon

salt

1

tablespoon

baking powder

¼

cup

granulated sugar

½

cup

unsalted butter

grated and frozen

1 ½

cups

frozen mixed berries

1

large egg

lightly beaten

½

teaspoon

vanilla extract

½

cup

Blue Diamond Almond Breeze Almondmilk
For the glaze
1

cup

powdered sugar

½

teaspoon

vanilla extract

¼

teaspoon

almond extract

2

tablespoons

Blue Diamond Almond Breeze Almondmilk
Instructions
Preheat the oven to 400 degrees F. Line a baking sheet with parchment paper.

In a large bowl, mix together the flour, salt, baking powder, and sugar. Toss in the grated butter and cut the butter into the flour mixture until the mixture resembled large, coarse, crumbs.

Toss the frozen fruit with the flour. Stir in the fruit into the flour mixture. Store in the freezer.

Beat together the egg, vanilla, and almond milk.

Take out the flour and mix in the almond milk mixture. Mix until just combined and there are no large dry bits of flour.

Transfer the dough onto the parchment paper and pat into the shape of a large disc, about 1 inch thick. Cut the disc into 8 pieces, but leave intact.

Bake for 20 minutes, then remove and carefully separate the scones. Bake for another 5 minutes.

Allow to cool for 10 – 15 minutes.

Mix together the ingredients for the glaze, then drizzle the glaze over the scones. Serve fresh. The scones are best the same day, but still remain tender and moist for the next three days if kept in an air tight container.
Tried this recipe?
Tag me on Instagram! @acookienameddesire #acookienameddesire