I am a certified Nutella fanatic and carboholic.
Really, I have the certificates hanging on the wall by the staircase.
Okay, that's not true, but only because there aren't certifications for either of these things that I know of. Just googled it and it sadly doesn't exist.
Anyway, I am getting off point.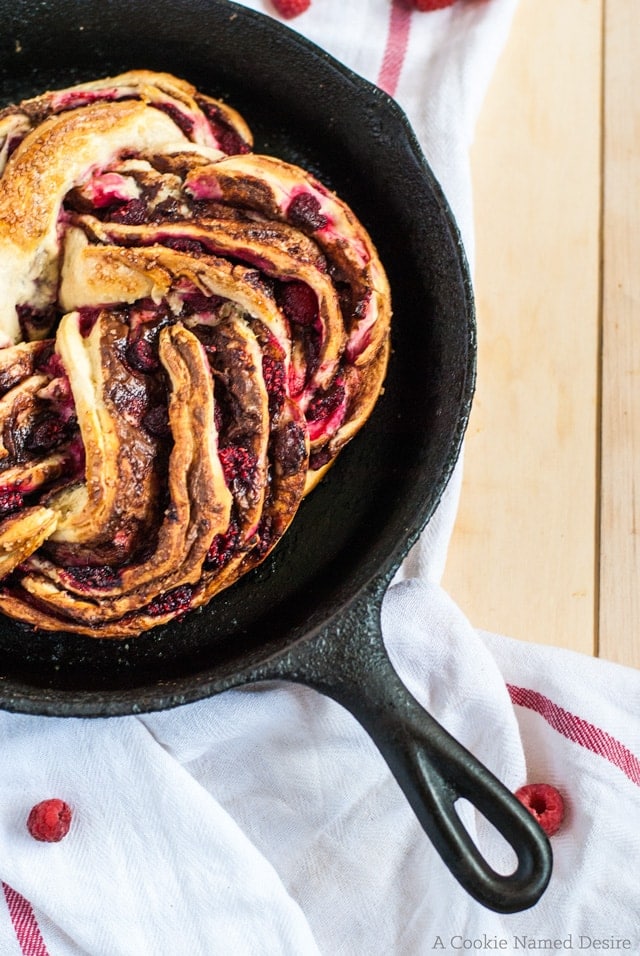 Last summer, Joy the Baker made this amazing triple berry swirl bread that took everyone's breath away. It was absolutely stunning and probably tasted amazing. I fell in love with it and pinned it about a million times. Finally, I decided to take a swing at my own version. The only difference is that I wanted to use Nutella instead of a cinnamon base because… Nutella. And I thought triple berry might be a bit much for the Nutella and decided to go with my favorite fruit to pair with this heavenly hazelnut chocolate spread: raspberries.
I don't regret my decision one second. No, no. In fact, I ended up making four of these gorgeous wreaths of deliciousness. One for my grandmother, one for my aunt, one to eat right away, and a spare that I….also ate right away. Ahem.  #noregrets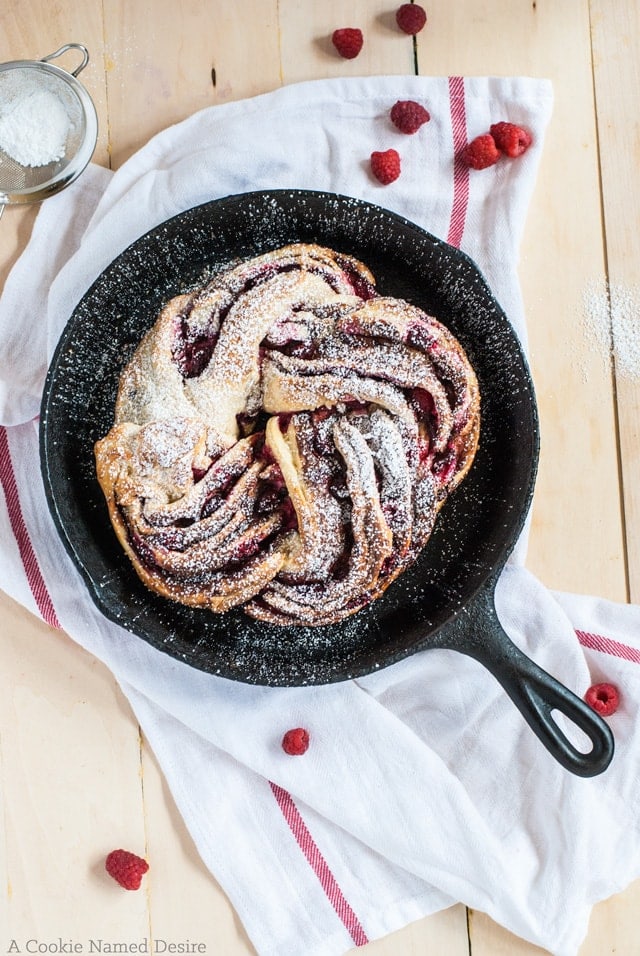 Working with yeast breads is scary for a lot of people, but I promise you that this is really easy to make. This bread is beyond forgiving and the only thing you really need to be careful with is being sure that you are using good yeast. You can tell if your yeast is good to use when you proof it. If you see a nice foamy top layer on your yeast mixture, you are good. If not, then you're going to have to go out and get new yeast. Beyond that, everything is easy peasy. I promise!
When I made my Nutella and raspberry swirl bread, I made the dough for the bread the night before and allowed it to rise in the refrigerator overnight instead of letting it rise at room temperature for an hour. Either works fine here, but my method means you get to have some delicious bread right at breakfast without having to wake up earlier. And that's always a good thing!
Recipe Card
Nutella and Raspberry Swirl Bread
Ingredients
2 ¼

teaspoons

active dry yeast

2

tablespoons

sugar

¾

cup

milk

lukewarm

1

large egg yolk

3

tablespoons

unsalted butter

melted

2 ¼

cups

all-purpose flour

½

teaspoon

salt

⅓

cup

plus 2 tablespoons Nutella (approx. – Nutella can get too messy to measure properly!)

2

cups

raspberries

you can use fresh or frozen. If you use frozen, do not thaw beforehand

Egg was

1 egg, plus 1 tablespoon water

Turbinado sugar

Powdered sugar

optional, but recommended for dusting
Instructions
In a small bowl, mix together the yeast and the sugar. Pour in the milk, egg yolk, and butter then mix gently to combine. Allow the mixture to sit for about 10 minutes. You should see a nice layer of foam after this point. (If you do not, you may need new yeast)

In your mixer, whisk together the flour and salt. Pour in the milk mixture and mix with a paddle attachment to combine until the dough pulls away from the bowl. Use a dough hook to knead for about 10 minutes. If you do not have a stand mixer, you can knead by hand for about 15 minutes. The dough should be smooth, soft, and only slightly sticky.

Lightly grease a bowl with oil and place the dough inside. Cover with plastic wrap. Leave in the refrigerator overnight (or in a warm, dry area for one hour).

Lightly grease a cast iron skillet. Preheat the oven to 375 degrees F. Allow the dough to warm for a few minutes before deflating the dough and rolling out to about 18" by 12" on a lightly floured surface.

Spread the Nutella over the dough, leaving a one inch border all around. Evenly place the raspberries over the Nutella, the very gently press down to ensure they stick. Tightly roll the dough lengthwise so you have an 18 inch long log. Cut the log in half, leaving about an inch at one of the ends keeping the two separate pieces attached. Twist the pieces slightly so that the cut sides are facing up. Place one of the halves over the other, ensuring the cut sides remain facing up. Continue twisting the pieces in this manner until you can no longer twist. Bring the end pieces up to the other uncut end to that the bread forms a circle. Transfer the bread to the cast iron skillet and allow to rise for another 30 minutes.

Brush with the egg wash, then sprinkle with the turbinado sugar. Bake for about 25 – 35 minutes, or until a golden brown. Remove and allow to cool completely before adding the powdered sugar.
Tried this recipe?
Tag me on Instagram! @acookienameddesire #acookienameddesire