A moist peach bread with salted caramel glaze. This delicious loaf is the perfect way to celebrate all things summer. You will be making this peach loaf over and over again! 
A couple of weeks ago my boss went on a vacation to Disney World and to thank my co-worker and I, he gave us each an extra day off on a day of our choosing. I decided to give myself an extra long Labor Day and took this Friday off to go to our local farm market and do some fruit picking. We decided to pick peaches and plums and have a little picnic at the farm.
What I love about the local farm we visit is that they do fruit picking from mid-spring to mid-autumn and offer such a huge variety of fruit. Everyone on the farm is incredibly nice and you can occasionally find them strolling the fields offering advice on choosing the best fruit to pick. They have activities and festivals once a month and make the best melt-in-your-mouth apple cider donuts I've ever had. They are so light and fluffy, but the inner ring (I know there is a name for that) has a light crunch and clusters of sugar stuck in the crevices. There were more than a couple of times when I ate a whole bag of their donuts in a day. Anyways...
The peaches we picked were huge! I mean they were almost as big as my daughter's head. And of course, we went overboard and picked a huge box of them and spent over $13 on peaches which is 13 lbs of peach. Whoa. I've been eating peaches every day since then as though it was my job. I mean, I guess it kind of is my job.
I also made four loaves of this peach bread with salted caramel glaze using the recipe they shared at the farm with a few modifications. I used less sugar and butter than what the recipe called for and added more peach, plus the caramel glaze.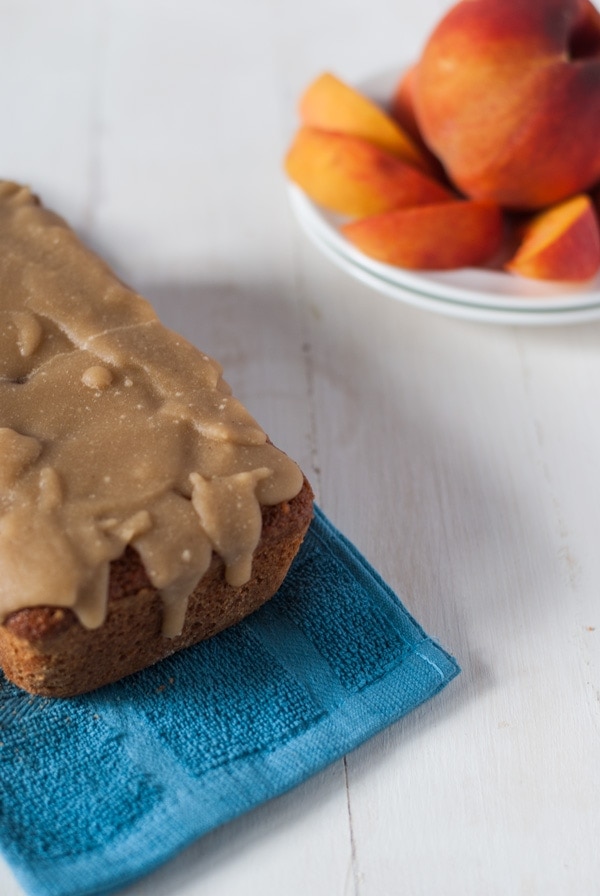 In the end, you get a really moist bread that is bursting with peach flavor. It is a little heavier than your typical quick bread, but it isn't too dense or anything like that. The peach is present, but not overwhelming, and a great way to savor these last few weeks of summer. And then that caramel glaze just sweetens up the whole deal and also gives a nod to the coming autumn because caramel = autumn for me. I don't know why, but I can only have caramel when I am in an autumn kind of mood (unlike things like s'mores which are apparently a year-round thing for me). As I mentioned earlier, I made four loaves of this bread. Four. That's because we were eating one loaf of bread a day. I also made a few other quick breads, but this baby was the first to go every. single. time. My family is a bunch of carboholic freaks, but still, after two loaves of the same bread we usually back away for a while (like a few months) and give the rest away, but not with this peach bread, so that is telling you something.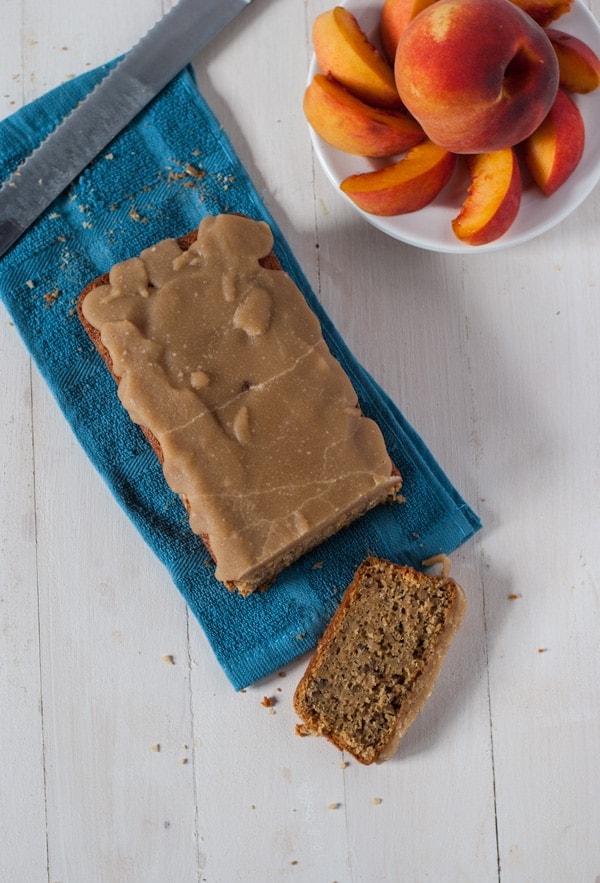 Don't have  time to make this amazing peach bread now? Pin it for later!
Recipe Card
Peach Bread with Salted Caramel Glaze
A delicious quick peach bread with salted caramel glaze that uses fresh peach and simple ingredients. Your new summer favorite!
Ingredients
4

large peaches

1

cup

200 g plus 6 tablespoons sugar, divided

½

cup

115 g butter or shortening

2

eggs

1

teaspoon

vanilla extract

2

cups

250 g all purpose flour

2

teaspoons

baking powder

1

teaspoon

baking soda

½

teaspoon

salt

1 ½

teaspoons

ground cinnamon

1

cup

125 g finely chopped pecans
For the Salted Caramel Glaze
1

cup

200 g tightly packed light brown sugar

½

cup

115 g butter

6

tablespoons

heavy cream

1

teaspoon

vanilla extract

1

cup

120 g powdered sugar

1

teaspoon

coarse sea salt
Instructions
Preheat the oven to 325 degrees F. Grease and flour two 9x5 loaf pans.

Slice 2 -3 peaches to equal about 3 cups of peach and coat in 6 tablespoons of sugar. Puree in a blender or food processor (It should equal about 2 ¼ cups puree). Finely chop the remaining peach and set aside.

Cream the butter and remaining sugar together until light and fluffy. Add the eggs, vanilla extract and peach puree.

In a separate bowl, mix the flour, baking powder, baking soda, salt and cinnamon.

Add the dry ingredients to the wet and mix until just combined. Fold in the chopped peach and pecans.

Divide the batter into both pans and bake for 50 - 60 minutes, or until a toothpick comes out clean when inserted into the center of the bread. (don't start checking until you are 45 - 50 minutes in). Cool in the pan, then turn out to cool completely on a wire rack.

While the bread is cooling, mix the sugar, butter, and heavy cream for the glaze in a saucepan and bring to a boil, whisking constantly for one minute. Remove from heat and stir in the vanilla. Gradually add the powdered sugar. Add in the salt. Pour over the cooled cake.
Notes
Recipe adapted from my local farm
Tried this recipe?
Tag me on Instagram! @acookienameddesire #acookienameddesire