No one will be able to resist peppermint bark brownies with a hidden Oreo surprise. These are the perfect wintry treat to celebrate the season.
I love the holidays. Every year that goes by, I feel myself pulled more and more into the holiday spirit. I am pretty sure that I was an elf in another life and it's finally starting to come out. I am that happy cheery person at the store smiling at everyone and wishing everyone a Merry Christmas and Happy Holidays and Wonderful New Year (I do say all three at once). I also like buying gifts for everyone whenever I can. Sometimes my wishlist for everyone is larger than my budget and I end up getting smaller gifts or food gifts like these peppermint bark brownies with oreos, but I always keep in mind that it isn't about the cost, but the thought that counts.
It is also this time of year I become as equally anxious about those who aren't doing as well in life. This is something that weighs on my mind a lot so I do try to be active in volunteer work and donations as much as possible.  Something I don't talk a lot about here on the blog is the fact that I sometimes volunteer to teach children how to garden and healthy, tasty snacks. We get the parents involved and send home gardening kits. The hope is that they can grow their own garden or garden pot garden and be able to offset some of the cost of their food bill with what they grow while also helping them keep a balanced diet.
So when I discovered World Vision and what they do it really resonated with me and I really felt compelled to discover more about them and share it with you because the season of giving should be about giving to more than those you know.
World Vision is focused on helping communities who need it most, with a special focus on improving the lives of children. They also provide emergency relief to those affected by disasters and work to change unjust structures within communities. What I love is that they not only work in impoverished communities in developing countries, but they also work to help children right here in America.
I love that they make donations easy and you can allocate your contribution to the areas that matter most to you. You can also choose to allow World Vision to allocate the money to where it is most needed at that moment. I think one of the most fun things they do is provide the World Vision Gift Catalog that not only gives you the usual donations, but also allows you to get a little present in return. They have a selection of truly incredible handcrafted gifts from countries across the globe that you can choose to receive with your donation. World Vision kindly sent me a package of a few of these gifts which you've seen here in the photos. They include:
A Vietnamese Silk Scarf which are weaved by Vietnam's Ma Chau villagers.
Tree of Life Votive Candle Holder from artisans in India.
Turquoise Medallion Necklace handmade by families in Delhi.
Silver Vine Cuff designed by artisans in Old Delhi, India.
An Upcycled Bowl which was hand bent and soldered using reclaimed industrial waste by artisans in India.
An Organic Coffee Blend, plus hand carved scoop and hand sewn satchel.
Everything is of really amazing quality and even more beautiful in person. I plan on giving these as gift, but I can't help but kind of wish I was keeping them for myself!
i can only imagine how wonderful the other gifts are, and think this is such a unique way to help others in need.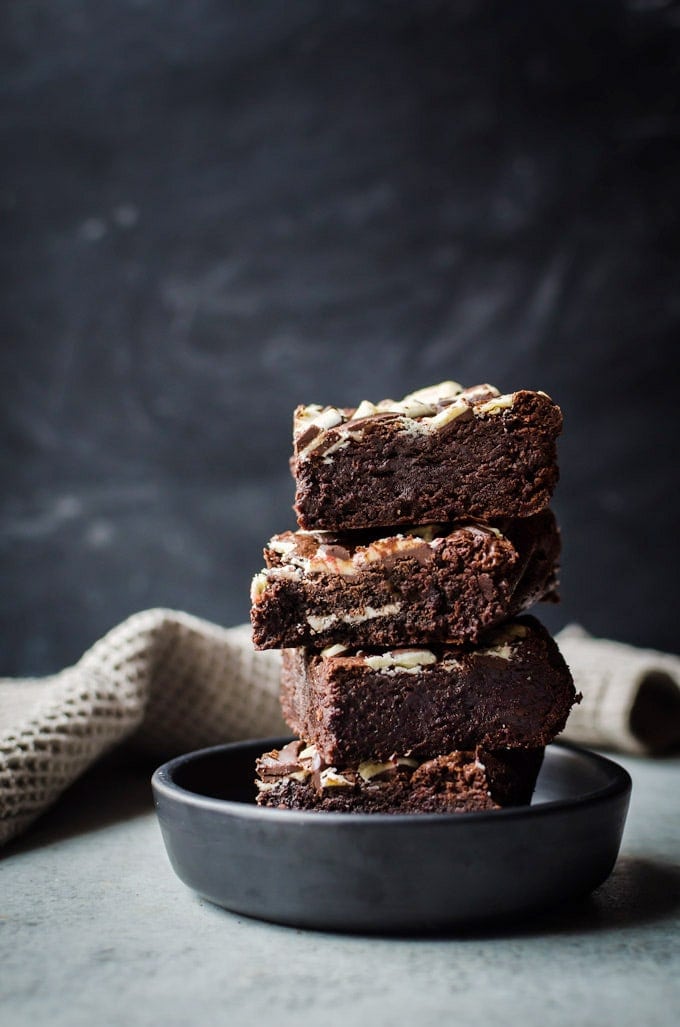 While I continue on my quest to de-Grinch the world, I am refueling with these peppermint bark brownies with Oreos. They are like minty, chocolaty bits of heaven stuffed with Oreos. I love using either regular Oreos or their holiday peppermint ones because, well, obviously.
I added some mint to the peppermint bark brownies to enhance the mint throughout each bite. Keep in mind that different brands have different strengths of flavor, but generally, peppermint extract of any kind is usually pretty strong, so I recommend sticking with the smaller amount of peppermint and adding extra only if you feel that it isn't strong enough for your personal tastes.
Recipe Card
Peppermint Bark Brownies with Oreos (and a GIVEAWAY)
Ingredients
1

stick unsalted butter

4

oz

dark chocolate

1

cup

granulated sugar

¼ - ½

teaspoon

peppermint extract

2

teaspoons

vanilla extract

3

large eggs

room temperature

½

teaspoon

salt

¾

cups

all-purpose flour

⅓

cup

cocoa powder

12

Oreos

1

cup

crushed peppermint bark
Instructions
Preheat the oven to 350 degrees F. Line an 8 x 8 baking pan with parchment paper, leaving some overhanging at the sides.

In a saucepan, add the butter and chocolate together and heat until the butter is just melted. Stir until the butter and chocolate are completely melted and mixed well.

Add in the sugar and both extracts and mix well.

Beat in the eggs until well-combined.

Stir in the salt, flour, and cocoa powder until just combined.

Pour half the batter into the baking pan. Top with a layer of Oreos, then top with the remaining brownie batter.

Top the batter with the peppermint bark and press gently to adhere.

Bake for about 25 - 30 minutes. Allow to cool for about 20 minutes before removing the brownies using the parchment paper overhang and allow to cool completely on a wire rack. Cut into squares and serve.
Tried this recipe?
Tag me on Instagram! @acookienameddesire #acookienameddesire
Thank you World Vision, for providing me with a care package, and the items for the giveaway!