A creamy and luscious roasted plum ice cream perfect for those hot summer days when you want something light and refreshing. 
This post is sponsored by Food Science Matters. As always, all thoughts and opinions are 100% my own! 🙂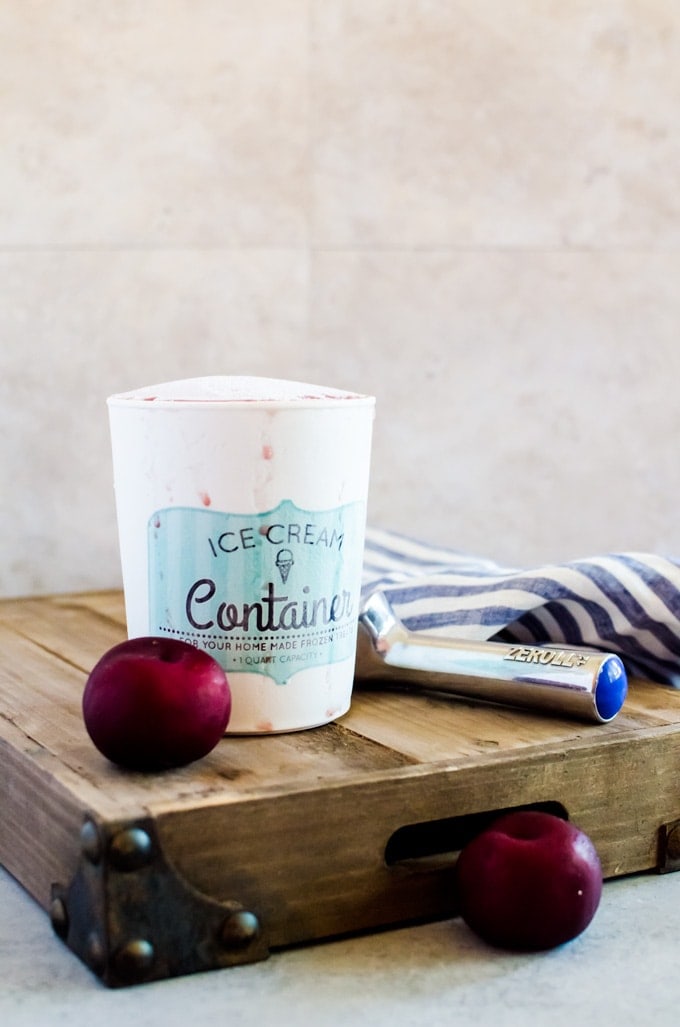 It is no secret that I love making ice cream. I think out of every dessert I make, it is the one I get the most excited about. The blog should really have been called An Ice Cream Cone Named Desire, except it just doesn't roll off the tongue as well. The unofficial start of summer was just a little over a week ago and the official start of summer is fast approaching, so naturally I thought it was time to share another ice cream recipe. This time I used the Momofuku Milk Bar as inspiration because they use gelatin as a thickener and stabilizer in their ice cream and it's a technique I've been wanting to try for a while.
When it comes to ice cream, I am endlessly curious about the food science behind what makes the perfect ice cream. My original idea was to use their template for ice cream, but turn it into a vegan ice cream (this plum ice cream isn't vegan, by the way, but that may come in the future). The first step was to find a vegan alternative to gelatin, which is when I started learning more about carrageenan.
Carrageenan is a natural stabilizer that comes from red seaweed. It is commonly used to help create a sumptuous texture in products that are lower in fat content or as a vegan alternative to gelatin. It also keeps ingredients from separating over time. You know how a bottle of salad dressing sometimes separates into different layers? Well, if we added a stabilizer like carrageenan to it, that wouldn't happen, which can be handy! In ice cream, it not only thickens the ice cream, but also helps keep it soft making it easier to scoop.
Unlike some natural products, extracting carrageenan is a relatively simple process that can be easily accomplished at home with minimal equipment (hello, weekend project!). In fact, because it is a wonderful natural stabilizer, carrageenan has been used in food for hundreds of years. The process of extracting carrageenan at home is very similar to what people have done since it was first used.
Much like almost every ingredient in existence, carrageenan was put under scrutiny and criticism with a lot of claims about the ingredient being detrimental to your health. In fact, it is still considered to be a controversial ingredient to some. I am against fear mongering. Online everyone seems to be an expert, but I try to seek out those who are truly an expert in their field to learn and help formulate opinions. It doesn't make sense to have the person who handles my cable account set a broken foot. You know what I mean? As it turns out, the FDA, WHO and basically any notable authority in food science, safety, and regulations in countries across the world all note that carrageenan is safe for consumption and all claims of anything else have simply not been proven. From all other research, it seems to be as safe as any other ingredient we regularly consume.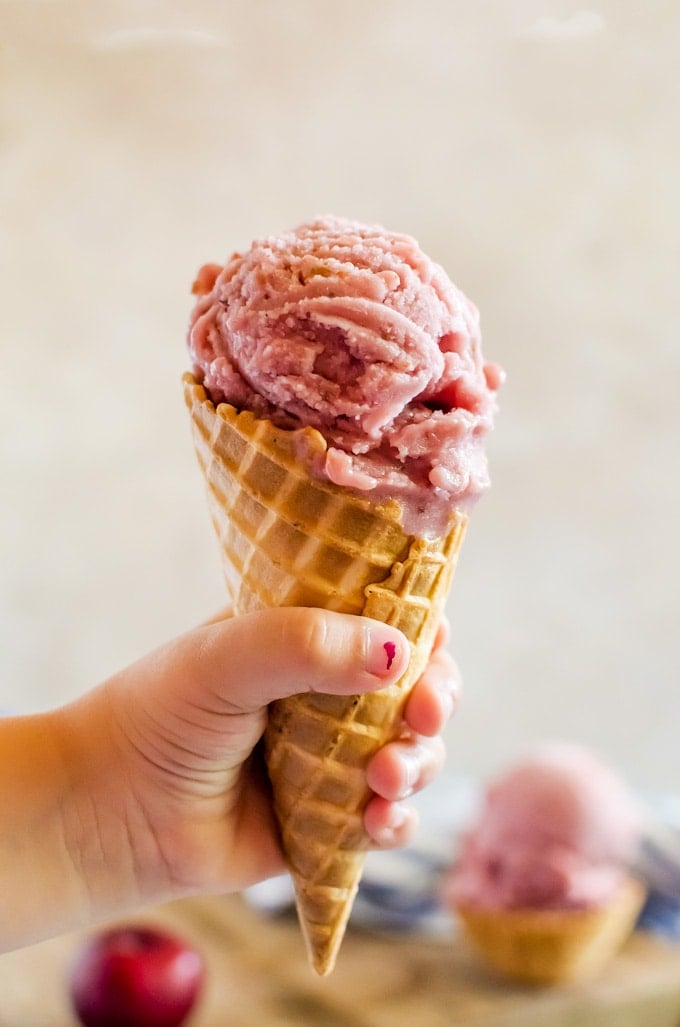 Which is good news for everyone.
Plum Ice Cream Recipe
Recipe Card
Plum Ice Cream
Ingredients
6-8

ripe plums

3

tablespoons

packed brown sugar

1

teaspoon

gelatin

2

cups

whole milk

½

cup

heavy cream

¾

cup

granulated sugar

pinch

of salt
Instructions
Preheat the oven to 300 degrees F. Slice the plums (peels on) and coat in the brown sugar. Roast for about 15 - 20 minutes, or until softened and juices are seeping out.

While the plums are roasting, mix the gelatin with two tablespoons of water and set aside.

Mix together the milk, cream, sugar, and salt together.

Gently heat and mix until the sugar is dissolved. Do not let the mixture boil.

Add in the plums and transfer to a blender. Blend well until the plums are completely blended in without any chunks of plum.

Mix in the gelatin until it is completely incorporated.

Chill the mixture until it is very cold, at least 40 degrees F.
Tried this recipe?
Tag me on Instagram! @acookienameddesire #acookienameddesire
This post is part of a social shopper marketing insight campaign with Pollinate Media Group® and Food Science Matters, but all my opinions are my own. #pmedia #foodsciencematters http://my-disclosur.es/OBsstV