Get your fall started with these pumpkin whoopie pies with caramel and boozy ganache!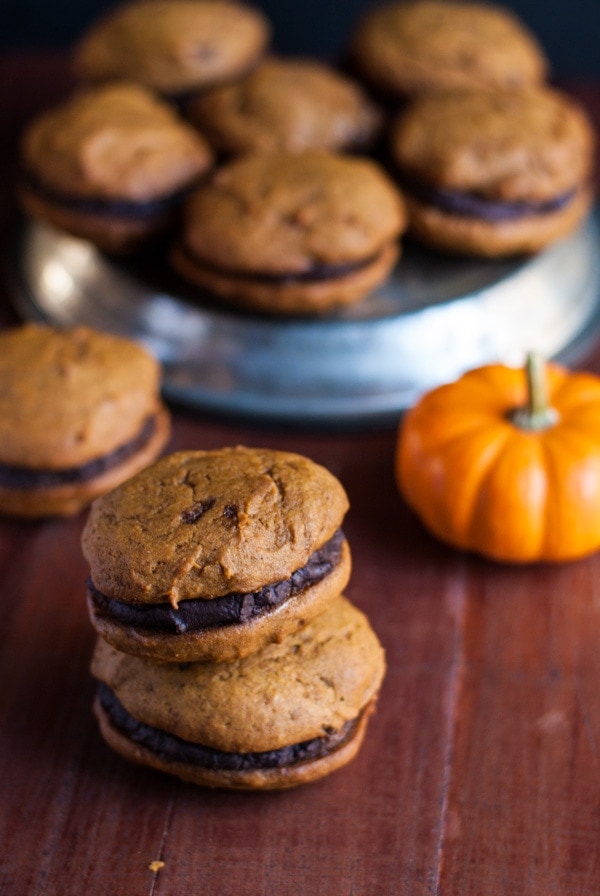 I adore whoopie pies. Whoopie pies are one of those childhood favorites that bring back such fun, carefree memories of being a little kid. There is no excuse for me not making them more often. The last time I made them was waaaaaay back when I first started the blog. They were these cute heart-shaped whoopie pies with the best raspberry whipped cream filling. Oh my god, that filling was the best. I ate it by the spoonful. It was an addiction. My sister had to take the bowl away from me. I cried. Well, I wanted to at least.
Le sigh.
To make up for the lack of whoopie pies in our lives, I've gone ahead and made some pumpkin whoopie pies with caramel with boozy ganache in celebration of Pumpkin Day which is today! Whoot whoot!
These pumpkin whoopie pies are seriously phenomenal. The cake is nice and moist and full of pumpkin flavor. Then it is brushed with a delicious caramel and filled with a boozy ganache. Oh, and did I mention that the ganache also has a bit of pepper in it for a bit of spice? I am telling you, this whoopie pie is no joke.
The ganache is spiked with a bit of honey bourbon, but a regular or cinnamon bourbon would really work well. I used dried Thai chili peppers because it's what I had available, but any dried chili should work just as well.
I found this recipe for pumpkin whoopie pies on Epicurious that got so many awesome reviews, that I had to use their pumpkin cake as the base. Best decision ever because it is probably the best pumpkin cake I've ever had. It is moist, sweet and has the perfect blend of spices. The caramel glaze leaves the edges of the whoopie pie just a little bit crunchy if you put just the thinnest layer on the pies (which was awesome because I was afraid it might make the cake get a little soggy.)
This is a ton of pumpkin goodness that is really a lot easier to put together than you might think.
Recipe Card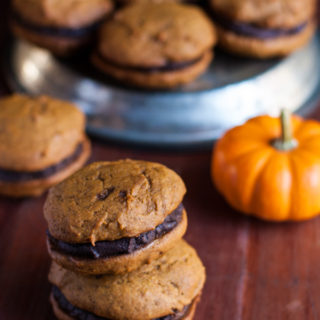 Pumpkin Whoopie Pies with Caramel & Boozy Ganache
These pumpkin whoopie pies are filled with flavors such as caramel, and a spicy boozy chocolate ganache. Perfect to celebrate Pumpkin Day!!
Ingredients
For the Pumpkin Cake
1 ½

cups

188 g all-purpose flour

½

teaspoon

baking powder

½

teaspoon

baking soda

½

teaspoon

salt

1

teaspoon

ground cinnamon

½

teaspoon

ground ginger

¼

teaspoon

freshly grated nutmeg

¼

teaspoon

ground cloves

1

cup

200 g packed light brown sugar

½

cup

118 mL vegetable oil

1

15-ounce can pure pumpkin (not pie filling)

1

large egg

1

teaspoon

pure vanilla extract
Boozy Spicy Ganache
12

oz

dark chocolate

2

teaspoons

finely ground chili pepper

1 ½

tablespoons

bourbon

honey and cinnamon bourbon work well here

½

cup

125 mL warmed heavy cream
Instructions
Preheat the oven to 350 degrees F. Line a baking sheet with a silicone mat or parchment paper.

Mix together the flour, baking powder, baking soda, salt and spices together. Whisk lightly to remove clumps.

In a separate bowl, mix together the remaining pumpkin cake ingredients until well combined. Add the wet ingredients to the flour mixture and mix until no lumps are present.

Scoop out two tablespoons of the batter and place on a baking sheet. Flatten. You should be able to fit about 9 large whoopie pies or 14 smaller ones on a baking sheet. Use a finger moistened with water to smooth out the tops of the pies. Alternatively, you may pipe out the pies using a plain tip.

Bake for about 14 - 18 minutes or until light and springy (my oven runs very hot and I found that the original minimum of 12 minutes to still be not nearly enough time). Take out and allow to cool completely.

While the cakes bake, make the ganache. Over a double boiler, add the chocolate and pepper. Mix together as the chocolate melts. In a seperate bowl, add the bourbon to the heavy cream and stir. Slowly add the bourbon mixture to the chocolate mixture. (Note: warmed heavy cream mixes better and creates a better consistency than chilled or room temperature cream). Set aside to cool to room temperature. Store in the refrigerator to firm slightly - about 20 mins.

Make the caramel drizzle.

Using a pastry brush, brush the flattened sides of the whoopie pies with the caramel twice. You can also dip the pies in the caramel if you want more of a caramel flavor.

Scoop a generous amount of the ganache on half of the whoopie pie cakes, then gently place the remaining whoopie pies on top of the ganache-covered halves. Serve immediately, or keep in an air tight container for up to three days.
Tried this recipe?
Tag me on Instagram! @acookienameddesire #acookienameddesire
Pumpkin Doughnuts with Pumpkin Spice Caramel
Pumpkin Bagtels with Cinnamon Ginger Crunch Topping
If you want to check out some other delicious Pumpkin Day celebration goodness, check out these recipes below:
Pumpkin cheesecake bars from Roxana's Home Baking